Sailing from Ushuaia to the Falkland Islands
As we gently sailed away from the port of Ushuaia, I could hardly believe this day had finally arrived. After 11 months of looking forward to this trip, here I was actually standing on the deck of Plancius, sailing down the Beagle Channel!
That evening we toasted the exciting journey ahead with a glass of fizz, and through the large windows of the dining room I could see a delicious candy-floss-pink sky. I felt this was a good omen, and I was proved right as good weather followed us on this amazing cruise to the Falkland Islands, South Georgia, and the Antarctic Peninsula.
The first day was spent sailing towards the Falkland Islands, and on the second morning I woke to a bright day and was up on deck to see us sail through the Woolly Gut, a narrow gap between two islands.
The hillsides were painted bright yellow with gorse, which was in full flower.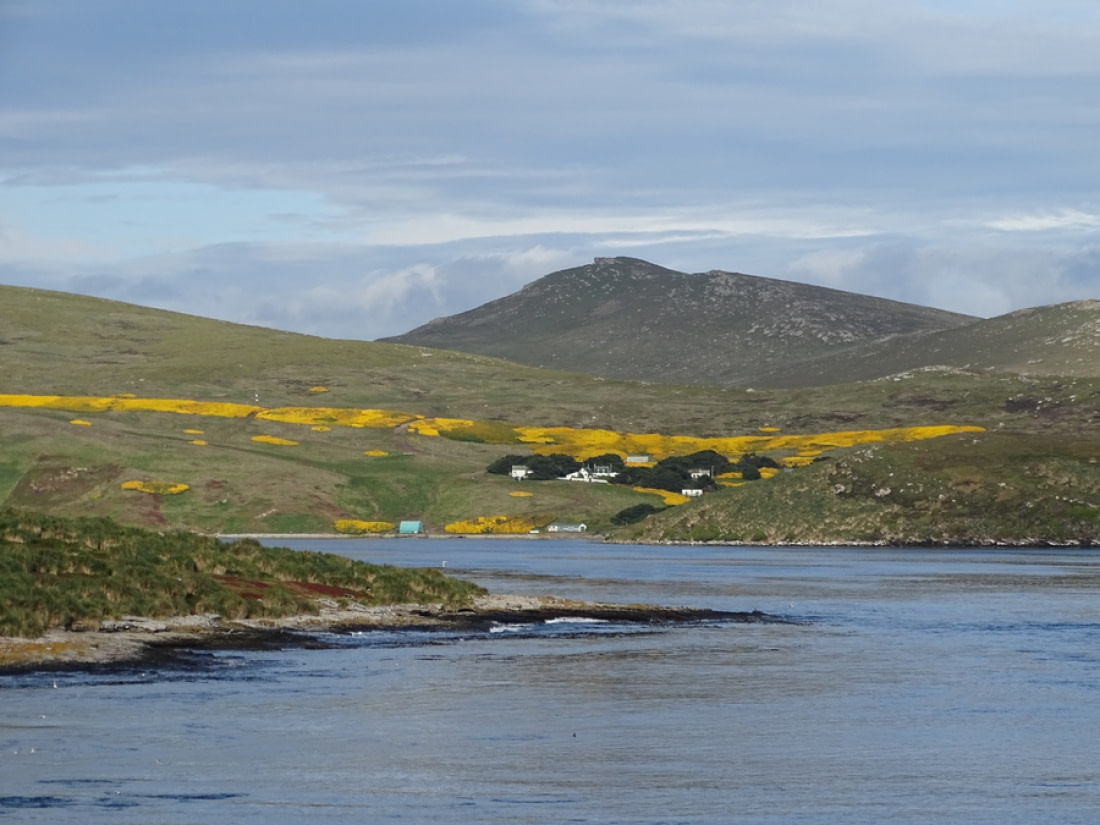 Our first shore landing was at Carcass Island. And for many of us, this was our first journey in a Zodiac boat, but everyone managed to arrive on shore with only their boots getting wet.
This was also our first sightings of Magellanic penguins, which have underground burrows, and gentoo penguins, which form nests above ground and steal suitable nesting material from others if given half a chance!
On the beautiful, white, sandy Leopard Beach, we saw lots of upland geese and a striated caracara tucking into carrion. We then walked around the bay, taking in the views, to the home of Rob and Lorraine, who are the owners of Carcass Island. They welcomed us warmly into their home for coffee and a delicious array of cakes and biscuits.
During lunch we sailed around to Saunders Island, where we were able to see our first king penguins, including young ones who looked like they were wearing big brown fur coats.
There were also large colonies of king cormorants, which have amazing blue eyes and bright orange blobs at the end of their bills, and black-browed albatrosses, who are just serenely beautiful.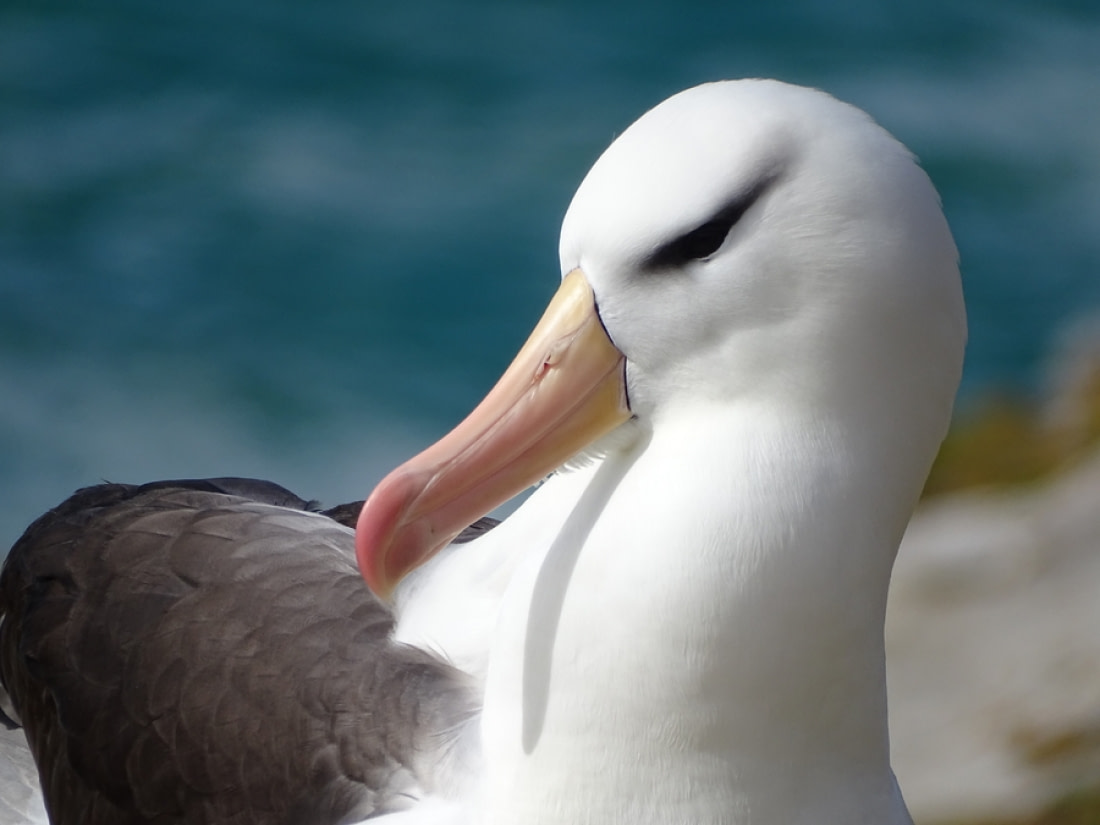 The group of rockhopper penguins, with their yellow eyebrow tufts, were the only colony we were going to see, so I took my time observing these amusing characters.
The following morning saw us arrive at Stanley. For many British people, this location is etched in our memories.
It was a beautiful, sunny day to wander around, visit the cathedral, and walk past the office of the local newspaper, Penguin News.
We also visited the Margaret Thatcher Memorial and the Governor's Residence. It was then back on board to sail towards South Georgia, two days journey away.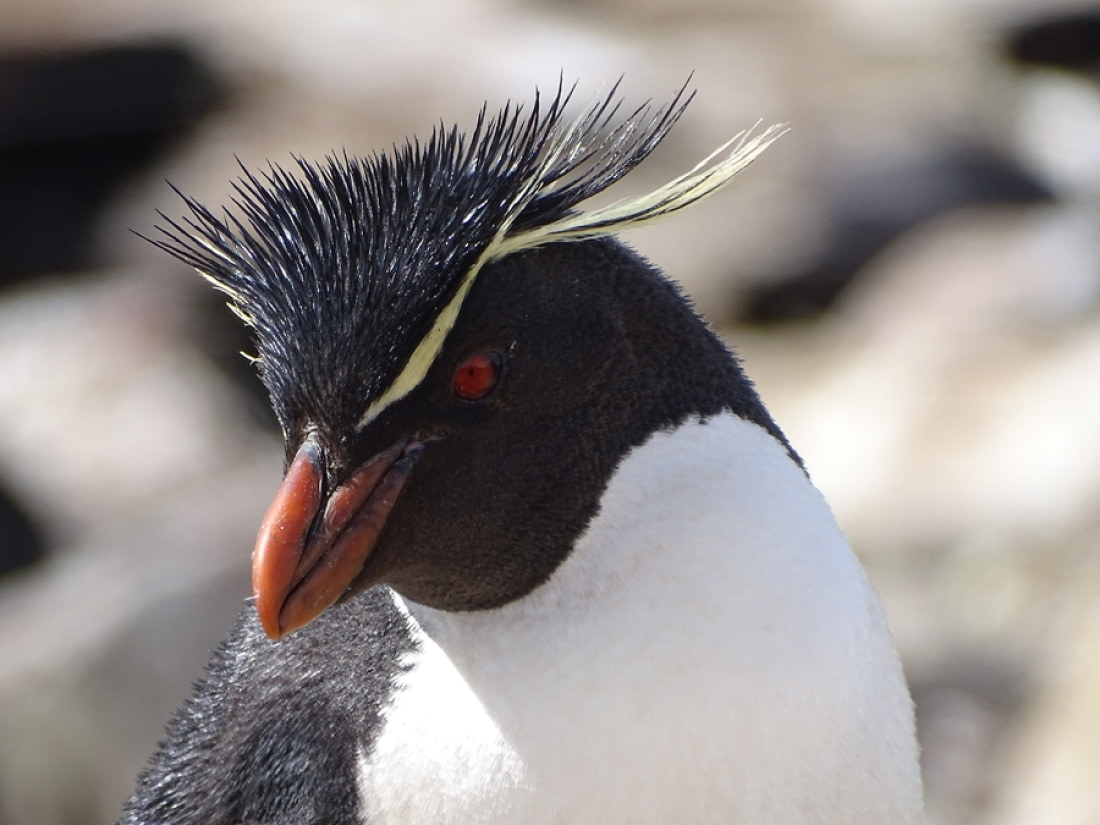 I found the time at sea really well-organised, with fascinating lectures provided by the staff on a wide variety of subjects, such as the destinations we were about to visit, historic explorers of Antarctica, the whaling industry, wildlife, birdlife, and many other topics.
The food served on Plancius far exceeded my expectations, with tasty choices offered for every meal - and beautifully presented too.
Discovering the amazing South Georgia
Our arrival day at South Georgia wasn't as bright and sunny as previous days, but at least it was dry. We were taken ashore to Salisbury Plain, home to fur seals, which can be very feisty about human intrusion. We also saw many thousands of king penguins.
The sight of king penguins as far as the eye could see, gathered under beautiful snow-covered mountains, was a vision that will remain in my memory for a very long time.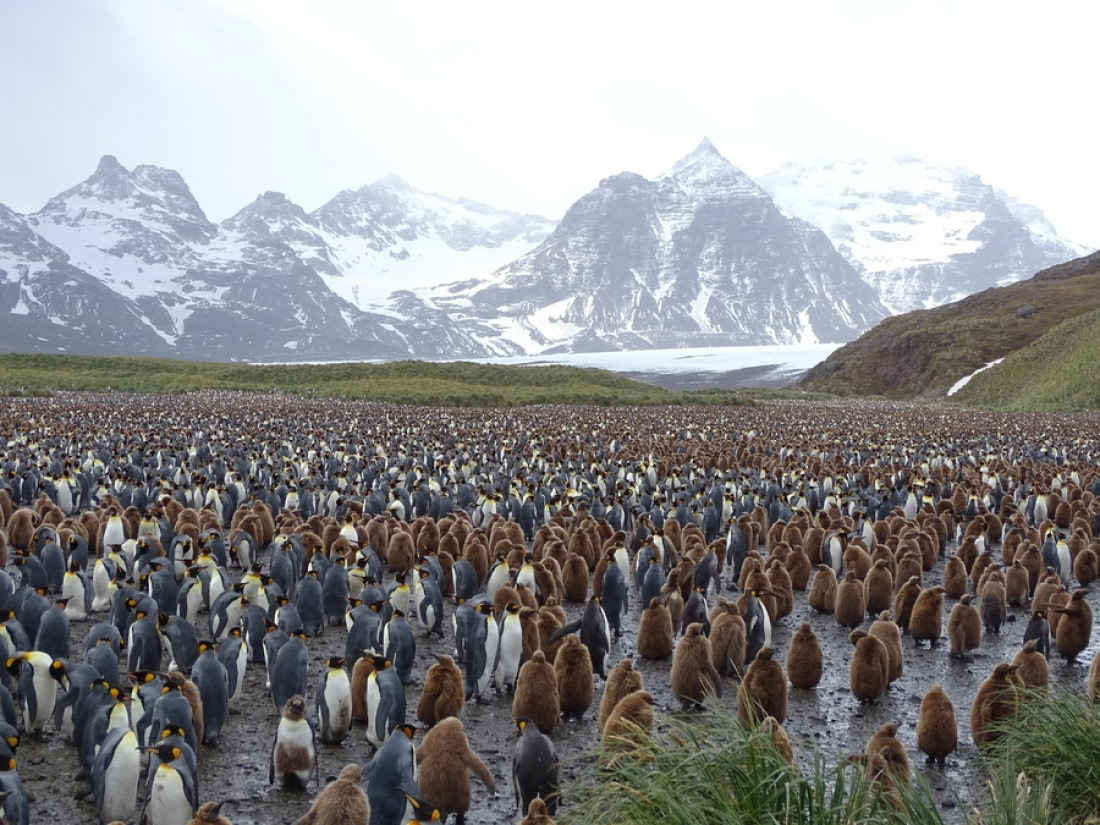 We have all seen the wildlife programmes on TV, but to be standing amongst it was a very special moment. There were large groups of brown, furry youngsters gathered together, known as creche's, vocalising a constant whistling sound as they tried to attract their parent's attention.
Meanwhile, the king penguin parents are returning with food, and how they find their own chick is just astonishing.
I also saw some of South Georgia pintails, which are a carnivorous species of duck.
In the afternoon we went ashore at Fortuna Bay, where there were several different seals: fur seals with pups; elephant seals that were moulting and having the odd, grunting tussle; and elephant seal weaners, which have the most adorable faces and large, round eyes.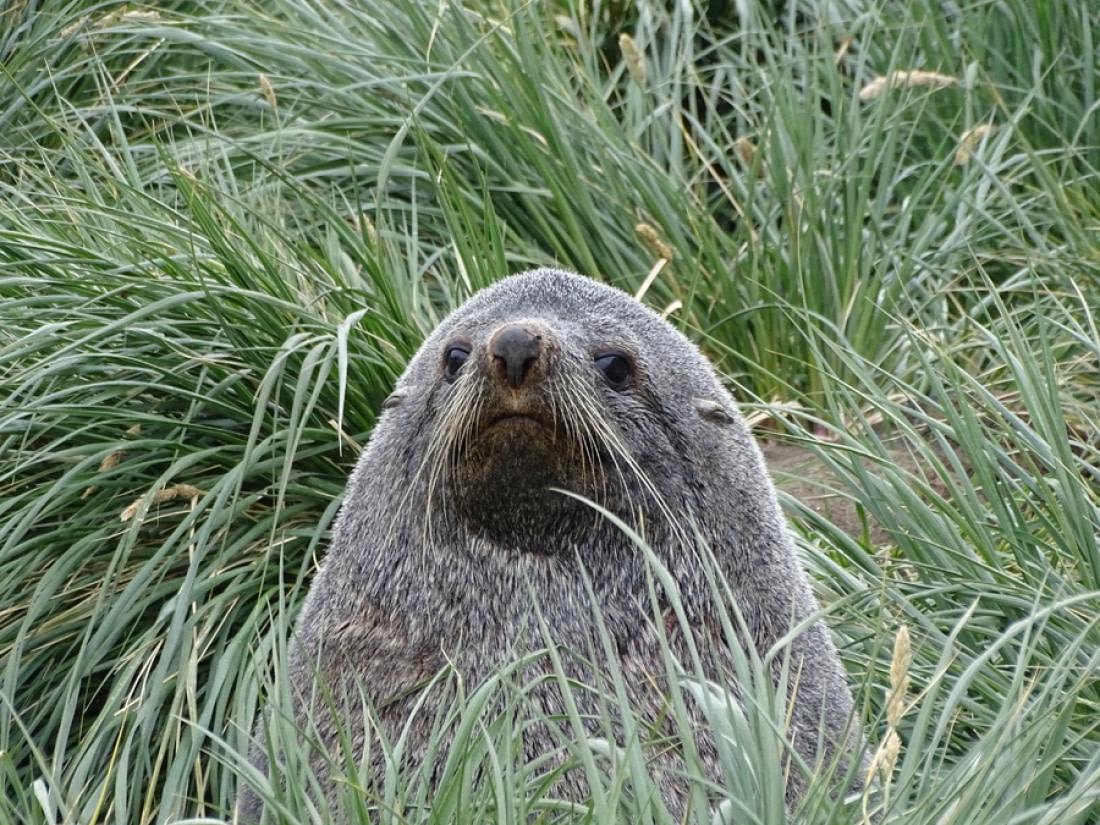 The following day we visited St. Andrews Bay, where a large group of king penguins were on the beach where the Zodiacs landed, providing their own welcoming committee.
We then walked across the plain, passing seals and penguins, finally arriving at the river of glacier meltwater
So we linked arms and successfully crossed as a group. On the other side, I walked to the top of a small hill, where I was greeted with the sight of the largest king penguin rookery in South Georgia - an unbelievable spectacle!
I sat down and tried to absorb the view before me, this mass of king penguins dwarfed by glacier-covered mountains set against a pale blue sky.
Everywhere you looked, something was happening: penguins along the rocky coast and predator birds in the air, swooping above the rookery in the hope of finding an easy meal.
After lunch, the Zodiacs took us ashore to Grytviken. It was a perfect day, with the sun shining and no wind.
The first stop was the cemetery where Sir Ernest Shackleton's grave is located. We were each given a tot of whisky from a bottle of Shackleton Whisky, which has been reproduced from the original blend that was apparently found after his expedition.
Victoria, the historian on board, proposed a toast to "the Boss," as Shackleton was known by his men, and we lifted our cups and drank to this extraordinary explorer.
There was plenty of time to wander around the old whaling station, with fur seals lying amongst the decaying equipment of the whaling industry that once occupied this bay.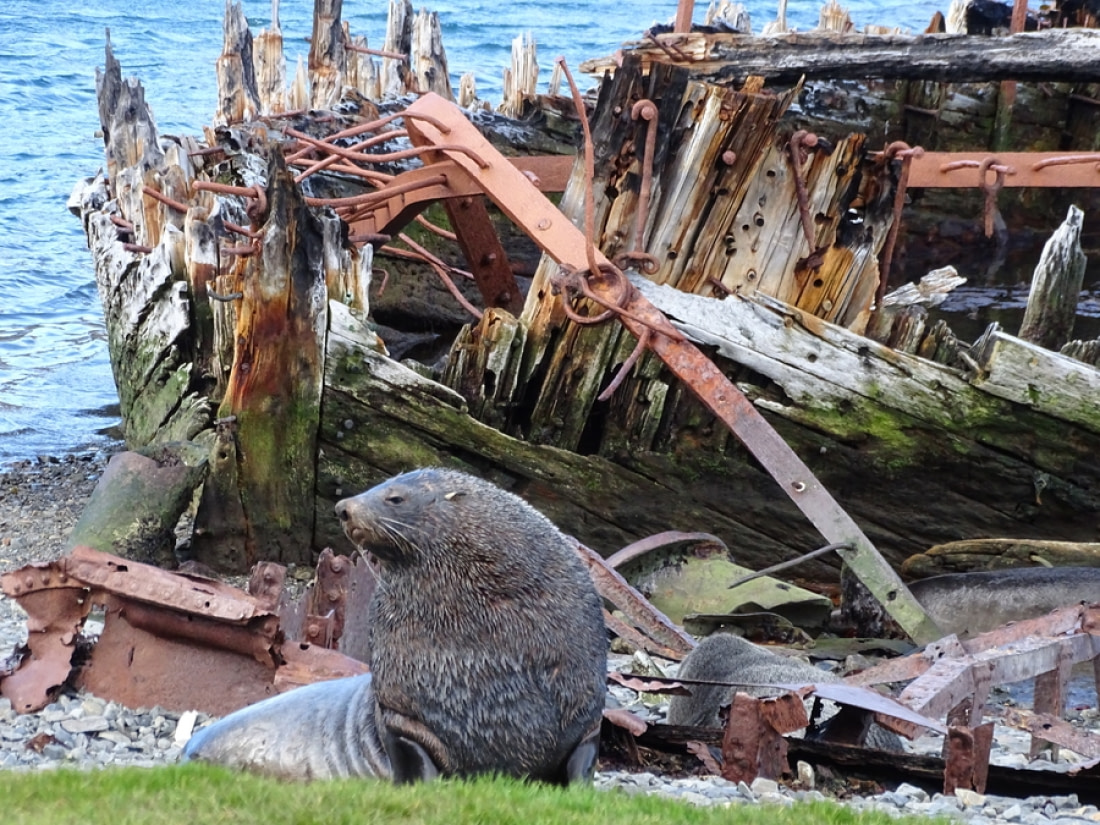 In the small museum I found a replica of the James Caird, the boat Shackleton used to reach South Georgia from Elephant Island, an unbelievable journey of courage against all odds.
I found the small, white whalers church to be particularly poignant. Built in 1913, this modest building was essential to the men who worked in this brutal environment, many miles from their homes and families. In the back room was a library where the bookcases groaned under the weight of well-thumbed books.
That evening we enjoyed a BBQ on the deck of the ship, and the personnel from Grytviken joined us. It was a fun evening of dancing and hot gluwein under a bright blue sky and little wind - who would have thought, a BBQ in the Southern Ocean!
While we slept we travelled to Godthul, and when we awoke the next morning it was another beautiful, calm day. We were given a few options for activities that morning, one being a walk from Cobblers Cove, over the ridge to an area on the other side, where a rookery of macaroni penguins could be found.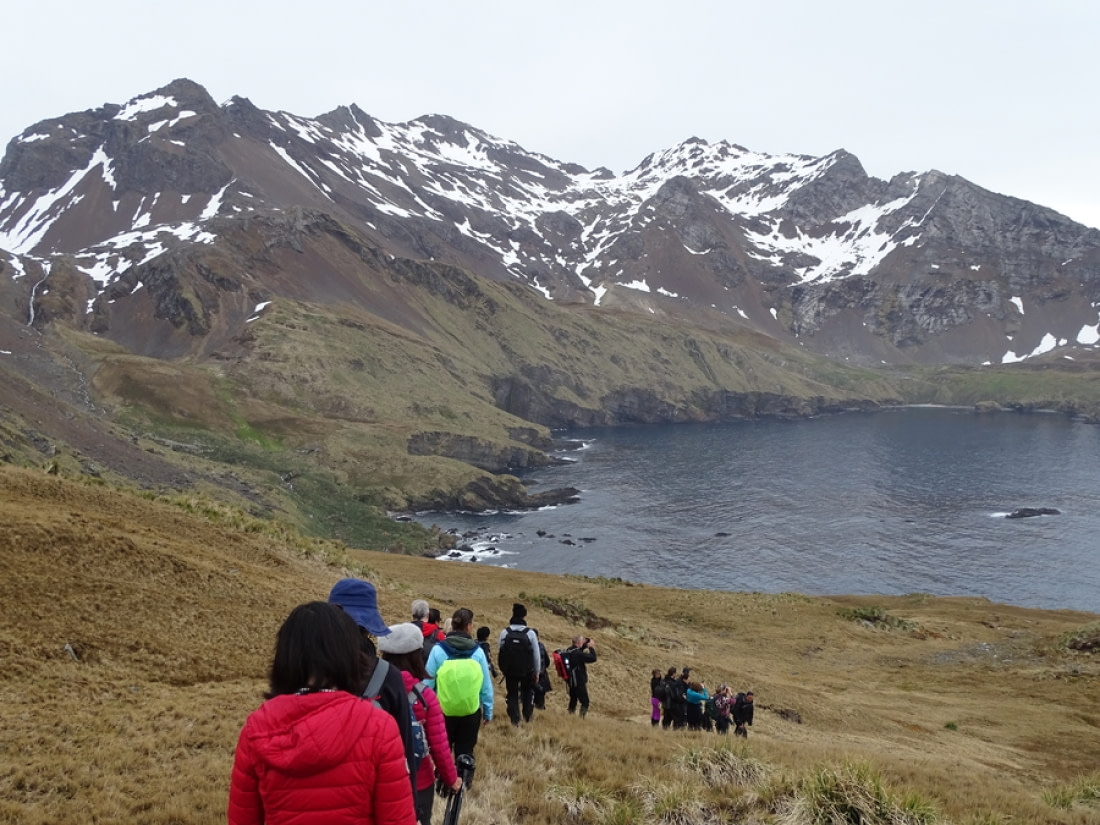 As this could be the only opportunity to see macaronis, I quickly decided on the walk.
It was just a few minutes by Zodiac to the cove, through dense areas of seaweed that clogged the motor. From the brow of the ridge, the rocky coastal scenery reminded me of Cornwall.
En-route to the macaroni colony we saw a few birds, including the South Georgia pipit.
And then we arrived at the penguins, where most were sitting on nests and guarding their precious eggs. We observed them for a while before returning to the ship for lunch, having enjoyed the opportunity for a challenging walk.
In the afternoon there were various levels of walks offered from Godthul. This bay was once used for whaling, and the beach was covered in old whale bones and a few rusting relics from that era.
We walked through tussock grass, where fur seals voiced their disapproval, and up to an area where there were gentoo colonies, including an unusual and very pale grey individual.
It was a very early start for our last day on South Georgia, visiting Gold Harbour.
The beach was much smaller than previous places we had visited, so everything was right there as you stepped off the Zodiac; a massive colony of king penguins, fur seals and pups, elephant seals of various ages (including the adorable weaners with their huge innocent eyes), and a stunning backdrop of glaciers and snow-capped mountains.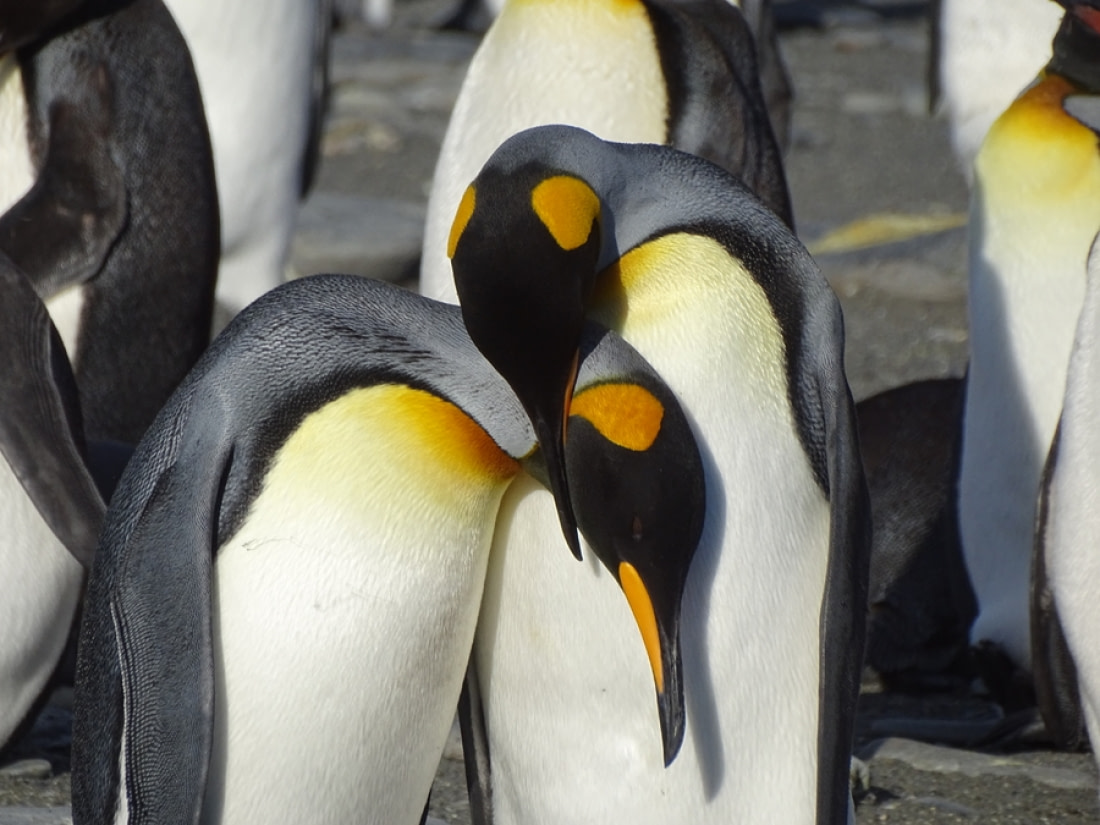 In the afternoon we sailed along the southern coastline. The scenery was simply breathtaking: so many glaciers, some tumbling into the sea, as well as soaring mountains and virgin snow drifts.
A pod of humpback whales entertained us before we headed for Drygalski Fjord, which has to be one of the most beautiful locations on the planet.
We entered the fjord, the Captain slowly sailing Plancius to the end, where there was an impressive glacier, then gently manoeuvred her around. The scenery here is something that has to be experienced. A photograph simply cannot capture the magnificence of the panorama that surrounds you.
The glaciers, waterfalls, and mountains were all framed by a bright blue sea reflecting the beautiful blue sky and fluffy white clouds. It was just awe-inspiring and a fitting way to end our time on the amazing islands of South Georgia.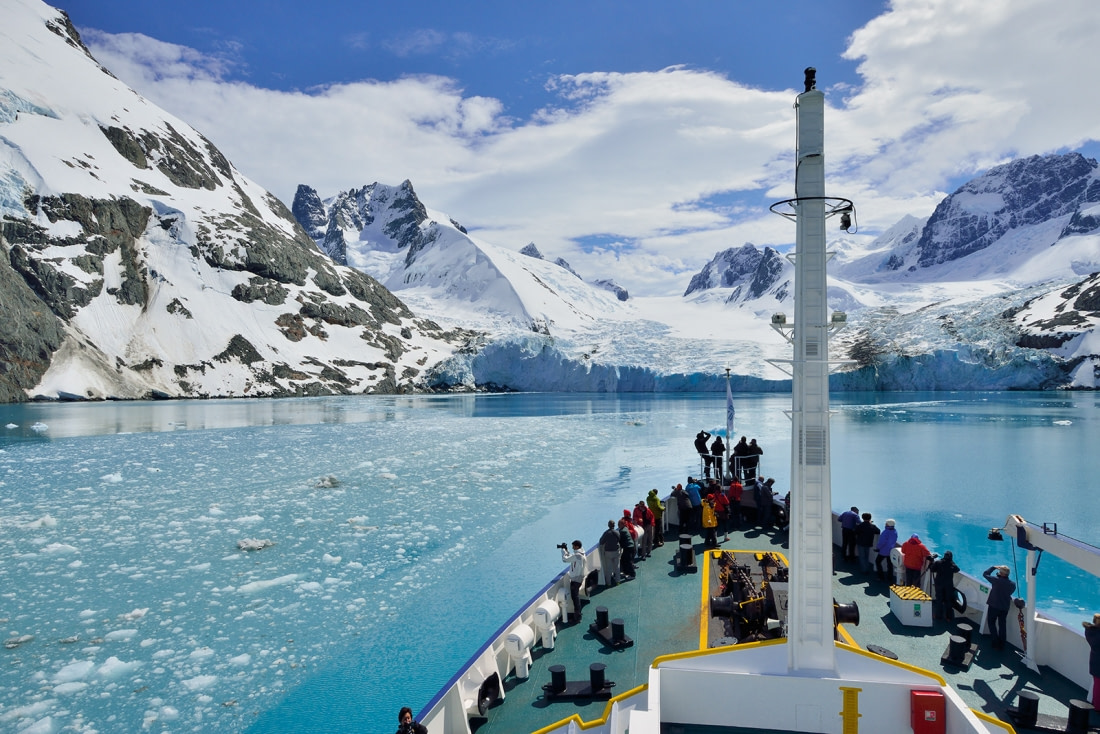 Heading to the Antarctic Peninsula
During the night we crossed the 60-degree line, meaning we were now officially in Antarctica.
We enjoyed a couple of days at sea, followed with interesting lectures and an auction for the South Georgia Heritage Trust, which raised a considerable amount.
We eventually arrived at the scenic Laurie Island in the South Orkney Islands, on a gorgeous bright sunny day. This is where the Scottish explorer Williams Spears Bruce built a hut in 1903, the remains of which can still be seen.
However, the Argentinians now have a base here, Orcadas Research Station, and they kindly showed us around their museum and the cemetery before we enjoyed a coffee in the warmth of their main quarters.
As we sailed out of Scotia Bay, we were treated to the sight of incredible icebergs of all shapes and sizes, which were sparkling in the sunshine.
Over the next 24 hours, we began to see many more icebergs, including one massive tabular iceberg the captain estimated as being 2 miles across!
We then sailed through the Antarctic Sound, but due to unfavourable conditions, the shore excursion to Paulet Island had to be cancelled. Instead, a large pod of humpback whales swam around the ship, impressing us with their diving skills and showing off their tail flukes.
In the afternoon we went ashore at Brown Bluff, where there is a large Adélie penguin colony (our sixth species of penguin), some of which had fluffy grey chicks.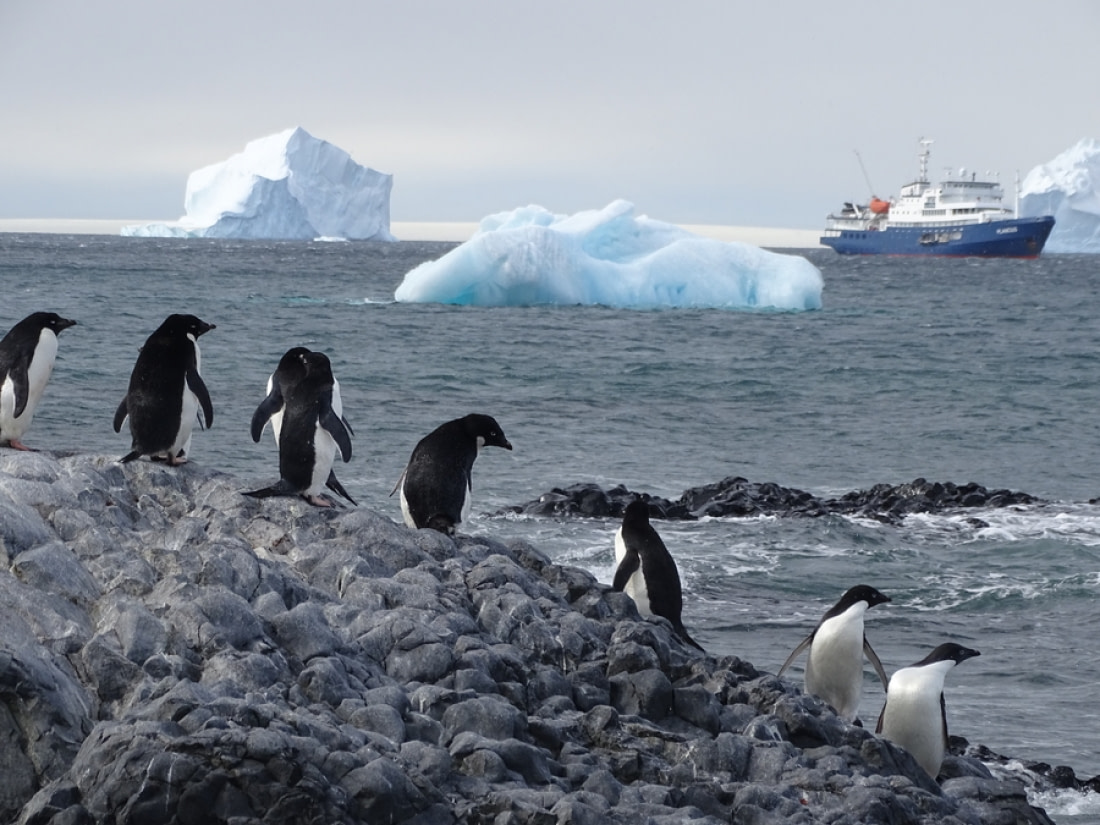 It was a fabulous afternoon spent observing these busy creatures as they waddled along the beach and in and out of the ocean. They do make you smile.
There was also a beautiful glacier and wonderful views out to sea, where Plancius was dwarfed by massive icebergs.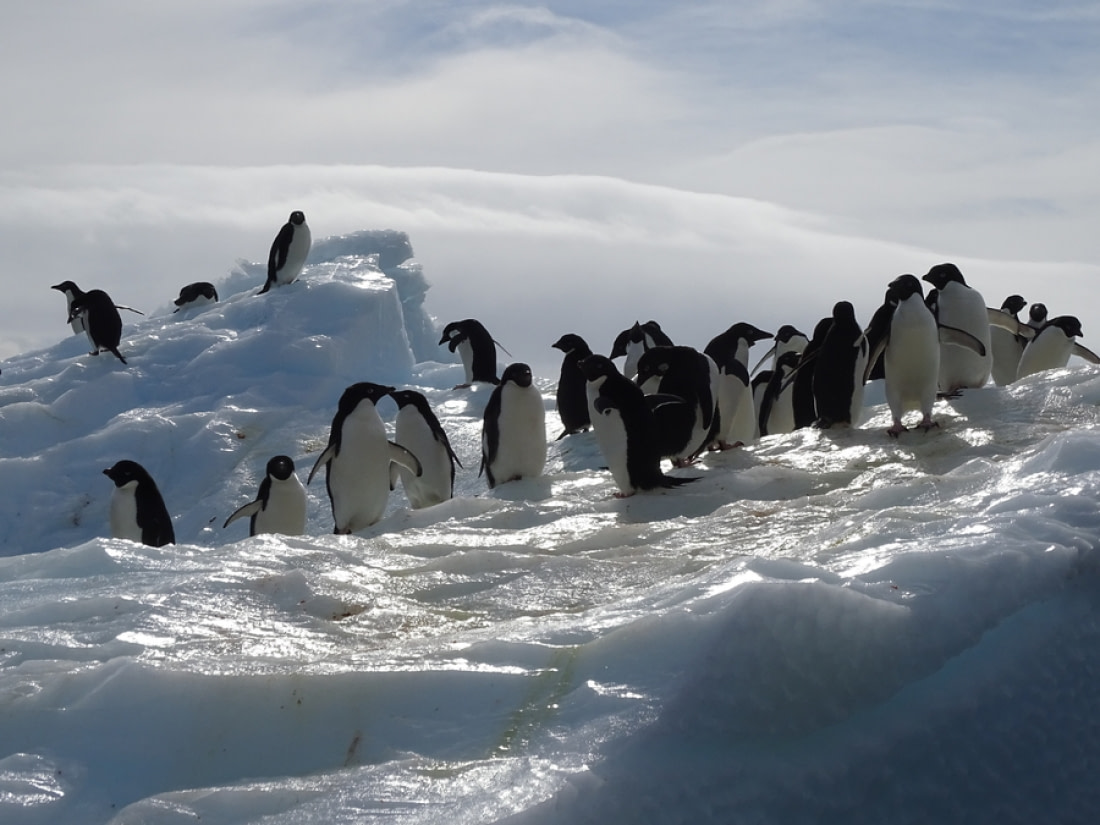 The following morning we arrived in the South Shetland Islands and Half Moon Island, another incredibly scenic spot. I'm running out of superlatives!
There was a large colony of chinstrap penguins here, along with a solitary macaroni penguin. The scenery was amazing, and we even found a Weddell Seal lazing on the rocks.
Back at the landing beach, some of the passengers decided to take the polar plunge while the rest of looked on in admiration - or possibly bewilderment.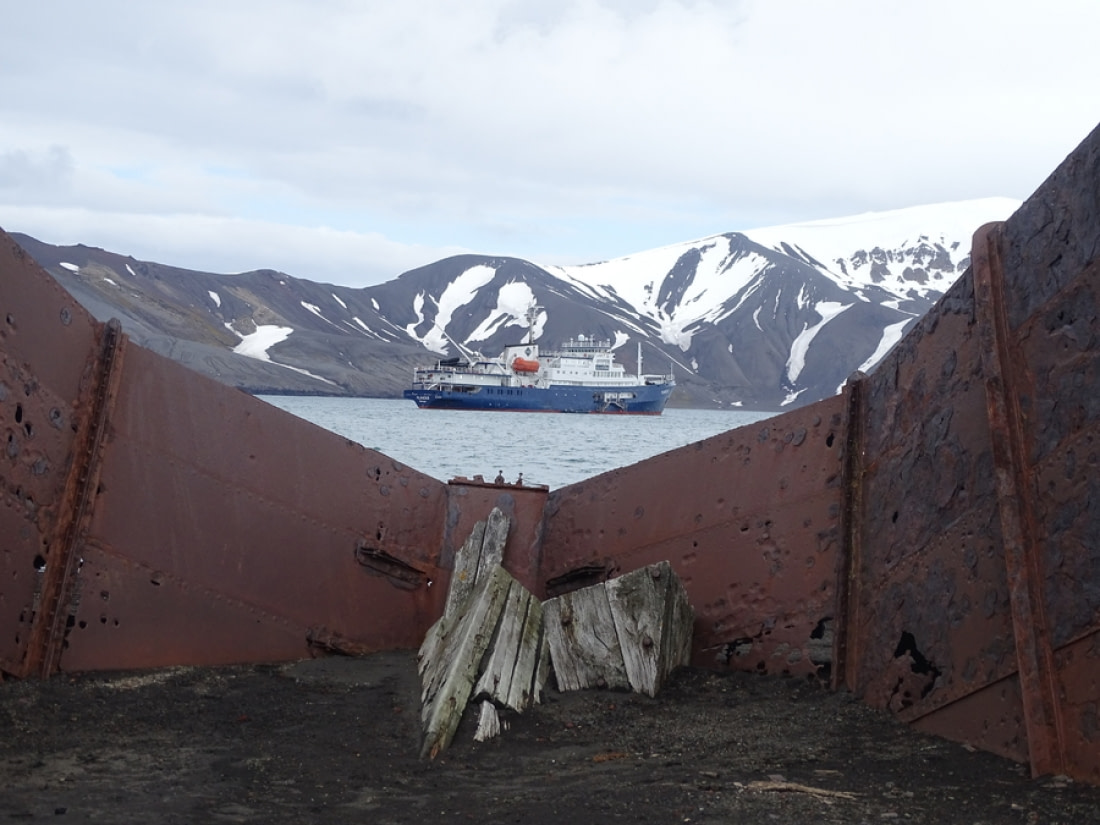 During lunch we sailed to Deception Island, which is a collapsed caldera now providing a natural harbour. The volcano last erupted in the 1960s. Entry is only possible in good weather, through a narrow gap called Neptune's Bellows. We went ashore at Whalers Bay, which as the name suggests was a whaling station as long ago as 1911.
I found the place to have a strange melancholic atmosphere, with steam rising from the black sand reminding you of the volcanic history, while the buildings were all collapsing and rusting.
Overnight we sailed back to the Antarctic Peninsula, and it was suggested that we get up early the next morning, as the scenery would be especially spectacular through the Gerlache Strait. So I set my alarm!
The next morning I woke to a beautiful bright sunny day and was soon out on deck, with lots of other people who had woken early to take in the mind-blowing scenery.
We slowly sailed towards Neko Harbour through icebergs with jagged snow-covered mountains on either side, and we were soon joined by pods of orcas and humpback whales - certainly worth getting up early for!
After breakfast we went ashore, most of us climbing a steep hill for amazing views of the harbour.
Plancius looked very insignificant amongst these huge glaciers and mountains. A lone Weddell seal was lounging close to the landing point, and there were several groups of gentoo penguins that had carved out penguin highways in the snow. Some were so deep that the penguins disappeared between the steep sides.
During lunch we sailed to Port Lockroy, where there is a post office, shop, and museum where you can stamp your passport, marking your journey to this southernmost point.
Gentoo penguins were nesting on any available space, even under the British flag, and chicks were due to appear any day. After we had sent a postcard, we went around to Jougla Point, where more gentoo penguins and shags were nesting, before returning to the ship. We were a little damp after a Zodiac ride in quite rough conditions.
The next morning I felt quite sad that this was our last day in Antarctica, but the weather could not have been better: clear, bright and sunny.
After breakfast we all boarded the Zodiacs, with the guides dressed up as polar bears and penguins, for a cruise around the Melchior Islands.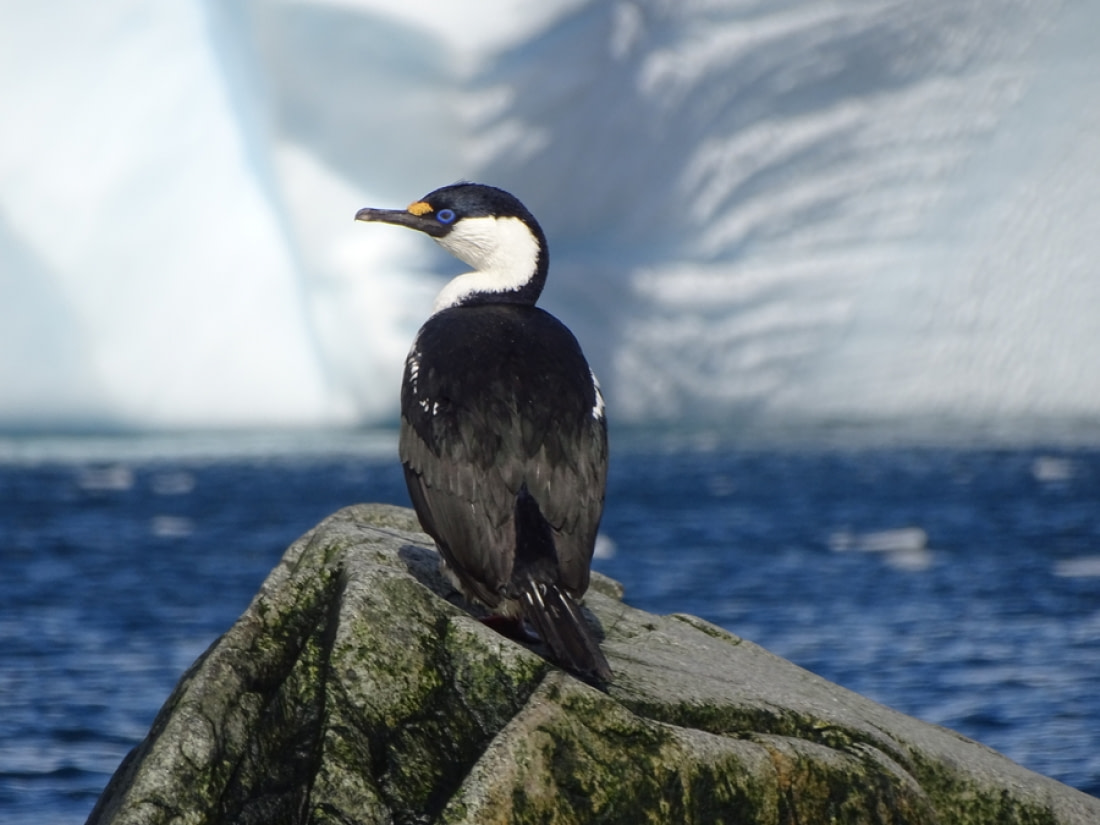 What an awesome sight this was: snow cliffs, icebergs in different shades of blue, crabeater seals, penguins, and birds. It was a memorable way to end such an incredible cruise.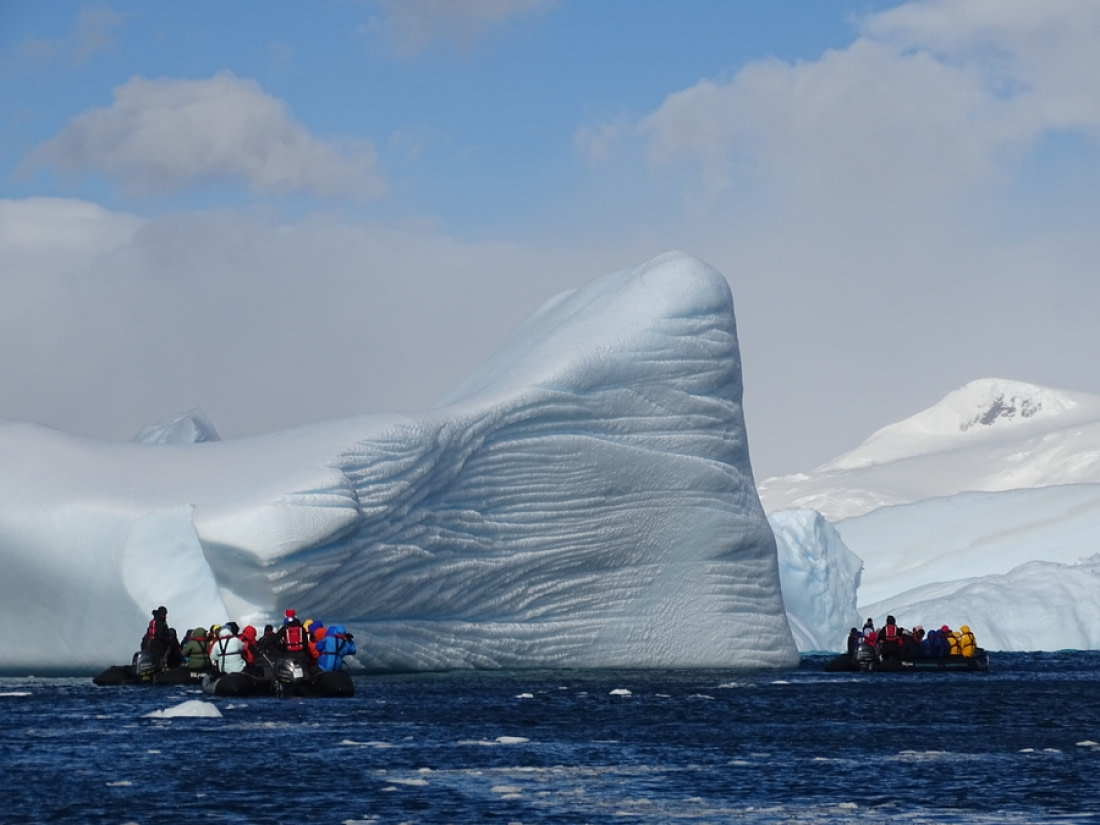 Soon after returning to the ship, we set sail for Ushuaia, as the captain advised us that a storm was heading around Cape Horn.
However, he did an amazing job of avoiding the worst of the weather. On the two-day journey back to Ushuaia, we were kept busy with lectures, a fun quiz, and a photo competition.
As we finally sailed down the Beagle Channel towards Ushuaia, we enjoyed a glass of fizz. The captain and Ali, our expedition leader, thanked their teams, and we toasted them for providing us with such an outstanding journey with unforgettable memories.
We arrived back to Ushuaia on the longest day of the year, with a bright full moon guiding us into port.
The cruise had been jam-packed with the most extraordinary experiences: We had seen wildlife aplenty, enjoyed the most incredible scenery, been educated from the many lectures, made new friends, and had been blessed with good weather.
That pink sky I saw on the first evening had been an excellent omen after all.
Sarah Williams
Gane & Marshall Int Ltd
All photos by Sarah Williams