Explore the Antarctic highlands
If you're looking to push yourself a little further on your polar voyage, mountaineering could be just what you're after. This exhilarating activity lets you venture beyond the shorelines and into Antarctica's higher ground, gaining vistas and viewpoints unavailable anywhere else.
Do I have to be in great physical shape for mountaineering?
You must be fit and have stamina enough to walk three or more hours over sometimes rugged terrain, both uphill and downhill.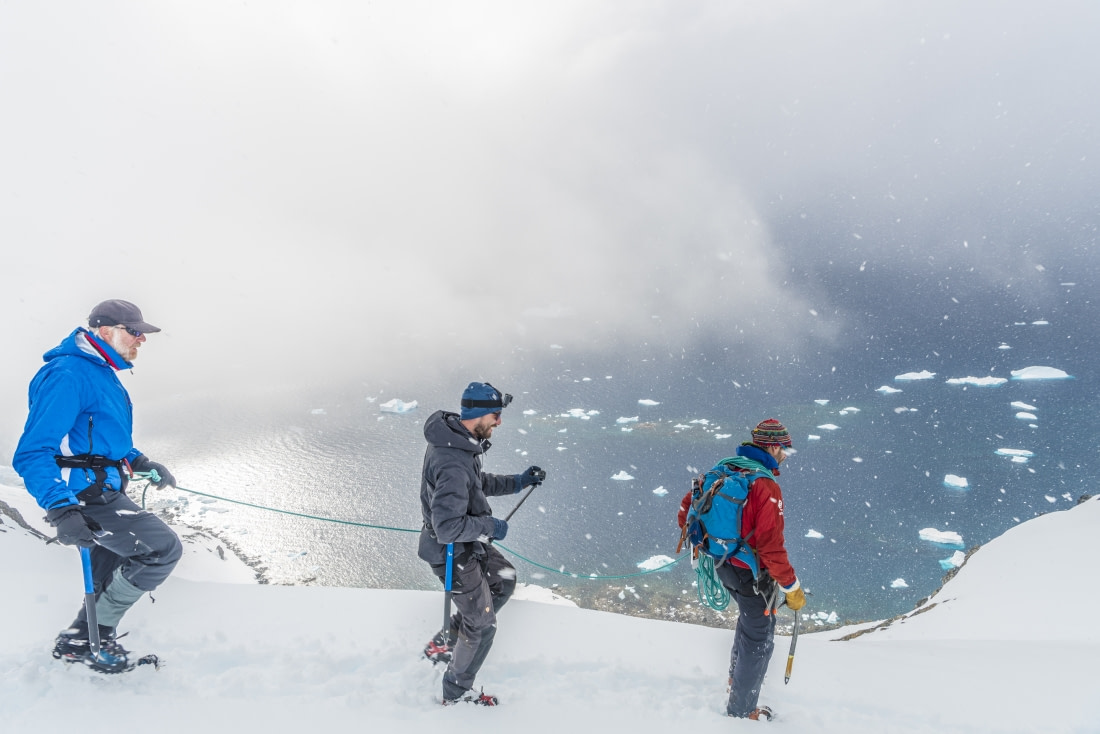 What's the difference between mountaineering and snowshoe hikes?
Mountaineering hikes may take you into glaciated areas that can expose you to crevasses, requiring more caution than on non-glaciated ground. You can also expect to make ascents and descents that might be challenging.
Is your mountaineering activity scaled to passenger ability?
We offer two types of mountaineering based on ability:
Basic mountaineering is for guests of all experience levels, and we provide all the equipment needed.
Technical mountaineering requires previous experience and special footwear you must provide yourself.
For more details, please consult our mountaineering manual.
How many mountaineering hikes will I go on?
On our Basecamp voyages, each guest will participate in every activity once as long as local conditions allow. Make sure you request mountaineering when booking this trip.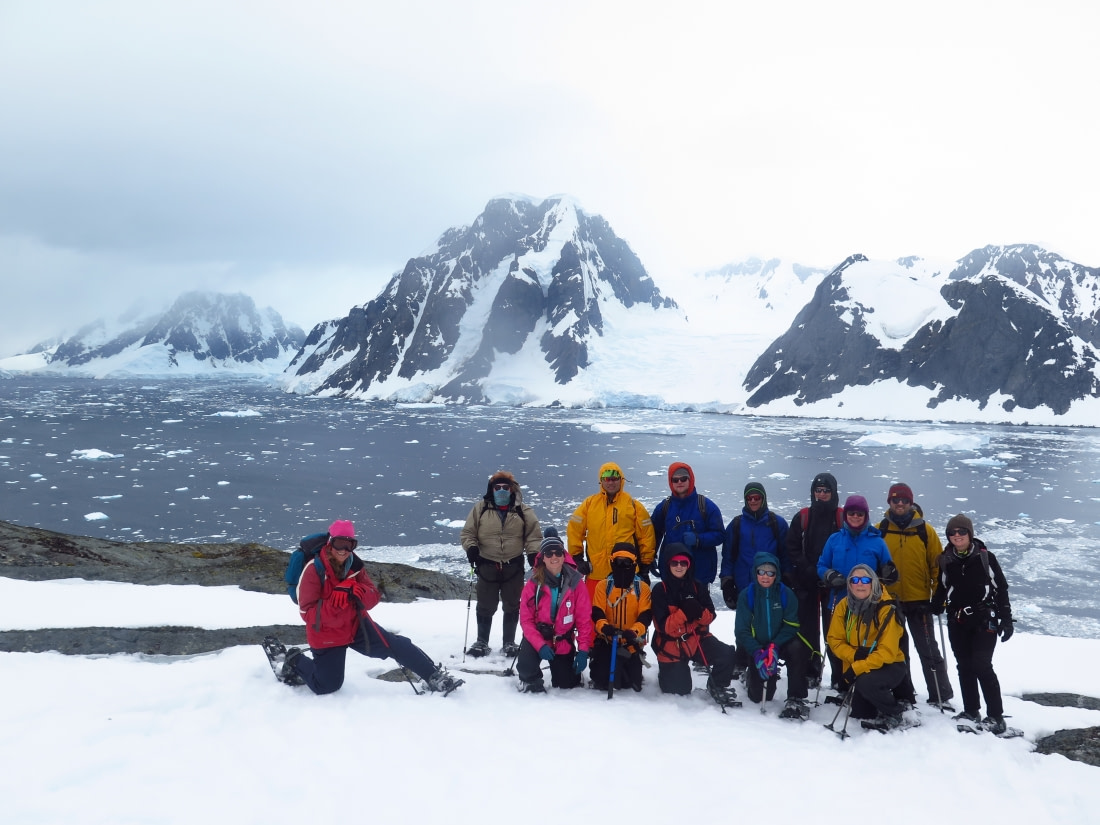 Do I have to bring any mountaineering equipment?
Some gear we provide, some you must bring yourself.
We supply the following:
snowshoes
muck boots
crampons
helmets
harnesses
ice axes
screw-gate carabiners
snap links
mountaineering ropes
tape slings
prussic loops
snow shovels
bivouac bags
biodegradable human waste bags (it is illegal to leave waste behind)
You must bring:
Feet

gaiters (if bringing your own boots)
thin synthetic under-socks to prevent blisters
synthetic / woolen thin / thick long socks

Outer layer clothing

down jacket
wind and waterproof breathable jacket with hood
wind and waterproof pants/salopettes (ski pants)

Thermal layer

synthetic / wool fleece / pile jacket / pull-on
synthetic/ wool fleece / pile pants / salopettes
fleece jacket or vest

Base layer (underwear)

synthetic / wool thin top (long/short sleeves / zipped)
synthetic / wool thin pants / long johns
synthetic / wool balaclava and hat
windproof cap with peak/ear protectors
sun hat, headband, face mask, neck gaiter / scarf

Hands

ski / mountain gloves
windproof over mitts
synthetic / wool thermal mitts/finger gloves
down mitts
thin (base layer) synthetic / wool mitts / gloves
mitts/gloves support (around neck)

Eyes

facial protection
sun glasses / glacier glasses with sides
spare glasses / lenses

Skin

sun block, sun screen, fatty lip salve (no water)

Hygiene

toilet / hygiene kit : pee bottle (for camping and mountaineering), e.g. wide opening Nalgene bottle (there are special adaptor for ladies in outdoor shops available)

Miscellaneous

personal medication
25 liter rucksack
1 liter water bottle
waterproof bag (for camera equipment)
straps to tie snowshoes on backpack
film and memory cards
hiking / walking poles
binoculars
head torch (flashlight)
Do not bring cotton clothing like T-shirts or jeans. Once they get wet, they will stay wet. This can increase the chance of hypothermia in sub-zero weather.
You must bring your own boots for technical mountaineering, but you can also use your own boots for basic mountaineering if you do not want to use our muck boots.