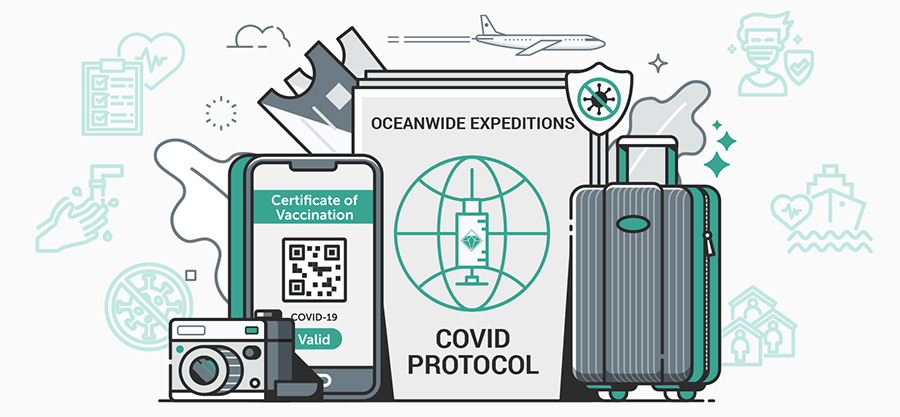 As of the Arctic 2022 season starting in May 2022, the onboard protocols on all our vessels may be updated following new developments and local regulations. Here is how we currently see the onboard health and safety protocols for the coming season:
All passengers, crew, and staff must be fully vaccinated, with their most recent dose taken within the last 270 days (nine months). Fully vaccinated is defined as two weeks after receiving both doses in a two-dose series or one dose of a single-dose vaccine. The second dose of a two-dose series may be substituted by a recovery certificate (recovered from COVID-19 within the last 180 days). The additional vaccine dose, also known as a booster shot has an unlimited validity period.

Passengers must comply with the local rules and requirements in Norway, Spitsbergen, Iceland, Greenland and Argentina.

No obligatory preventive testing will take place on board our vessels. Upon request, COVID self-tests are available and can be purchased on the vessels.

Sick passengers (COVID or non-COVID) are recommended to stay in their cabins. There is no compulsory duty to go into isolation unless strictly indicated by a doctor or medical advisor. Passengers with infectious disease-related complaints such as COVID, flu, or heavy cough are strongly recommended to wear a face mask and respect safe distances from other passengers.
In general, face masks are not obligatory on the vessels. Passengers can move freely on board, including in public spaces, while respecting other passengers (for example, some may choose to wear a face mask and keep a safe distance).

Oceanwide Expeditions reserves the right to amend these guidelines based on changed circumstances and situations on our vessels and / or revised local regulations.