Belonging to the Kingdom of Denmark but run independently, those who cruise to Greenland meet a world where European culture meshes with that of the Inuit in a harsh but beautiful landscape of ice, rock, and the sea. Greenland or "Kalaallit Nunaat" ("Land of the People") in the Greenlandic language is a place of extremes.

Greenland is dominated by the second largest ice-sheet of the world. Although huge in size it is inhabited by less than a 100.000 people. The majority of the Greenlandic population is formed by Inuit, the indigenous people of the Arctic.

Despite the restricted access to land due to the ice sheet Greenland sports a diverse array of wildlife. Many land mammals enjoy the northern and eastern shores of the island where human populations are few and far between. The waters around Greenland are alive with belugas, blues, fins, Greenland whales (a.k.a. bowhead whales), minkes, narwhals, and sperm whales.
Read more…
Cruises to Greenland
Greenland photo
Greenland story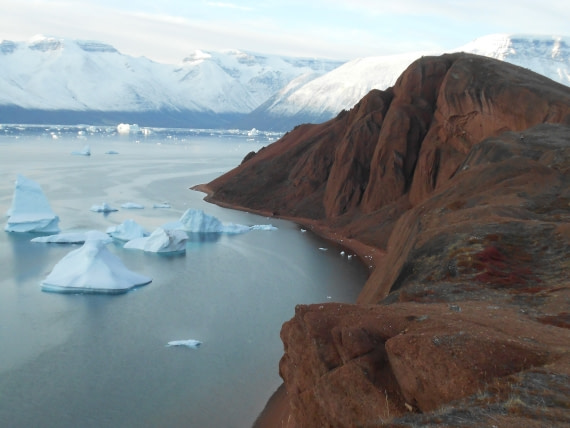 On September 16th, I flew to Iceland and spent an evening in Reykjavik, then crossed the island for the town of Akureyri
Greenland blog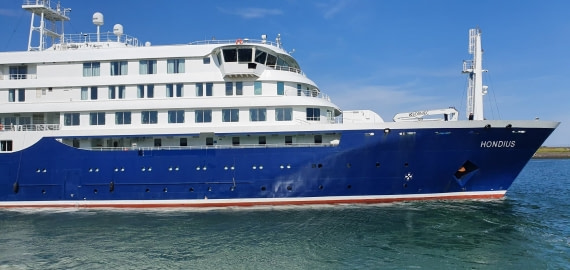 Oceanwide's Polar Class 6 vessel Hondius set sail from her homeport Vlissingen in the Netherlands on Sunday, delivering
Greenland experiences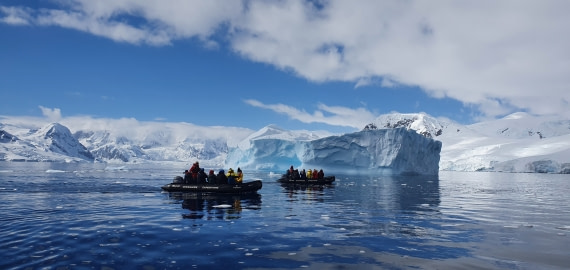 See the highlights you may experience:
Greenland wildlife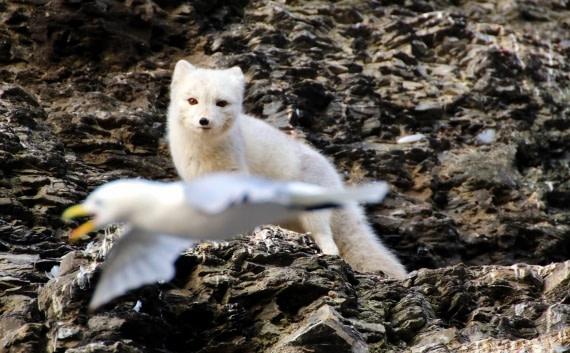 See the highlights you may experience:
About
Greenland: The Land and People
Fewer than 100,000 people call Greenland home, the majority of them Inuit – the indigenous people of the Arctic. Positioned northeast of Canada, Greenland is considered part of North America, though politically it has always been associated with Scandinavia.

Despite the mile-thick ice sheet that covers most of the island, Greenland is home to a variety of wildlife. Numerous land mammals reside along the northern and eastern shores, where human populations are scarce. The waters around Greenland are similarly rich with belugas, blues, fins, Greenland whales (bowheads), minkes, narwhals, and sperm whales.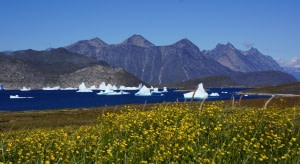 Greenland's ice sheet is the only one of its size outside Antarctica. About a tenth of the Earth's surface is covered in similar sheets, nearly all of which are concentrated in Greenland and the Antarctic Continent. As such, human centers of activity―even the capital of Nuuk―are chiefly located along the shore. It almost goes without saying, then, that there are no roads connecting the Greenland coasts. Travel there is done only by air and sea.
Facts About Greenland
Greenland is officially part of Denmark, though it retains a great degree of self-rule
Almost 80% of Greenland is frozen in ice – only Antarctica has a larger ice sheet
The remaining 20% of Greenland's ice-free land is nearly the size of Sweden
Greenland is the largest island (and least densely populated landmass) on Earth
An estimated two million seals live in the waters around Greenland
Greenland's ice sheet is estimated to be between 400,000 and 800,000 years old
Words like "igloo" and "kayak" – and more than a few synonyms for snow – originated from the Inuit of Greenland
Greenland's warmest temperatures don't average much higher than 10°C even during the summer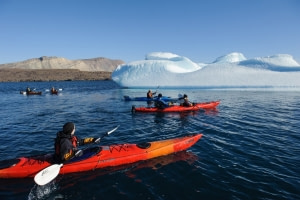 Travel to Greenland
Those who join one of our cruises to Greenland, or Kalaallit Nunaat (Land of the People) as it is called in Greenlandic, encounter a country in which European and Inuit cultures intersect to create a world wholly its own. It is a severe but stunningly picturesque landscape of sprawling ice, towering rock, and limitless sky-blue sea.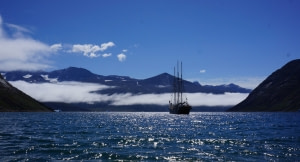 From the midnight sun to the northern lights, the great polar bear to the colossal blue whale, the full range of this mythic environment's awe-inspiring attractions are possible on our many Greenland cruises. Our ice-strengthened cruise ships, Plancius and Ortelius, will provide you a comfortable home base from which to embark on daily expeditions, allowing you to dig deep into the Greenland experience. And if traditional sailing is more your speed, join us aboard our three-masted schooner, Rembrandt van Rijn.

Our Greenland expeditions afford you experiences that are truly once-in-a-lifetime: hiking the same trails as the Vikings hundreds of years ago, watching the many species of whale that visit the spirited Greenland coast, meeting the Inuit people and learning firsthand about their vibrant Thule ancestry―not to mention bird watching, polar diving, and kayaking opportunities also available when you explore this otherworldly Arctic island with us.

You can see the wide array of Greenland cruises we offer on our dedicated Greenland Cruise Page.