Name: Rockhopper Penguin - Eastern (Eudyptes (chrysocome) filholi), Southern (Eudyptes (chrysocome) chrysocome), Northern (Eudyptes (chrysocome) moseleyi)
Length: 50 cm
Weight: 2.5 kg
Location: Sub-Antarctic islands, southern tip of South America
Conservation status: Southern – Vulnerable, Northern - Endangered
Diet: Krill, fish, small crustaceans, squid, mollusks
Appearance: Black bodies and flippers, white bellies, feathered "punkish" crest on head, red eyes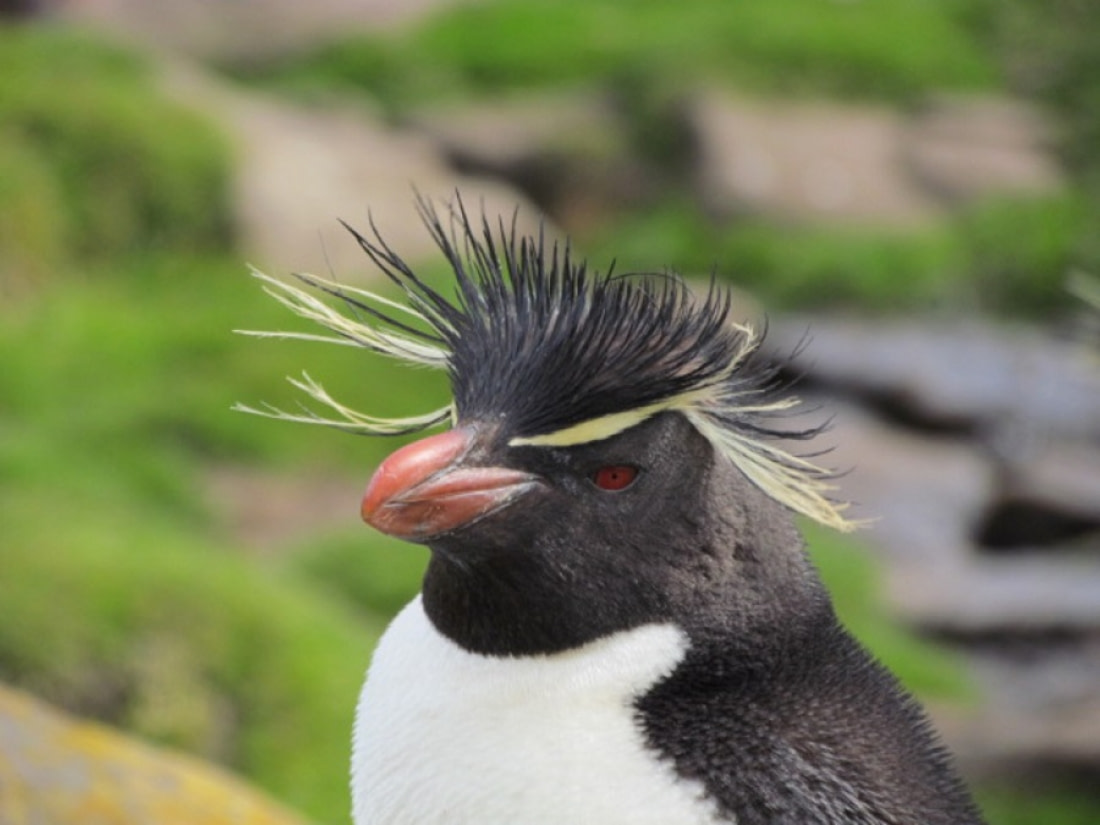 How do Rockhopper Penguins hunt?
Rockhoppers can dive 100 metres for several minutes while on the hunt. They'll often stay out in the ocean for days at a time.
Like other penguins Rockhoppers have a layered defence against the cold. They have a substantial layer of fat, followed by a layer of down on their skin that keeps heat in. On top of that they have a mesh of tightly overlapping waterproof feathers. Penguins have the highest number of feathers of any birds – sometimes up to 12 per square centimetre.
Also like other penguins, Rockhoppers can alter the shape of the lenses in their eyes, giving them good vision both above and below the water.
Do Rockhopper Penguins socialize?
Rockhoppers will form vast breeding colonies (sometimes up to hundreds of thousands) during mating seasons. They differ from most other types of penguins in that they can become quite aggressive toward each other, fighting for nesting sites, mating rights, and food. When fighting, they'll slap at each other with their flippers.
Aside from fighting, Rockhoppers have a variety of body-based communications including bowing, shaking their heads, and preening.
Vocally, Rockhoppers are very loud, throwing back their heads and "braying" different signals to each other – sometimes for location, sometimes to warn others to back off, other times to locate their mate and chicks amidst the vast throng.
How fast can Rockhopper Penguins move?
On land they're not very fast at all. This is where they earned their common name – unlike other penguins which will slide around on ice on their bellies Rockhoppers on land prefer to hop about the rocky shores of their colony's grounds. Underwater they usually swim at about 7 km per hour.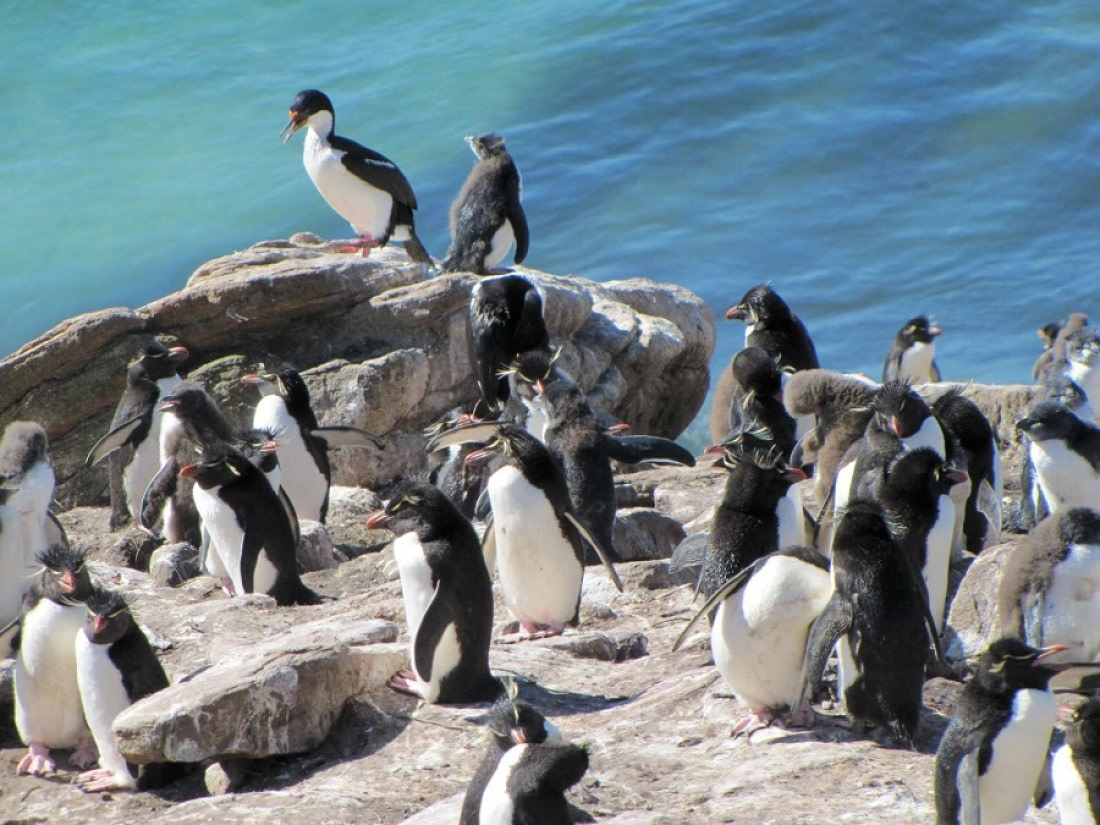 What is the Rockhopper Penguin's mating ritual like?
When mating season arrives in early spring waves upon waves of Rockhoppers will leave their hunting grounds of the sea (where they've spent months feeding) climbing up onto rocky shores generally too harsh for other animals, which makes for a fairly safe haven.
Males generally arrive first, the females following a few weeks later. Rockhoppers form lifetime mating pairs, so much of the first few hours are spent locating their mates using their loud braying calls.
Once paired up the duo will return to the nest they used in the previous years. Usually the female will lay two eggs although usually only one survives. The adults will take turns incubating the eggs while the other returns to the hunting grounds to fatten up again.
It takes about 1 month for the egg to hatch. The fuzzy black-and-white chicks don't have feathers; they're covered instead with a fuzzy down. They rely on their parents to feed them fish through regurgitation for about a month.
At this point the chick will join the other newborns in a crèche and together they'll learn how to swim and hunt. The parents will head off back to the hunting grounds, returning again with more food, calling to their chicks with their own identifiable call. This process lasts until the chicks are about 10 weeks old.
How long do Rockhopper Penguins live?
Rockhopper Penguins generally live about 10 years in the wild.
How many Rockhopper Penguins are there today?
A rough estimate places the worldwide Rockhopper Penguin population at 1.5 million breeding pairs. They've suffered a drastic 30% population drop over the last 30 years due to pollution and other man-made examples of interference.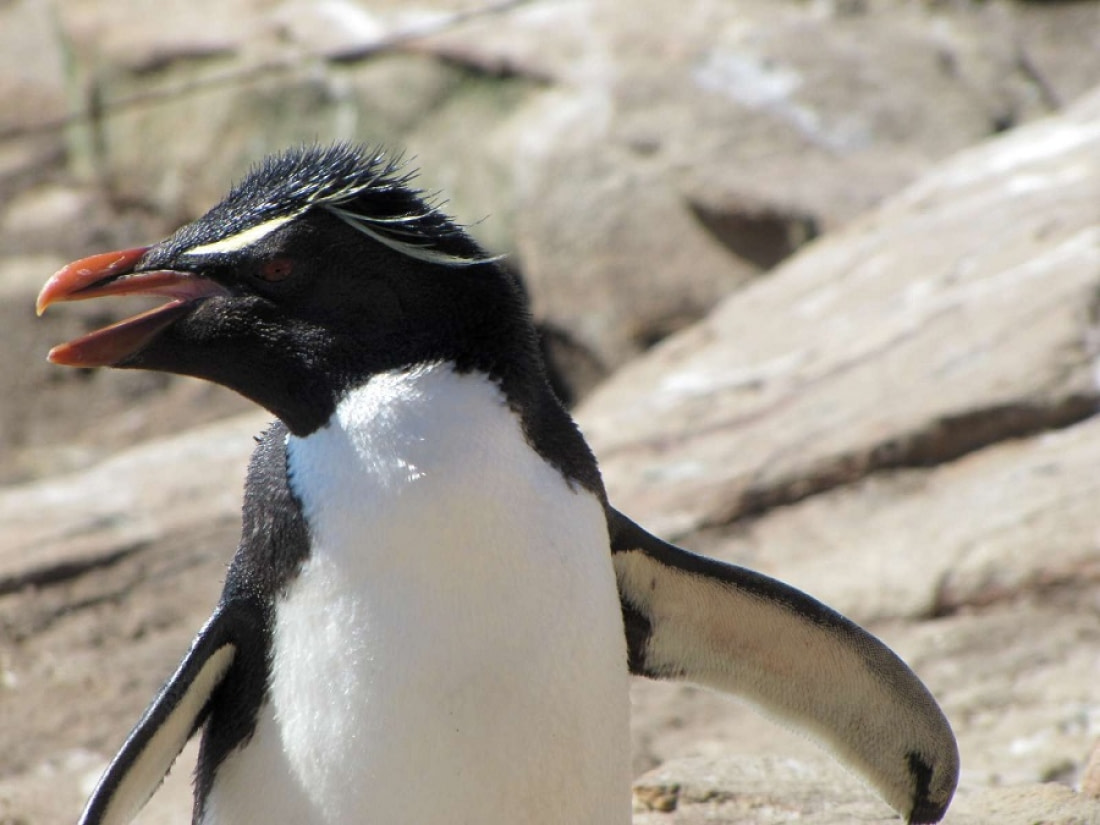 Do Rockhopper Penguins have any predators?
On land the only threat to Rockhoppers comes from other birds like the Brown Skua which will try for eggs and chicks. Rockhoppers are very aggressive in defending their young and territory, rushing and snapping at invaders. In the sea Rockhoppers are vulnerable to Seals, Sharks, and Killer Whales (Orcas).
7 Rockin' Rockhopper Penguin Facts
Like other penguins, Rockhoppers can sleep while floating on the sea.
There's some disagreement in the scientific world about just what constitutes a Rockhopper, which is why there's three scientific names designating different locations for different colonies.
Rockhoppers are the smallest example of crested penguins.
Eudyptes means "good diver" in Greek. Chrysocome means "golden hair."
The Rockhopper's yellow "eyebrow" is called a "supercilium."
Rockhoppers' beaks start out black, only turning orange as they age.
Rockhoppers can swim fast enough to launch themselves out of the water to land on the shore on their fat bellies.