Salisbury Plain
The sheer number of king penguins breeding behind the beach at Salisbury Plain is enough to truly challenge belief. One of the highlights of South Georgia, this is the second largest king penguin colony in the area and one of the largest in the world.
Some 60,000 king penguins are all gathered here into one very popular hangout.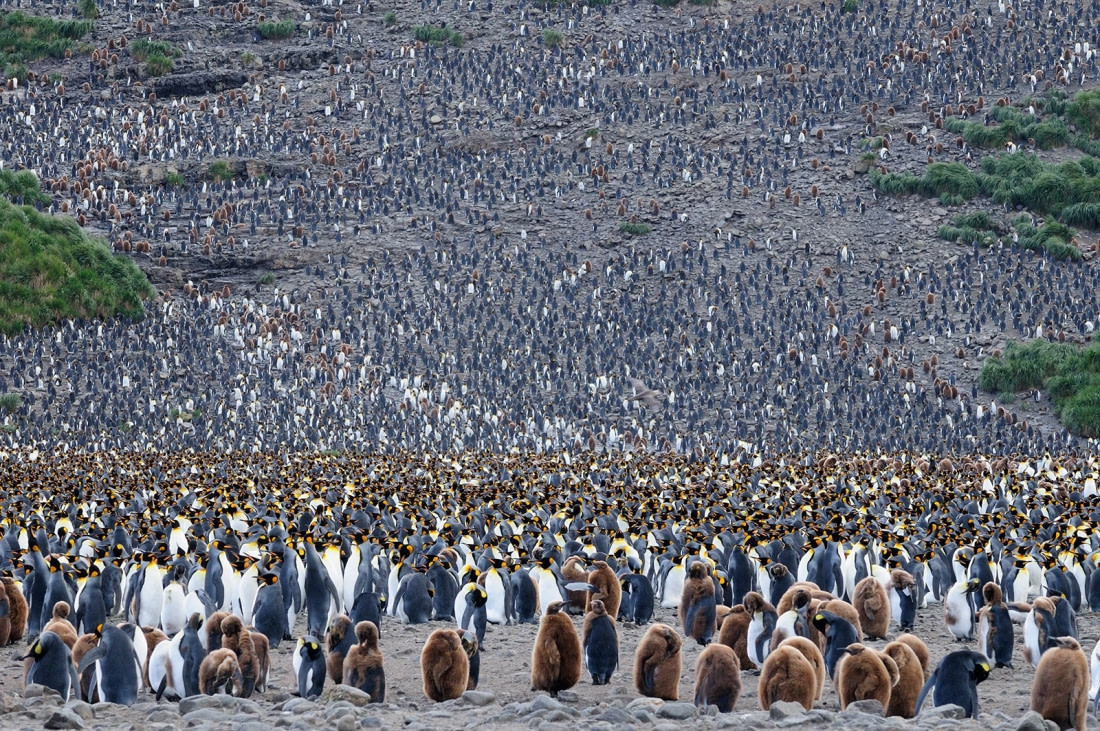 Speaking of Salisbury Plain:
Salisbury Plain is a large coastal plain in the Bay of Isles, South Georgia. The famous British Captain James Cook discovered the bay during his second voyage of 1772―1775.
Salisbury Plain was first seen on a British Admiralty chart in 1931 and probably named after the British city of Salisbury. The plain was formed by the outwash from Grace Glacier, where penguins like to breed.
Landing on the beach of Salisbury Plain is not always possible, as the area isn't sheltered from the large swells that surge in off the ocean.
The colony at Salisbury plain has been growing rapidly. At the end of the 19th century, the global population of king penguins plummeted as a result of over-hunting. Since hunting stopped, their numbers have replenished at a rate of 5―15 % per year. The total number of breeding pairs in Salisbury Plain was estimated at 350 in 1912, but now it is around 100,000. The world population is thought to be upwards of 2.2 million pairs.
The king penguin is aptly named: It is the second-largest penguin in the world and measures between 85 and 95 centimeters (33 and 37 inches). Only the Emperor penguin is larger.
King penguins eat mainly fish, especially lanternfish, but also cephalopods―squid, in other words. They are also born divers, knifing to depths of more than 300 meters (984 feet).