Wildlife, locations, and other travel-friendly facts about Antarctica's classic cruise region: the Antarctic Peninsula
When it comes to getting the widest possible experience of Antarctica, there's probably no better place than the Antarctic Peninsula.
This exquisite 1,300-km-long (810 miles) strand of polar terrain gives you the chance to encounter multiple species of penguin, whale, seal, and seabird, not to mention loads of rugged coastlines, rocky mountains, colossal glaciers, dazzling bays, and other extraordinary places to enjoy a range of adventurous outdoor activities.
In short, the Antarctic Peninsula just about has it all.
Here we'll cover a few of the many highlights (animals, areas, and activities) that keep us and so many of our passengers hooked on this incredible destination. Although far from a complete list, this will explain some of the once-in-a-lifetime experiences you can enjoy in the amazing Antarctic Peninsula.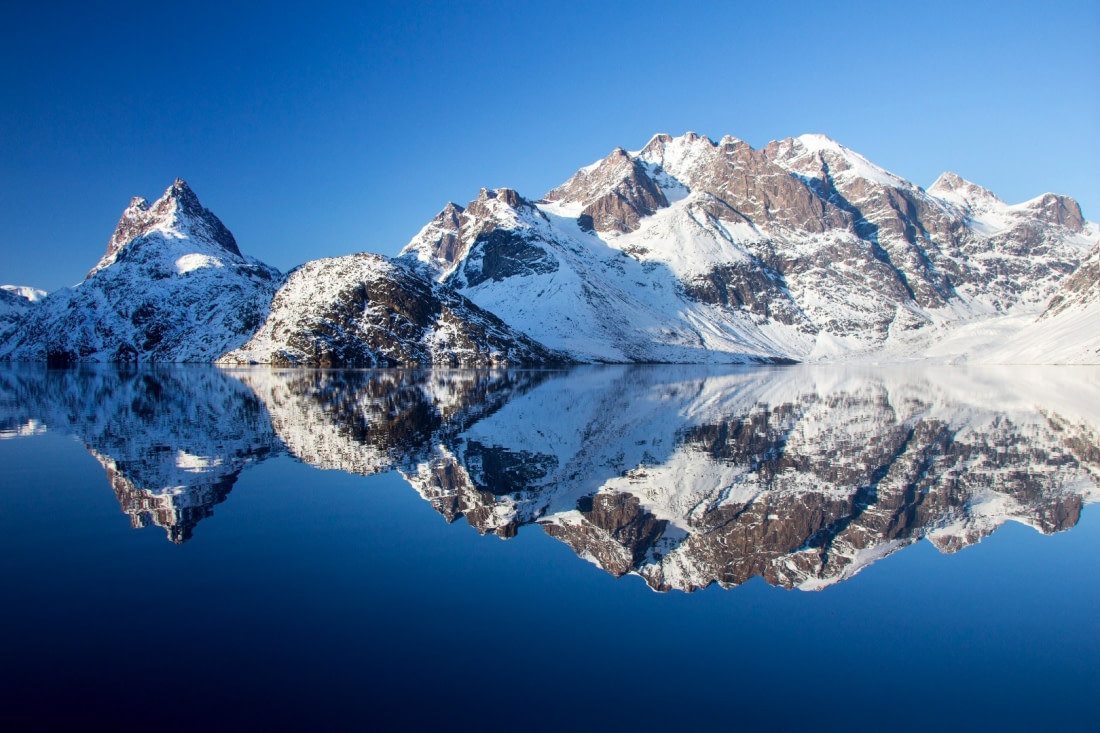 Image by Roland Geringer
Antarctic Peninsula Animals
If exotic wildlife isn't the top reason people travel to the polar regions, it's close enough to start with. Not only will you have a strong chance of seeing two of the core penguin species on the Antarctic Peninsula, you may also spot several seals, whales, and non-penguin seabirds. What follows are some of the more well-known animals you might encounter.
Gentoo penguin
The only penguin species currently increasing in both population size and distribution, gentoos are a relatively common sight along the Antarctic Peninsula.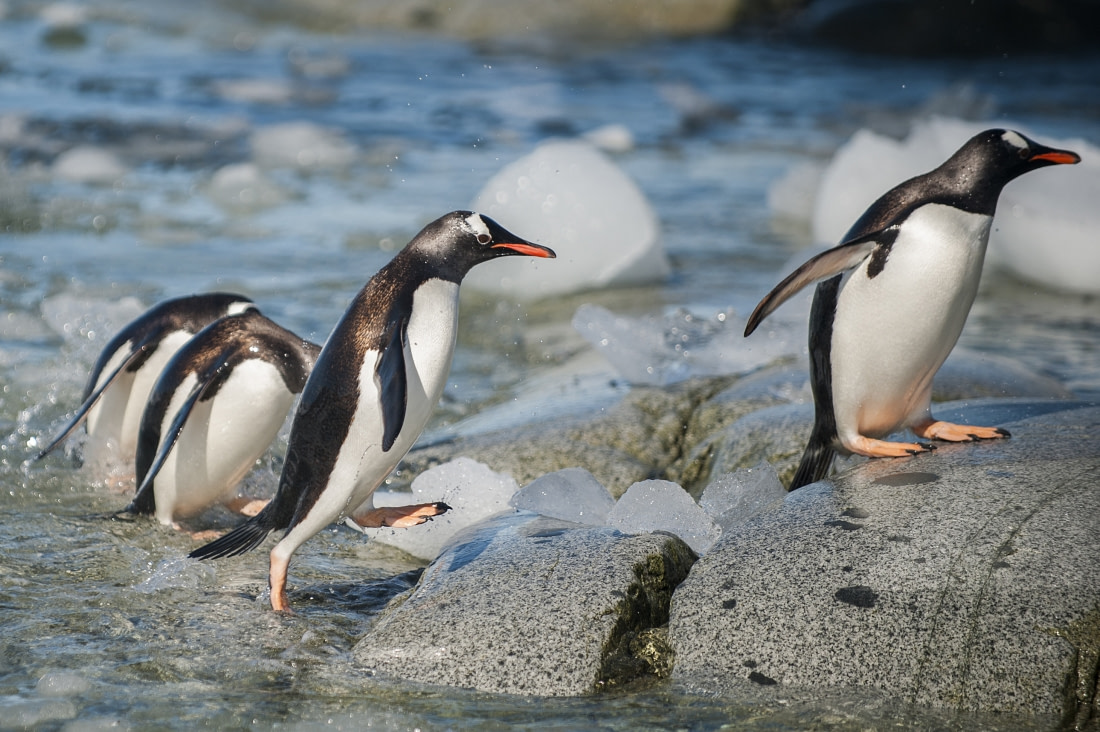 Image by Morten Skovgaard
Adélie penguin
These seabirds are fairly easy to identify by their unique eyes. Adélie penguins are not only spotted on the Antarctic Peninsula but also the continent, and indeed are one of only two penguin species that are permanent residents of the Antarctic Continent - the other being emperor penguins.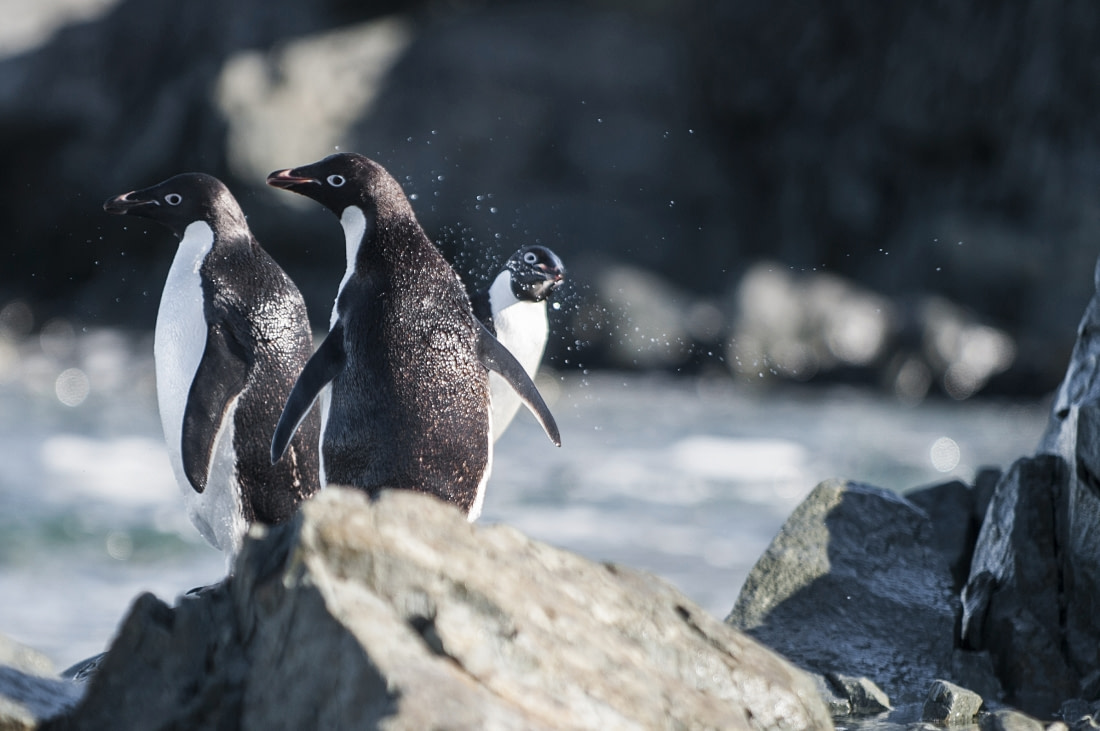 Image by Morten Skovgaard
Antarctic shag
Also known as blue-eyed shags, these are the only Antarctic seabirds to keep year-round nests when ice conditions are right. We frequently see them on the Antarctic Peninsula.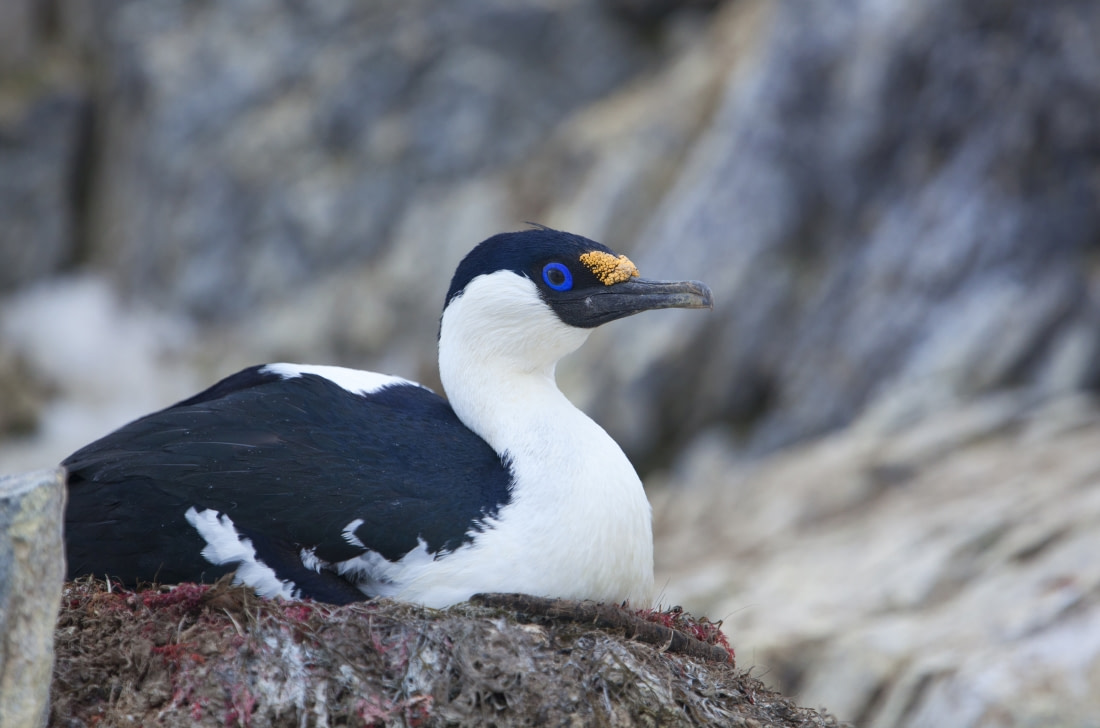 Image by Wim van Passel
Snow petrel
The pristinely white snow petrel is one of only three seabird species that breeds exclusively in Antarctica and is a frequent Antarctic Peninsula visitor.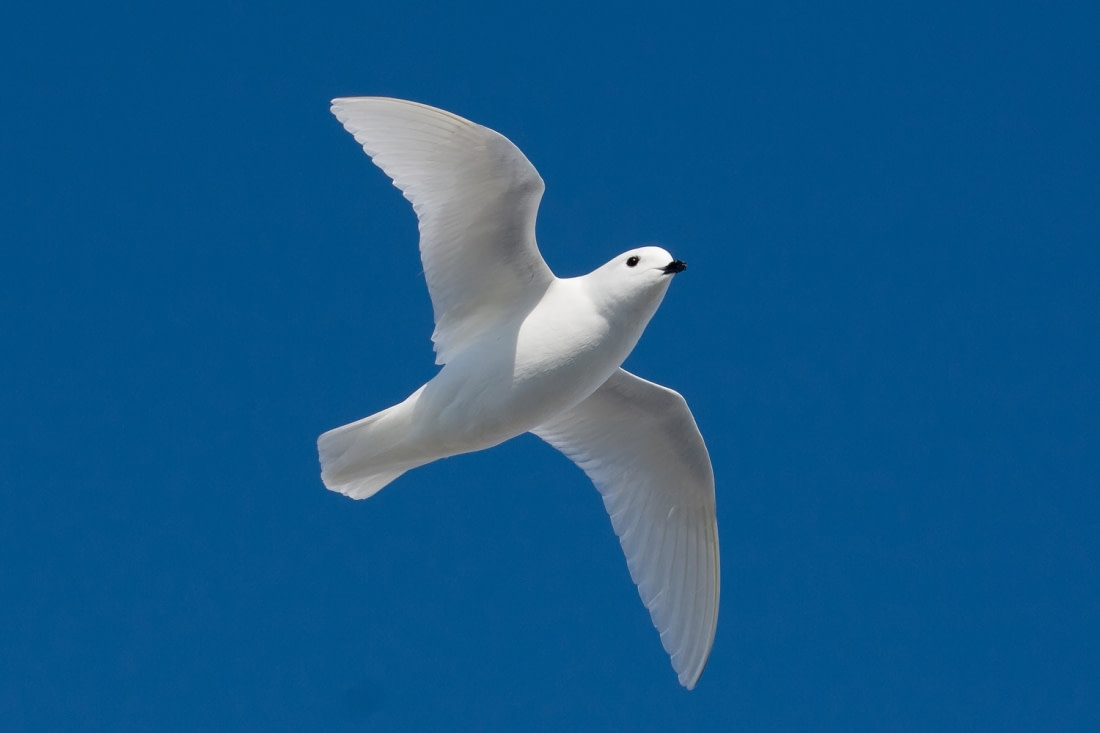 Giant petrel
Called "long swimmers" in Greek, giant petrels are the only members of the Procellariidae family (which includes petrels, prions, and shearwaters) that have legs strong enough to support walking.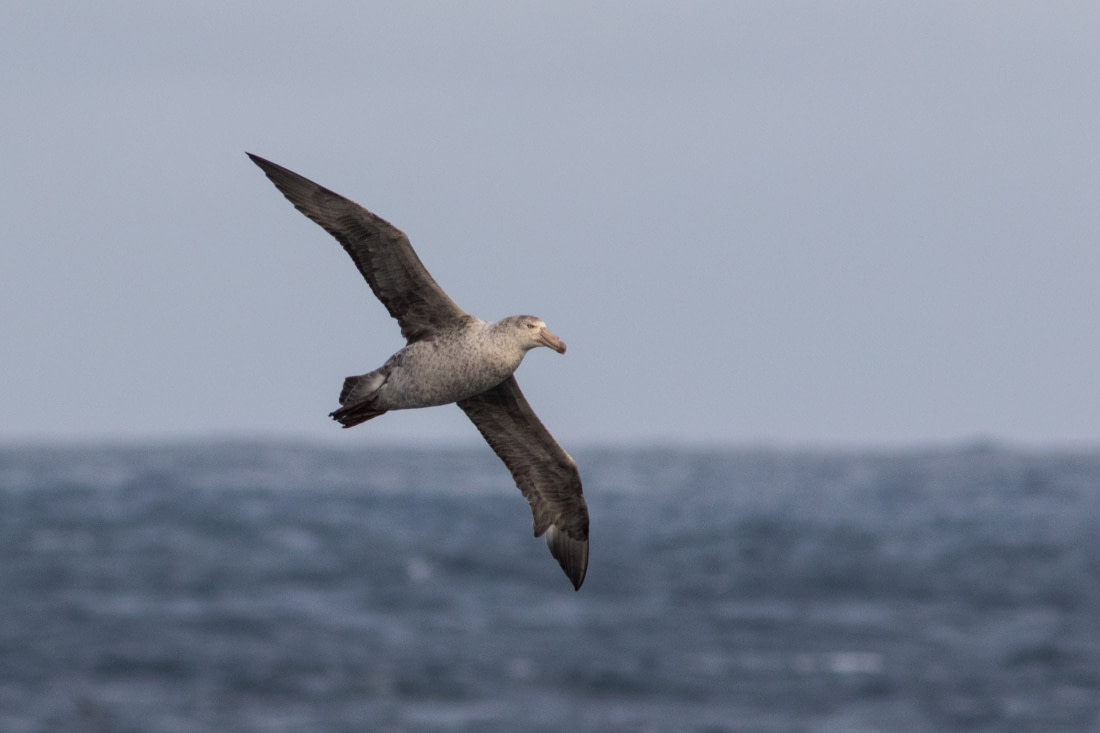 Image by Martin van Lokven
Weddell seal
These sizable Antarctic Peninsula seals live farther south than any other seal and are known for their singing. Weddell seals can also be identified by their uniquely mottled fur.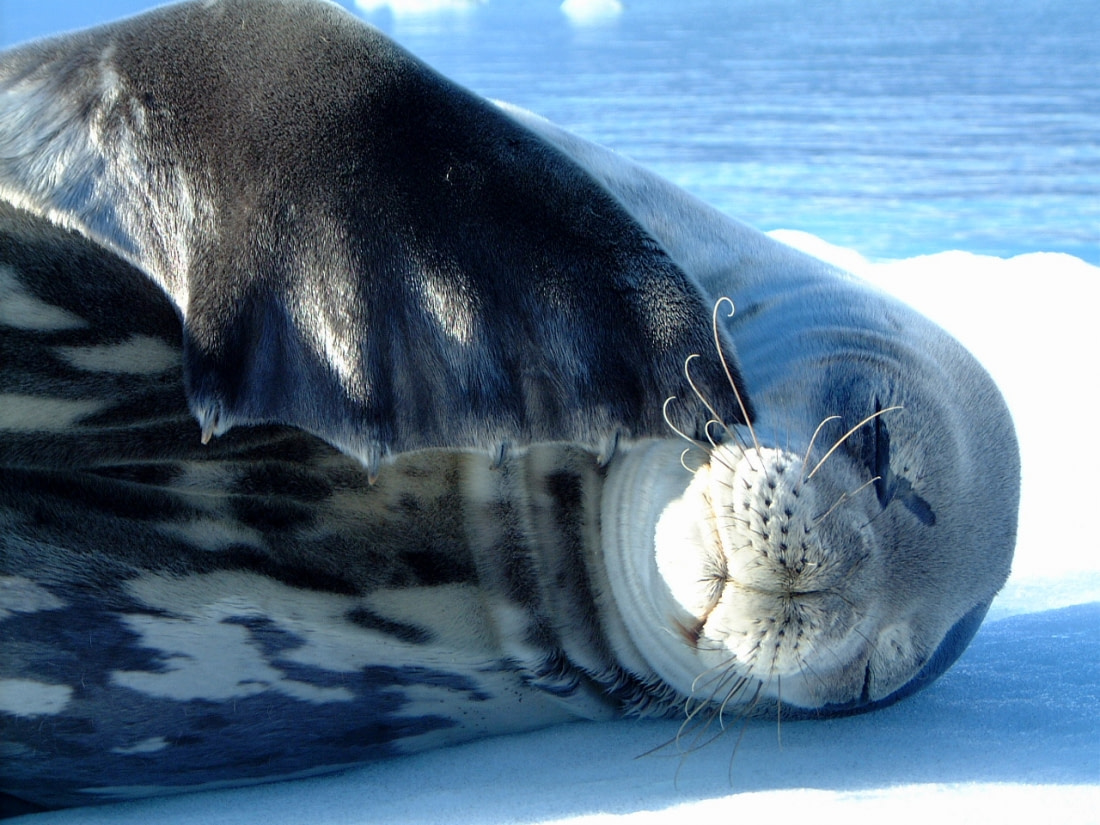 Leopard seal
The only seal species to eat other seals, leopard seals are Antarctica's top predator. We sometimes see them lounging on ice floes, though they spend much of their lives underwater.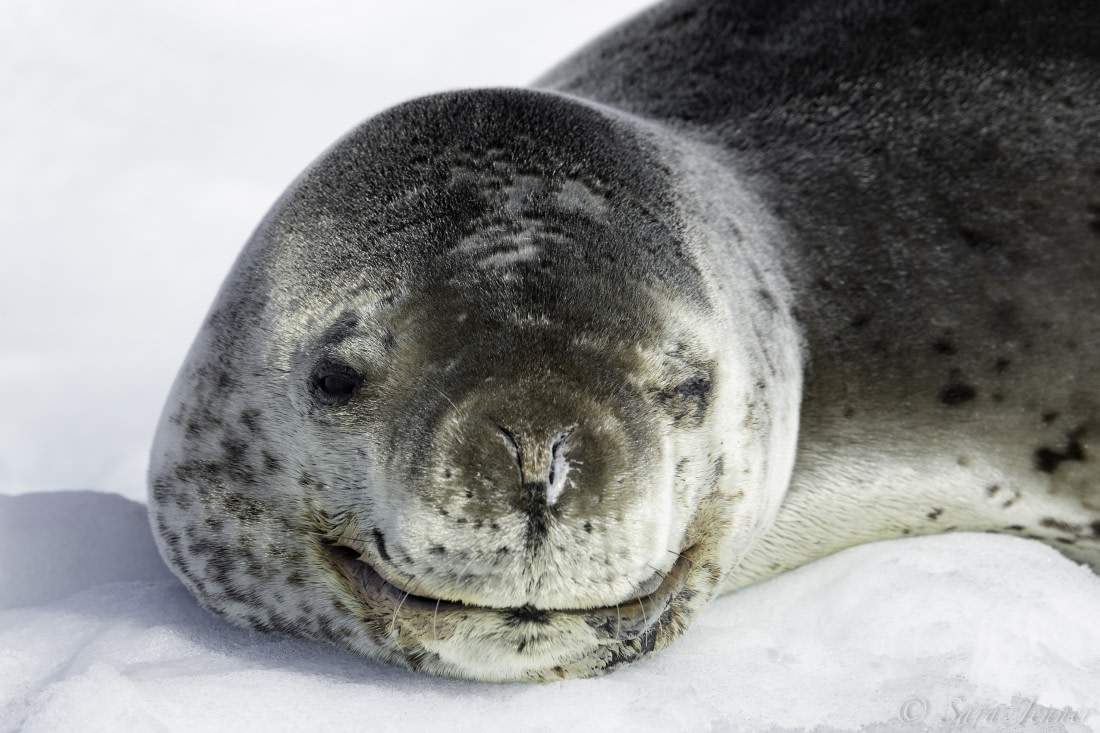 Antarctic fur seal
These common residents of the Antarctic Peninsula resemble sea lions and can even sit up and use their flippers to walk. Once nearly hunted into extinction, Antarctic fur seals are recovering and now have a healthy population.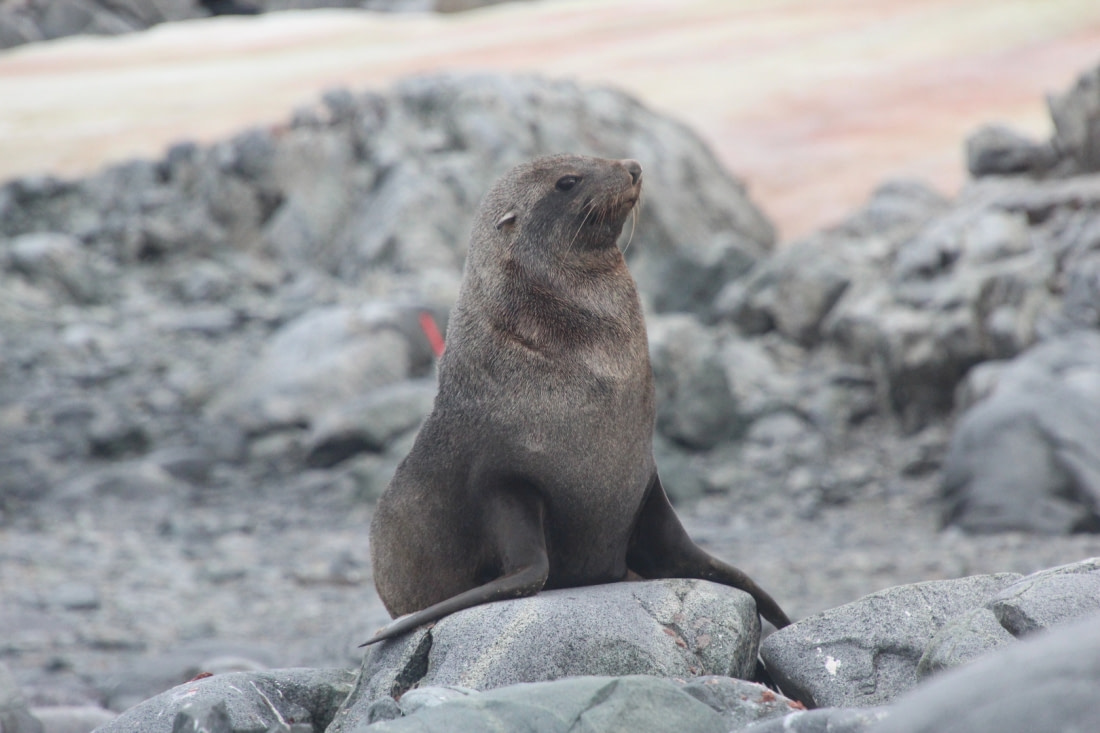 Image by Reinhard Schiemer
Crabeater seal
The Antarctic Peninsula is home to a great many crabeater seals, the most abundant large mammal in the world. Maybe this is why they sleep so peacefully...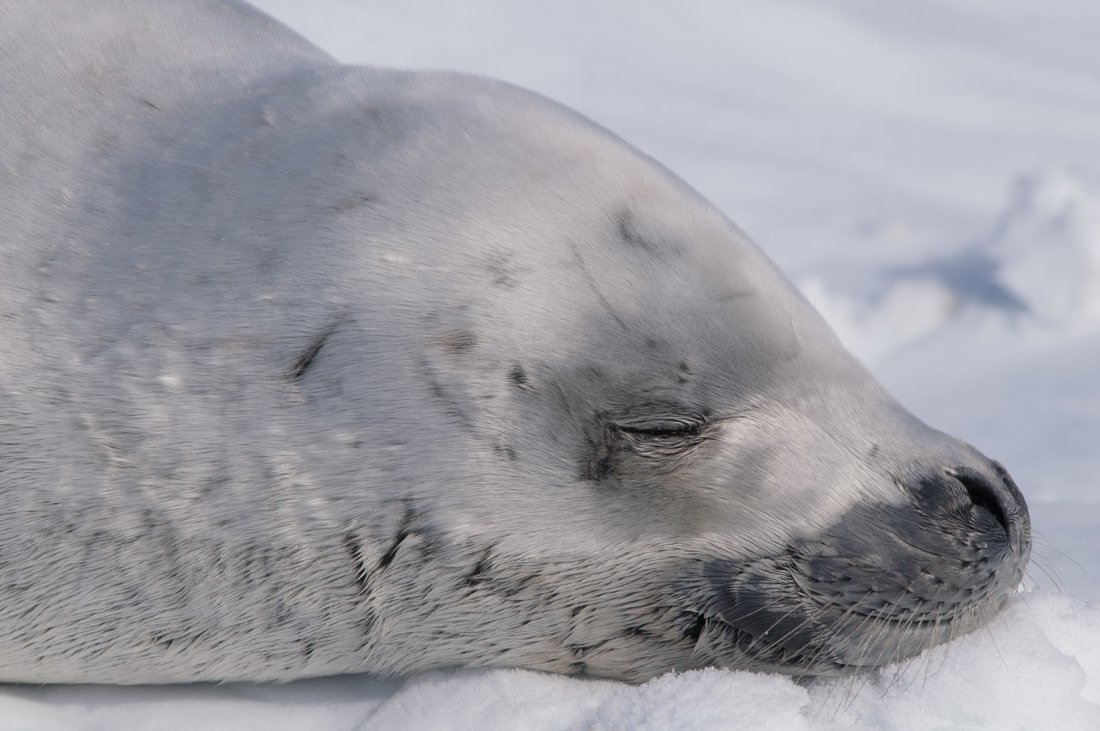 Image by Troels Jacobsen
Humpback whale
A favorite among whale lovers are humpback whales, named for how they bend their backs before diving. Their lunges make for some decent photos, too.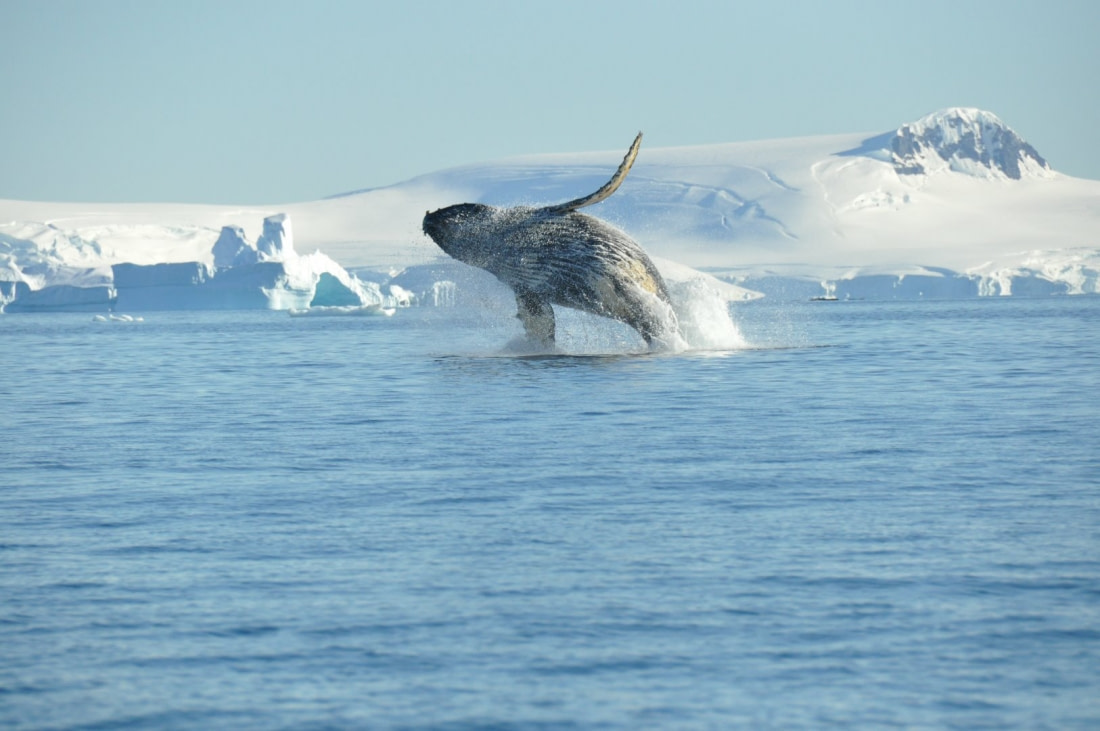 Image by Nicolo de Cata
Minke whale
Minke whales are actually a kind of fin whale, capable of projecting a cry as loud as an airplane take-off. You have a good chance of seeing them along the Antarctic Peninsula.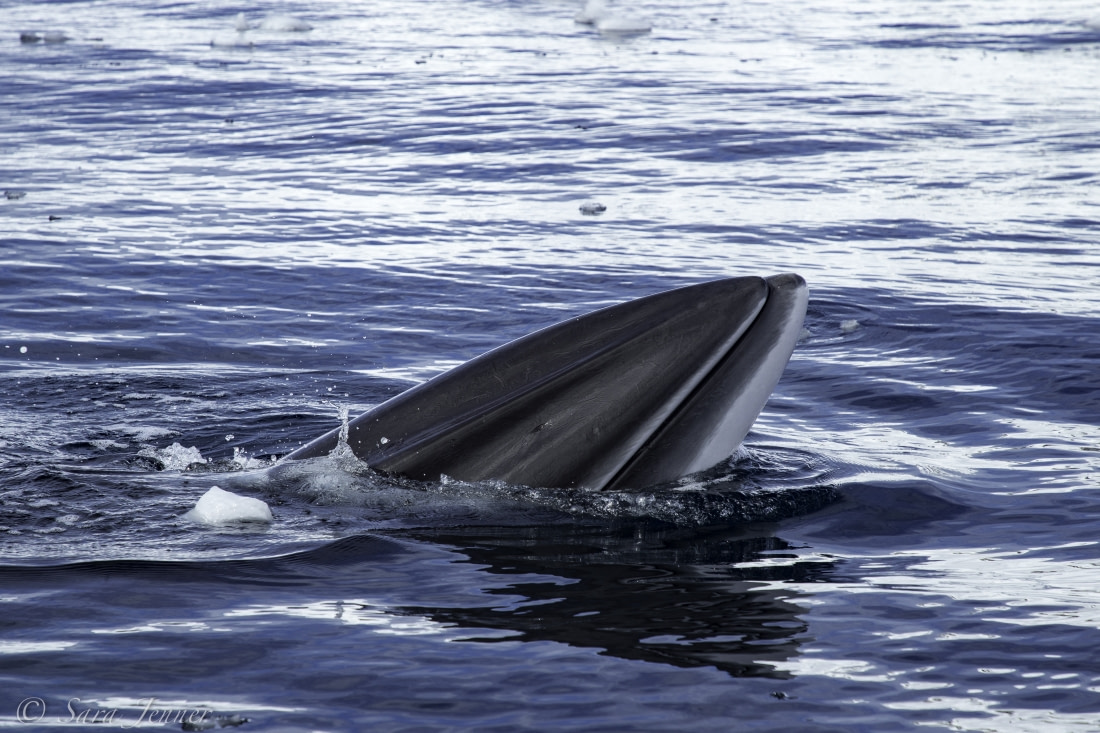 Fin whale
Also called "razorbacks," fin whales have a particular facial coloration that helps them hunt.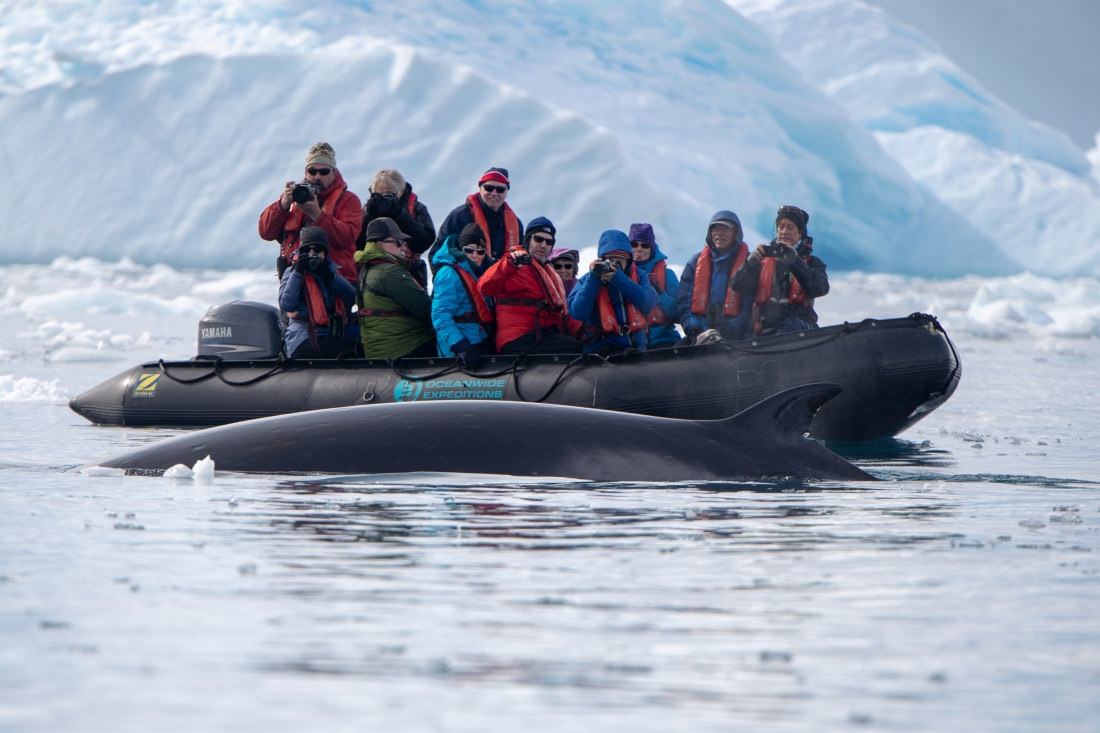 Image by Pedro Rego
Antarctic Peninsula Areas
The Antarctic Peninsula is a vast region offering far too many fantastic sites to see in a single voyage. Still, we do our utmost to show you the best places that time constraints and local conditions allow. Below are just a few of the unforgettable areas you could see.
Danco Island
Gentoo penguins, Weddell seals, and crabeater seals can all be encountered at Danco Island, which is a core part of our Antarctic Peninsula route.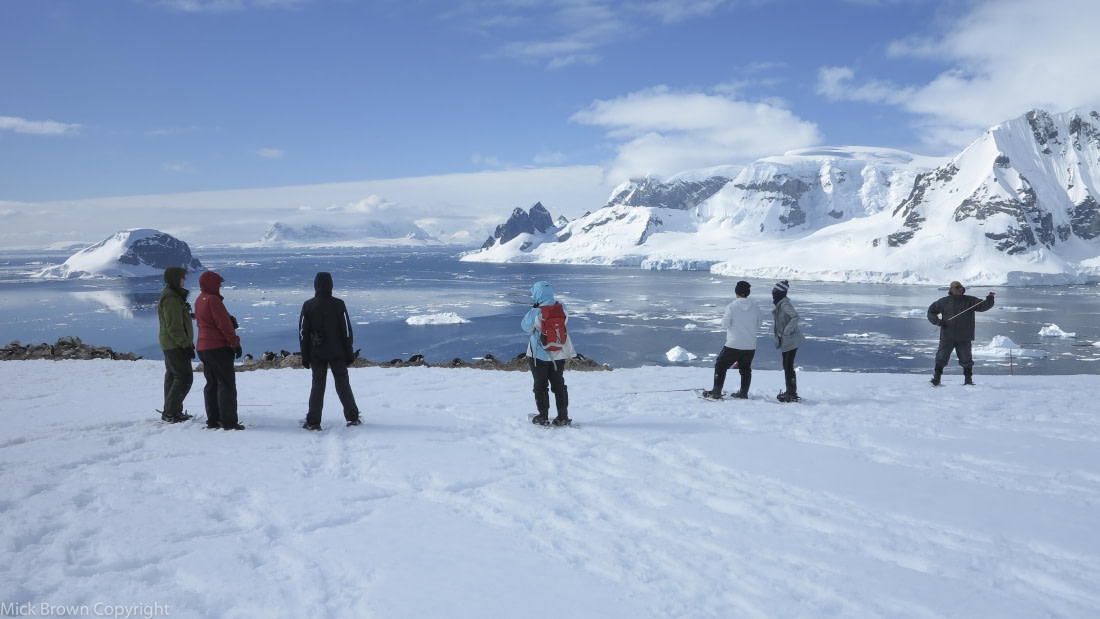 Neumayer Channel
The glacier-bordered waterway of Neumayer Channel, which separates Wiencke Island from Anvers Island, is a good place to spot whales.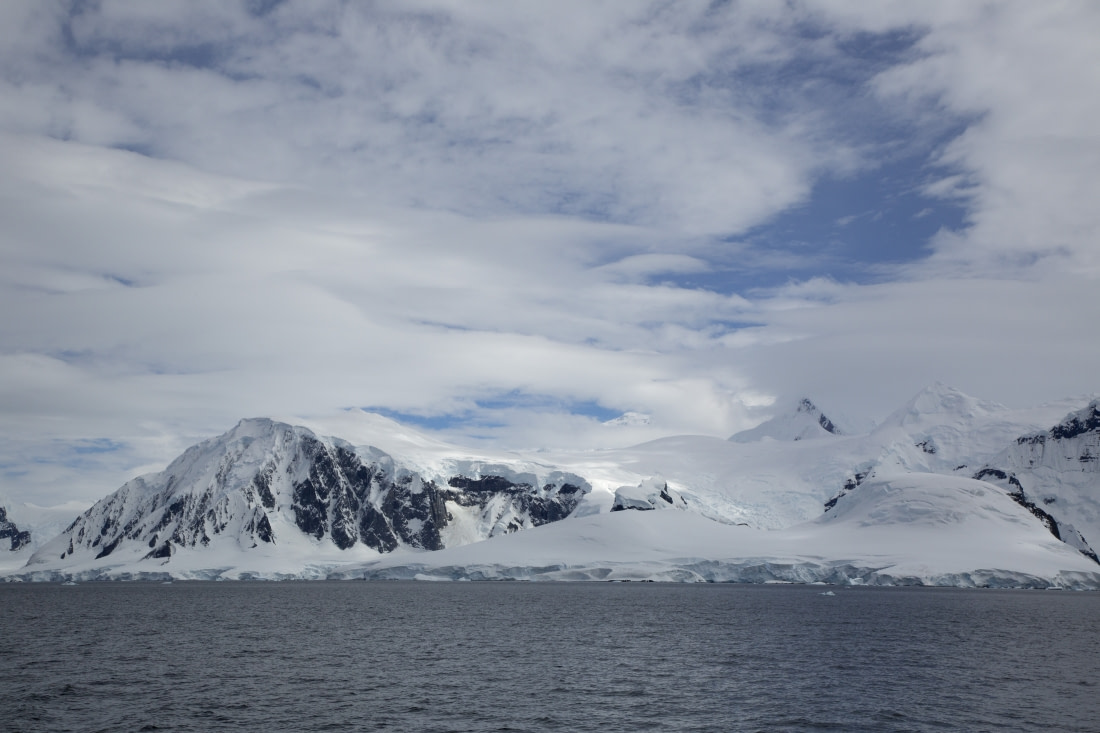 Image by Margaret Welby
Neko Harbour
A favorite among Antarctic Peninsula sites, Neko Harbour is a mountainous landscape of mammoth glaciers and endless wind-carved snow.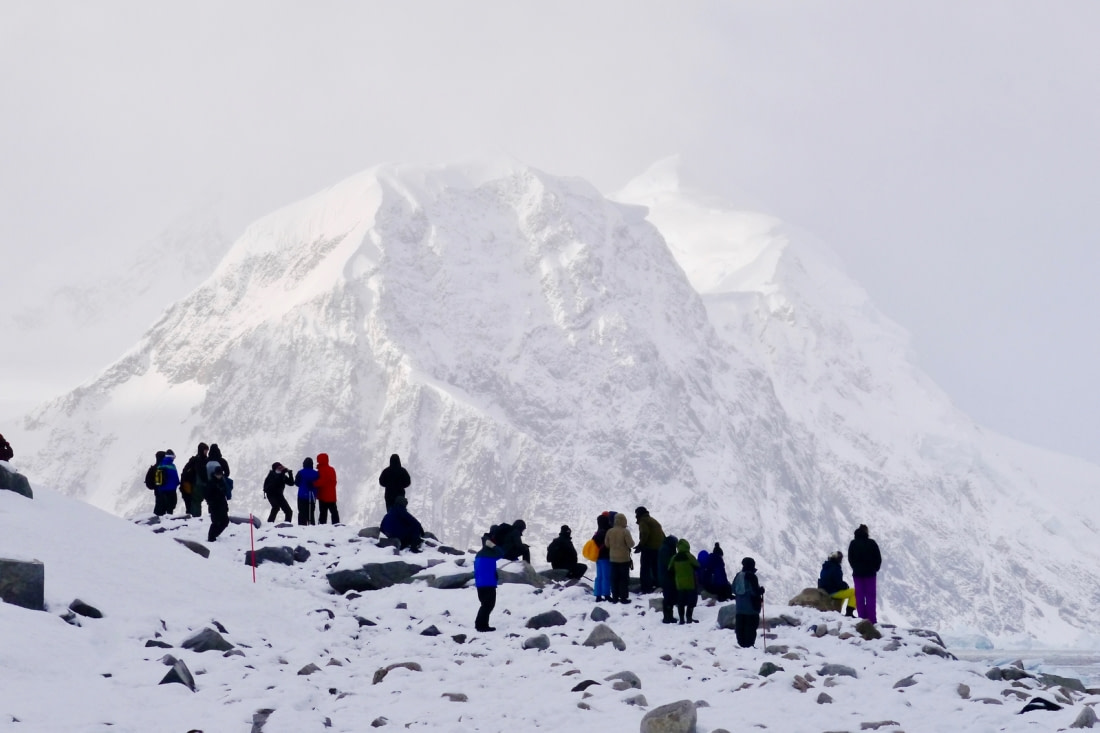 Anvers Island (rarely a landing here)
The mountainous Anvers Island will afford you some spectacular views and panoramic photos, though it is not always included in our Antarctic Peninsula trips.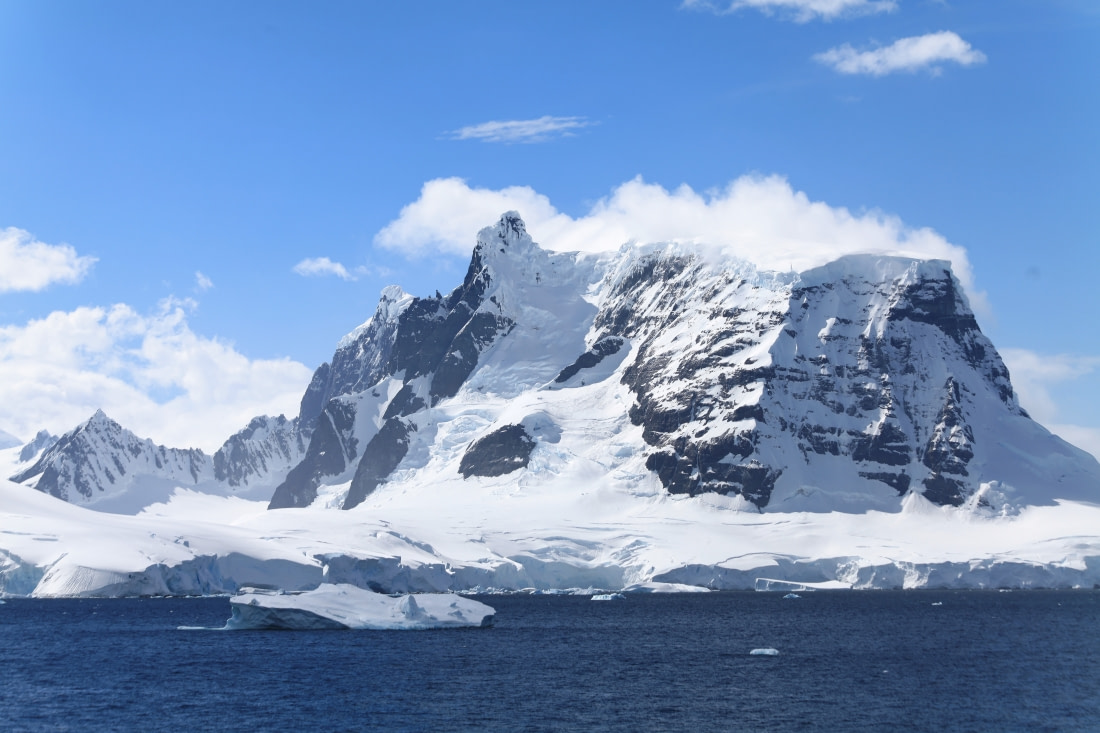 Paradise Bay
Another Antarctic Peninsula favorite, Paradise Bay is an absolute gem. Gentoo penguins, crabeater seals, colossal glaciers, dazzling icebergs, and rolling fields of snow characterize this prized peninsula site.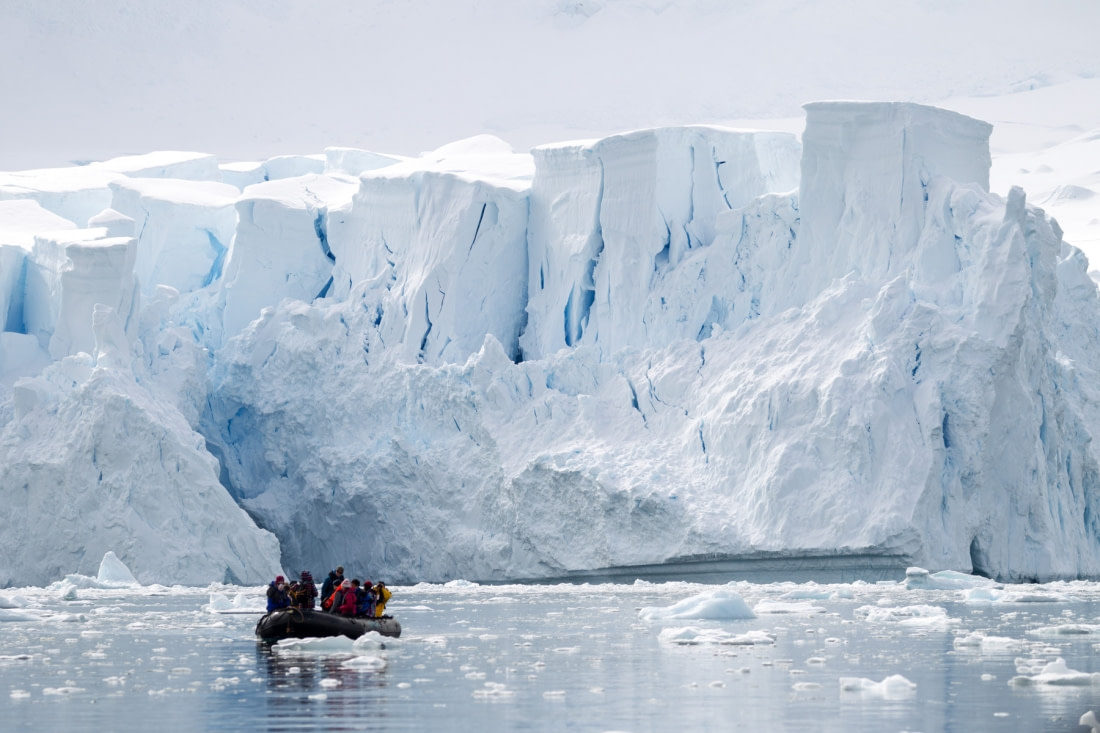 Image by Rolf Stange
Pléneau & Petermann Islands
Adélies, gentoos, blue-eyed shags, leopard seals, and humpback whales can be seen around these Lemaire Channel islands, making both Petermann and Pléneau (which we often see close together) excellent Antarctic Peninsula spots.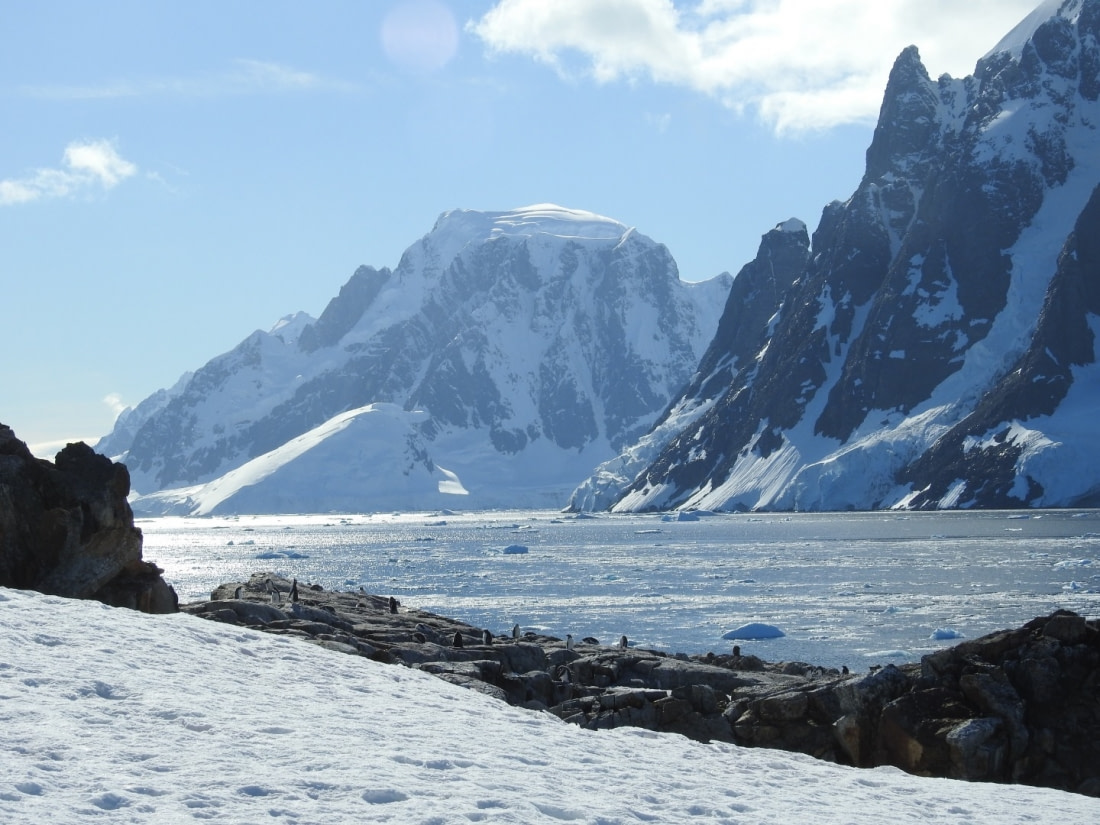 Image by Linda Forey
Port Lockroy
Located on Goudier Island, Port Lockroy is a former research station and currently the planet's southernmost post office. The penguins are fond of it, too.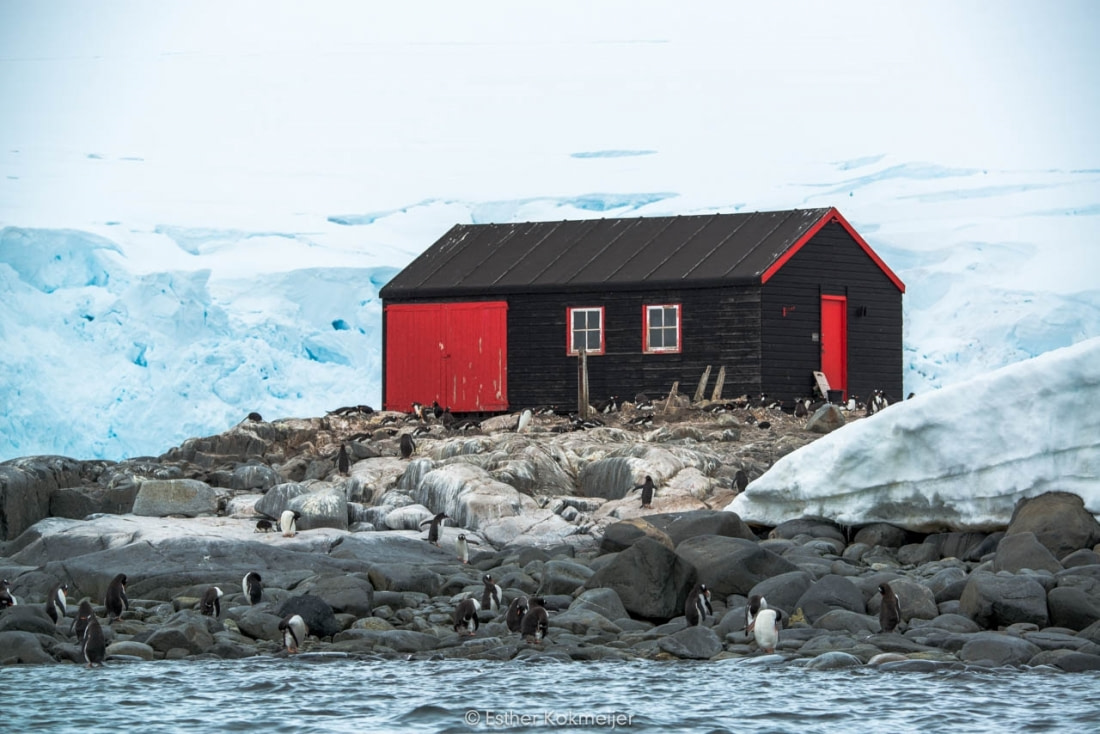 Wilhelmina Bay & Guvernøren
Wilhelmina Bay is among the best places to spot whales along the Antarctic Peninsula, and nearby Foyn Harbour will also give history lovers (and scuba divers) a rare treat: The wreck of the Guvernøren, a factory ship that ran aground in 1915, can be seen near Enterprise Island.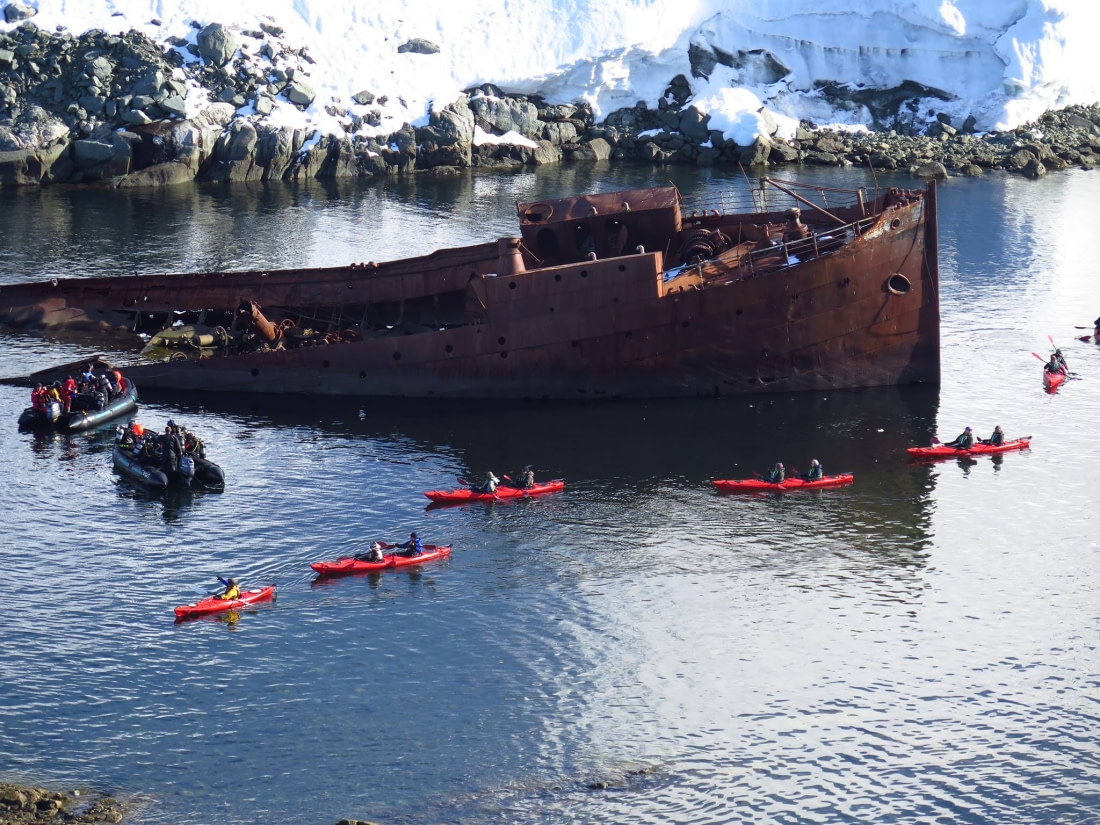 Image by Mal Haskins
Antarctic Peninsula Activities
The Antarctic Peninsula has so much to offer in terms of wildlife and landing sites that it should come as no surprise that its activities are just as various. You can book the following activities on select voyages or join one of our Basecamp cruises, which include multiple activities in the price of the trip.
Snowshoeing
This is an activity everyone can enjoy, requiring no prior experience or athletic ability beyond basic fitness. Snowshoeing is one of the best ways to experience the starkly beautiful shorelines of the polar regions.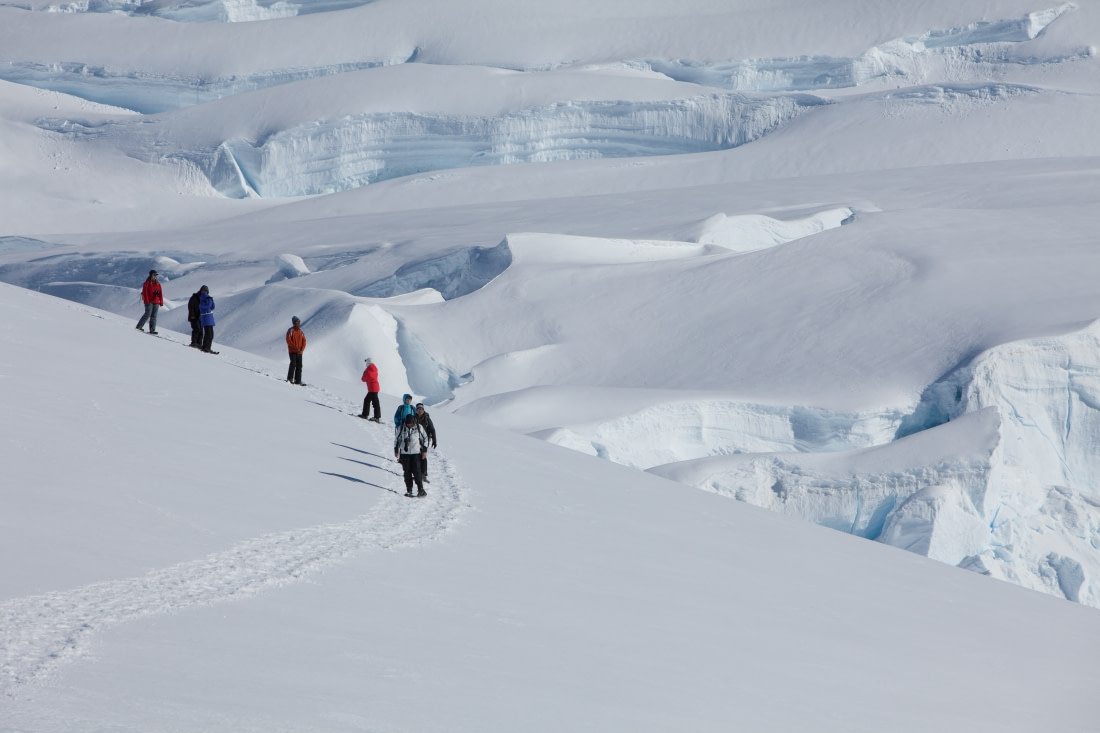 Image by Troels Jacobsen
Camping
What better way to feel like a real polar explorer than camping under the Antarctic sky in a snow dugout you've made with your own steam? (We promise, our sleeping gear is warm and comfortable.)
Kayaking
The Antarctic Peninsula is one of the most ideal places to kayak in the polar regions, lending itself perfectly to this peaceful low-impact activity.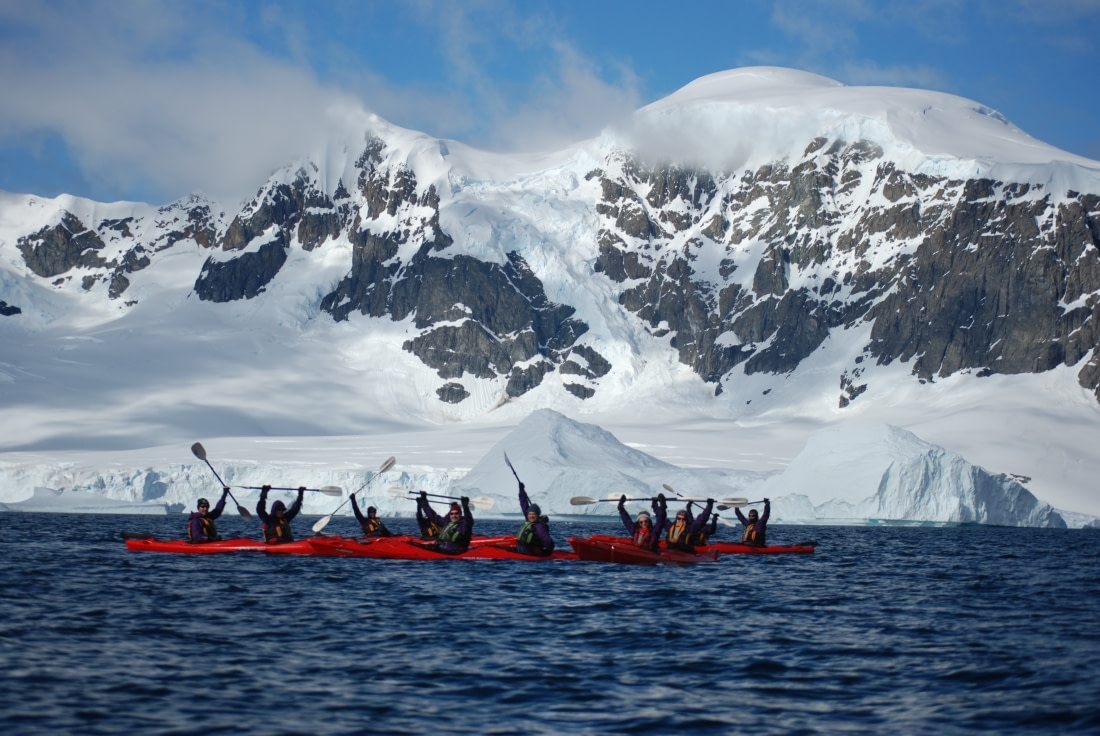 Photo workshops
You can also practice your picture-taking skills in the Antarctic Peninsula, learning from expert nature photographers who will help you get the most out of your camera.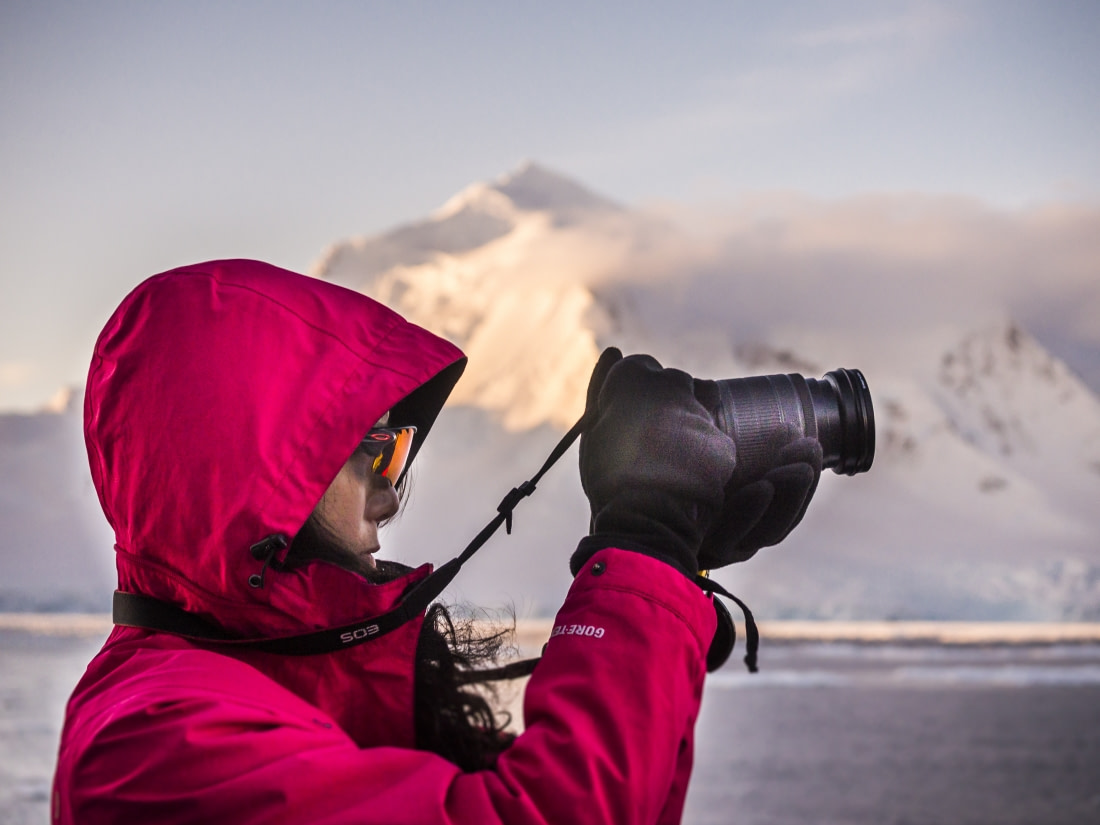 Image by Dietmar Denger
Scuba diving
If you've got sufficient cold-water dive experience, you can also explore the underbelly of Antarctica's icebergs and sea life by going polar scuba diving. This is obviously a less common activity available only to veteran divers, but those who can partake will be dazzled by the glimpse of a rarely seen ecosystem.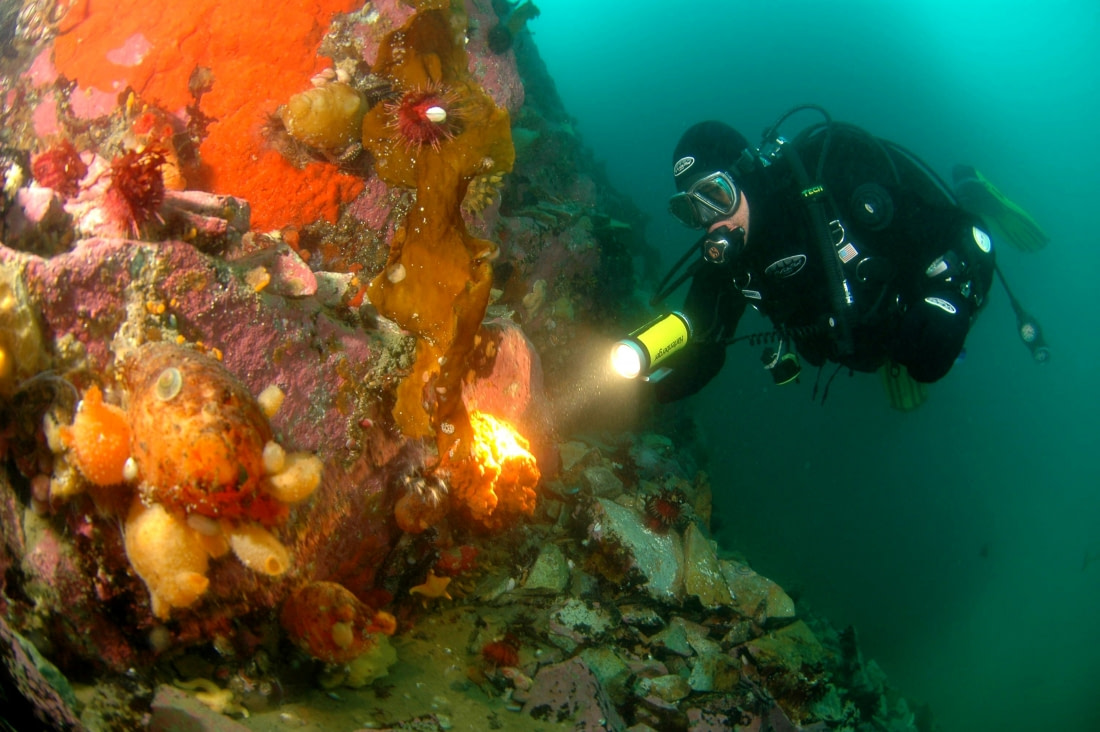 Image by Carlos Villoch
Mountaineering
If you are more into heights than waves, check out the Antarctic Peninsula from some of its loftier viewpoints on a mountaineering excursion. While you will need to be in better physical shape for this activity than for most others, mountaineering is open to all passengers interested in giving it a try.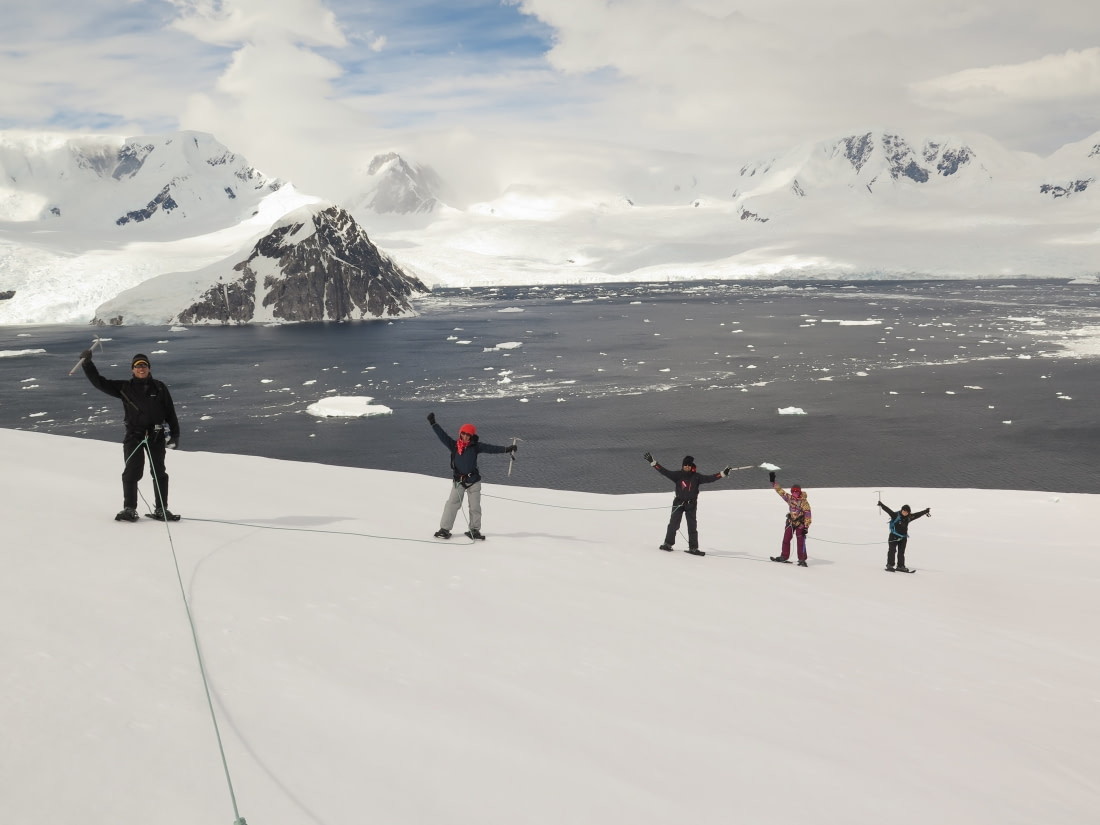 Image by Mal Haskins
Special activities on Hondius and Janssonius
On our newest Polar Class 6 vessels, Hondius and Janssonius, we offer a number of special interactive workshops that explore various scientific topics. The goal of these workshops is to entertain, inform, and fully immerse you in the surreal Antarctic environment. Topics may include weather, geology, wildlife accoustics, plastic pollution, and videography. All workshops are led by expert guides or guest speakers.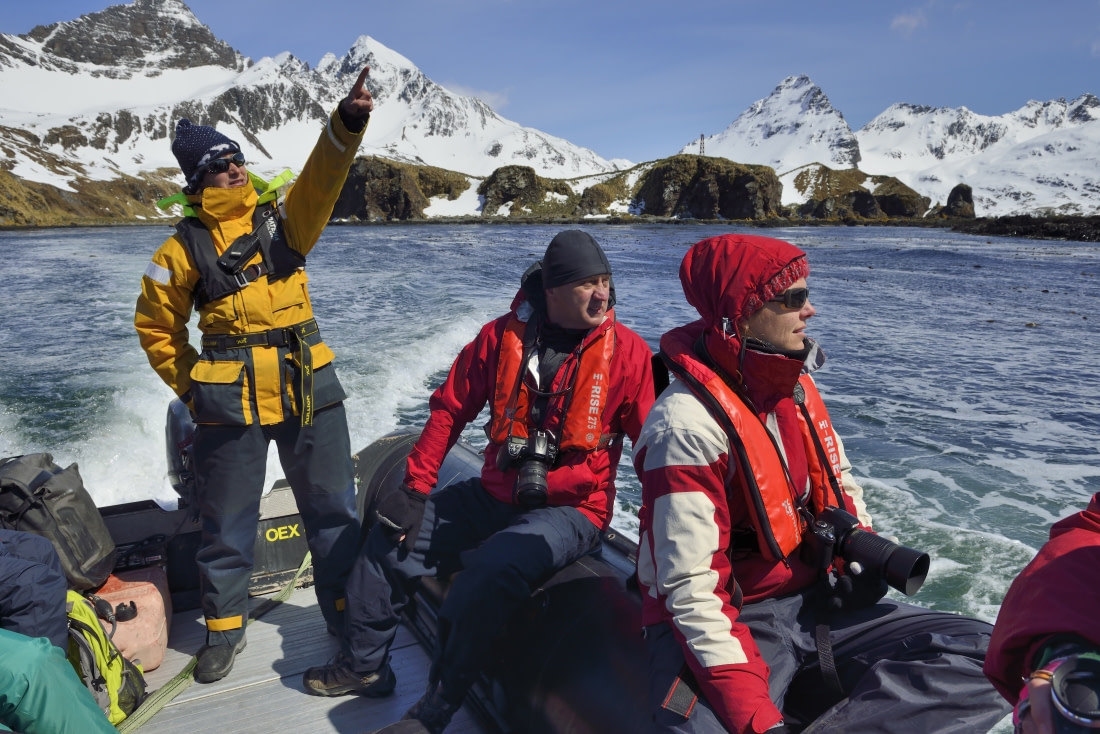 Antarctic Peninsula Basecamp Cruises
For adventure seekers looking for a truly activity-oriented Antarctic Peninsula voyage, our previously mentioned Basecamp trips are exactly what you're looking for. Get a sample of what this experience has to offer via the video below. You'll not only see some of the exciting activities you can enjoy but also hear the reactions of our passengers.
Time zone, weather, and other Antarctic Peninsula facts
The Antarctic Peninsula follows Coordinated Universal Time -3 (UTC -3). This means that if it is 18:00 UTC-3 (6 pm) during your expedition cruise trip to the Antarctic Peninsula, it would be 17:00 (5 pm) in New York City.
Antarctic Peninsula climate is milder than most people expect, because it's located near the most northerly part of Antarctica. If you travel to the Antarctic Peninsula in January, which is summertime in the Southern Hemisphere, you can expect an average temperature of 1 to 2°C (33.8 to 35.6°F). June is the coldest part of the year, with a temperature range of typically -20 to -15°C (-4 to 5°F).
The peninsula is the only part of Antarctica that extends beyond the border of the Antarctic Circle.
The only flowering plants on the continent of Antarctica (the Antarctic pearlwart and the Antarctic hair grass) are found on the Antarctic Peninsula.
The Antarctic Peninsula was originally named Palmer Peninsula, after an American explorer who journeyed there in November of 1820. Other countries later gave it different names: Graham Land and Trinity Peninsula (Britain, 1832), San Martin Land (Argentina, 1940), and O'Higgins Land (Chile, 1942). It was not called the Antarctic Peninsula until 1964, when an international agreement was reached.
The Antarctic Peninsula is regulated under the international Antarctic Treaty System, which promotes use of the area for scientific study.
The peninsula is a continuation of the Andes Mountains, which run down almost the entire west coast of South America.
There are 28 countries (and research bases) currently contributing to the scientific research conducted on the Antarctic Peninsula.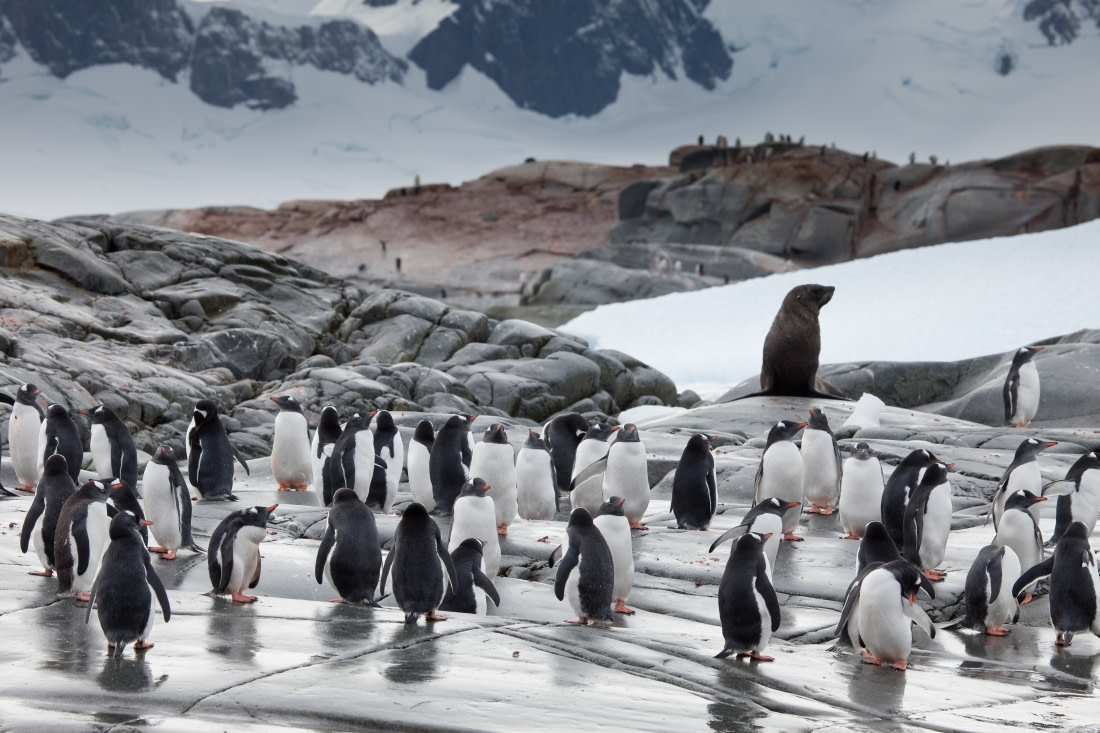 Image by Hanneke Dallmeijer
Title image by Dietmar Denger