Diving in Antarctica
Antarctica does not only offer ice, but also an interesting marine life, such as kelp walls, sea-snails, crabs, sea butterflies, various Antarctic fish, shrubby horse-tails, jelly-fishes, sea-hedgehogs, starfishes, krill and giant isopods. You may have the possibility to snorkel or dive with Fur seals, Leopard seals and penguins.
Antarctica and the Sub-Antarctic Islands
Antarctica and the Sub-Antarctic Islands are some of the last truly unspoilt regions of the world. The mysterious White Continent, with its multi-coloured ice caps, glistening glaciers and towering snow-capped mountains, offers unparalleled scenery and photographic opportunities. Enormous numbers of penguins, whales, seals and seabirds congregate in the food-rich waters along the Antarctic and sub-Antarctic shores.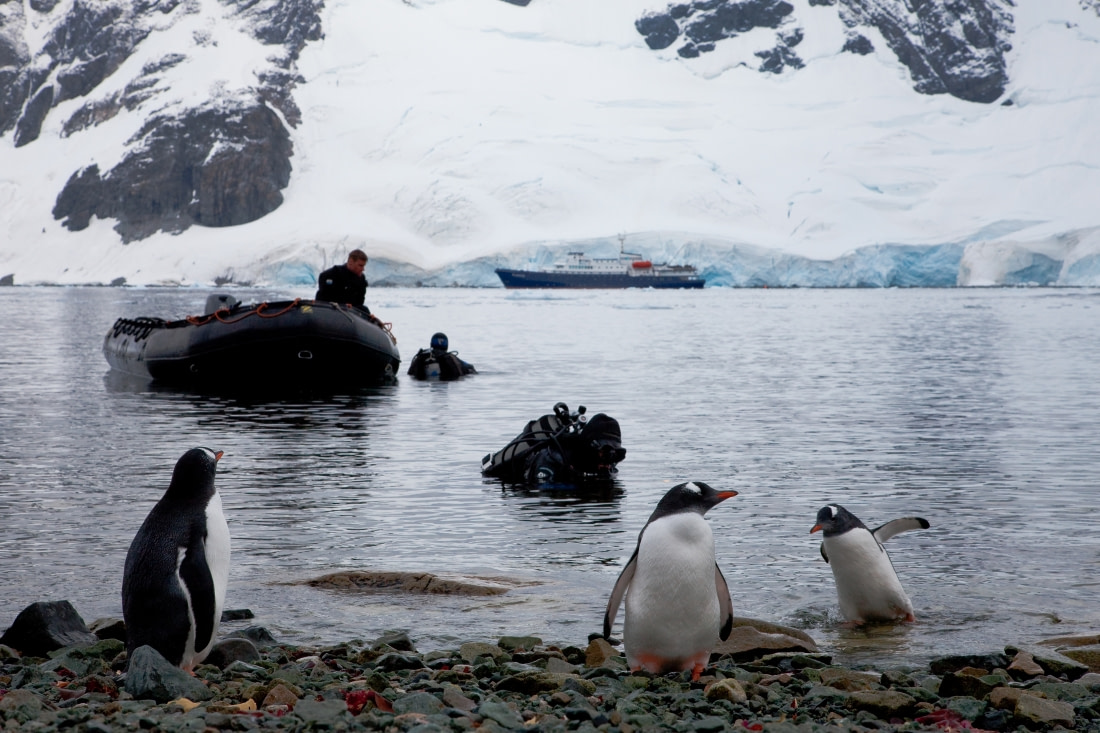 Marine Life
During our Antarctic dive expedition you may observe penguins from under the surface as well as sea lions and perhaps even Leopard seals. The Falkland Islands are rich with krill (which is consumed by many species) and therefore interesting for finding marine wildlife. The dive sites will vary from shallow ice diving, diving along a wall, from a beach or from the Zodiac. The maximum depth is around 20 meters / 60 feet. The combination of sunlight and the often extraordinary formations of ice causes an overwhelming, ever-changing spectre of colours, with a fantastic variety of shades and brilliance. While snorkelling or diving along the ice-floes, you will be amazed and never forget these deep blue colours.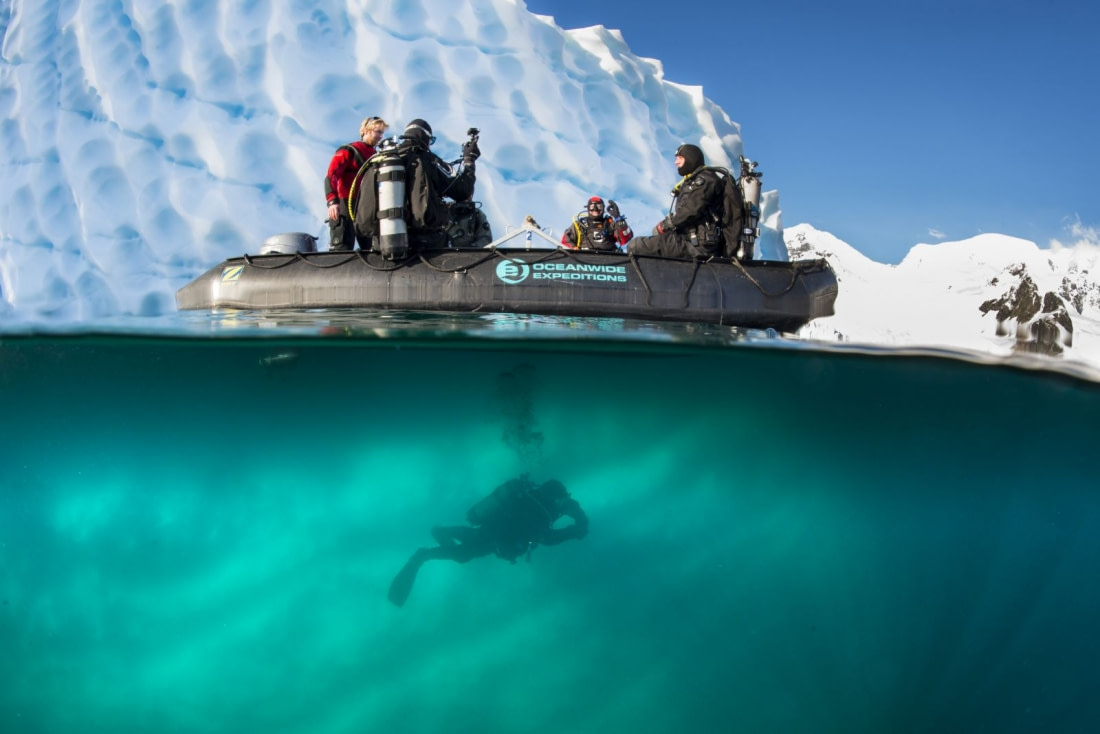 The Austral Summer
In the austral summer around the coasts of Antarctica, temperatures are generally close to freezing in the summer (December-February) months, or even slightly positive in the northern part of the Antarctic Peninsula. The temperatures in Antarctica vary between about -5 and 8 °C. Together with a strong wind these low temperatures feel like real sub-zero temperatures. This is caused by the wind-chill factor. Warm and efficient clothing (and a flexible attitude) are the best means to overcome these sometimes harsh circumstances. Exploring remote and wild regions like Antarctica requires a sensible and flexible approach. Although there can be bright skies with sunshine the weather is unpredictable. Catabatic winds, caused by the icecaps and glaciers, can pick up suddenly and are a fierce opponent for polar travellers. This might lead to the cancellation of planned hikes as hiking excursions can and will only take place in safe weather conditions.