The little-known gem of the Falkland Islands
Maybe you've already seen the colossal penguin colonies of South Georgia, sailed among the plunging seals of the Antarctic Peninsula, and watched whales in the Weddell Sea lunge among titanic tabular icebergs.
But if you haven't visited the Falkland Islands, you're still missing one of the wonders of the far Southern Hemisphere.
More than just a remotely picturesque haven for some of the planet's most exotic seabirds, the Falklands are overflowing with enough fantastic landscapes and cultural attractions to make your expedition cruise truly exceptional. Here are 17 tried-and-true reasons to add some of this archipelago's 778 amazing islands to your travel calendar.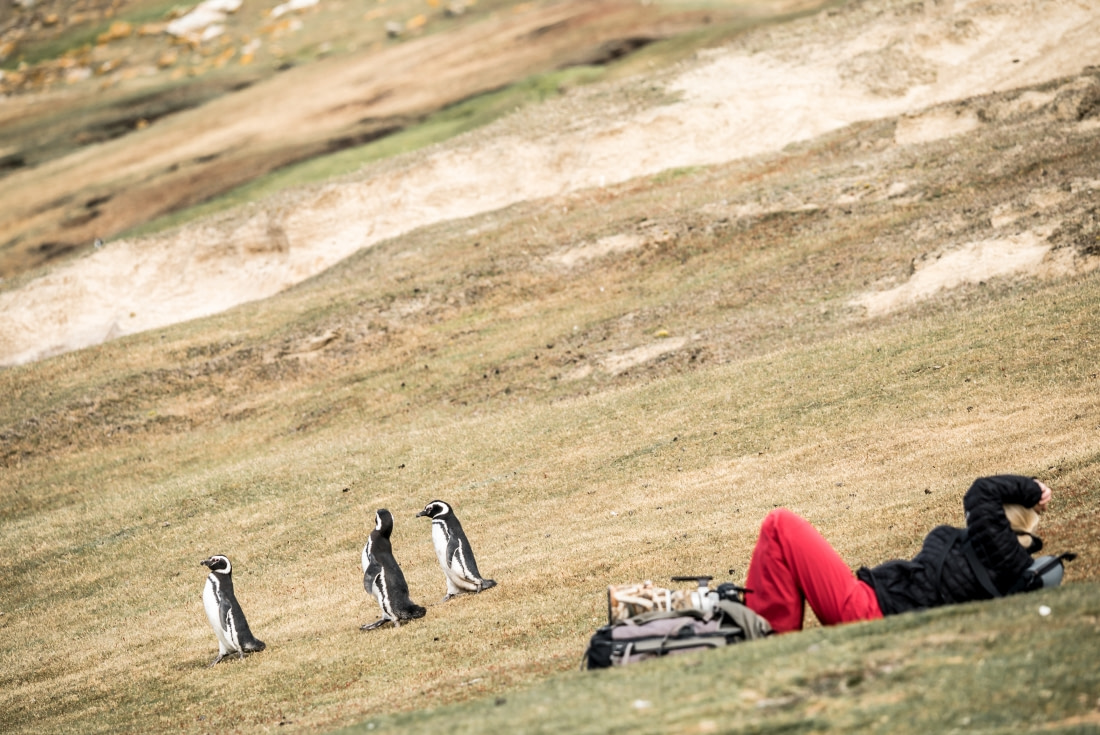 1. Marine mammals of the Falkland Islands
One of the prime attractions that prompt people to travel the far southern seas is the marine life, and the Falklands have this in abundance. Southern elephant seals, southern sea lions, South American fur seals, Peale's dolphins, Commerson's dolphins, killer whales, and offshore baleen whales are all possible encounters when visiting the Falklands.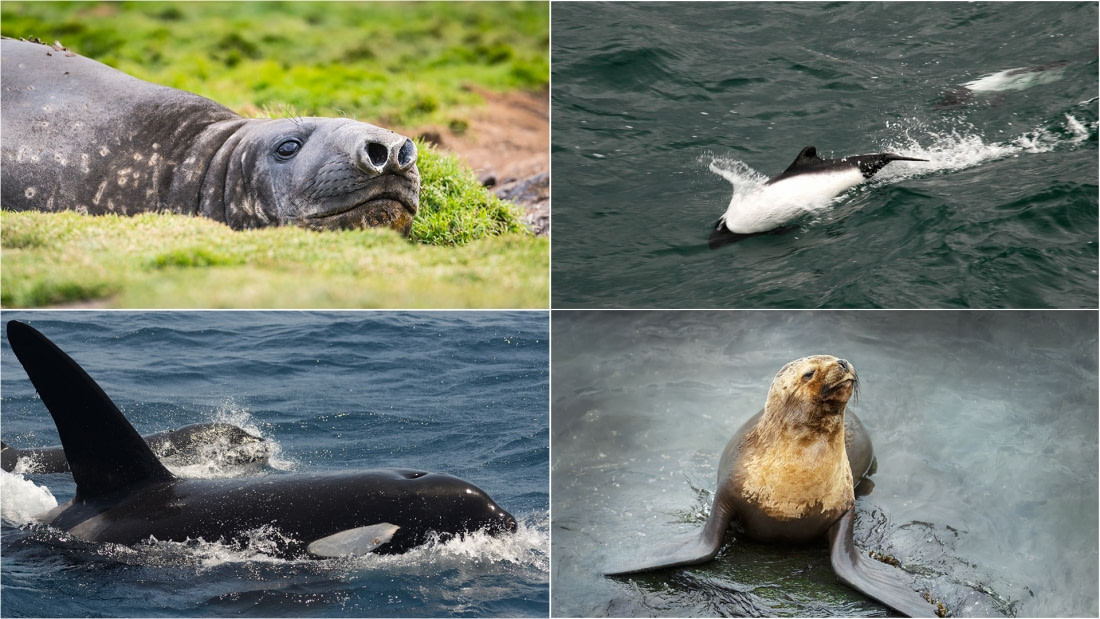 2. Falkland penguin attractions
King, gentoo, rockhopper, Magellanic, and macaroni penguins all populate the Falkland Islands, representing five of the seventeen penguin species worldwide. Three of these penguins (rockhopper, king, Magellanic) can't be seen even in Antarctica.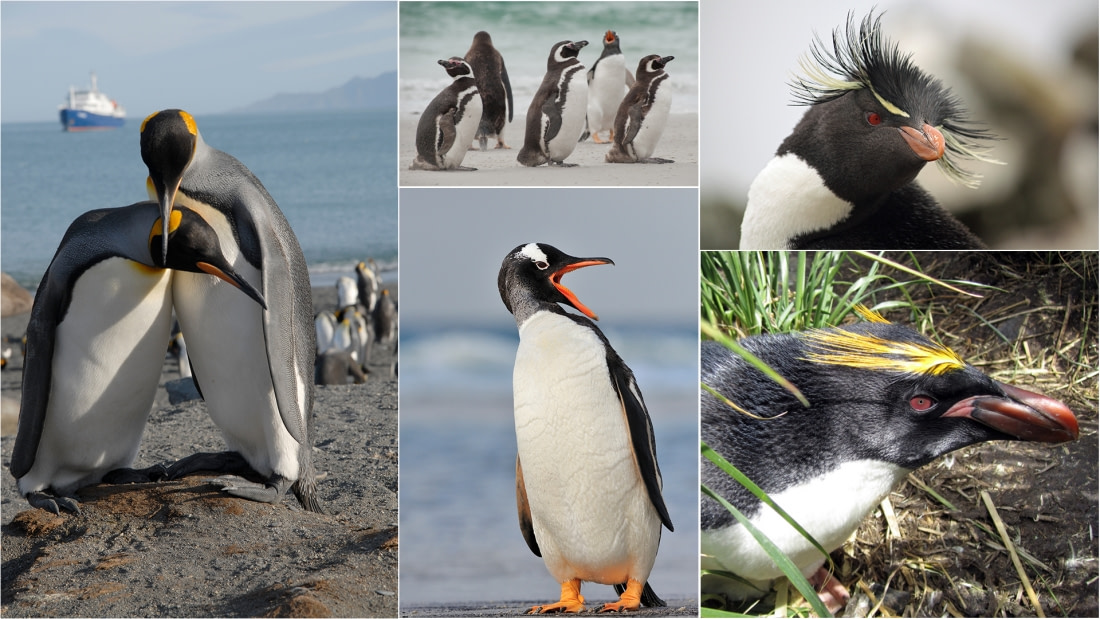 3. Over 220 types of Falklands bird
Be sure to pack a quality pair of birding binoculars should you visit the Falkland Islands: More than 220 species can be seen on the islands, of which 60 regularly breed there. Also present are several endemic species, like the Cobb's wren and Falkland pipit. During your Falkland Islands cruise, you may even spot the rare and inquisitive striated caracara, known locally as "Johnny Rook," which has earned a roguish reputation for its habit of hunting fellow bird colonies in search of eggs, chicks, even other adults.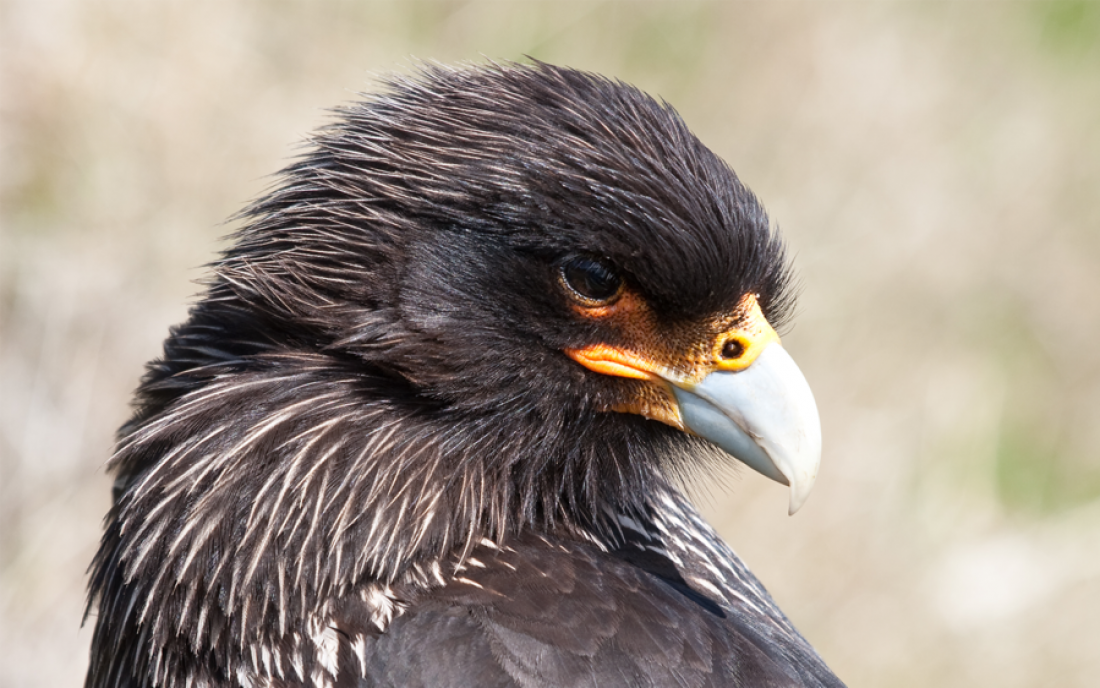 4. Fantastic Falkland Islands flora
The unique animal life of the Falklands is complimented by an equally unique plant life, an attraction largely explained by the area's considerable geographic isolation. The Falkland Islands have a combination of white-sand beaches, precipitous cliff coasts, and sheltered tussock grass areas, along with over 250 species of flowering plant – more than enough tourism treats for anyone's inner botanist.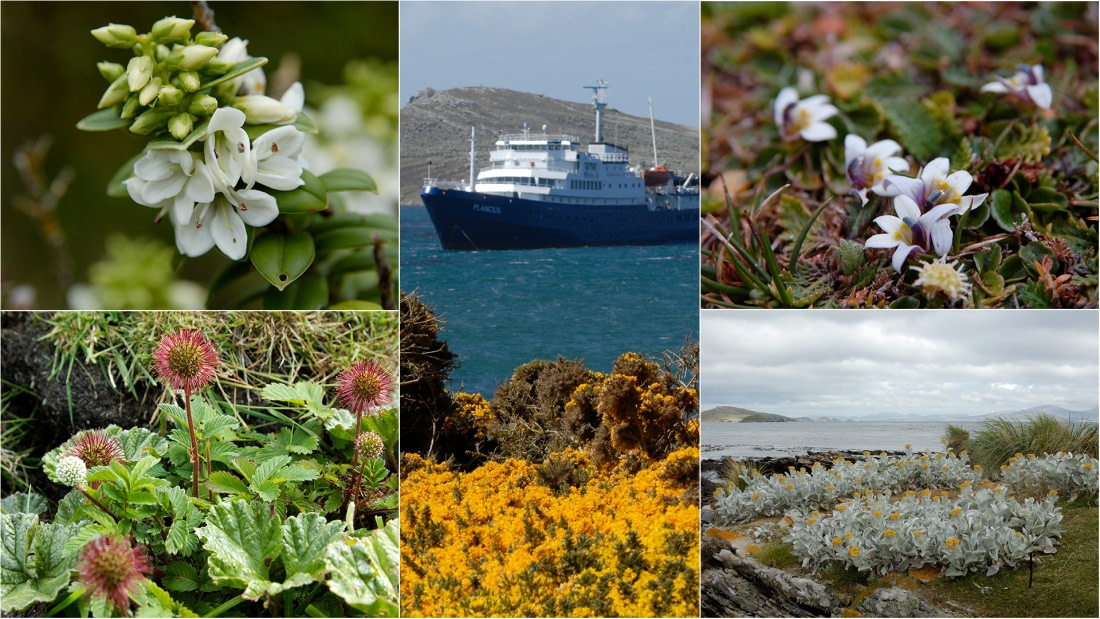 5. Falklands walks, hikes, highs, lows
Watching the wonders of the Falklands Islands from the side of an ice-strengthened polar vessel is great, but you can only get the feel of a landscape by visiting it on your own two feet. The Falklands are a common travel destination for short shoreline walks as well as more arduous hillside hikes. Antarctic cruises that bring tourism to the Falkland Islands typically feature both options.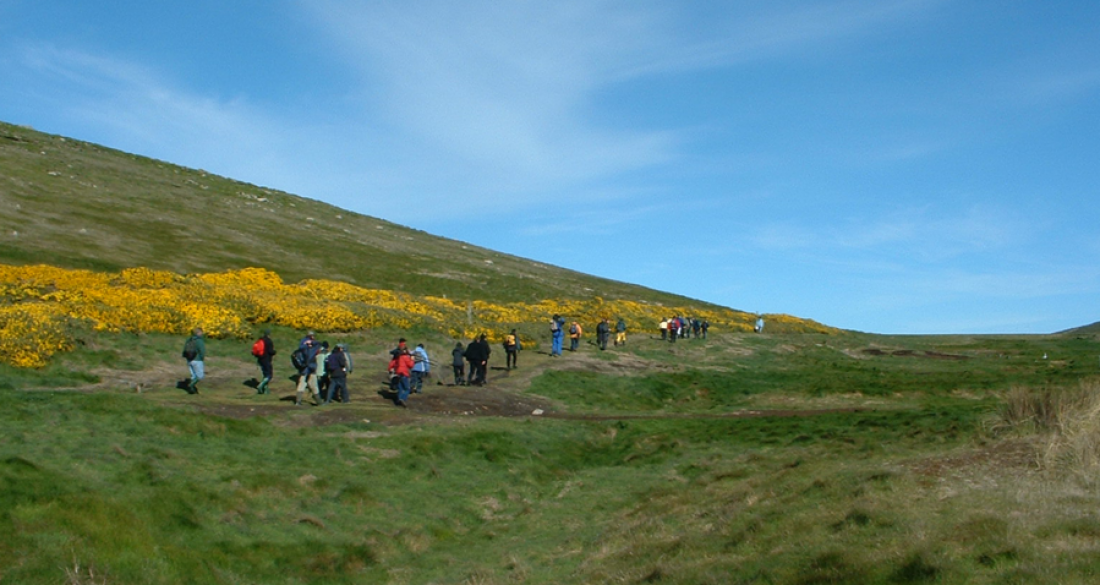 6. Saunders Island: the big and tall of Falkland Islands travel
One of the largest islands in Falklands, Saunders Island spans 20-by-20 km (12.4-by-12.4 miles) and is located in the northwest region of the archipelago. Its highest point is Mt. Richards, at 457 meters (1,499 feet). In a small settlement, named simply "The Settlement", live the owners of the island: the Pole-Evans family, who make up the bustling Saunders Island population of seven.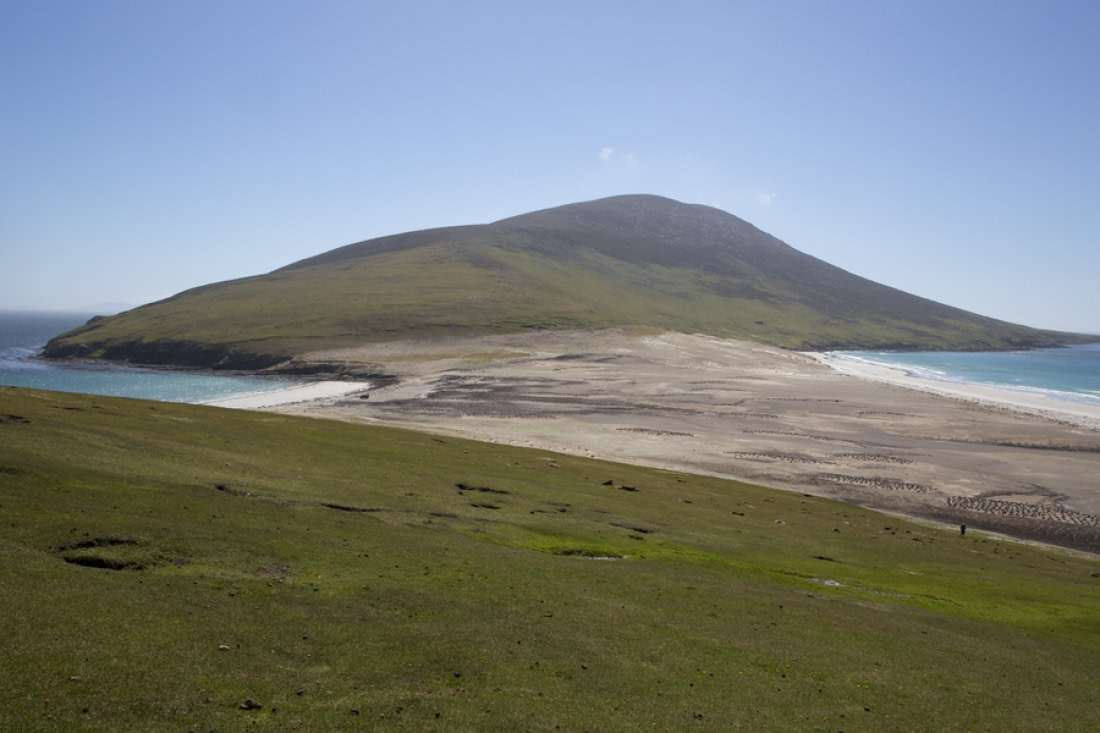 7. Steeple Jason Island: visiting the black-browed albatross
This island is among the major attractions of the Falklands and home to the world's largest black-browed albatross colony, numbering roughly 113,000 members. Even so, visits are not always assured: Steeple Jason is a wild area buffeted by wind and waves, making landings highly dependent upon the weather.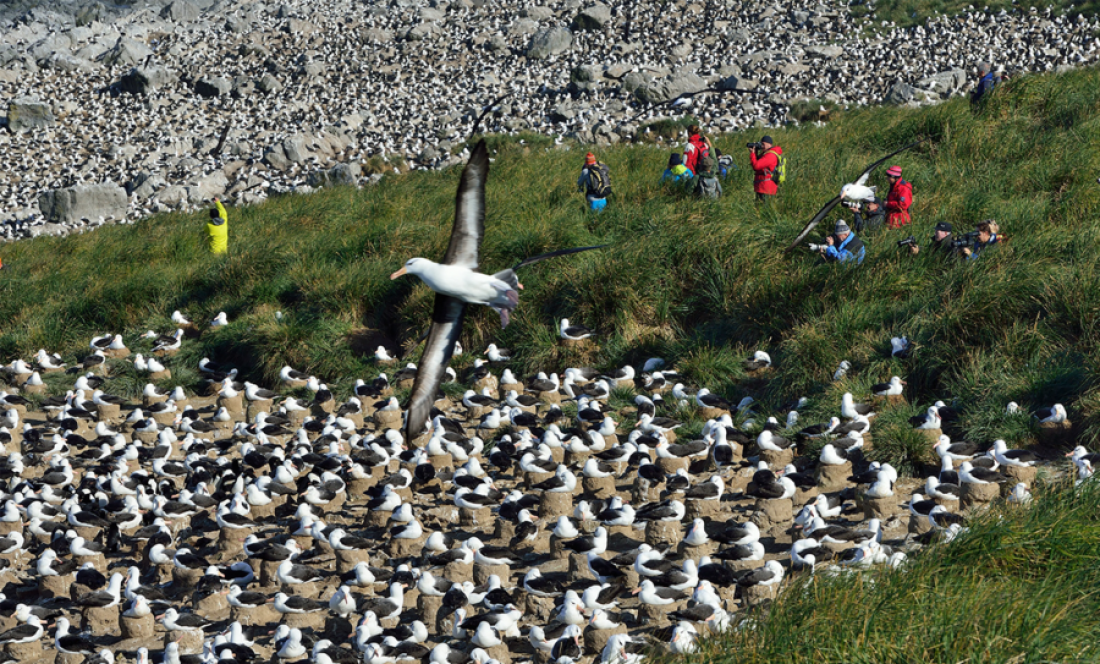 8. Carcass Island: first-rate Falklands bird watching
Among the many cadaverously named attractions of the Falkland Islands, this bird-friendly island lies northwest of the archipelago and is owned by Rob and Lorraine McGill. (Their high tea of home-baked cakes and cookies have risen to the rank of local legend.) Carcass Island's avian life includes breeding Magellanic and gentoo penguins, multiple waders and passerines, and endemic Cobb's wrens and tussock birds.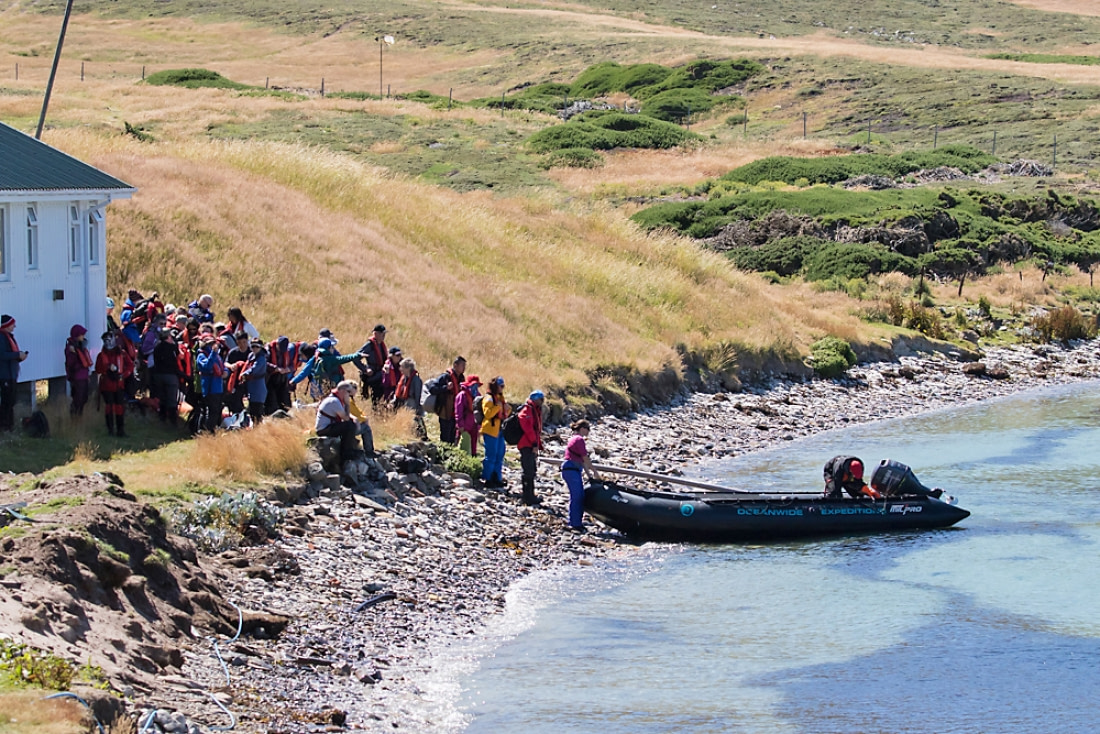 9. Sparrow Cove / Kidney Cove: your Falkland Islands vantage
The aptly named Mt. Low (204 meters, 669 feet) affords your visit some of the best views of the cove and nearby Stanley – and with minimal hiking required.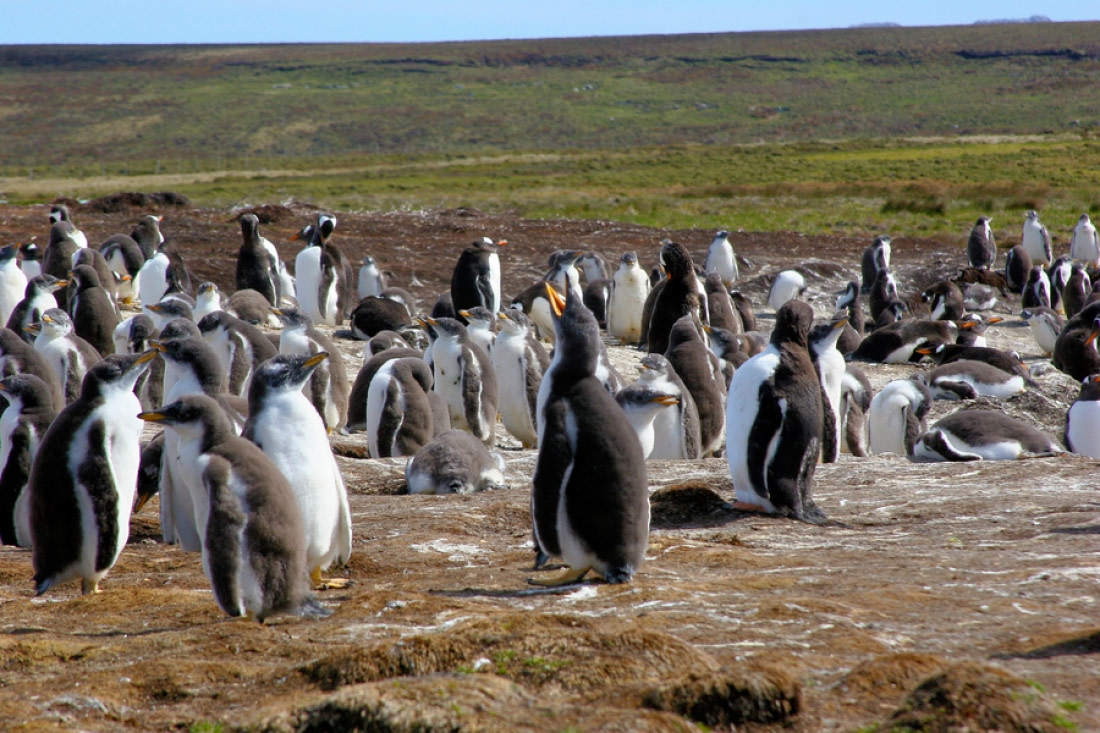 10. Coffin's Harbour: a winning Falklands whale-point
This attraction provides views of nesting black-browed albatrosses and rockhopper penguins, and a more strenuous hike to Landsend Bluff may lead to South American fur seals. Coffin's Harbour was the site of the only land-based whaling station on the Falkland Islands.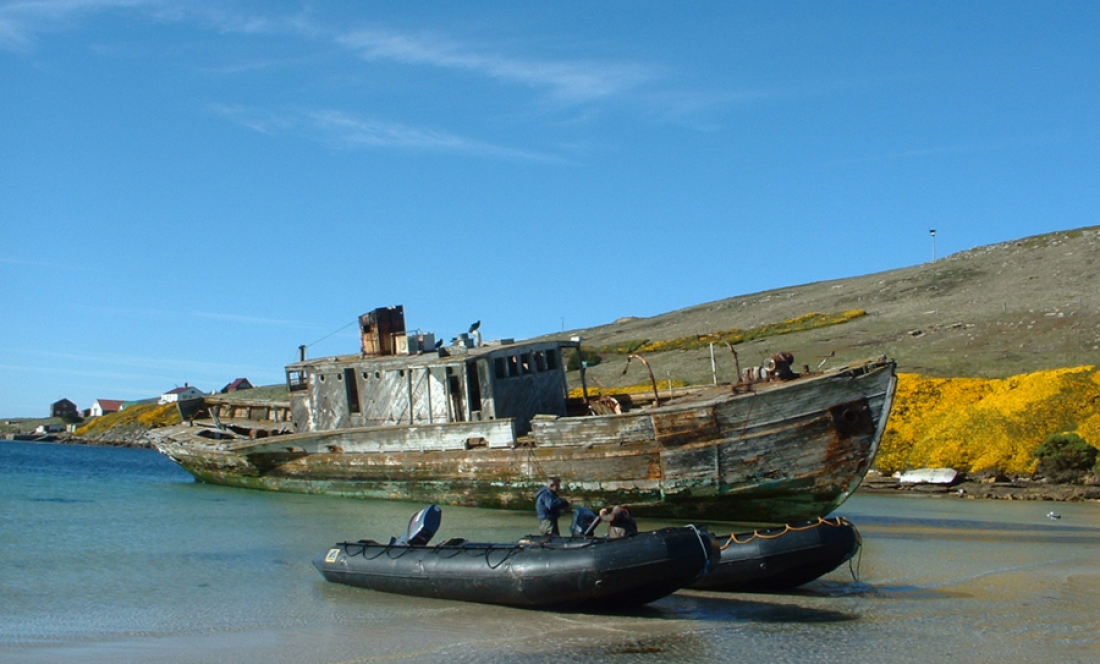 11. Sandy Bay: birds, birds, and more birds
A visit to Big Pond in Sandy Bay offers excellent wildlife opportunities, featuring the dark-faced ground-tyrant and Magellanic snipe. There's also an easy walk to see gentoo penguins, Magellanic penguins, rockhopper penguins, and king cormorants. When you travel to the Falkland Islands, Sandy Bay is a must.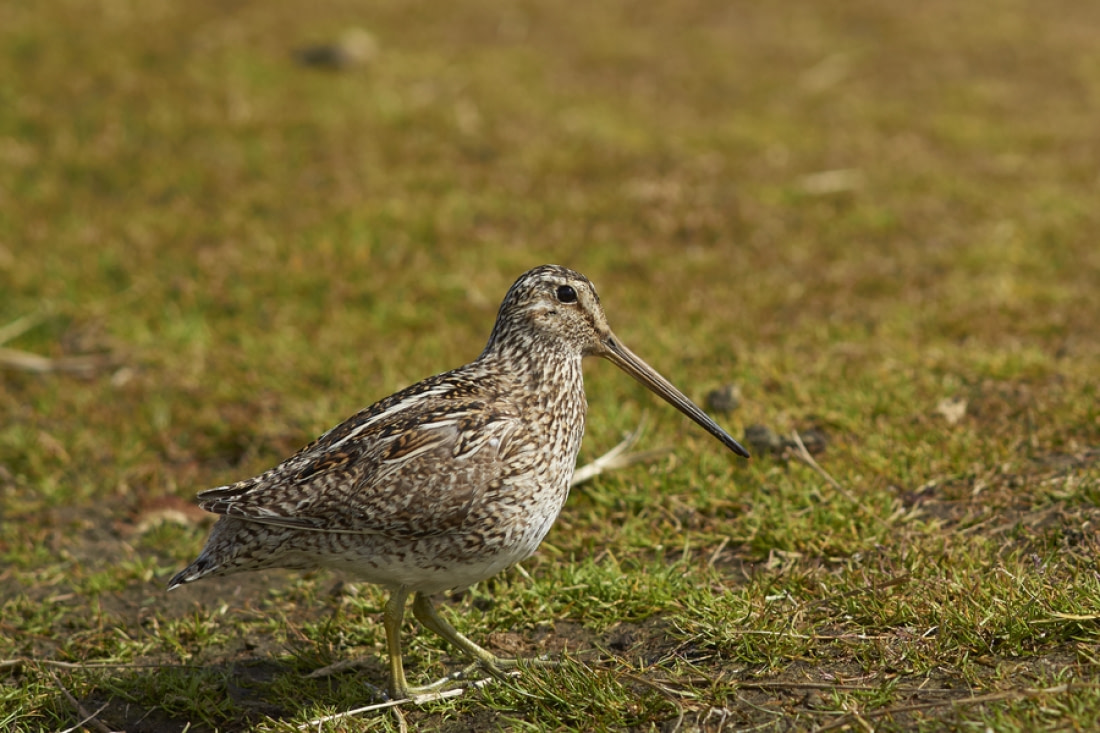 12. West Point Island: sweeping views of sheep & shoreline
This sheep-farm-meets-tourist-attraction can be visited in the northwest of the Falklands. Thick with black-browed albatrosses and rockhopper penguins, the island is also known for its dramatic coastal panoramas.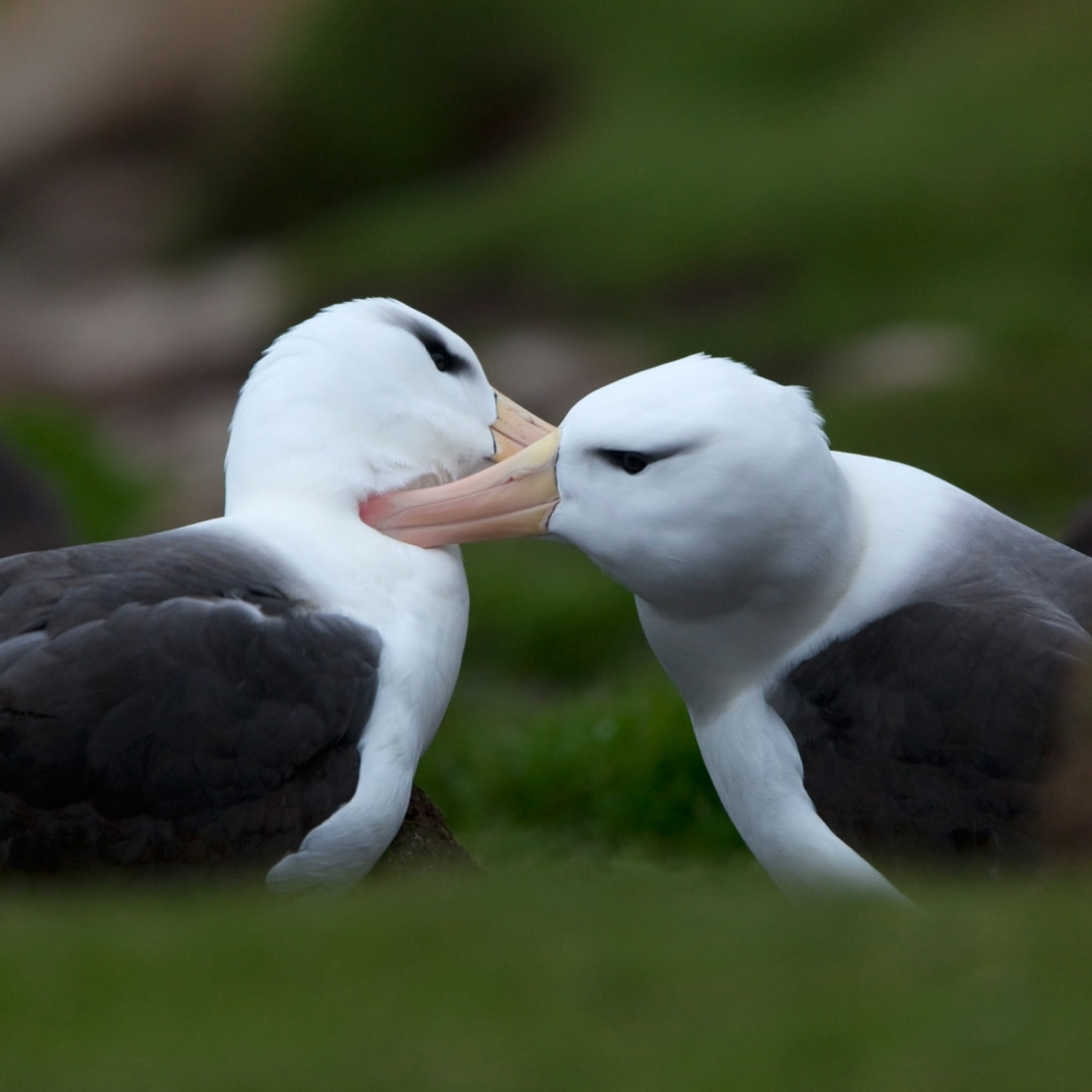 13. Grave Cove: foot-friendly Falkland hikes
Nesting gentoo penguins and excellent hiking abound here, making Grave Cove (despite its rather grim name) a favorite among travelers who would rather walk than sail.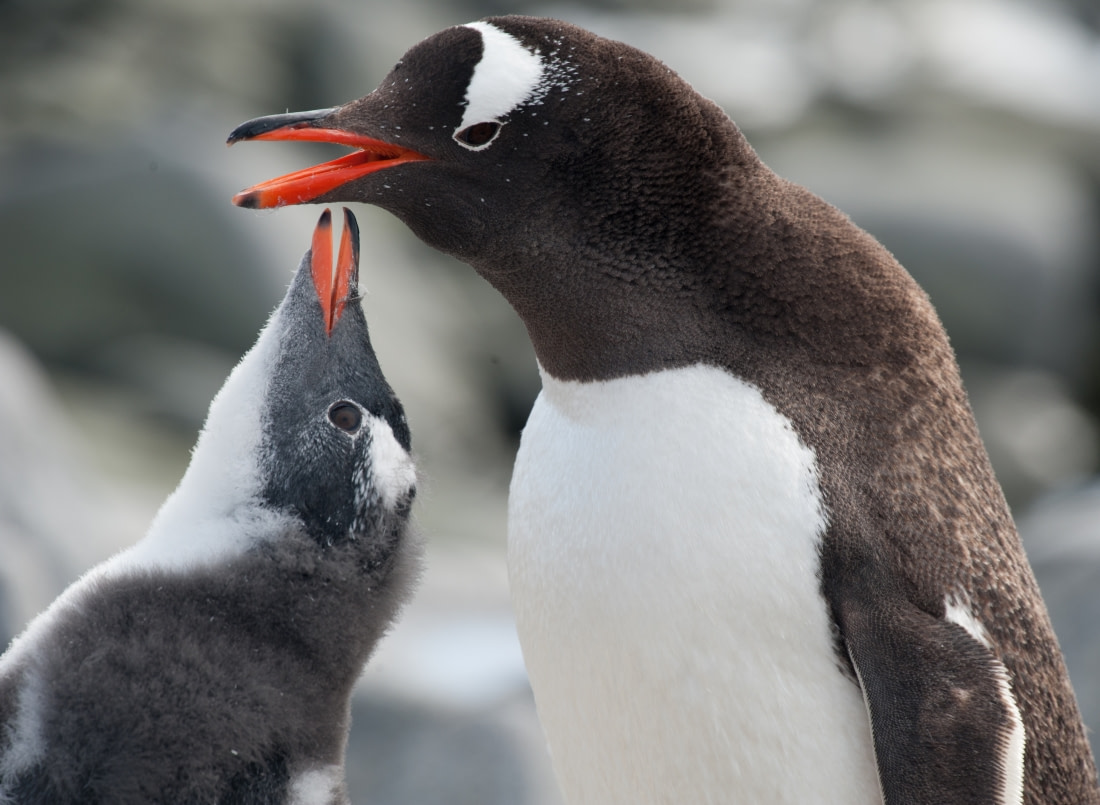 14. Stanley: charming streets, historic shipwrecks, stellar tourism
Stanley has some South American traits mixed with a little Victorian charm: colorful houses, well-kept gardens, and English pubs. You can also visit century-old clipper ships in the surrounding area, silent witnesses to the hardships of 19th-century sailors. Approximately 2,100 people live in this Falklands capital, and as a cruise passenger you are free to walk among them. Admission fees to local attractions, however, are seldom included.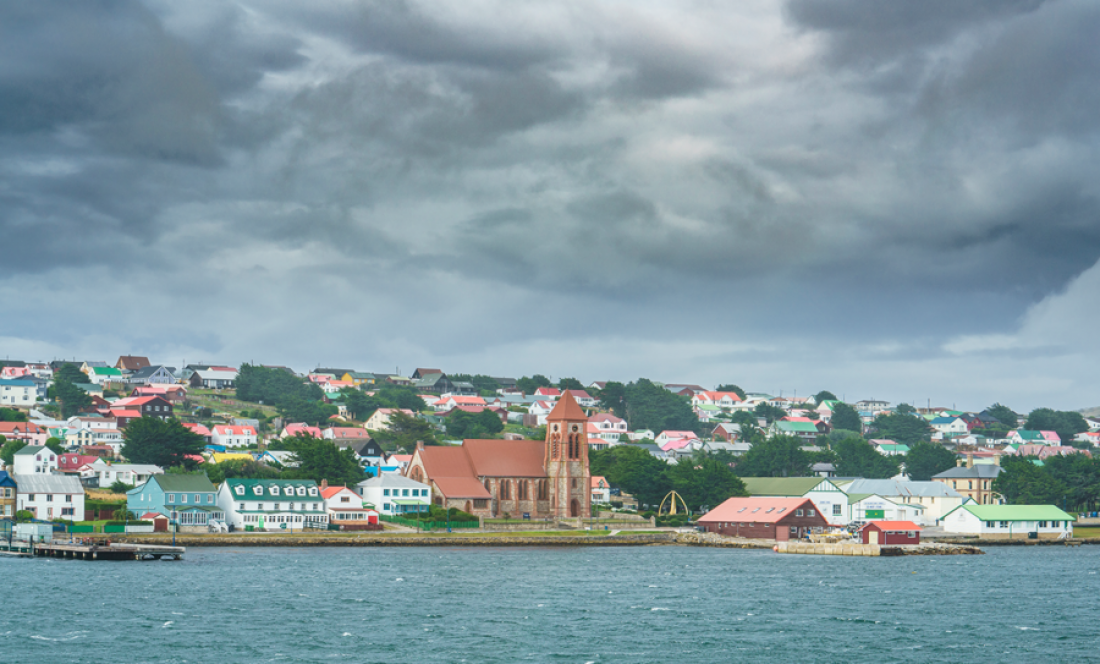 15. The 1982 Liberation Memorial
This monolithic memorial, located in Stanley, was built to honor the British soldiers and military units that fought in the Falklands War of 1982. Islanders raised the money for its construction themselves, finishing the monument on 14 June, 1984, exactly two years after the end of Argentine occupation: their Liberation Day. Feel free to pay a respectful visit.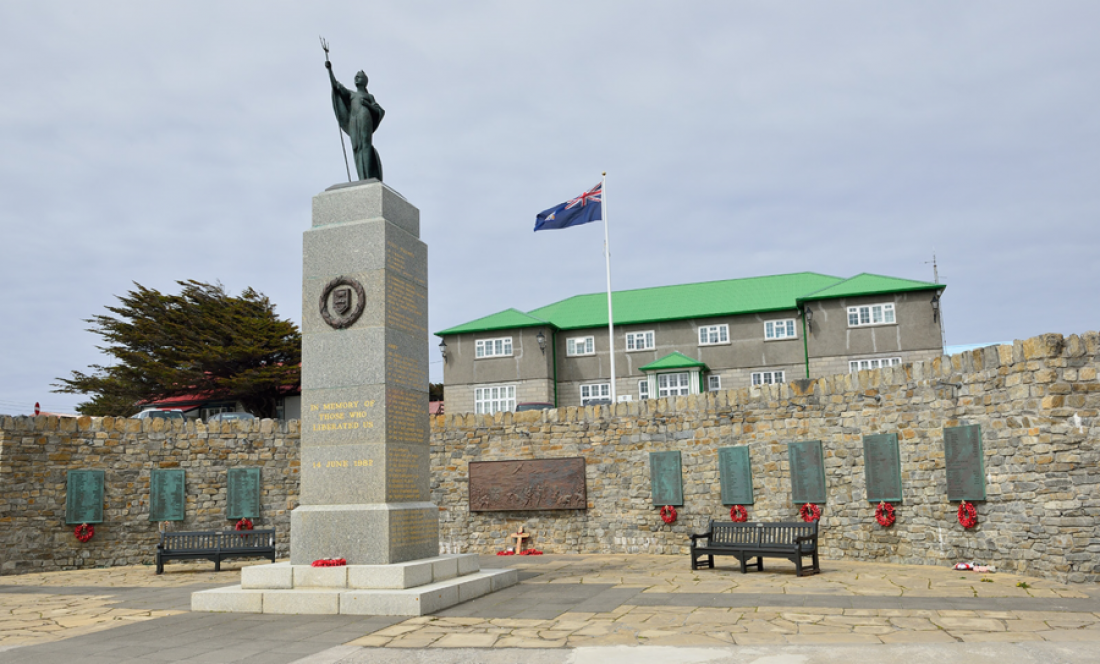 16. Falkland Islands Museum
This small but interesting museum is a worthwhile attraction for visiting history buffs, covering the early days of Falklands settlements up to the war. Traveling to the Falkland Islands is hardly complete without seeing it.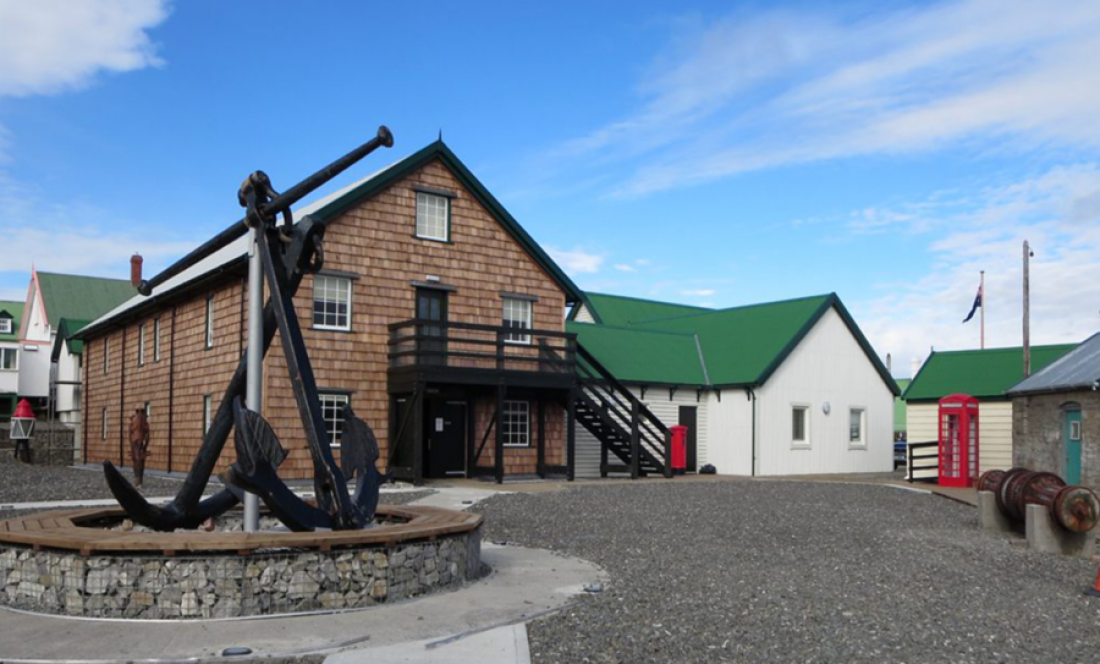 By David Stanley from Nanaimo, Canada (Falkland Islands Museum) [CC BY 2.0], via Wikimedia Commons
17. Falklands Whalebone Arch & world's southernmost Anglican cathedral
Erected in 1933 to commemorate the centenary of British rule in the Falkland Islands, the Whalebone Arch is a stone's throw from another attraction of the archipelago: Christ Church Cathedral, consecrated in 1892. The arch was built from the jawbones of two blue whales and is among the top tourism draws of the Falklands, making it a fine conclusion to this list – and one more reason to take a Falkland Islands cruise.