Name: Skunk Dolphin, Piebald Dolphin, Panda Dolphin (Cephalorhynchus commersonii)
Length: 1.5 metres.
Weight: 35 kg.
Location: C.c.commersonii – Off southern tip of South America. C.c.kerguelenensis – Kerguelen Islands in the Indian Ocean.
Conservation status: Data deficient.
Diet: Fish, squid, crustaceans, algae.
Appearance: Black head, dorsal fin, and fluke. Body and throat are white. Dorsal fin has a straight leading edge ending in a curve. Beak-less. Males have a black tear-drop shape on the belly; females' mark is more rounded.
How do Commerson's Dolphins feed?
Commerson's Dolphins tend to hunt at night. They will use echolocation to locate their prey, sometimes swimming upside down for better visual tracking. Hunting as a group, they will herd fish, making it easier for them to scoop up their prey.

Adults are thought to eat about 10% of their body weight every day. This is about twice the amount that other species of dolphin eat. This is due to the fact that their metabolic rate is two to three times greater than the other species.
Are Commerson's Dolphins social?
Commerson's Dolphins are considered very friendly towards humans, playing in boat wakes and coming close to see what people are up to. When grouped into pods they travel in numbers ranging anywhere from two to a hundred individuals.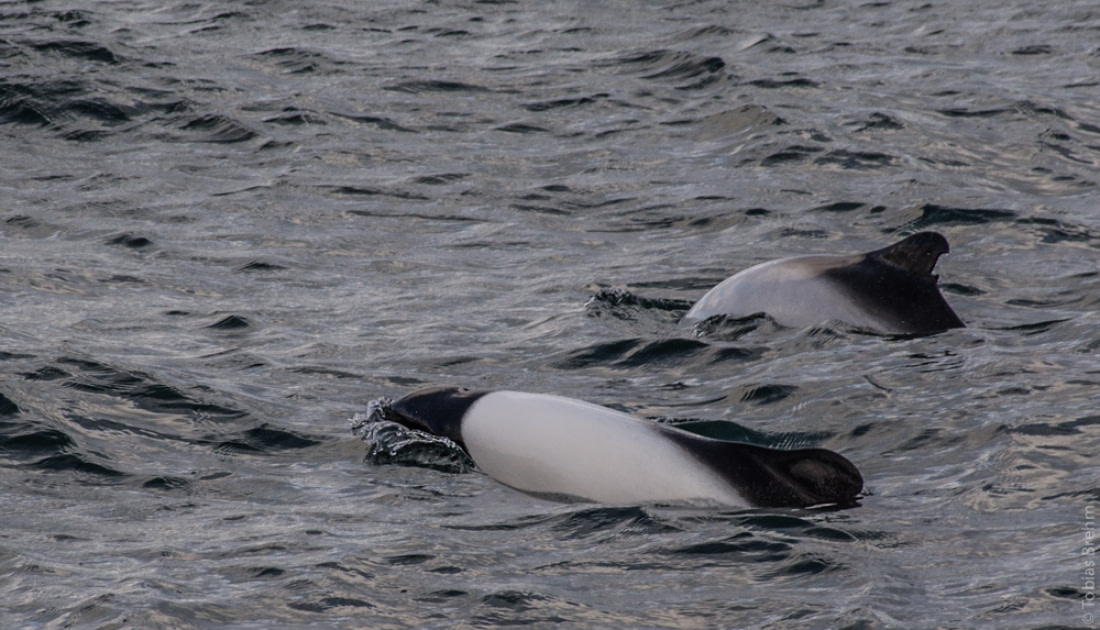 How fast do Commerson's Dolphins move?
Commerson's Dolphins swim at speeds of up to about 15 km per hour.
What are Commerson's Dolphin's birthing rituals like?
Both Females and males reach sexual maturity between six and nine years of age. Mating occurs in September through February. The gestation period lasts 11 months. The calf weighs around 5 kg at birth. Weaning takes about 9 months.
How long do Commerson's Dolphins live?
Data is thin on Commerson's Dolphins lifespans, but the oldest known example (in an aquarium) died at 18 years of age. They're believed to live to about 10 years of age in the wild.
How many Commerson's Dolphins are there today?
Because Commerson's Dolphins are so elusive it's been extremely difficult to get a population count. A 1984 survey estimated the Strait of Magellan subspecies as having a population of about 3,400 individuals. There doesn't appear to have been any sort of similar population survey for the Kerguelen Islands subspecies.
Do Commerson's Dolphins have any natural predators?
Commersons' Dolphins are prey for Leopard Seals, Sharks, and Orcas.
7 Cool Commerson's Dolphin Facts
1. This particular dolphin is named after French naturalist Dr. Philibert Commerson who first discovered them in the Strait of Magellan in 1767.
2. There are two subspecies of Commerson's Dolphins:
Cephalorhynchus commersonii commersonii – Located around the southern point of South America. Black-and-white pattern is sharper.
Cephalorhynchus commersonii kerguelenensis – Located around the Kerguelen Islands in the Indian Ocean. Their black and white pattern is not as sharp and their colouring displays less contrast, wandering into grey tones.
3. Commerson's Dolphins are amongst the smallest of all cetaceans. In fact, an adult female caught near southern Patagonia (23 kg, 1.36 metres length) may very well be the smallest recorded adult cetacean.
4. Females tend to be a bit bigger than the males.
5. This particular species of dolphin features between 116 and 120 teeth.
6. The blood circulation in the dolphin's pectoral flippers helps to maintain a healthy body temperature.
7. The dolphins have a gland at the corner of their eyes which secretes lubricating oil.