The whales, whaling history, and whaling stations of South Georgia
South Georgia is an animal lover's dream. In fact, it's one of the most wildlife-rich locations we visit in all of our polar voyages, whether in the Northern Hemisphere or Southern.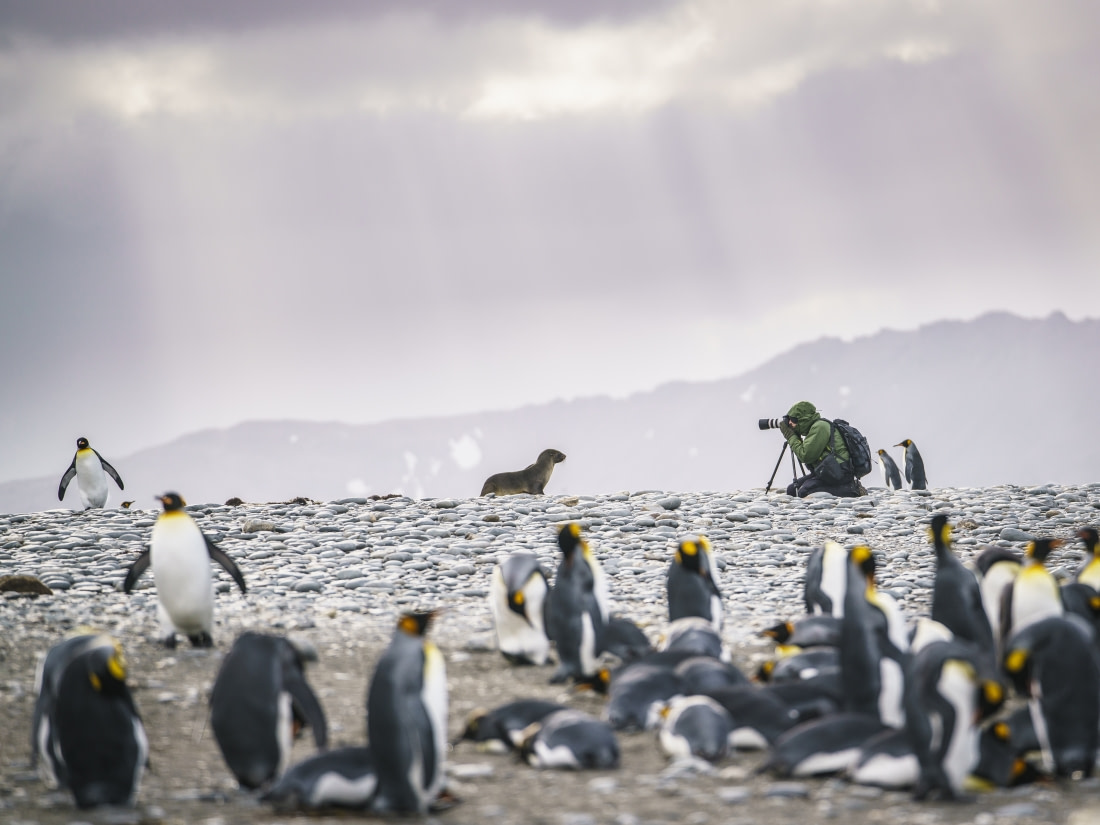 Few other places offer such a profusion of species at such prodigious numbers, from the colossal king penguin colonies of St. Andrews Bay to the fount of whale-watching opportunities just offshore.
And speaking of whales, South Georgia has a particularly interesting (and haunting) history associated with them.
Once a great British whale-hunting hub, the United Kingdom Overseas Territory of South Georgia is now scattered with the rusted scrap metal of many an abandoned whaling station: Grytviken, Stromness, Leith Harbour, and other such names recall a past not so distant when whales were hunted in the Southern Ocean with no concern for cruelty or conservation.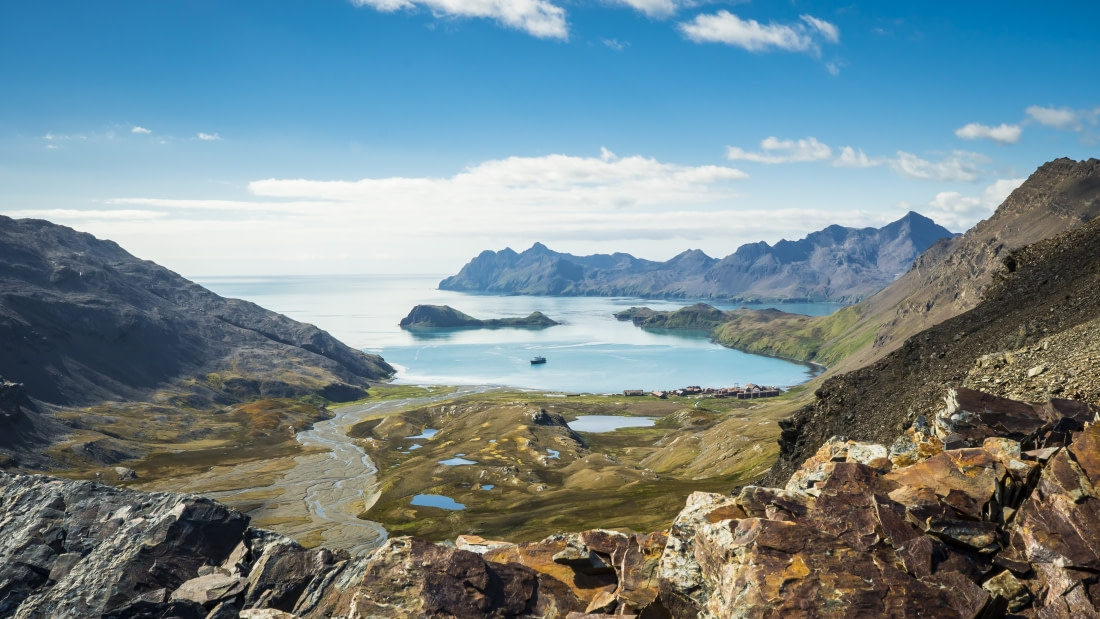 Threatened nearly to extinction to supply Europe with oil, around 1.6 million whales are thought to have been killed in the Southern Ocean during the first six decades of the 20th century. While this wanton exploitation of nature might be shocking to many of us nowadays, it was not at all uncommon for the time – nor was it unusual for the British, Norwegians, and other nationalities operating there to leave their stations to the birds once the money dried up.
On the bright side, this means we can still see (and in some cases, visit) many of these stations today.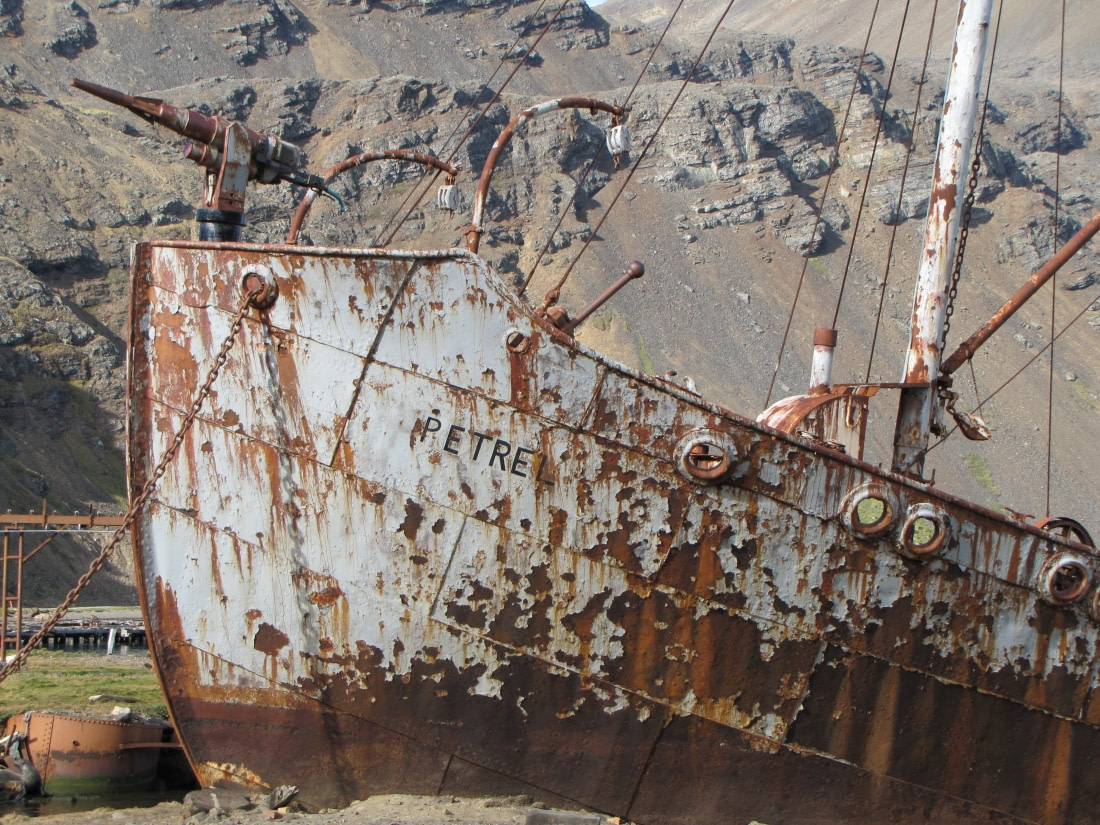 We do not view all the whaling stations mentioned here, though certain South Georgia cruises pass nearby. Many of the stations are too dangerous for landings, such as Leith Harbour with its asbestos toxicity and weakened structures, while others might be too far off our route to visit. Even so, we do our best to view the following South Georgia whaling stations whenever possible. Please see specific trip itineraries for more details as to the stations we visit.
Husvik
One of the three South Georgia whaling stations located in Stromness Bay is Husvik, which began as a floating factory in 1907 and in 1910 was later expanded into a whaling station. Leith Harbour and Stromness are the two other stations in Stromness Bay. All were linked by a track that ran along the beach and that you can still see today. There are elephant and fur seals that breed in this area, along with gentoo penguins, Antarctic prions, and South Georgia diving petrels.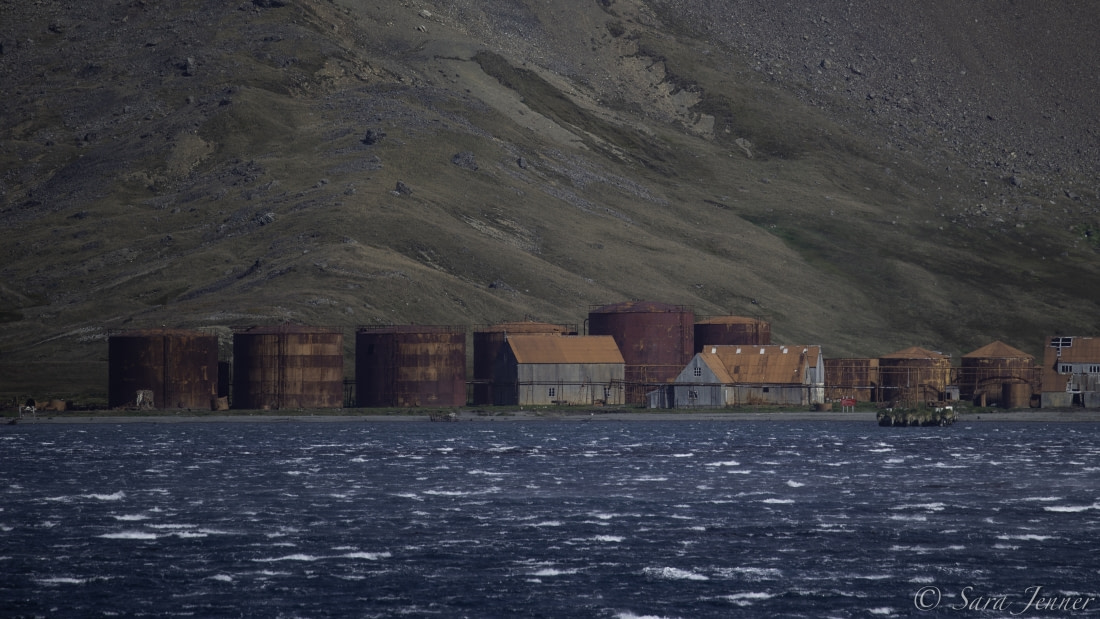 At Husvik you can also see the whale catcher Karrakatta, a vessel that was grounded on the slipway and used to provide steam power to the station's machinery. The station stopped whaling operations in 1960, after which the British Antarctic Survey and other UK groups used parts of the site for various work in the area. While we can't visit Husvik due to the asbestos pollution and danger of building collapse, we are sometimes able to cruise nearby in our Zodiacs.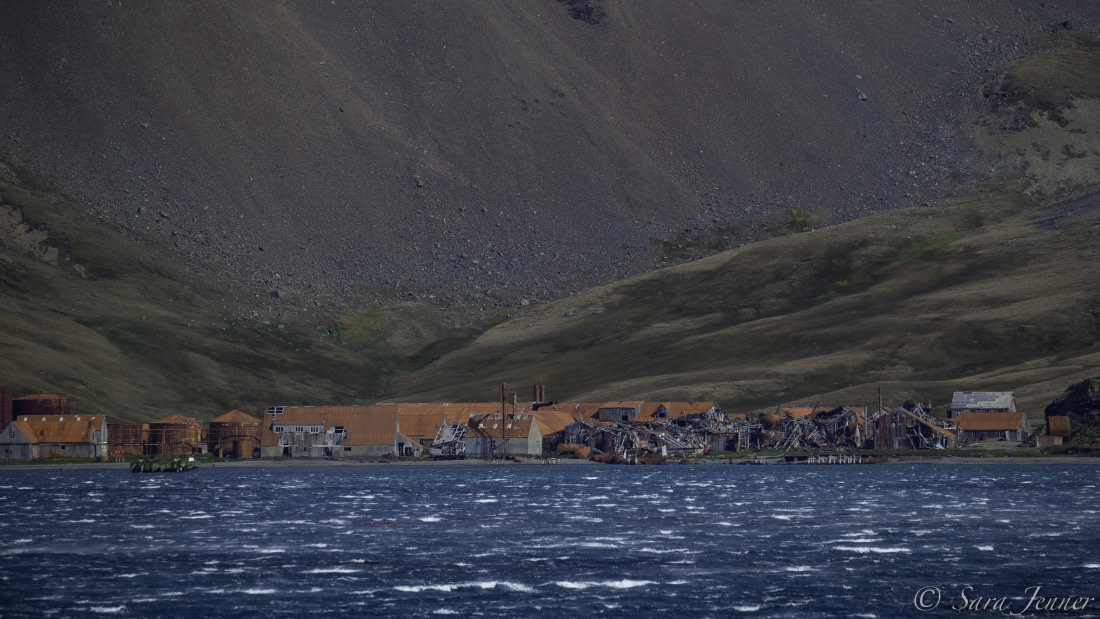 Leith Harbour
The largest of the South Georgia whaling stations, Leith Harbour operated from 1909 to 1966. It suffered a series of landslides in its early career that forced the site to be moved to its current location in 1911.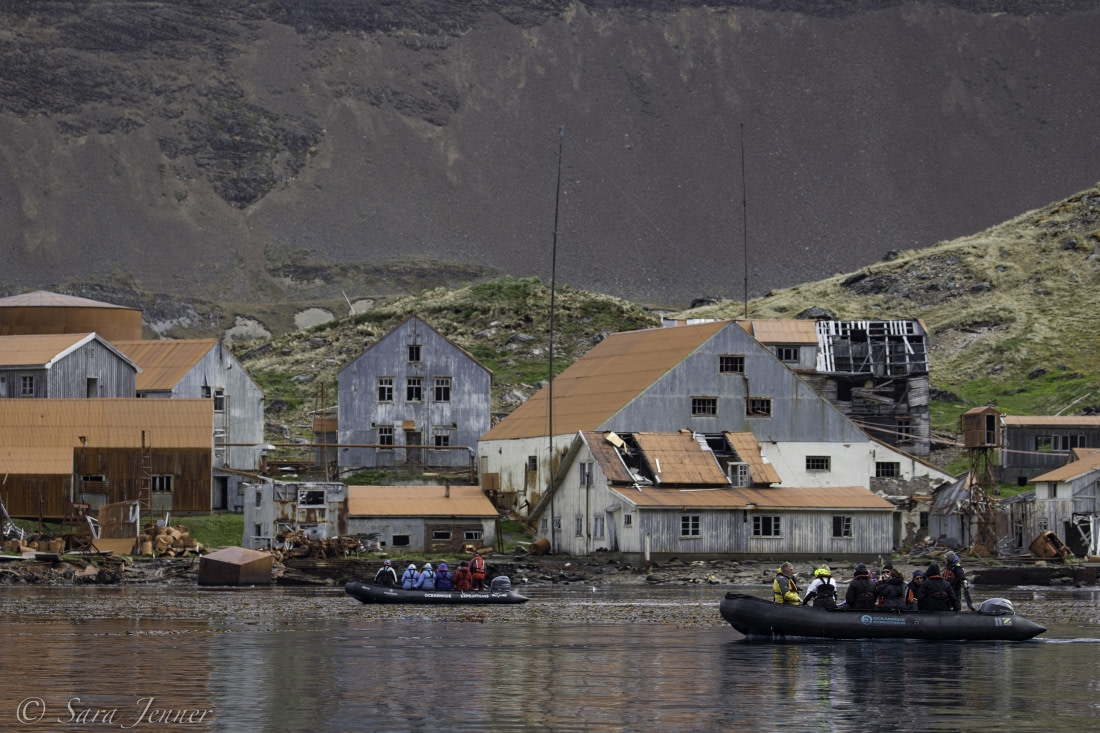 Leith has an interesting history, having briefly been occupied by Argentine special forces who entered the station posed as scrap metal merchants in March of 1982, one of the first events leading to the Falklands War. This South Georgia whaling station, also known as Jericho, also has the distinction of being the last whaling site to be closed in the archipelago.
Stromness
Like Husvik, Stromness began as a floating offshore whaling station in South Georgia. The shore station was built in 1912, after which the South Georgia Company of Leith used it as a ship repair yard after 1931. Except for Grytviken, Stromness is perhaps the best-known whaling station in South Georgia, due at least in part to its association with Ernest Shackleton's Imperial Trans-Antarctic Expedition of 1914 – 1917, the Endurance shipwreck, and subsequent rescue mission.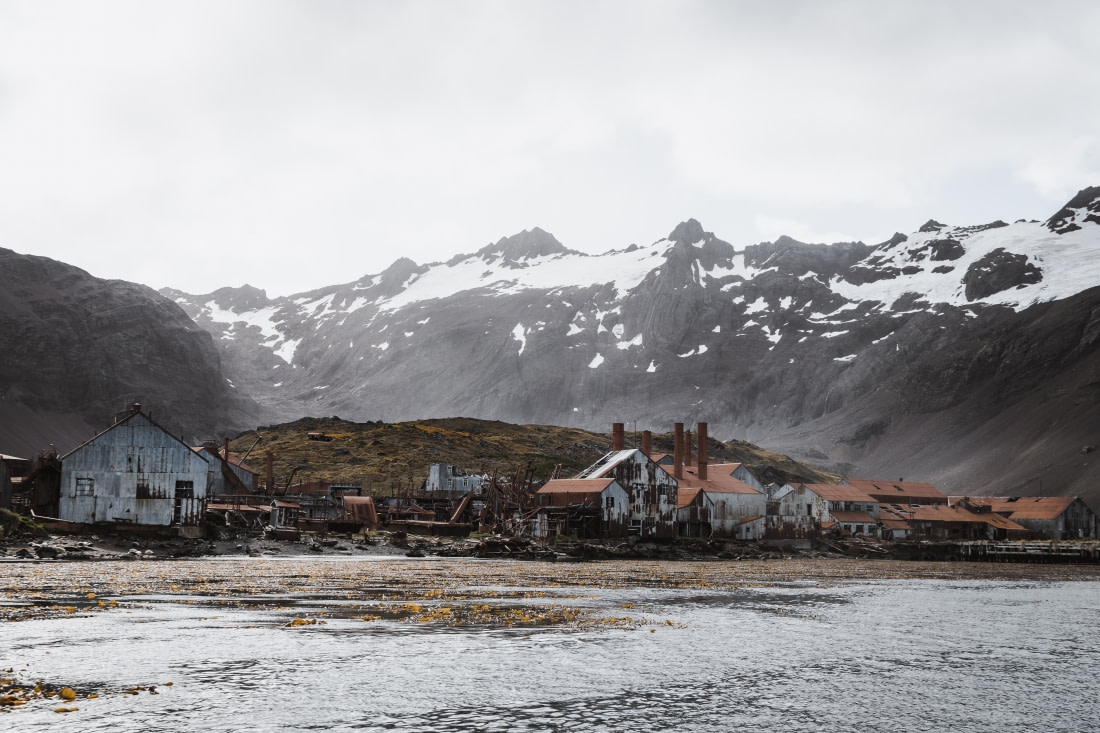 After sea ice crushed the Endurance in the Weddell Sea in 1915, Shackleton and his crew sailed by lifeboat to Elephant Island. From there, he and five of his men sailed to South Georgia: 1,336 km (830 miles) in their 6-meter (20-foot) open-air lifeboat. They arrived in hurricane winds fifteen days later, trekking 36 hours to Stromness to find a rescue team for their fellows back on Elephant Island.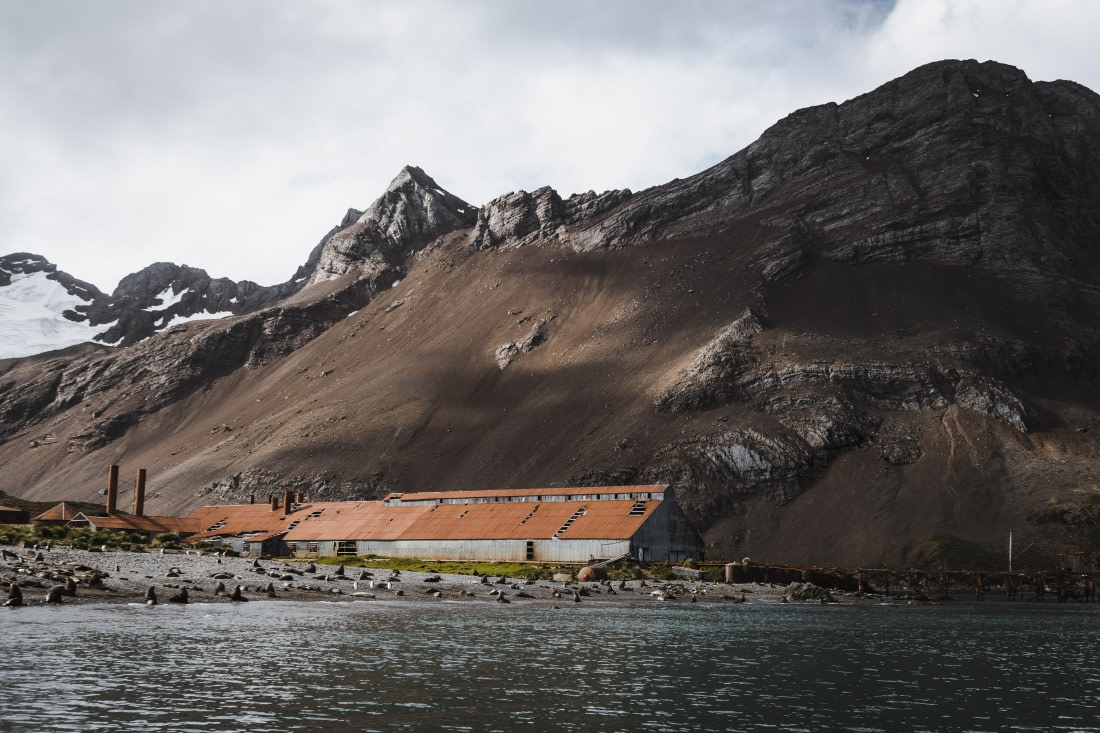 We occasionally land at the beach near Stromness and walk the perimeter of the safety zone, though we cannot approach the station due to the usual risks of airborne asbestos and weakened structures. Some of our cruises, however, allow you to hike part of the Shackleton Traverse between Stromness and Fortuna Bay. We also occasionally walk to the nearby Shackleton's Waterfall.
Amazingly, the Endurance was recently found on the 100th anniversary of Shackleton's burial at Grytviken. We sail close to its resting place during our Weddell Sea cruises.
Prince Olav
A contrast to the longstanding Leith Harbour, Prince Olav had a relatively short period of operation. It was the last South Georgia whaling station to be built and first to be closed, completed in 1912 and shuttered 20 years later.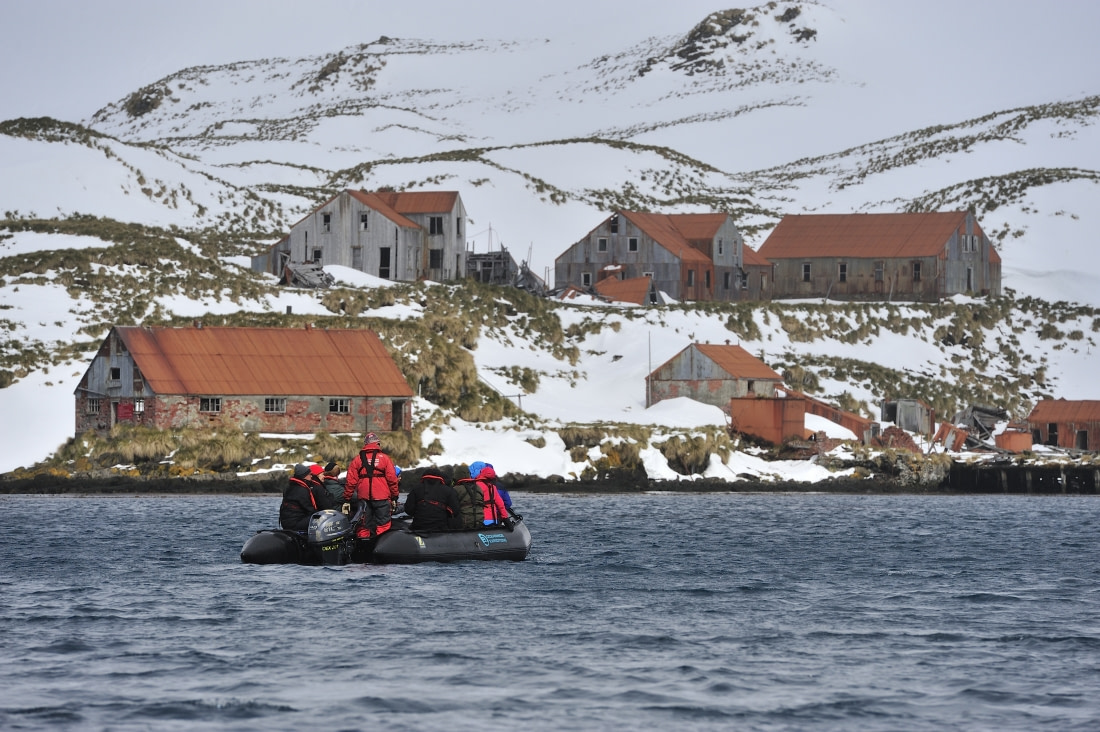 In keeping with many of the other stations in South Georgia whaling history, Prince Olav began as a floating facility and was later augmented by shore structures. Many of these were moved to Leith after the closure of Prince Olav, which is one of the few South Georgia whaling stations we do not visit or see during our Antarctica cruise program.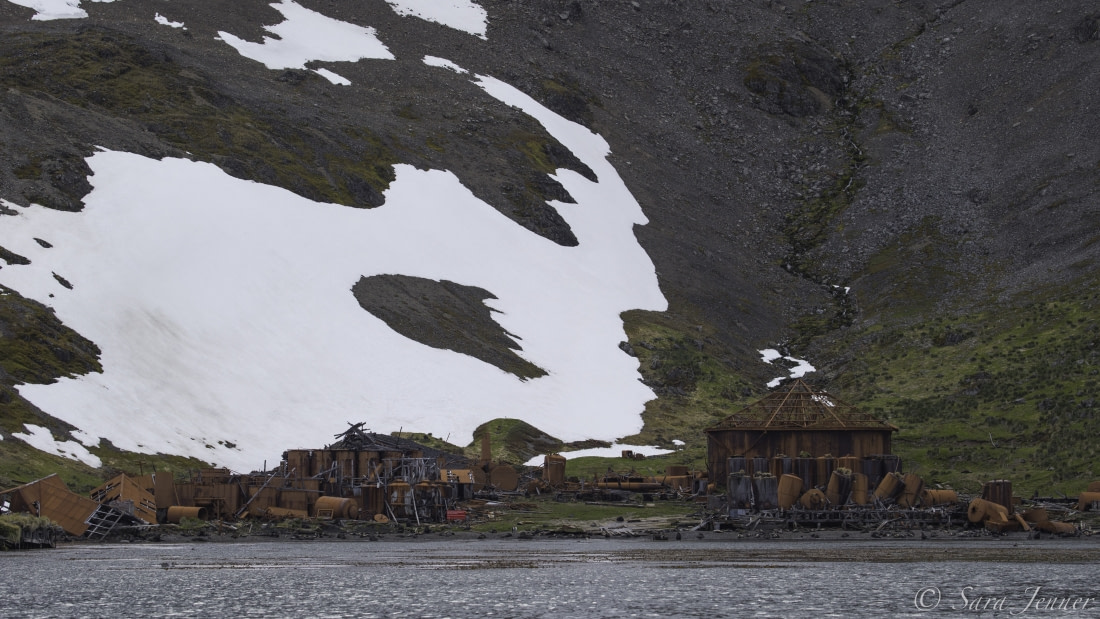 Godthul
Another short-lived South Georgia whaling station is Godthul, active from 1908 – 1929 and one of the few stations safe for polar cruise passengers to visit. We have made landings near Godthul in the past, during our visits to Cobblers Cove and Rookery Point, but it is not a standard part of our South Georgia itineraries.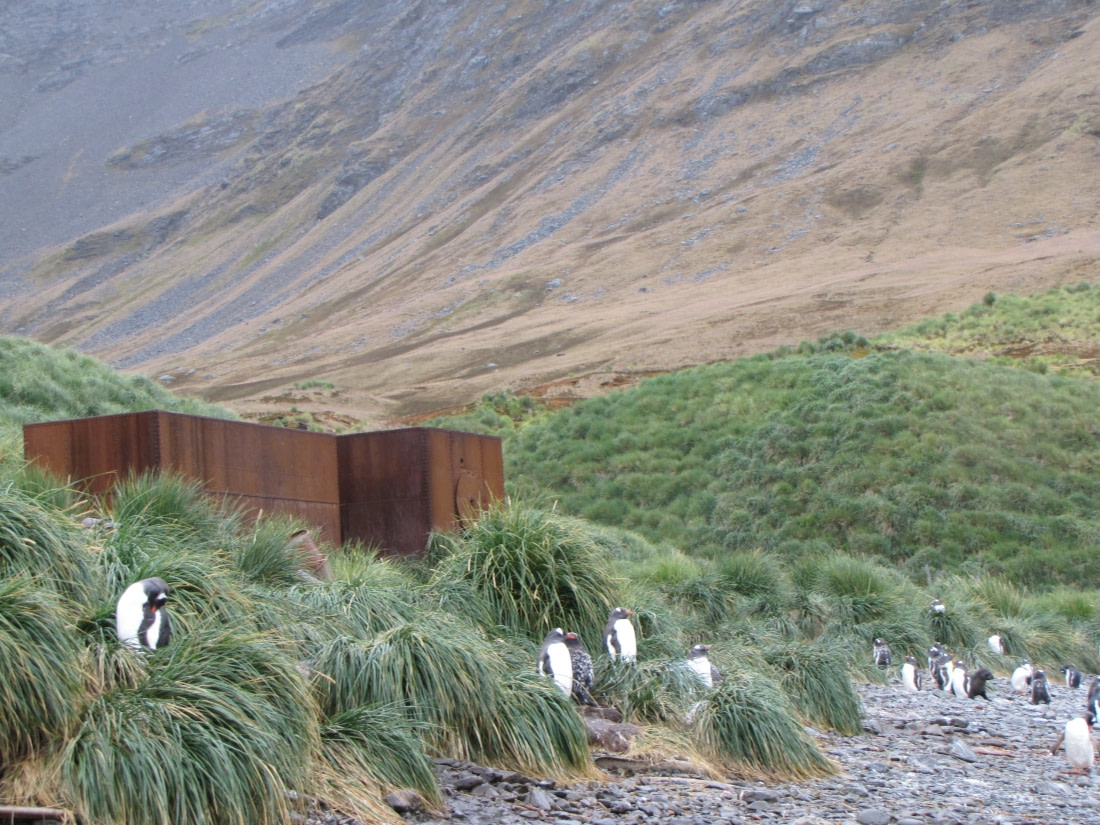 Godthul supported factory ships and was one of the more basic whaling stations in South Georgia, while today its surroundings are home to gentoo and macaroni penguins, fur and elephant seals, sooty albatrosses, and giant petrels.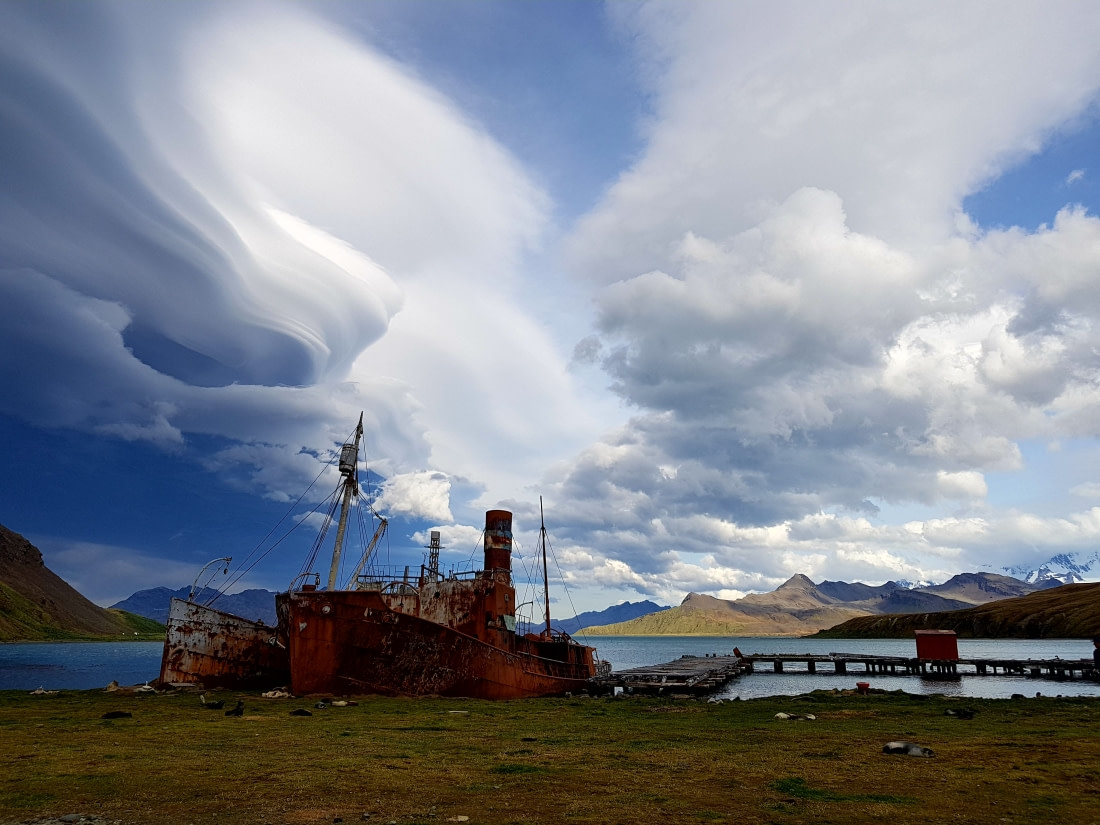 Ocean Harbour
Briefer even than Godthul's short run as a whaling station was Ocean Harbour's, spanning from 1909 to 1920. It is the site of the oldest grave on South Georgia, belonging to sealer Frank Cabrial, who died there in 1920. While we don't visit Ocean Harbour, you can see most of its infrastructure at Stromness, where it was moved after 1920.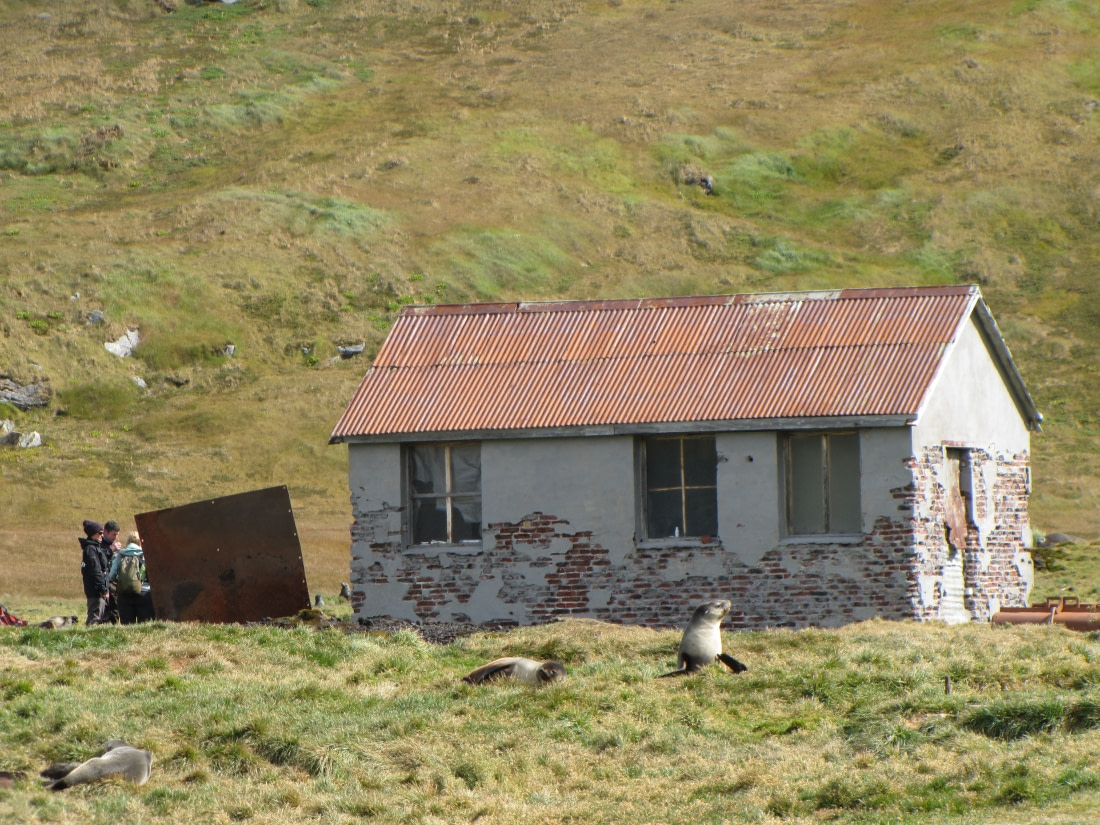 Grytviken
We conclude our list with what is probably the most well-known whaling station in South Georgia. Grytviken is also perhaps the most accessible, a long-running Norwegian station operated from 1904 to 1965. It owes much of its fame to the fact that it's the location of legendary explorer Ernest Shackleton's gravesite, though this would not have saved Grytviken from near-total abandonment had it not been for major renovations in 2003.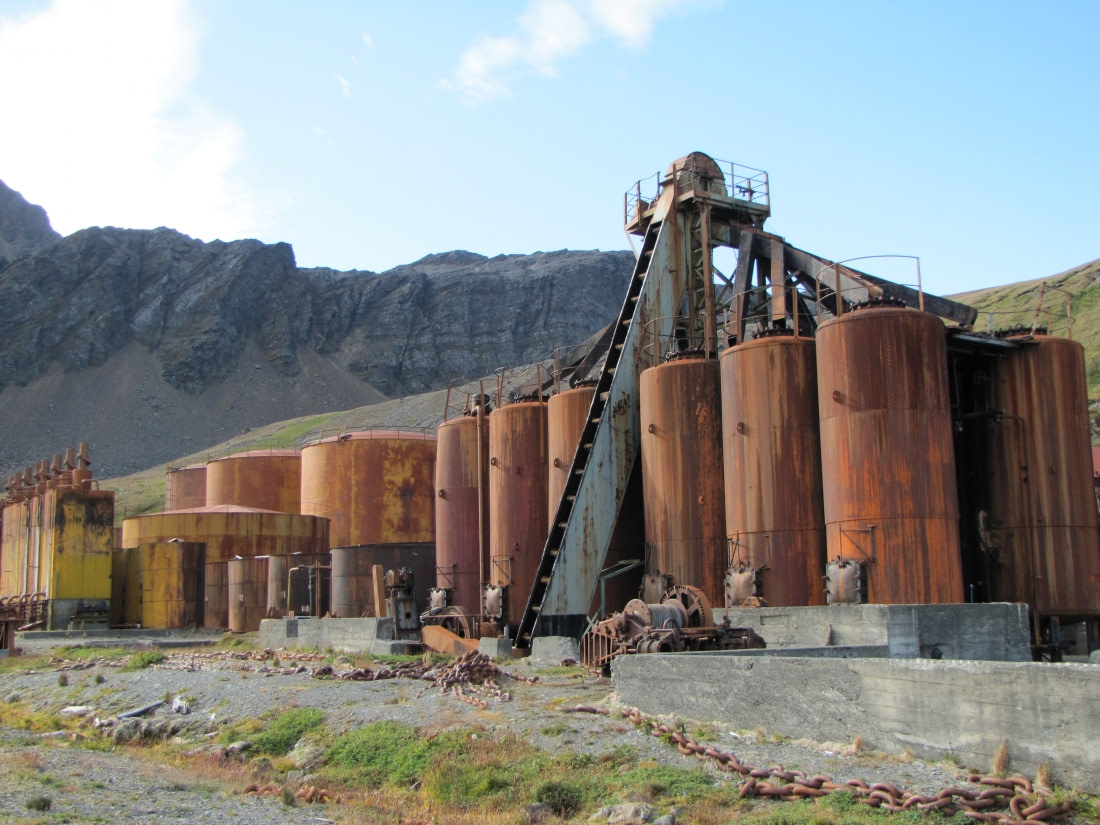 While this work dramatically changed the appearance of Grytviken, it also removed the danger of airborne asbestos so common to the whaling stations of South Georgia and allowed for safe visitation by expedition cruisers. During our visits there, you will enjoy seeing the current residents of Grytviken, including elephant seals, fur seals, and king penguins.
Experience the whales, whaling history, and whaling stations of South Georgia
South Georgia has a dark history when it comes to whales, but fortunately it is only history. A number of efforts by the South Georgia Heritage Trust, Friends of South Georgia Island, and British Antarctic Survey are dedicated to whale study and conservation.
Photo-identification of South Georgia whales submitted to Happywhale now suggest whale populations are in recovery, and the waters around the islands have recently become part of a 1.24-million square km (half million square miles) Marine Protected Area.
Depending on your choice of trip, you might see or visit a whaling station to experience firsthand the remains of the once-thriving South Georgia whaling industry. But more importantly, you stand a chance of spotting one of the beautiful whale species that call South Georgia home. These include blues, humpbacks, seis, and sometimes southern right whales, among others.
On top of that, you can enjoy one of the most dramatic landscapes in the sub-Antarctic. For more about all you can see, do, and enjoy in this incredible location, don't forget to check out our detailed South Georgia seven article. You can also find loads of great South Georgia photos at our website.