Many people assume that the conditions you find during your Antarctica cruises or Arctic trips are too brutal to support a lot of life, but the reality is that there are numerous mammals that call this region home. For example, there are 23 marine mammal species in Antarctica, including the Antarctic fur seal, the fin whale and the hourglass dolphin. There are also two naturally occurring creatures that reside year around in the sub-Antarctic islands: freshwater ducks and the South Georgia pipit. However, this is not the only life that has been able to thrive in this portion of the world.
Transplanted mammals
Although no human permanently lives in Antarctica, there are always several research studies being conducted. Due to this, people have introduced many mammals to the continent. Some of the most common mammals that have been transplanted to Antarctica include chickens, rats, sheep, pigs, reindeer, mice, cats, rabbits and cattle. Fish have also been brought from other areas. The ecological impact of each newly introduced species varies. No introduced mammals live on the Antarctic Continent in this day and age.
Did Antarctica have a larger mammal population in the past?
There may not be any naturally occurring land mammals living in Antarctica right now, but this does not mean that the icy area was always like this. In fact, a research team from America discovered the continent's first land mammal fossil back in 1982. The tiny marsupial bones that were found on Seymour Island are believed to be approximately 40 million years old, and they helped provide evidence for the theory that Antarctica, South America and Australia were once connected together in a single, large landmass.

In 1999, another research team found more evidence that land mammals once existed on Seymour Island. This time, the fossils they dug up pointed at a diverse list of marsupials that included at least five different subspecies. The team members dubbed one of these marsupials as "opossum-like." Due to these discoveries, paleontological surveys and digs contained on Seymour Island, and there are now at least 10 land mammal species that are known to have inhabited Antarctica millions of years ago.
What other type of life lives on Antarctic land?
As previously mentioned, there are many marine mammals in this portion of the world, but it is much more difficult to find any type of life on land. Some of the most commonly found examples of land life are the large populations of micro-invertebrate groups, higher insects and arthropods. This means that spiders, flies, earthworms and nematodes are plentiful in Antarctica, and the harsh weather conditions do not seem to impact them negatively.
How much of a difference does 18,750 kilometres make?
Antarctica and the Arctic are separated by approximately 18,750 km, but they have become intermingled in many people's minds due to their similar sounding names. Land mammals are much more prevalent in the high Arctic region, and they range from small creatures to very large species such as the polar bear.
Which small land mammals roam the Arctic?
Some of the most commonly spotted land mammals in the Arctic include the Arctic fox and the Arctic hare (not present in Svalbard). If you are enjoying a cruise expedition through the Arctic and wish to see one of these creatures, you will want to remain alert for tuffs of white or brown fur. The Arctic fox is a native species to this area, and its beautiful white coat becomes brown during the summertime.
Arctic hares also have white fur, and they are sometimes found in packs of 12 or more. These animals are easy to identify because of their white fur and rabbit-like characteristics. Unlike the typical rabbit, though, Arctic hares are bigger. If you are ever in a position where you are walking through the Arctic, be sure to remain as quiet as possible to avoid scaring these creatures. After all, they can run up to an amazing 60 km per hour (40 mph), and this will make it next to impossible to get a good look at them.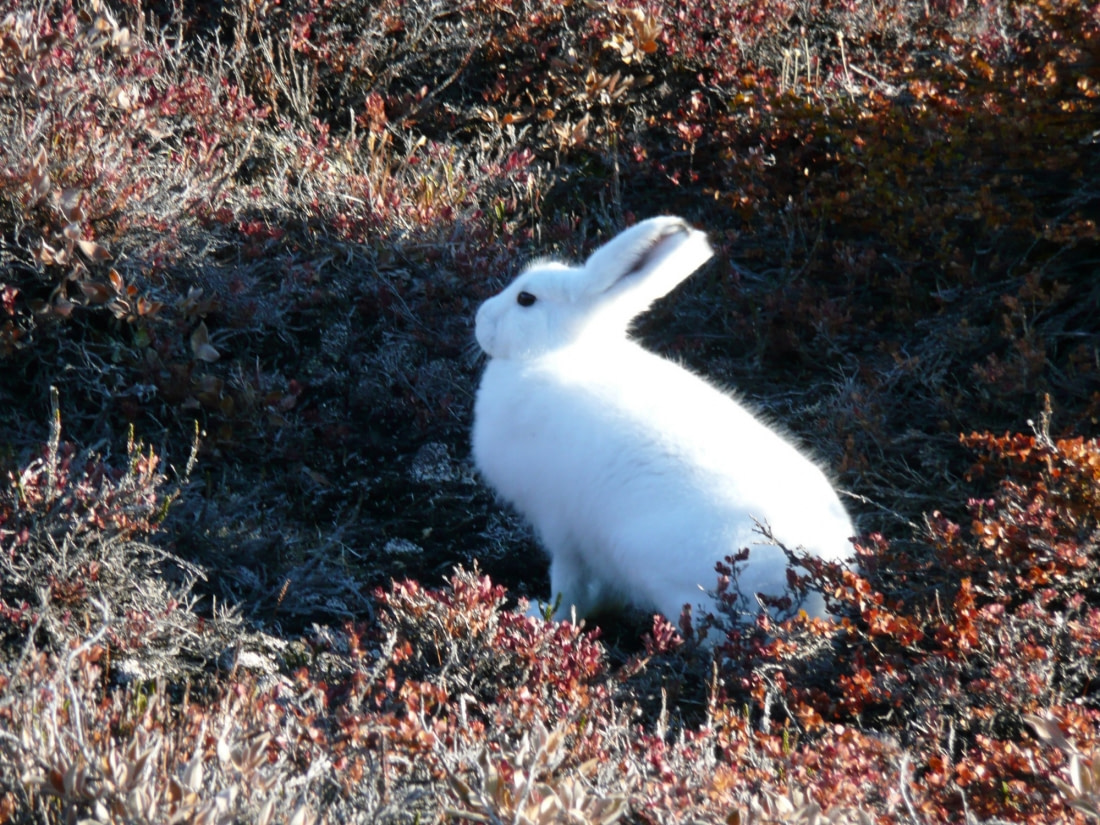 There are three other hares in the Arctic: the Alaskan hare, mountain hare and snowshoe hare. In total, the Arctic region has 53 land mammals, many of which are considered to be small. Other prominent examples include the Arctic ground squirrel, red fox, Arctic lemming, tundra vole, wolverine and the muskrat.
Medium-sized Arctic land mammals
Creatures such as the Arctic fox are definitely intriguing to many of our Arctic cruise participants, but the medium-sized mammals are probably even higher on their list of animals that they would love to see and photograph. Cat lovers adore the Canada lynx and Eurasian lynx, and wolf enthusiasts have many creatures to look for.
The most common wolf in the Arctic is the Gray wolf. However, this species is also found in many other areas of the world, so it is the Arctic wolf that adventurous individuals typically hope to see. This mammal is believed to be a subspecies of the Gray wolf, but these white-furred creatures are smaller than their probable cousins. If you are specifically interested in seeing an Arctic wolf, it makes the most sense to travel to Greenland but with an estimated population of less than 100 on the largest island in the world, it is a highly unlikely encounter. Of course, there is no way to guarantee what type of wildlife you will see, and these wolves tend to shy away from the places where people gather.
There are two other wolf subspecies that could possibly be spotted in the Arctic: the Alaskan tundra wolf and the Baffin Island wolf. The latter is believed to be the smallest wolf species in the Arctic, but it has not yet been studied extensively enough for there to be any firm determinations made about its overall size and other unique characteristics.
Exploring Antarctica and the Arctic
Oceanwide Expeditions offers a wide variety of opportunities to explore the Arctic and Antarctica. Our cruises can take you past well-known areas, and we also have some excursions that are based on specific interests such as polar bear, Vikings or for example whale watching. Treat yourself with an unique, once-in-a-lifetime vacation and experience something truly memorable.