A wide-ranging Arctic species
The Arctic fox is a circumpolar species found across the Arctic, extending from Greenland, Iceland, and Svalbard across Eurasia to North America. The species also extends its range northwards over the sea ice, close to the North Pole. Meanwhile, its southern limit extends to the sub-Arctic regions, including islands in the Bering Strait and Gulf of Alaska. Arctic foxes can even be seen at the southern tip of the Hudson Bay in Canada.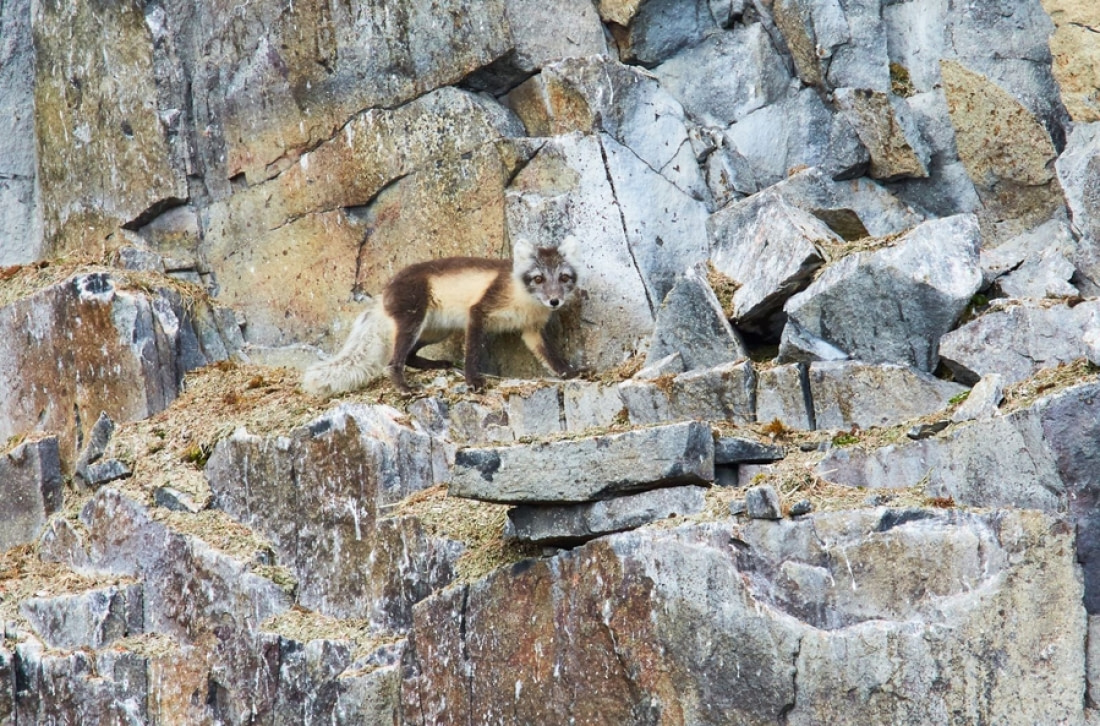 The well-insulated Arctic fox
The Arctic fox is not a large species. Instead, it has short, stubby legs with thick fur and small ears. The typical head-body length of the Arctic fox is 46 – 68 cm (1.5 – 2.23 feet), with a shoulder height of 28 cm (11 inches). Overall, the Arctic fox weighs between 1.4 – 9 kg (3 – 19 pounds). It is these pint-sized characteristics that enable the Arctic fox to adapt to some of the harshest conditions on Earth, with its small features reducing the amount of body surface area exposed to the cold. Its dense fur has one of the best insulative properties of any mammal, helping the species survive at temperatures of -50 degrees Celsius (-58 degrees Fahrenheit) in the wild, sometimes even up to -80 degrees Celsius (-112 degrees Fahrenheit). Another adaptation that the Arctic fox has up its sleeves is increased blood flow to its feet pads, preventing them from freezing.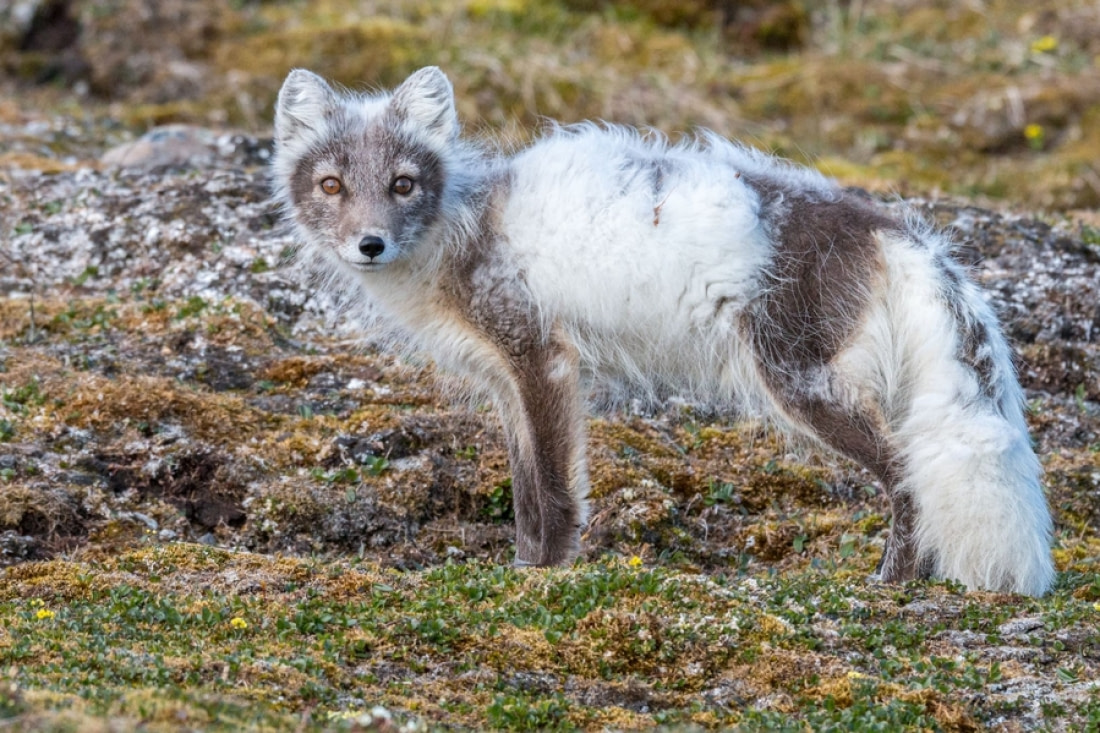 Image by Ramon Lucas, Lucas Photography, aboard s/v Noorderlicht, Svalbard 2017
Arctic foxes changing their wardrobe
The Arctic fox is not always white. During the summer months, it comes in a variety of colours, from dark grey to brown to a bluish brown colour – though only about one percent of foxes are so-called "blue foxes," and not all Arctic foxes change colour in the winter. It is during the winter months that most Arctic fox fur is white or creamy white. The change in fur colour is an adaptation to the type of vegetation found, or lack thereof, throughout the year. In the summer, the Arctic fox lives in tundra on the edges of forests, so its fur colour is well camouflaged. During the winter, the Arctic fox is commonly found on ice floes where its white fur is key to hiding in plain sight.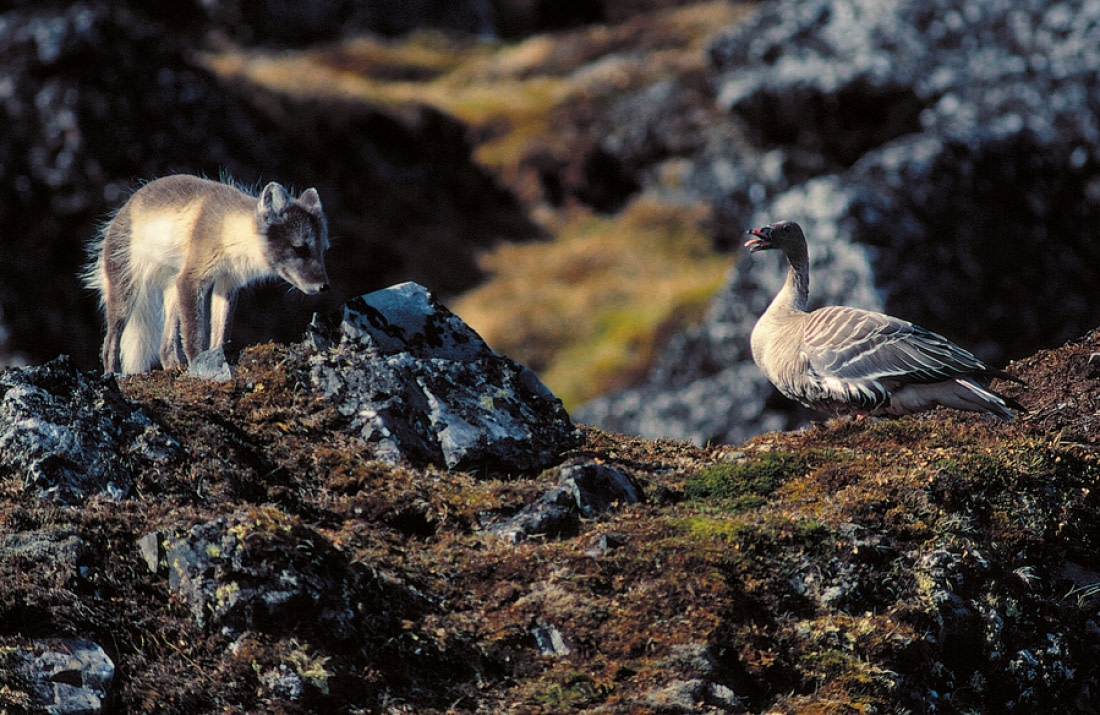 The nomadic lifestyle of the Arctic fox
The Arctic fox is a nomadic species, moving from one place to another to look for food. As it is also able to swim, the Arctic fox is known for its far-ranging distances, which exceed any other mammal except humans. During the seasonal movements over the autumn and winter period, there has been instances of Arctic foxes travelling over 800 km (497 miles) from the shoreline, into the pack ice and beyond, racking up a total of 4,500 km (2796 miles) over a single winter season.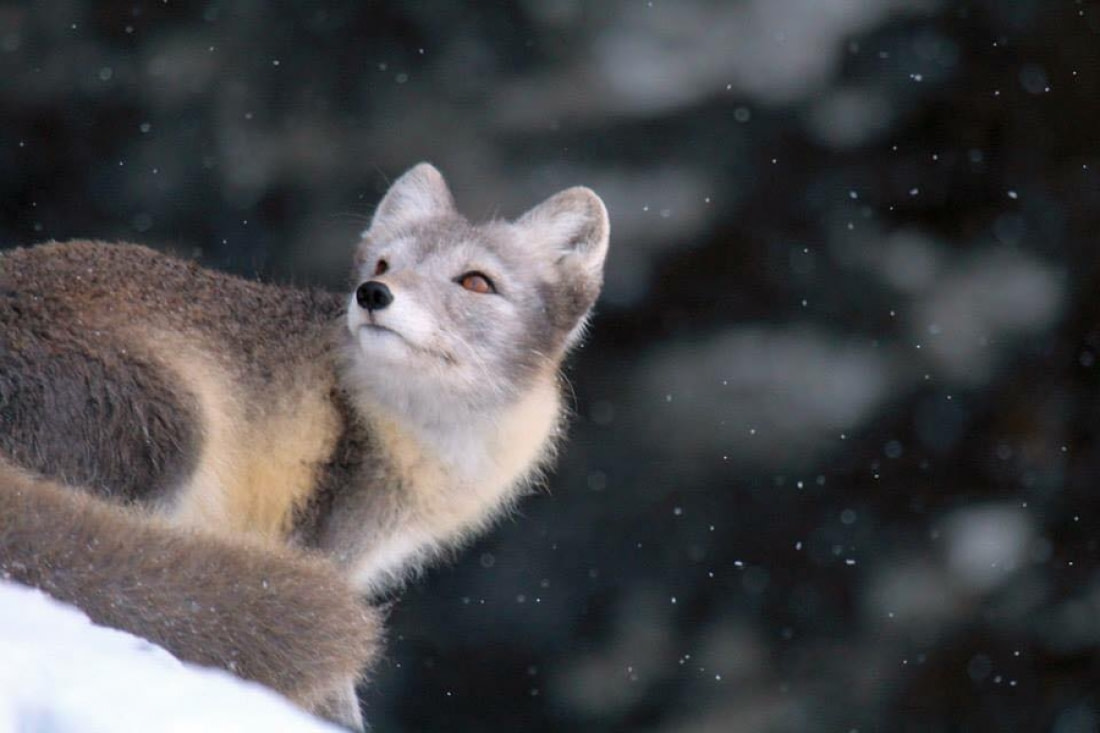 Image by Esther Baas-Lucas aboard m/v Ortelius, Svalbard 2013
Arctic fox dens are as safe as houses
The Arctic fox breeds between February and May, with births taking place between April and July, following a gestation period of 51 – 54 days. How many cubs are born is dependent on food availability, though 5 – 10 cubs are produced on average. When food is abundant, as many as 19 cubs can be born. The young Arctic foxes are brought up inside complex dens that provide shelter and protection from predators. Some den sites are centuries old, used by generation after generation of Arctic foxes. Over time, these dens become larger with expansion. There have been dens found with over 150 entrances.
Shared parenting among Arctic foxes
Both Arctic fox parents contribute to the raising of the young. The female provides milk for the first three weeks and very seldom leaves the den. During this time, the male brings back food. Once the cubs start eating, the female also goes out hunting. When both parents head out, there is often a female babysitter that looks after the cubs. The second female never breeds with the male but is only there to help care for the young. Usually the babysitter comes from the offspring from the previous year. After 8 – 10 weeks, the cubs become independent, reaching full maturity at 10 months.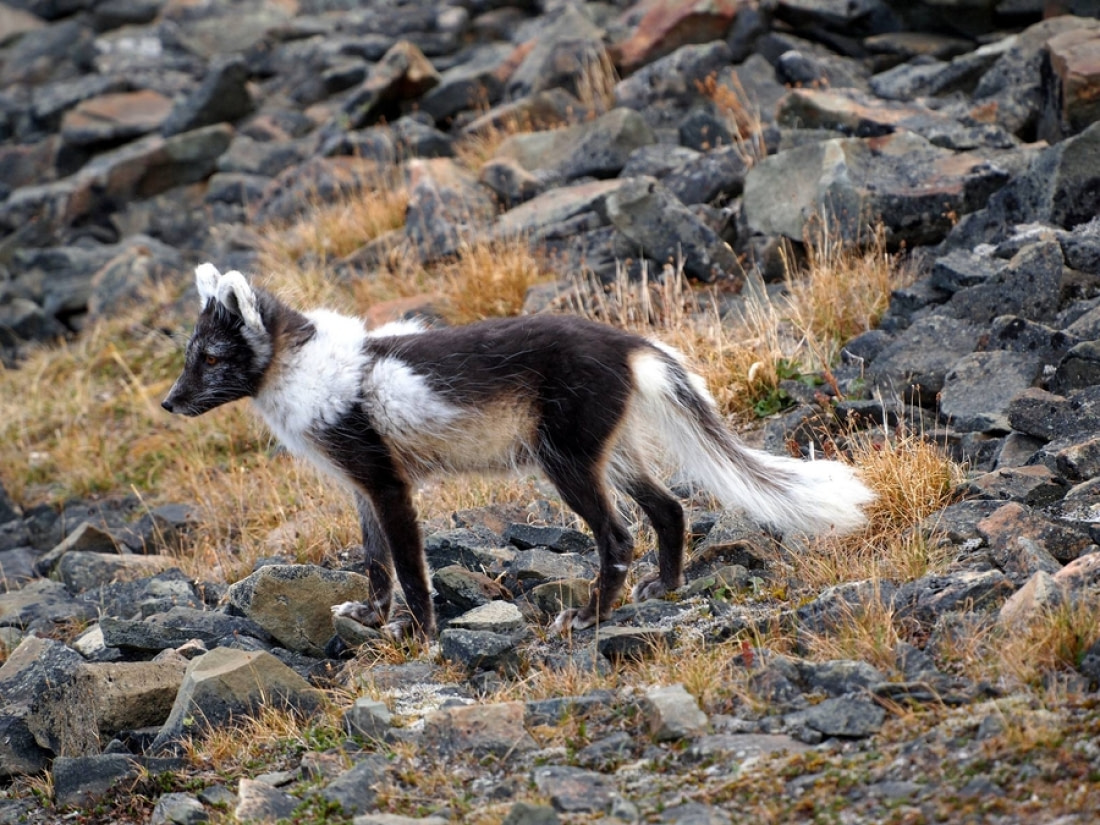 Image by Bas Vriesema aboard m/v Ortelius, Svalbard 2014
Establishing Arctic fox territories
Arctic foxes are monogamous, with each pair establishing a territory that they use for several years. In Svalbard, one of the prime destinations of Arctic cruises, the size of Arctic fox territory has been calculated to be between 35 and 50 square km (18 to 31 square miles). The size is dependent on the Arctic fox dens: Foxes that den on the coast have a smaller territory than those found in the valley. Most Arctic foxes in Svalbard are actually non-breeding. They are not isolated on Svalbard, however, since the drift ice enables them to roam over large areas, including Greenland and western Siberia.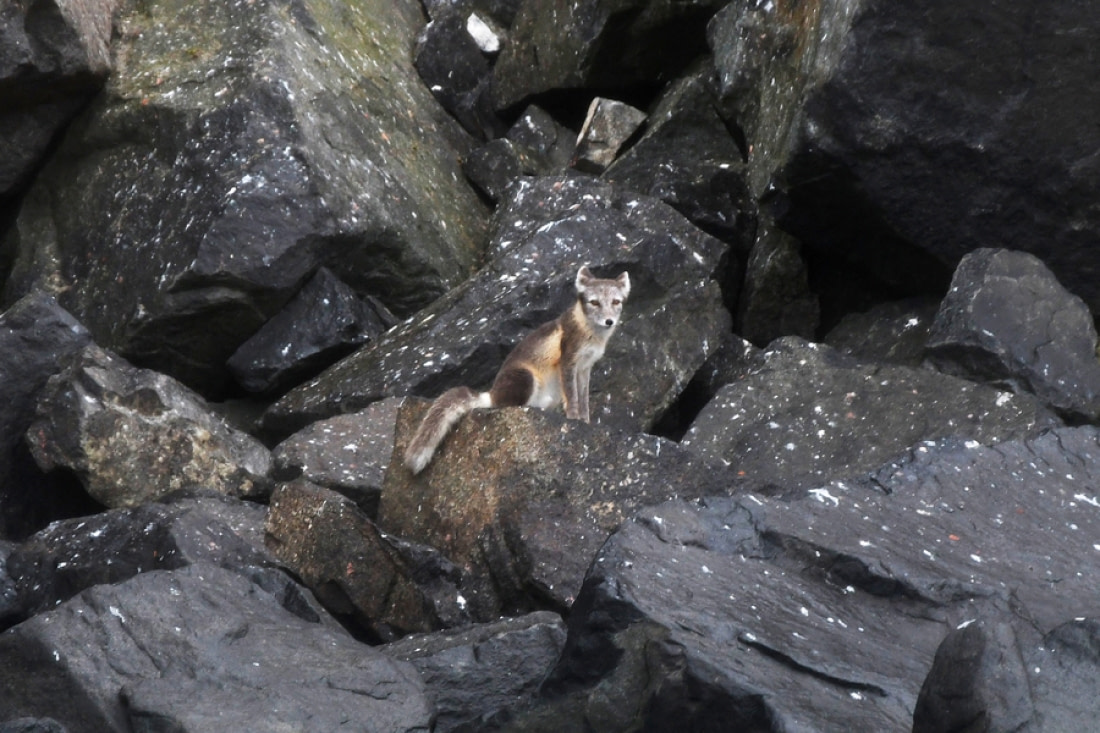 The Arctic fox open appetite
The Arctic fox eats what it can find, including lemmings, ground squirrels, insects, seabirds, eggs, fish, and berries. It even hunts live ringed seal pups in their chambers below the snow. During the summer, when food is abundant, the Arctic fox carries the extra food it finds and stores it away in dens or under rocks. Arctic foxes have even been known to dig holes in the permafrost to store their food. Over the winter period when food is scarce, the Arctic fox often follows polar bears and wolves, waiting to snack on their leftovers. When times are really tough and very little food can be found, the Arctic fox will resort to eating the faeces of other animals. When the Arctic fox hits rock bottom and absolutely no food is available, it can reduce its metabolic rate by half while remaining active, conserving energy and allowing itself more time to find food.
Fluctuating populations among Arctic foxes
Scientists studying Arctic foxes in Svalbard found that, over a ten-year period, increasing numbers of Arctic foxes paralleled increasing numbers of Svalbard reindeer carcasses during winter. They also paralleled increasing numbers of nesting barnacle geese over the summer period. As any Svalbard trip reveals, this area has an interesting and complex ecosystem.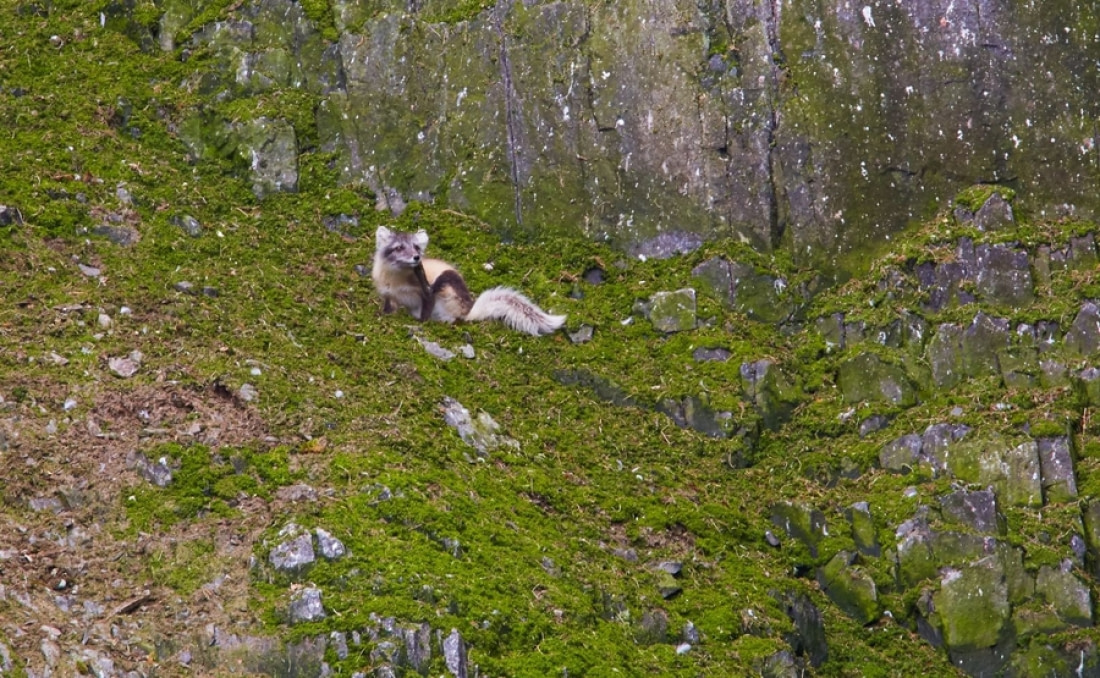 The constant gardeners of the Arctic
Scientists have discovered that Arctic foxes are natural gardeners. They deposit nutrients in and around their dens through a combination of urination, defecation, and leftovers from previous kills. In fact, in one study, researchers found that fox den sites in summer contained over 70% more inorganic nitrogen, and nearly 2000% more extractable phosphorous than adjacent control sites. In August, these dens supported nearly three times as much vegetation biomass as normal. The result is rich tundra around the dens, providing extra plant diversity for other herbivores who are attracted to lush vegetation.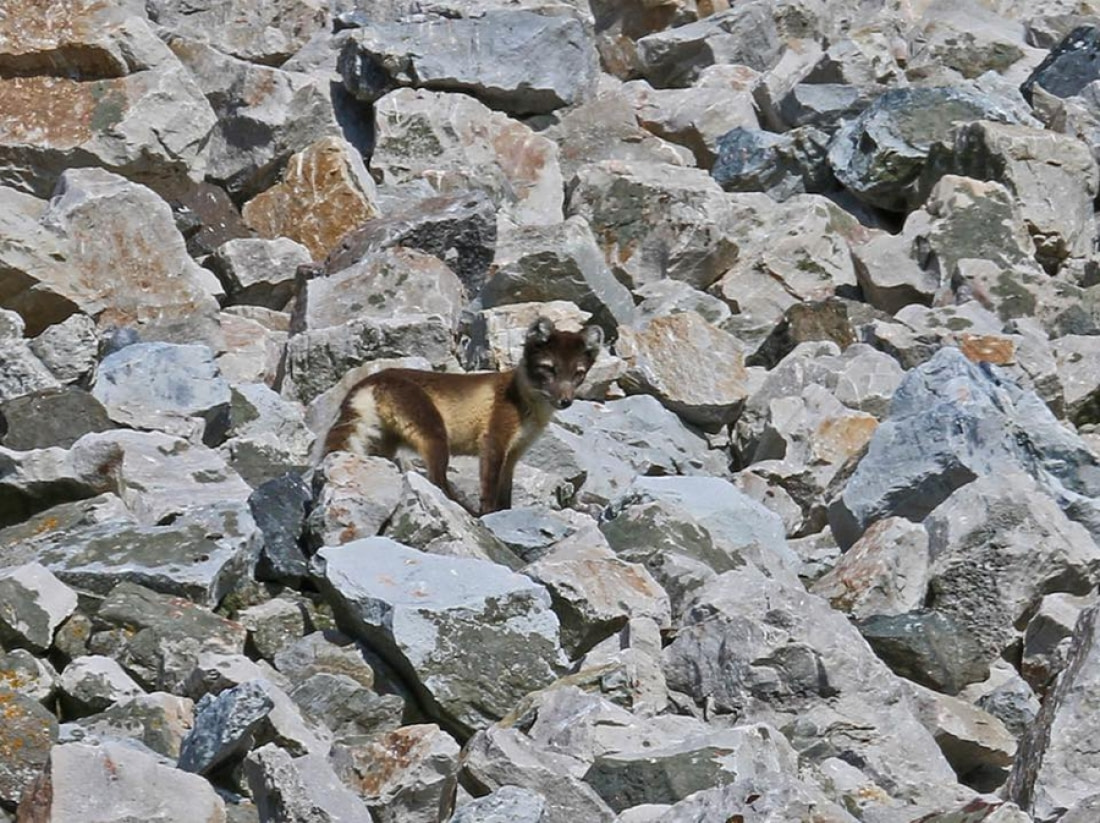 Image by Ute Walz aboard m/v Plancius, Svalbard 2017
Quick facts about the Arctic fox
1. While they hang out together, Arctic foxes typically hunt alone.
2. Researchers do not know how long the Arctic fox has lived in Svalbard, but they probably reached the islands sometime over the last 10,000 years, after the ice retreated at the end of the last ice age.
3. One food source that the Arctic fox depends on is the lemming. In fact, Arctic fox populations typically peaking every four years as lemming populations swell before declining again.
4. The Arctic fox is a social animal, in contrast to other species of fox that spend their time in isolation unless they're with a mate or taking care of offspring.
5. Arctic foxes can recognise each other from their scent, and female offspring often come back to visit their mother later on.
6. Arctic foxes can have territories that overlap.