From travel agent to expedition leader
If you've seen any of the photos we post online, odds are you've seen the name Sara Jenner. Her wildlife photography has a way of making each animal the star of its own moment, transporting you with equal ease to the Botswana bush or the bird cliffs of Alkefjellet.
In addition to being among our most popular nature photographers, she's also one of our most ubiquitous expedition leaders. Sara pulls marathon seasons, often working from the first trip to the last. When she's not guiding travelers through the snow-swept world of the polar regions, she's usually doing similar work in Africa and India.
We spent some time talking to Sara about how she got into this work, what she loves about polar travel, and why having a home base isn't on her agenda right now.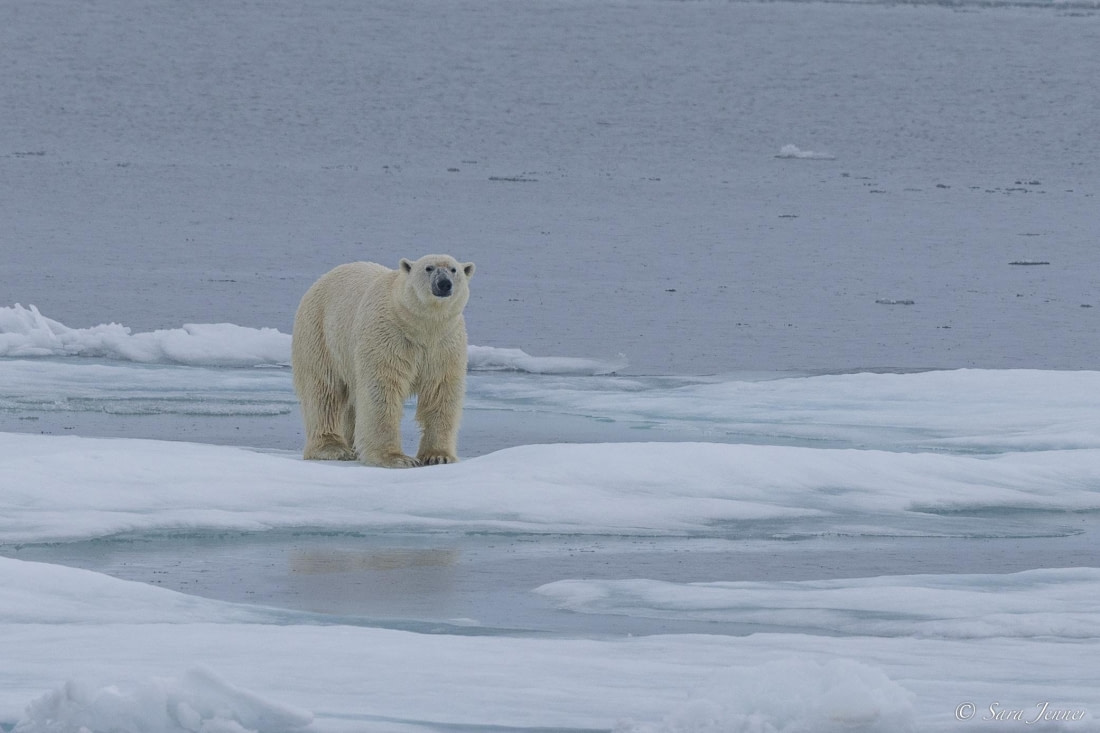 Picture by Sara Jenner
What came first, Africa or Antarctica?
They sort of came hand in hand, back in 2016. I was working as a travel agent, specializing in polar trips. That's how I first met Michel and Ko de Korte at the Global BirdFair. They invited me to go on a couple of voyages, and I just fell in love with the polar regions.
But as a travel agent, you still have to return from these amazing trips and deal with sales targets, flight delays, cancellations, margins, and websites. I just wanted to be in the field. I remember coming back to Ushuaia from an incredible Antarctic voyage and opening my inbox, and there was just problem after problem waiting for me. I thought to myself, "Now is the time."
So I handed in my notice from there. Obviously, I went back and dealt with my work so I could leave on good terms. I'm a great believer in never burning bridges. But that was the end of my days as a travel agent.
I started guiding for Oceanwide around the same time I started guiding in Botswana. The company in Botswana wanted me to work full-time for them and get a residency permit, but I had just completed a trial trip with Oceanwide that led to almost a full season of work. Strange how things work out, with several doors opening at once.
Now I work as a photographic guide in Botswana on a freelance basis, between my Arctic and Antarctic seasons with Oceanwide. I love Africa. It is in my blood. I really enjoy getting some warmth after months in the polar regions, but it's also an opportunity to see different wildlife. I think variety is important.
But although I work long days in Africa, it is a lot easier there. It always feels like a bit of a holiday after shouldering the responsibility of being a polar expedition leader, where you're in some of the most challenging regions in the world.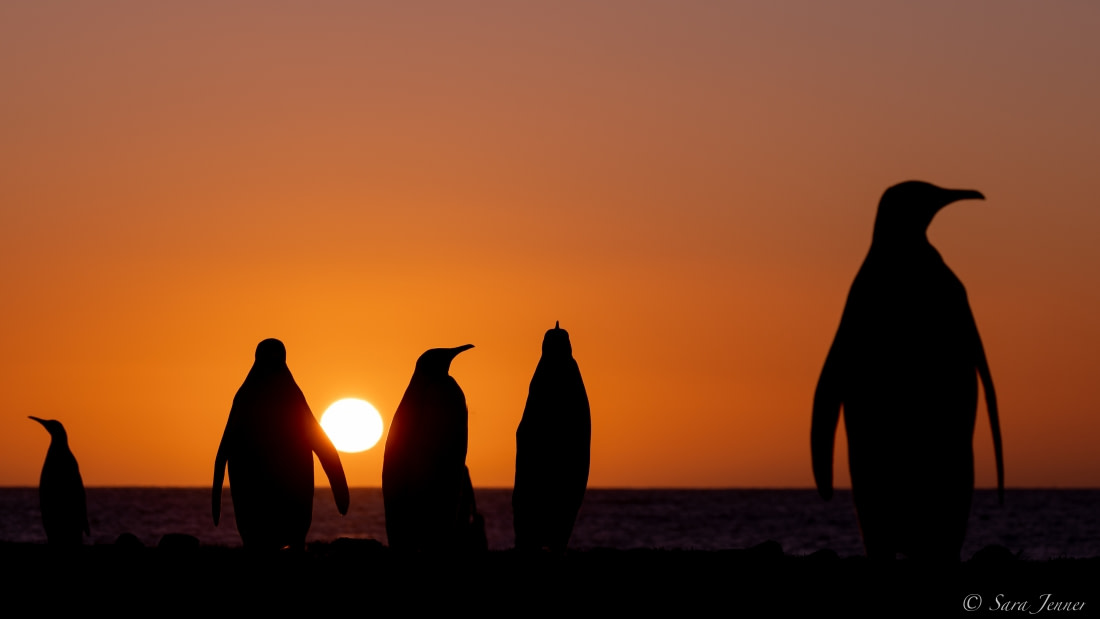 Picture by Sara Jenner
What is it that attracts you to this kind of work?
I have always been obsessed with wildlife, seeing nature as it is – not necessarily with a camera, but just being close to it. I spent a small fortune doing this all over the world, whether it was on dive boats, on safari, trekking to see primates, or doing conservation projects. So I figured, why not see if I can make a living at it?
When you're sixteen and you're at school in the UK and you say you love animals, they tell you to be a vet or get a "real job". Nobody tells you that you can be an expedition guide in the polar regions or a photographic guide in Africa. I feel so blessed to have found this work. Even if it sometimes feels like I found it fifteen years too late, I still found it.
Is that why you like working such long seasons?
Yes, and it's also why I don't have a home base at the moment. The pandemic taught me how important my work is to me. Not only did I lose my job overnight, but also my home, friends, and family. The Oceanwide fleet has essentially been my home since leaving my "normal" life in the UK. My job is my absolute being. I love working in the field, whether it's bumping around in the back of a Jeep or driving a Zodiac. I can't imagine doing anything else.
We can't imagine you doing anything else either.
Then we're a good fit.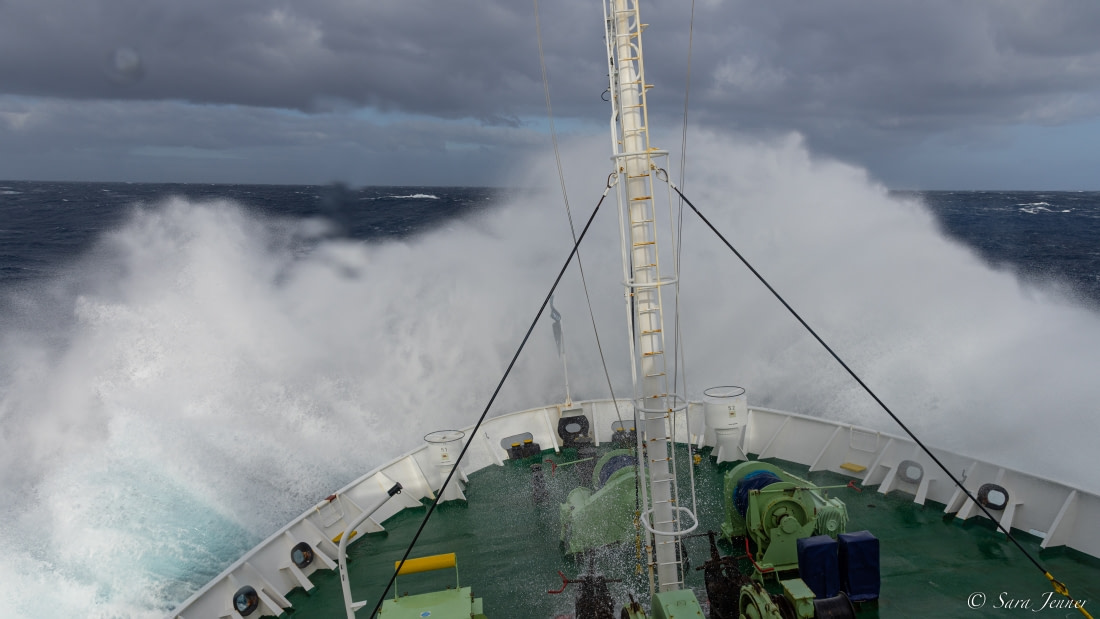 Picture by Sara Jenner
Beyond the differences of terrain and wildlife, how does guiding in the polar regions compare to guiding in Botswana?
They're similar in the sense that we get like-minded people wanting to explore wilderness. I love sharing my passion for wildlife with them, with or without photography. But the pressure stakes are higher in the polar regions. We have larger groups there, and the risks are higher. But I suppose that's what draws me back every year. I love the fact that you're really in the hands of Mother Nature in the polar regions. I love that feeling that you can't control everything. I think we live in a world where we control almost everything.
When you visit Antarctica or Greenland or most of the places Oceanwide goes, nature really calls the shots. As an expedition leader, I pretend it's up to me and the captain. But usually the big decisions are made for us in terms of weather, ice conditions, and wildlife sightings. We just have to go with the flow and make the best of the opportunities presented to us.
It must feel nice to put yourself in nature's hands as opposed to, say, Google.
Absolutely. That's another thing I love about the polar regions: not having the internet or good access to it. That really makes people disconnect and embrace each moment. For example, we have good internet at our lodge in Botswana. And as soon as people get back there from the field, they immediately get on their phones. But when I take them deep into the bush, they engage more in conversation and the surroundings.
It's the same with Oceanwide on our vessels. We don't have reliable internet on board, and I think that's a good thing. It forces people to appreciate what's around them. Some people have situations back home they feel they need to attend to moment by moment, but in my opinion you shouldn't come to the polar regions if you can't disconnect. It's not the right time in your life.
These trips are so short and over so quickly, it's important that you savor every minute. Before you know it, the trip of a lifetime that you've been planning for the past two years is over. It frustrates me when people queue up at reception to ask the poor hotel manager what the Wi-Fi code is before we've even set sail.
When I teach photography in Botswana, I can be pretty brutal. The first night on the Chobe River, I let people shoot anything they want. But when I see them lifting their cameras after that, I ask them, "Is this a better background, better light, or better behavior? If not, put the camera down."
Sometimes I even put my hand in front of their lens while they think about it. If tonight's elephant is not any better than last night's, just enjoy the experience. It's too easy to get so absorbed in your camera that you miss the beauty of the moment.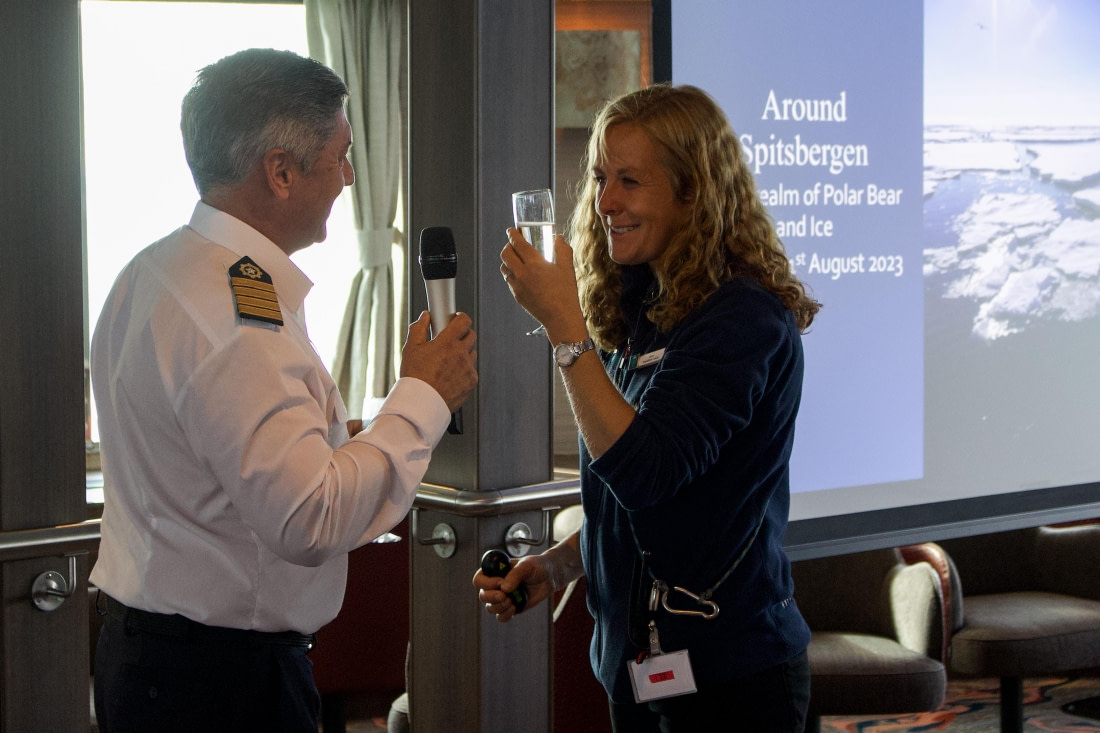 Picture by Charlotte Taplin
Does that happen just as often during your polar trips?
Not quite as often. We have a more diverse mix of guests, not just serious photographers. But I'm still pretty ruthless. It's all in the interest of making sure our passengers get the most out of their voyage, and they won't if they're only experiencing it through their cameras.
When did you go from expedition guide to expedition leader?
I was meant to make the transition just as the pandemic hit, so it got postponed by almost 18 months. I eventually became EL on the first Hondius trip after COVID, just before Omicron. I don't mind admitting I felt like I was thrown in at the deep end. It was challenging to say the least. We had to quarantine a number of staff and passengers, so all departments had to pull together. It was a real team effort, something Oceanwide does really well. After going through that, I feel like I'm equipped to deal with most anything as expedition leader.
How different is life as an expedition leader?
The difference is significant, even between assistant and expedition leader. As expedition leader, the final decision rests with you and the captain. That means you're to blame if things go wrong in the field - even if it's something beyond your control, like not seeing enough polar bears. But I've come to learn that I should only worry about the things I can control. So long as I know I have done my best with my team and crew, I can sleep well at night.
I also think it's important that you know your strengths and weaknesses. My strengths are organization and communication, being a hard-working people person. But I don't have the technical field knowledge some of our guides have, and that's why having a solid team is vital. You don't have to be amazing at everything, you just have to know how to delegate.
I have no problem running helicopter operations, for example, but checking the stability of sea ice to ensure it's safe to land on is not my forte. For decisions like that, I turn to the people in my team. Many of our guides have done mountain rescue, lifeboat piloting, or have extensive firearms experience in the military. They may not enjoy public speaking or want to be expedition leaders, but their expertise is incredible.
But it is also important to remember that we're in the tourism and hospitality business, so we need people who excel at the social part of the job. We have to strike a balance. This is one of the things I think Oceanwide does well. They pick strong guides who bring an array of skills we can draw upon to create the most successful expedition possible. I often feel humbled when I look at our staff. It is an honor and privilege to call them my colleagues.
Based on your experience with other operators, what sets Oceanwide apart?
Oceanwide still does proper expedition. We prioritize time ashore. Even on Hondius, which is a little bigger and more comfortable than our other ships, we maximize our time in the field.
We also employ our own crew, unlike many of our competitors. This makes a huge difference with regard to day-to-day logistics. If we want to delay dinner because a pod of orcas has appeared, we can do it. Expedition comes first. There is a real family dynamic between our crew and staff. A lot of our guests comment on this. I think it is valuable that Oceanwide not only allows but encourages crew to join guest activities whenever possible.
Many of our crew work long seasons. To be allowed to watch a polar bear approach the ship or land at a colony of penguins between their duties can be so rewarding for them. This can only influence the guest experience positively. A happy crew makes for happy guests.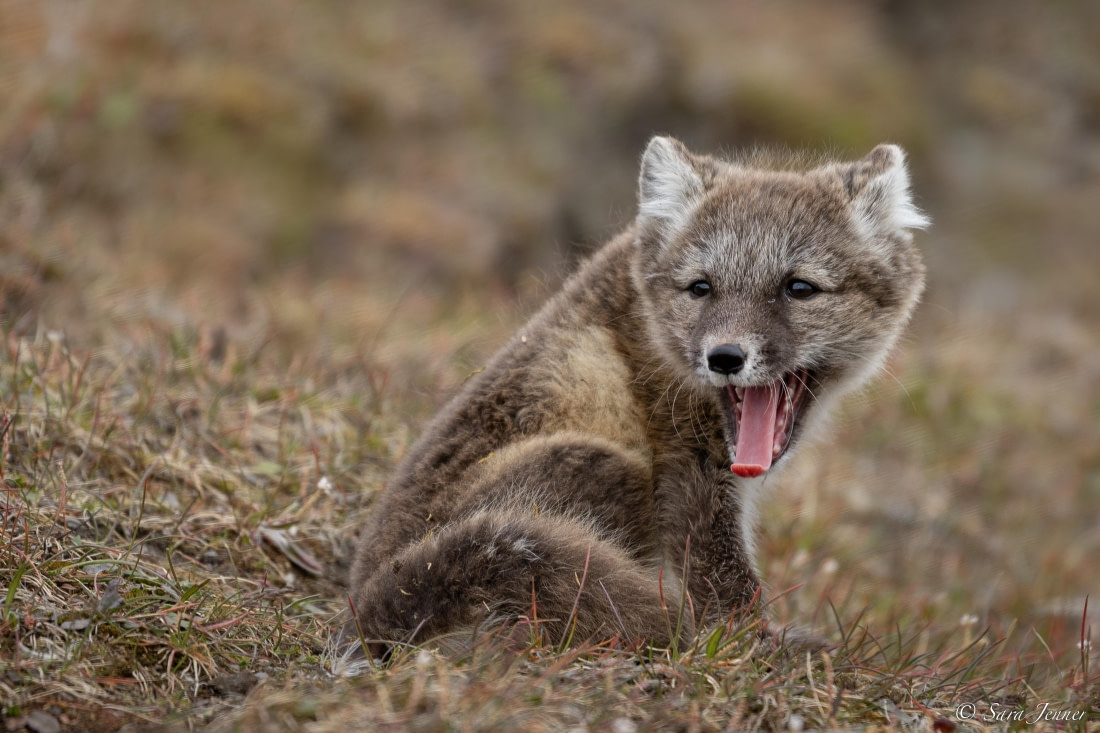 Picture by Sara Jenner
You mentioned you don't have a home base. Are you a true nomad these days?
I own a house, but I haven't lived there for many years. I rent it out. Maybe at some point I'll get a base back in England, but at the moment I just love doing long seasons. I worked over six months in Antarctica last season, two and a half months in the Arctic, and I'm scheduled to do the whole Antarctic season this year. After that it will be time to defrost, so I'll be heading to India and Kenya to run some more photographic tours.
What has been your favorite polar moment so far?
I always describe South Georgia as my happy place, the place I cannot imagine not returning to. There is nowhere else in the world like it for wildlife. But if I had to pick one trip that stood out above all others, it would be our 32-day Ross Sea trip this year. I did the outbound journey as assistant expedition leader, which was incredibly successful and a lot of fun.
But when I was asked to do the return leg as expedition leader, I had reservations about taking on the responsibility of such a long voyage. The stakes are high on this trip, and a lot can go wrong. What seems like a trivial decision can later prove critical. But I am pleased to say I now look back on that voyage as the most special month of my working career.
With the help of an incredible team, we pulled off something I thought was unachievable. We made memories that will last a lifetime, for guides and guests alike. To walk into Shackleton's Hut or Scott's Hut and smell the hay in the stables, to watch the sea freeze around us as we left the Ross Ice Shelf... Words and photos cannot do it justice.
I will never forget that month. That was expedition at its greatest.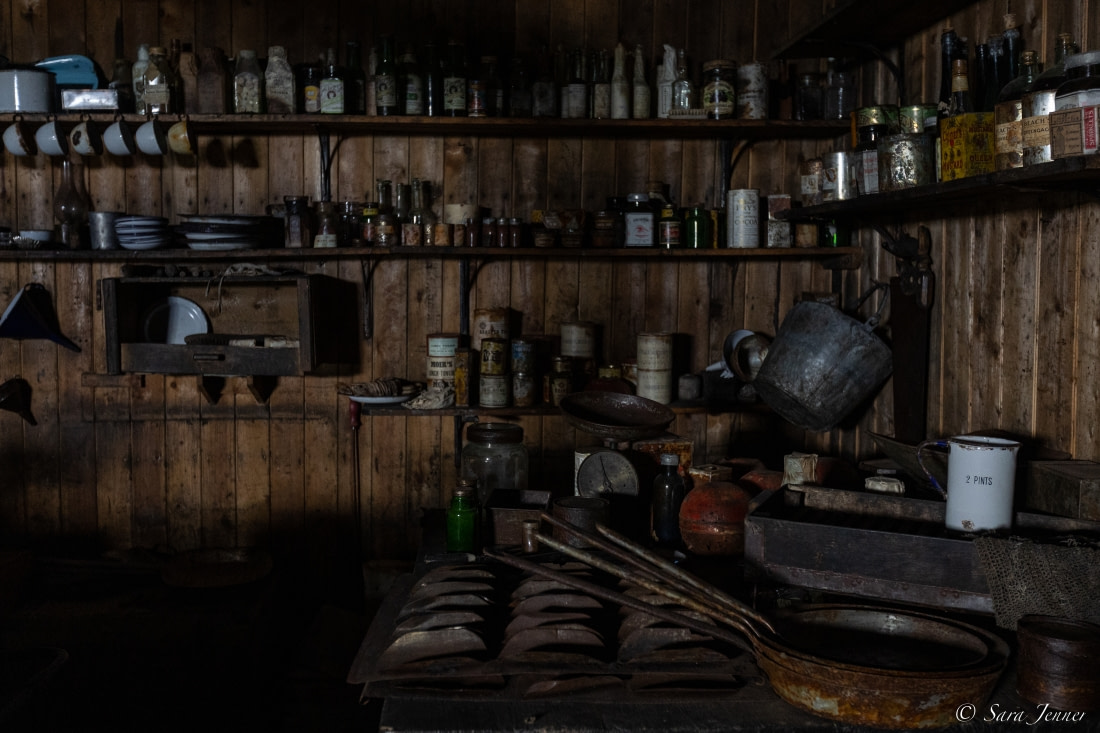 Picture by Sara Jenner
Main image by Geert Kroes