The polar bear: king of the Arctic food chain
If you come across a polar bear during your Arctic cruise you'll be looking at the world's largest species of bear and the largest land predator. There is a large difference in size between male and female polar bears with the male weighing anything from 350 to 800 kilograms. Females in contrast weigh less than half (between 150 to 300 kilograms). Polar bear weights fluctuate throughout the year depending on the season. Female polar bears can often double their weight between early spring and late summer. Polar bears have adapted to the Arctic well with a small head (the smaller the head the less heat loss), have small short fur-covered ears and more powerful claws compared to other types of bears.They also have longer predatory teeth and sharper molars that have help the bear adapt to the Arctic environment and its almost exclusive meat-only diet.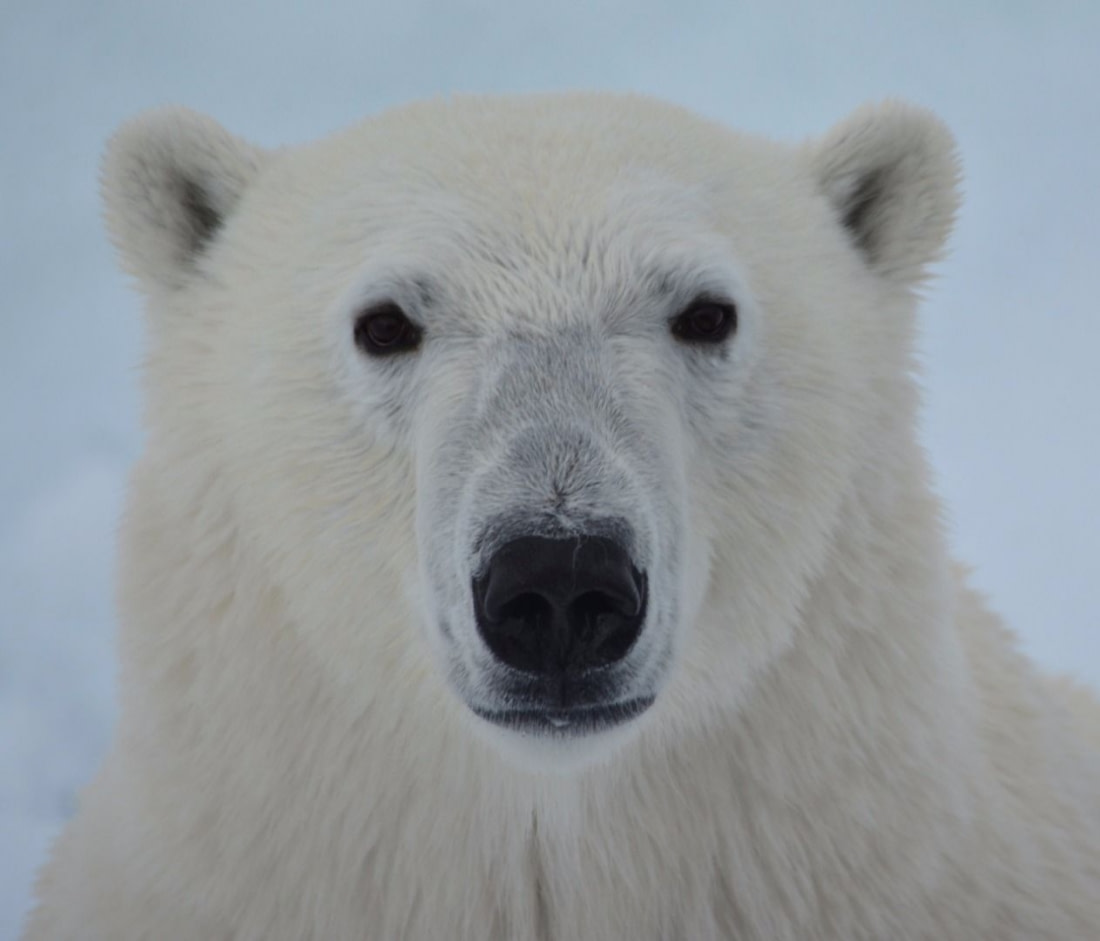 Photo by Gareth Lewis-Oceanwide Expeditions
The polar bears most common prey
The polar bear is at the top of the Arctic food chain. Its most common prey is the ringed seal and the bearded seal. However, polar bears are not too fussy when it comes to eating and will take advantage of other available prey when presented with the opportunity. Out on the sea ice they will eat young walruses, Greenland seals, hooded seals, beluga whales and narwhals. When on land polar bears also catch reindeer and the young and eggs of sea birds and geese. They even will feast on the carcasses of whales that have washed ashore. Polar bears also have a taste for non-meat foods including berries, grass and seaweed.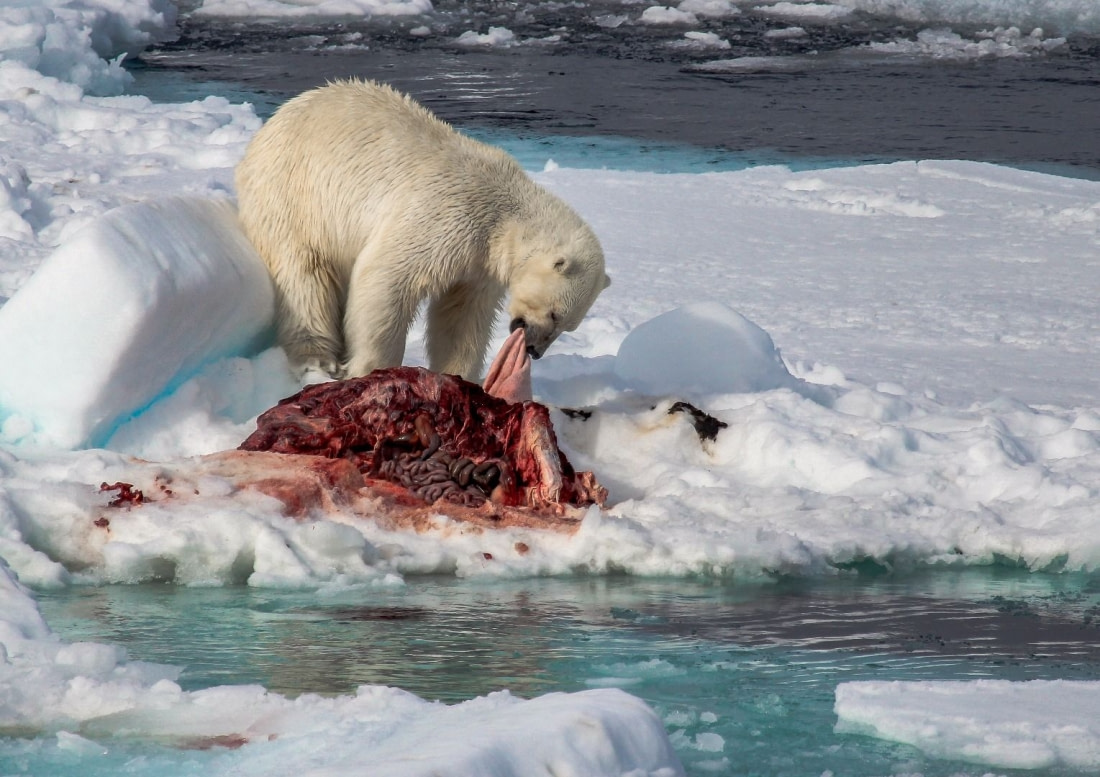 Photo by Tom Curfs-Oceanwide Expeditions
Polar bear cubs extremely small
In the wild, polar bears normally live to 20-30 years old with both males and females maturing at the age of four to five years. Females often give birth to their first litter of cubs when they reach maturity while males do not usually start mating until they are eight to ten years old. Mating typically occurs between April and May. In August females go into hibernation for about four months. At the beginning of January one to three cubs are born, weighing only about half a kilo, but they grow rapidly due to the high fat content of the mother's milk.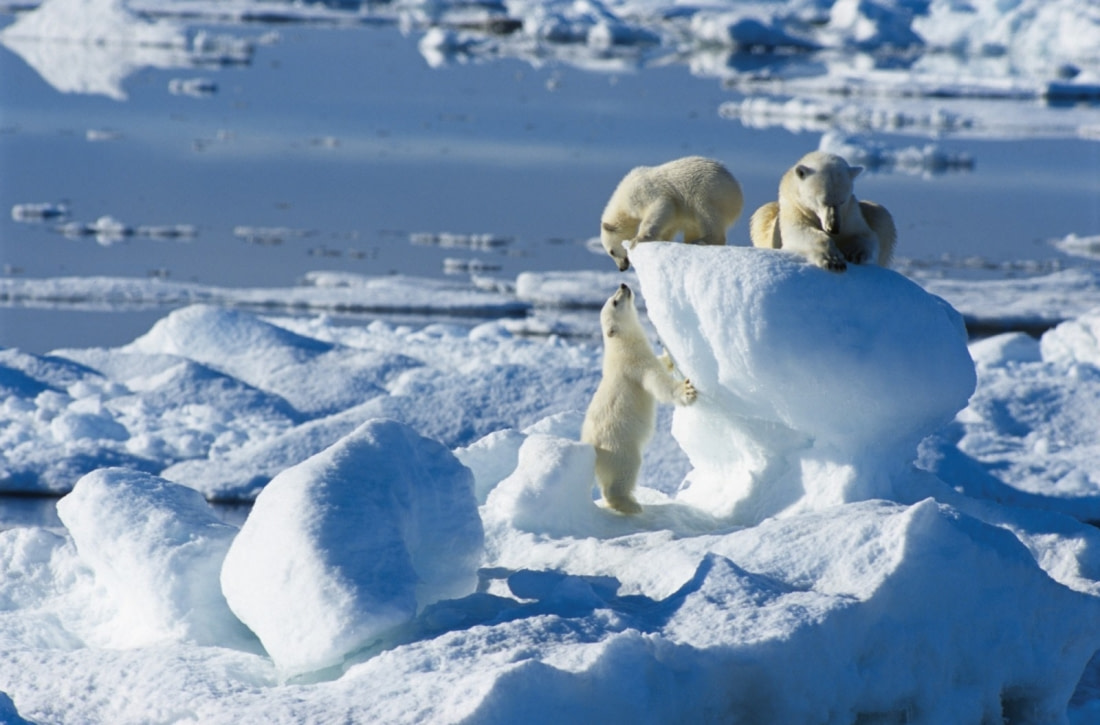 Photo by Rinie van Meurs-Oceanwide Expeditions
Polar bears live in population groups
Polar bears are not a single large homogenous population that roams the Arctic in unison. Instead, groups of polar bears, called stocks or populations, are distributed throughout the Arctic. Since the 1960s thorough research has been conducted by scientists to learn more about these different populations, collecting information on population demographics, population boundaries, population movements, population size, reproductive and survival parameters. Research over the decades has found that polar bears do not occur in large numbers and their reproductive ability to replace individuals in populations is very low and their population fluctuates in response to changing climate, availability of prey as well as human activities.
Technology keeping an eye on polar bear numbers
Advances in technology has meant that scientists today can use a vast array of satellites to follow individual bears and infer population movements and boundaries. Even infrared technology is being used to monitor polar bears hidden beneath the snow. Aircraft as well as shipping technology has vastly improved over the decades enabling scientists to access to larger populations of polar bears that was previously impossible.
Collecting polar bear DNA
In a study to understand more about polar bears and how they are impacted by a changing Arctic environment a team of French scientists working in partnership with WWF isolated polar bear DNA from a track left in snow. The scientists looked at two samples collected from polar bear tracks during the WWF-Canon and Norwegian Polar Institute expedition to Svalbard in the Norwegian Arctic. Making a statement to media, project leader Eva Bellemain said ''the results are really exciting…this is the first time we have been able to extract DNA from a track left by a polar bear – we found not only the bear's DNA, but also that of a seal and a seagull''. According to WWF this method is an invaluable tool for conservation biology as currently scientists rely on expensive, invasive techniques to track the population size and health of wildlife including polar bears. By using footprint DNA it would drastically reduce this costs of monitoring populations.
Impacts of climate change on polar bears
Both the polar bears you'll see on a Svalbard cruise and their prey have evolved over time with both dependent on sea-ice for foraging, resting and reproduction. As such, both polar bears and seals are key indicators of the effects of climate change on the Arctic environment. With global temperatures rising polar bear populations are facing threats they never have encountered during recorded history of the Arctic. While it is not certain what climate change will do to the polar bear, studies indicate that climate changes will have a negative effect on polar bear populations.
Photo credit main photo: Josh Harrison Photography.