Sixty ultramarathoners will join us in Antarctica during the 2024-25 season
RacingThePlanet is an international ultramarathon organization that has been operating since 2002, and its 4 Deserts Ultramarathon Series focuses on endurance runs in deserts all over the globe. From the Gobi to the Atacama, these events test participants' mettle not only with physically demanding courses but also extreme terrain and weather conditions.
It is only natural, then, that one of these desert ultramarathons will take place in Antarctica, Earth's largest desert. For this event, entitled "The Last Desert," participants will traverse roughly 250 km (155 miles) at various stops along the Antarctic Peninsula.
We're happy to announce we will be taking them there, the sixth time we have hosted RacingThePlanet runners during our voyages.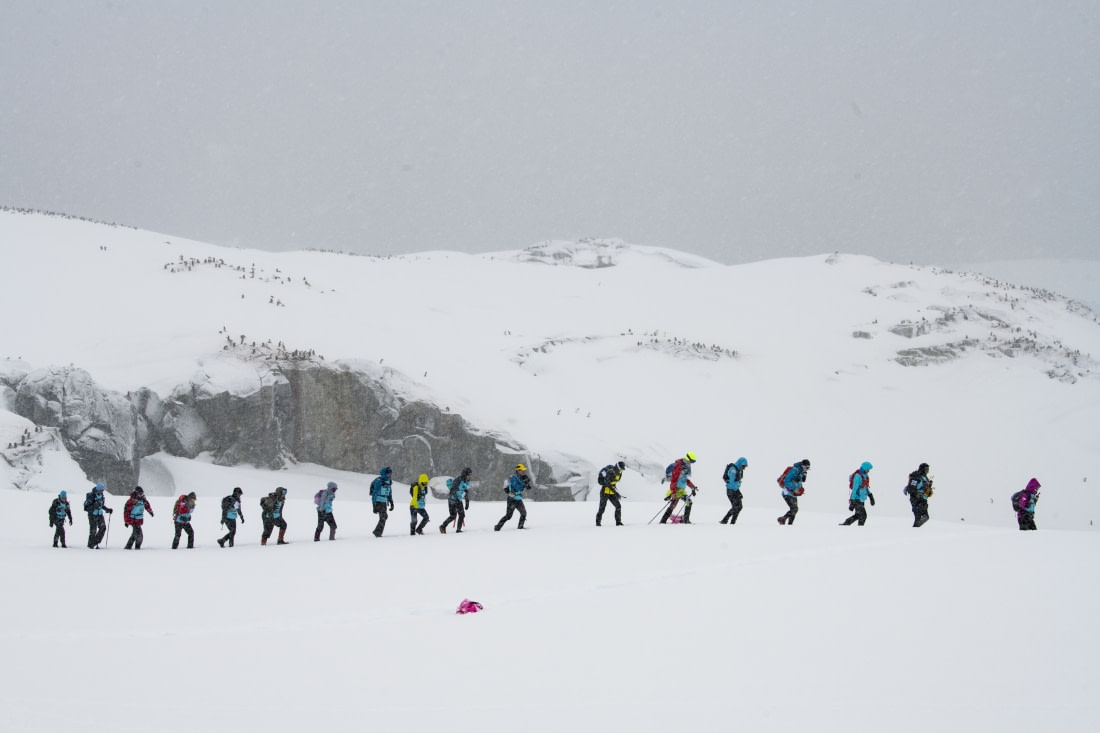 Picture by Thiago Diz
RacingThePlanet and its 4 Deserts Ultramarathon Series were founded by Mary Gadams, a former investment banker from the United States who is well known in the endurance sports community. The 4 Deserts Ultramarathon specifically is now in its tenth iteration and has been named by TIME as one of the top 10 endurance competitions on the planet.
As of 2022, RacingThePlanet has organized 71 races with more than 10,000 participants from around 100 countries. These events have been covered by ESPN, NBC Sports, the BBC, National Geographic, and many other networks. There is even a documentary, Desert Runners, that covers The Last Desert Ultramarathon.
The ultramarathon represents the only multi-day stage race that takes place on the Antarctic continent, and runners must qualify for it by successfully completing at least two previous 4 Deserts ultramarathons.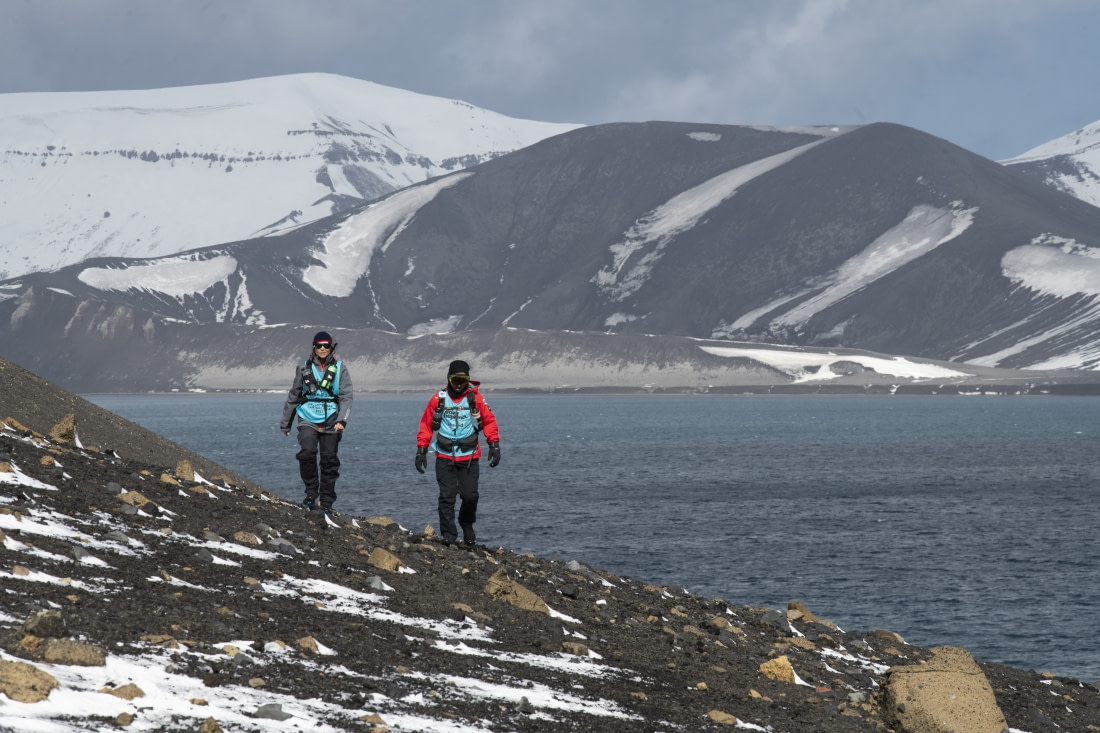 Picture by Thiago Diz
About sixty people will take part in the 2024 Antarctica run, all of whom will join us aboard our vessel Plancius. Some of the participants will also be accompanied by friends and family who are there simply to enjoy Antarctica. But though we will bring the ultramarathoners to areas where they can run a sizable circuit, the realities of Antarctica preclude their being able to run from waypoint to waypoint as they can in most other 4 Deserts ultramarathons.
This is because the Antarctic Peninsula, where most of the race's segments will take place, is too glaciated and dangerous for runners to go on foot from one landing site to the next. The snow can often be over a meter deep there, and temperatures sometimes drop to -20°C / -4°F.
Nevertheless, competitors and those joining them may have the chance to further cool off by taking the polar plunge into the invigorating (some say frigid) Antarctic waters.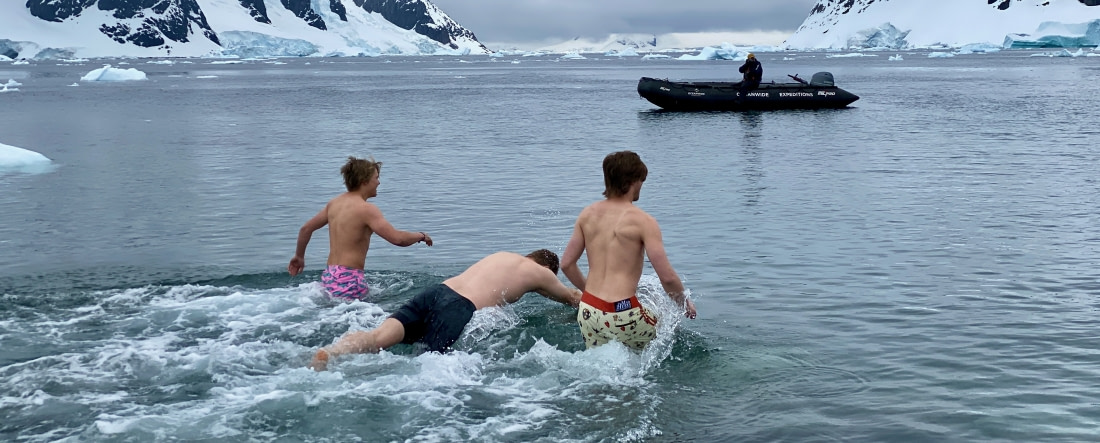 Picture by unknown photographer
The voyage embarks from Ushuaia on November 26, lasting for 11 days and 10 nights before disembarking back in Ushuaia on December 6. Some of the voyage will consist of sea days, such as when we make our two-day Drake Passage crossing, so the ultramarathon will not officially begin until our first landing on November 29 and our last on December 3.
Landing sites we aim to visit include such iconic areas as the South Shetlands, Deception Island, Paradise Bay, King George Island, Jougla Point, Petermann Island, Neko Harbour, and Port Charcot, among many others. As is the case with all polar expeditions, the ability to make landings depends entirely upon local weather and ice conditions.
During the voyage, we may also navigate stunning waterways like Neumayer Channel, Gerlache Strait, and Lemaire Channel. The mammoth glaciers and snow-swept mountains to be seen in these areas nearly defy belief, and the wildlife is similarly amazing: gentoo, Adélie, and chinstrap penguins; crabeater, leopard, and Weddell seals; and many whales and other seabirds are all possible.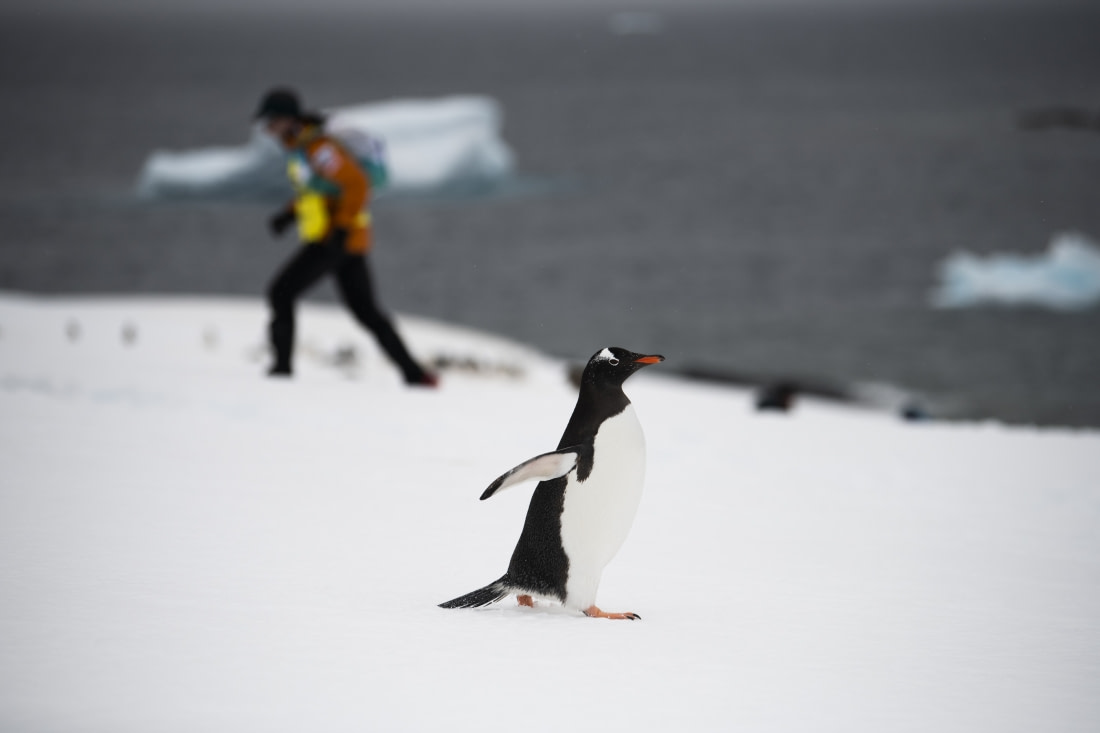 Picture by Thiago Diz
Ultramarathoners will take a range of equipment for their race, much of which we also recommend for all our other guests: sunscreen, lip balm, UV sunglasses, and insulating clothing that does not absorb water. Participants in The Last Desert are also advised to undergo a rigorous training schedule that includes strength training (for runners) and heart rate training.
During the sea days, our expedition guides will provide interesting lectures on a variety of polar-related topics. Of particular focus will be the many exotic seabird species we tend to see on our Antarctica trips, which includes southern fulmars, wandering albatrosses, Wilson's storm petrels, cape pigeons, among many others – one of many reasons Antarctica is a birdwatcher's dream.
On the way back to Ushuaia, participants in The Last Desert run will enjoy their traditional Awards Banquet on Plancius. Trophies will go out to male and female champions, new members of the 4 Deserts Club, and other runners who have earned distinctions.
Main image by Thiago Diz