The Greenland fjord system of Scoresby Sund
In a land of expansive mountains, colossal glaciers, and majestic shorelines, few places are as expansive, colossal, or majestic as Scoresby Sund.
Scoresby Sund is the largest fjord system in the world. A winding extension of the Greenland Sea, it stretches 110 km (68 miles) into the eastern terrain of Greenland. Its tree-like structure then branches into a massive system of fjords, the longest of which is 350 km (216 miles) from the coast.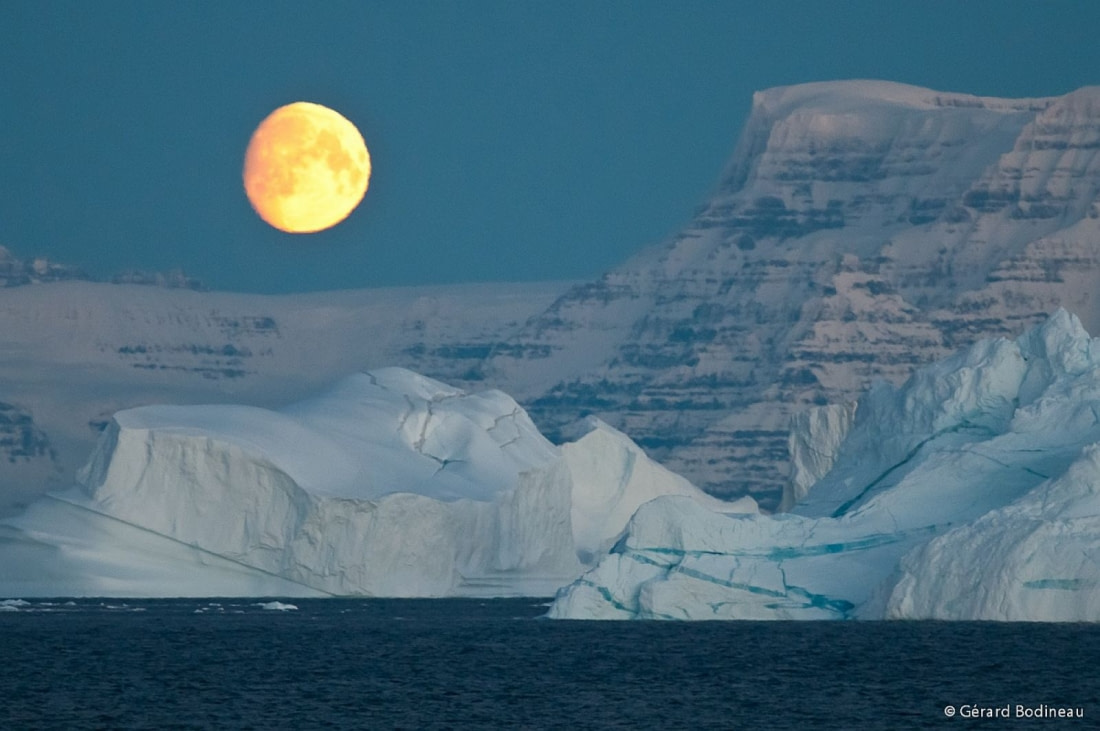 As you sail up Scoresby Sund, snowy peaks rise greet you. Endless outcroppings of icebergs appear, carved into impossible geometric shapes by the wind and water. Everywhere you look, you see another glacier.

Scoresby Sund provides a vast blue-and-white mural in which it's easy to imagine what English explorer William Scoresby felt when he first sailed it in 1822.
Scoresby Sund science: what is a fjord, anyway?
Fjords are some of the most startling landscapes on the planet, Scoresby Sund aside.
The word "fjord" comes from the Norse "fjörðr", which means "where you travel across" or "put across to the other side." Other English derivatives are "fare" and "ferry." These words are appropriate to the feeling one gets traveling in a spectacular fjord like Scoresby Sund, which makes you want to keep moving so you can see more and more.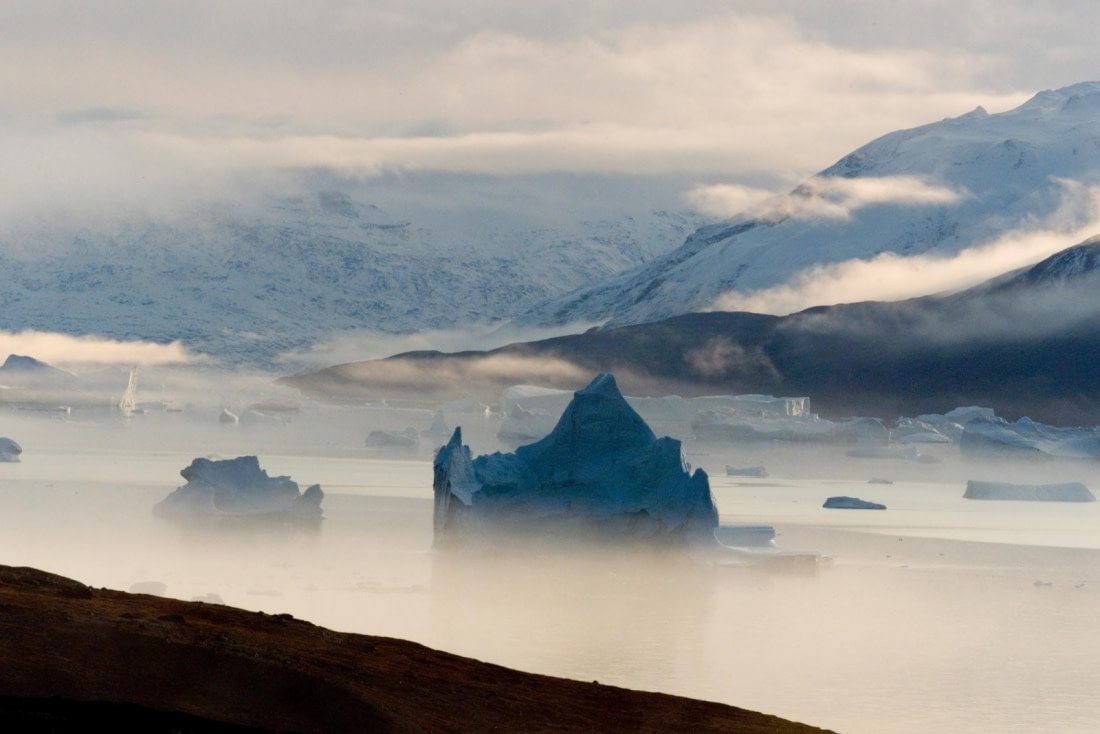 All fjords, not just fjords like Scoresby Sund, are made in generally the same way: A giant glacier descending from a mountain cuts a deep U-shaped valley over thousands of years, and when the glacier finally retreats it leaves a trench. As seawater comes in, this trench is filled and a fjord is born.

Ø Fjord, one of the many fjords of Scoresby Sund, is one of the most majestic examples. At 2,000 meters (6,000 feet), Ø Fjord has mountains on either side and in places is more than 1,000 meters (3,000 feet) deep. It is also dotted throughout with enormous icebergs.
The wealth of Scoresby Sund wildlife
So rich in natural beauty, Scoresby Sund is also abundant with polar wildlife.
Your Scoresby Sund voyage may show you herds of grazing musk oxen, Arctic foxes, Arctic hares, and lemmings. Polar bears, however, are not often seen in this area of Greenland.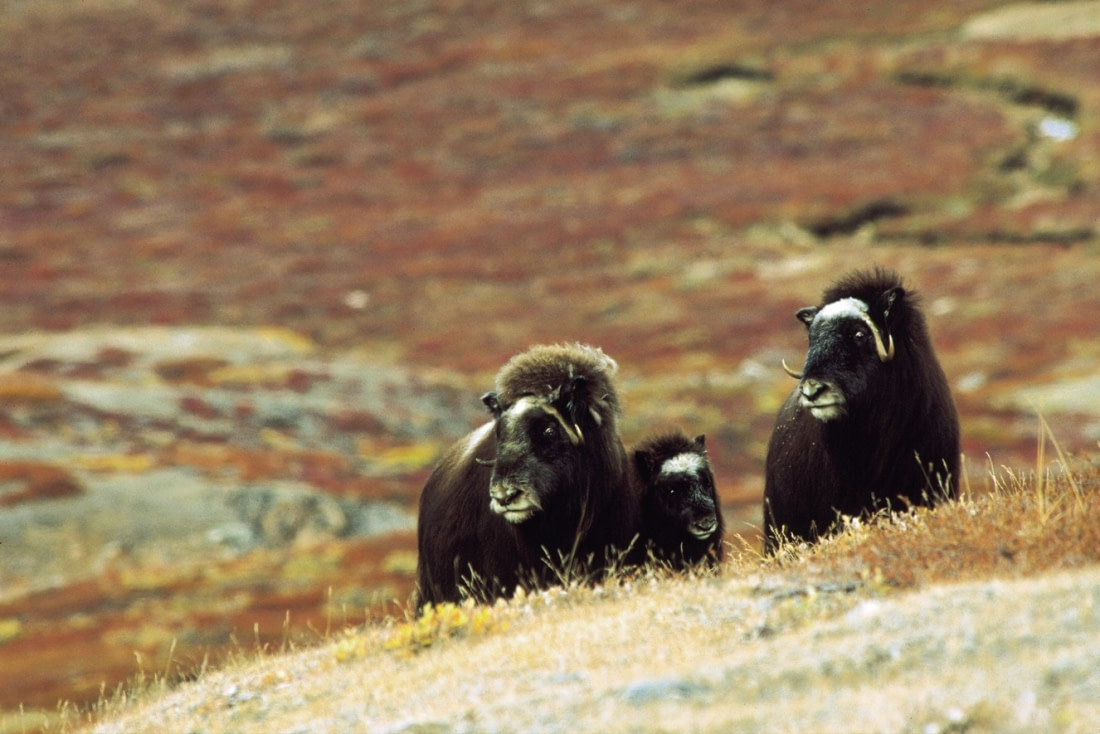 Scoresby Sund is also populated with marine animals: Arctic char, Greenland halibut, polar cod, cuttlefish, sea scorpions, and Greenland sharks swim its waters. You might also spot different varieties of seal, whales, and if you're exceedingly lucky, a narwhal.
Scoresby Sund weather conditions
Make no mistake, Scoresby Sund is very much in the Arctic.
Temperatures can plummet to -22°C (-10°F). However, in the more temperate autumn months – when Oceanwide embarks on its Greenland cruises - you can expect Scoresby Sund temperatures to be more comfortable, around 5°C (41°F).
The Thule culture of Scoresby Sund
There are several ancient settlements located in Scoresby Sund: Danmark Ø and Sydkap are two examples. These areas have benefitted from milder weather. Perhaps this is why you can spot remains here of both contemporary huts and early Thule settlements.
The Thule were the ancestors of the today's native Greenlanders, or Inuit. They reached the Scoresby Sund area of Greenland around the 1300s.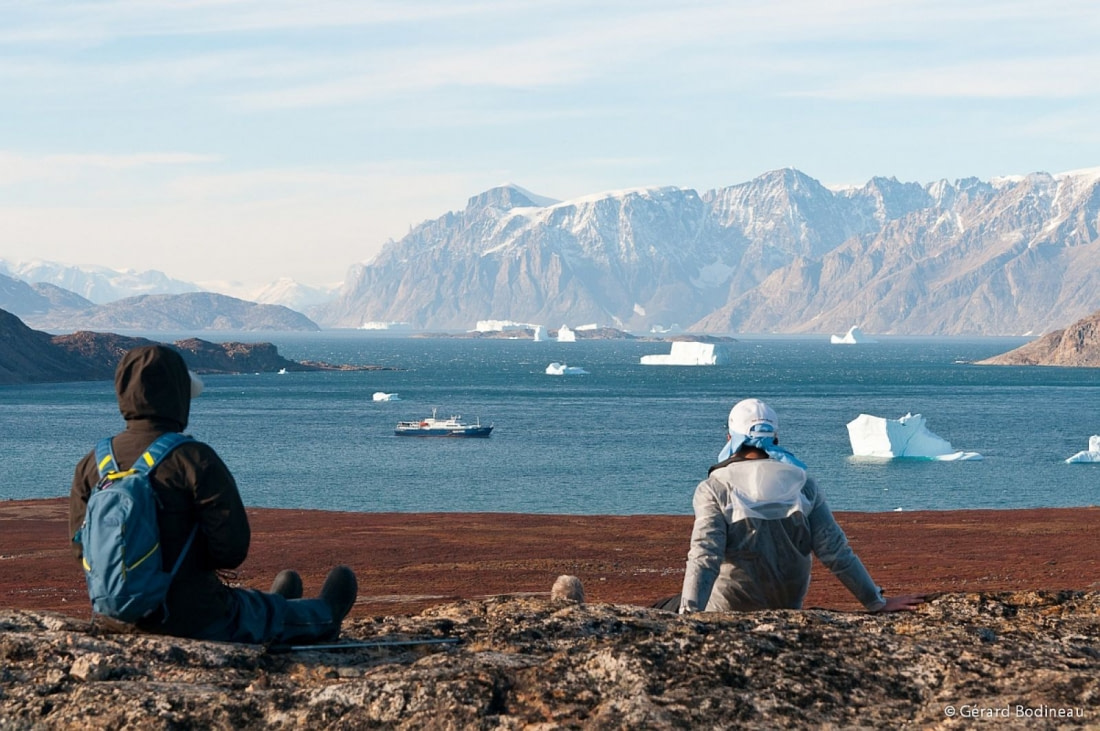 Ittoqqortoormiit: the Big House Dwellers of Scoresby Sund
Near the mouth of Scoresby Sund is Ittoqqortoormiit, one of the most recently founded towns in Greenland.
Established in 1925, this Scoresby Sund town was settled by about 80 native Greenlanders. Today it has a population closer to 400. This population could not have been the first to inhabit this area, however, as evidenced by the ancient Inuit artifacts in the region.
These newer Inuit settlers were hunters, and as Scoresby Sund is abundant with seals, walruses, narwhals, polar bears, and Arctic foxes, they soon created a flourishing life for themselves.
Inuit hunting continues in Scoresby Sund today. Not only does hunting provide them sustenance, it also means trade and income.

Fishing Scoresby Sund also puts food on the table, though the sea is frozen much of the time. In fact, Scoresby Sund sea ice prevents access by ships for about nine months of the year. Winters can be harsh, and even summers are cold. The warmest monthly temperature in Scoresby Sund is around 3°C (37°F).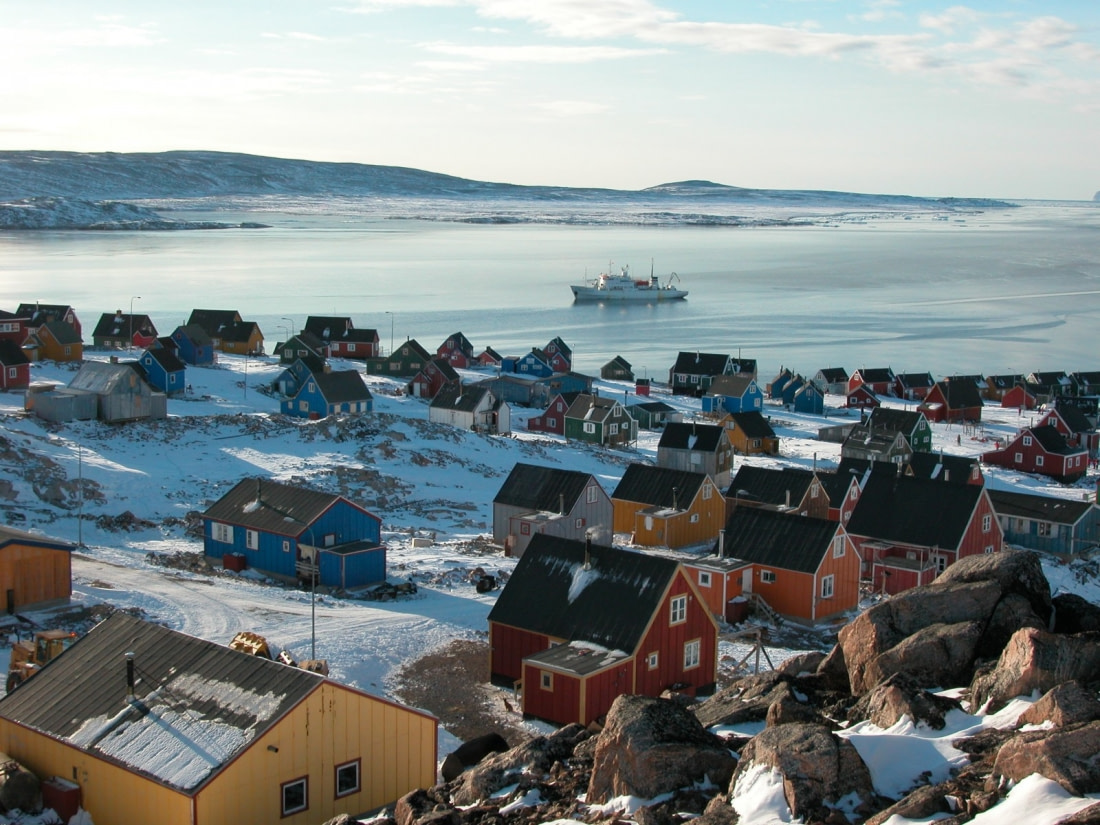 One advantage of the sea ice in Scoresby Sund is that it becomes a pathway to new routes.
The locals even go dogsledding on it or take snowmobiles for weekend camping trips. And come autumn, when all that sea ice has thawed, expedition ships like ours enter Scoresby Sund and introduce its beauty to thousands of polar admirers.

At Ittoqqortoormiit, you can immerse yourself in Scoresby Sund culture. See the sled dogs, watch the locals prepare animal skins, and send a card back home from the post office.
Plan your own Scoresby Sund trip
If you want an adventure well off the beaten path, Scoresby Sund is your pick.
Your voyage will be rewarded with some of the most jaw-dropping landscapes on Earth, including views of the northern lights. And be prepared to see as many Arctic animals as you can fit on your camera, because being in Scoresby Sund is like sailing to an earlier era.