High-mountain adventure in the Arctic and Antarctica
Traveling to the polar regions, whether to the Arctic or Antarctica, is an adventure almost no matter what you do.
Seriously, even sipping a tepid cup of chamomile is more exciting there.
Still, there are a few reliable ways to enhance your baseline polar thrill. And among the best are mountaineering and ski mountaineering.
But while the premise of these activities is fairly obvious, the details may still be unclear.
To shed some light on these ultimate outings, here's a rough guide to polar mountaineering and ski mountaineering, telling you what the activities entail, where you can do them, and why they're the best way to put some elevation in your polar vacation.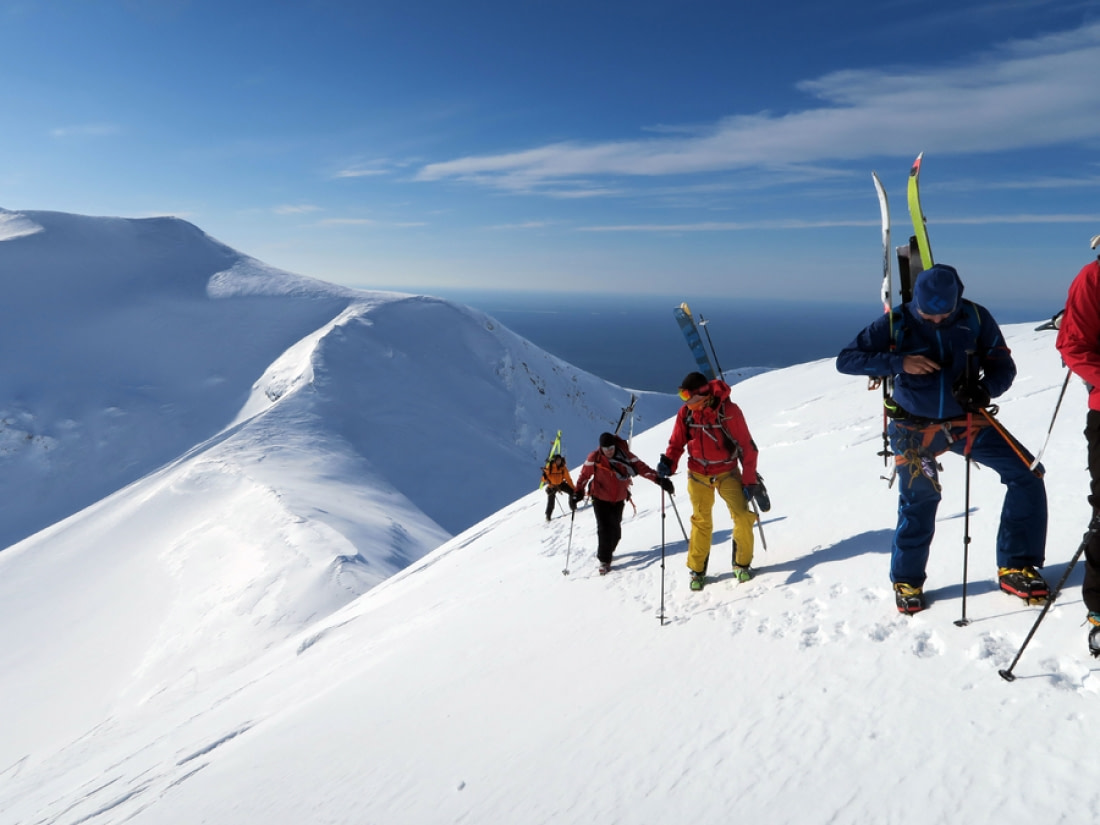 Antarctic mountaineering
We generally offer mountaineering trips only on Antarctica cruises.
The White Continent's relatively accessible entry points, ample alpine peaks, and vast snowy vistas make it an ideal venue for polar mountaineering.
Not only that, Antarctica's rich ecosystem gives you the chance to see whales, penguins, and near-limitless species of seabird.
Though our Antarctic ascents do employ high-end gear associated with vertical cliff climbing, our mountaineering activity is actually more of a steep-to-quite-steep hike that employs ropes and carabiners for additional safety.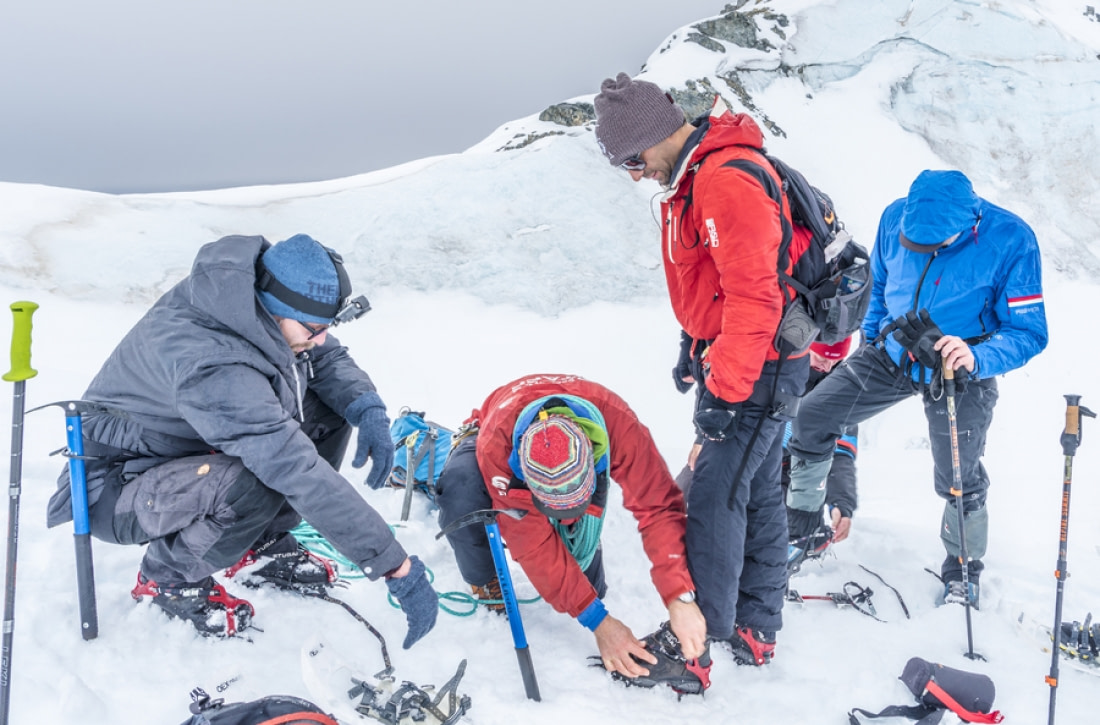 For mountaineering hikes in less steep areas, we use snowshoes. And for steeper hikes, we use crampons (spiked boot attachments).
Participants follow the lead of one of our mountaineering guides, all of whom have extensive experience in polar climbing. Outings generally last four hours or more.
While you don't need to be Sir Edmund Hillary to partake in our climbs, you do need to be in decent physical shape.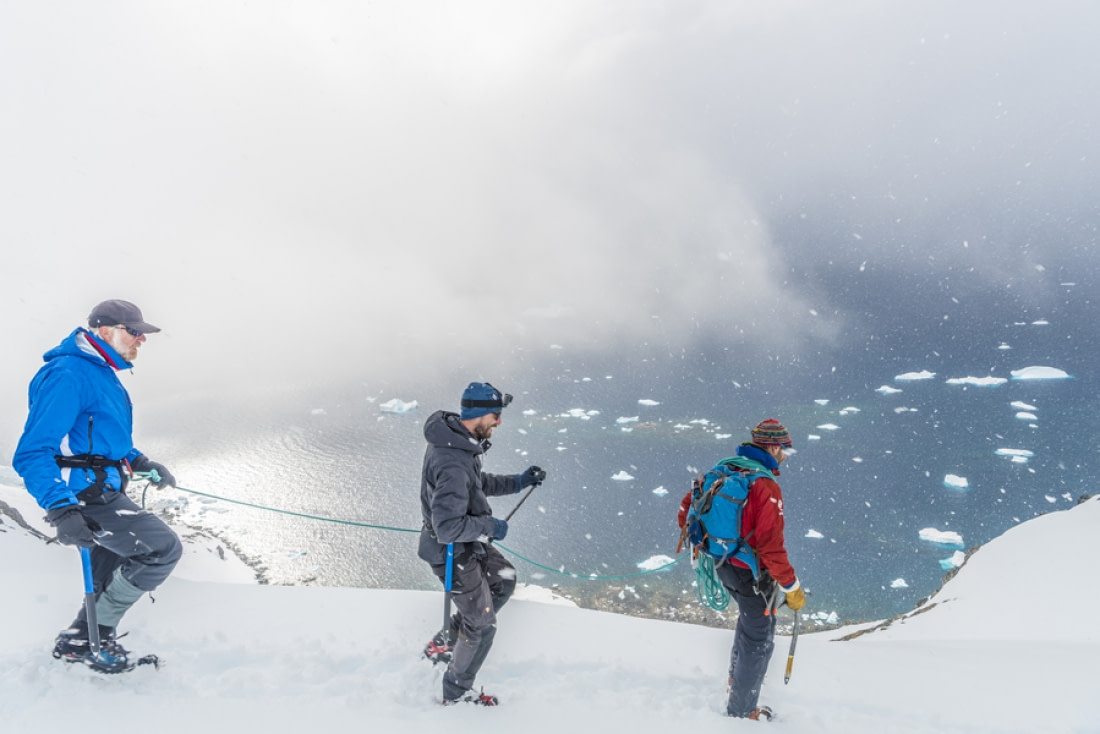 This is fairly important, as our expedition guides will refuse a spot to anyone with health concerns. There are no hospitals where we climb, so the risk to you and OEX is too great otherwise.
You also don't need prior snowshoeing or crampon experience, since walking in either device is not much different than in most other footwear.
But because the areas where we mountaineer are often glaciated, there are crevasses present. This requires an extra level of awareness and caution, though our guides are well-accustomed to such conditions and will help you along the way.
Mountaineering hikes must be booked with our reservations department in advance of your voyage, and all are scheduled on a first-come, first-served basis.
The exception is our Basecamp cruises, which grant each passenger one free mountaineering hike - and which we will cover later.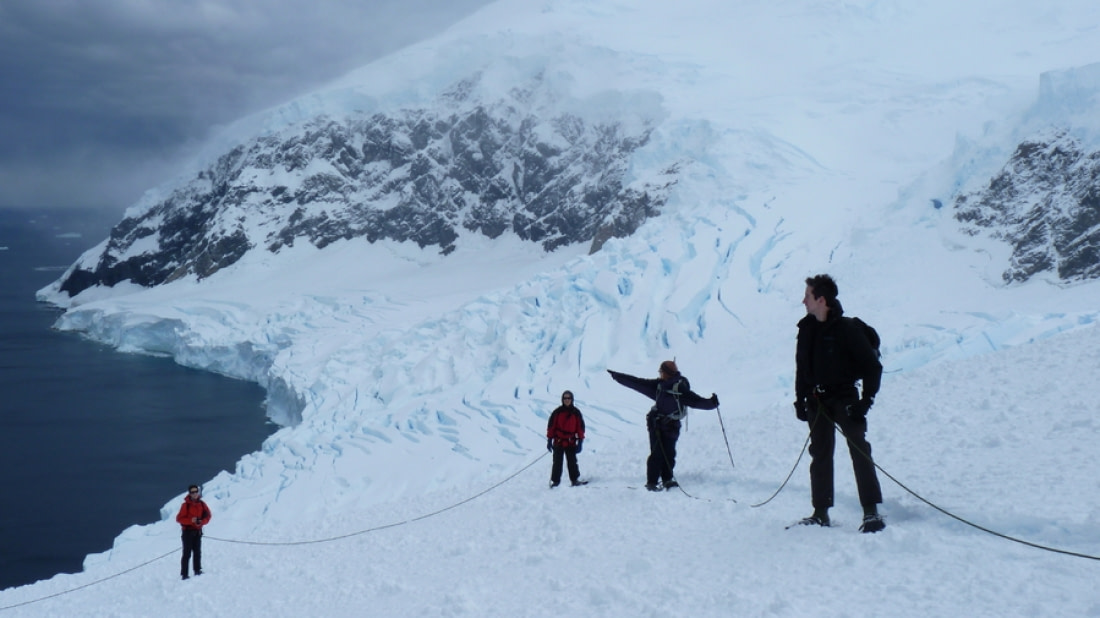 If local conditions (ice, weather, and wildlife) permit, we can usually do two mountaineering hikes per day, one hike per passenger – though you may do more if there are slots available.
To keep the passenger-to-guide ratio safe, our mountaineering activity is limited to 12 passengers per hike.
For other details on this activity, please consult our dedicated mountaineering page.
Arctic ski mountaineering
Just as mountaineering is typically an Antarctic activity, ski mountaineering take place mostly during our Arctic trips.
Mountainous wintry paradises like Northern Norway and Spitsbergen are perfect for trekking up alpine slopes, catching stunning polar views, then speeding down in a powdery blur.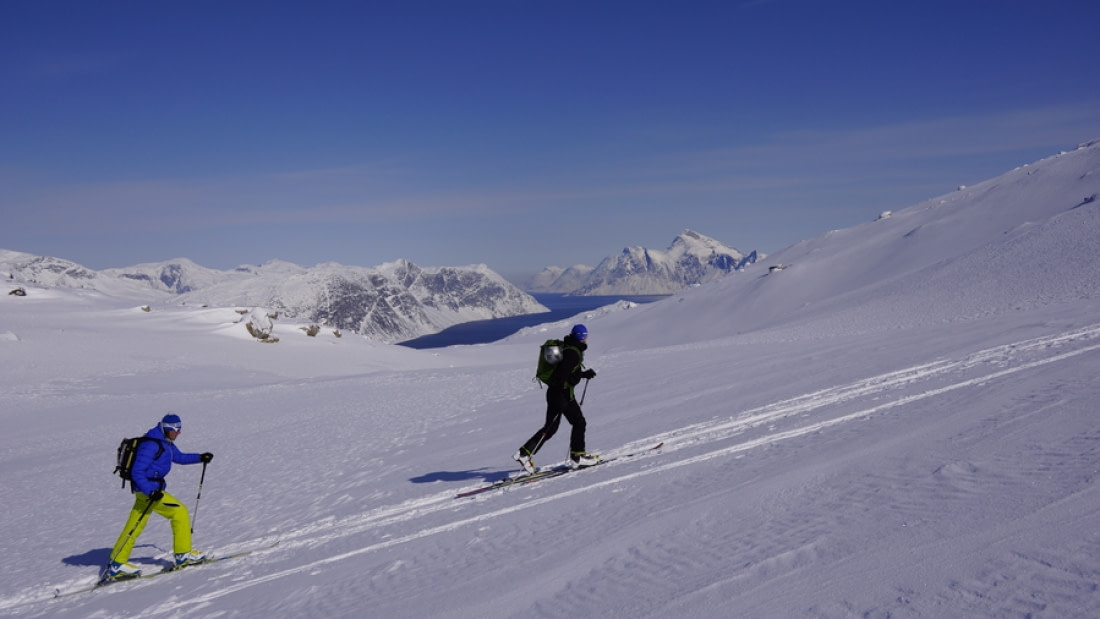 Though our ski mountaineering voyages don't focus on wildlife, you'll have the chance to see some of the Arctic's diverse animals: Polar bears, walruses, and several species of seabird and whale.
Unlike Antarctic mountaineering, however, Arctic ski mountaineering necessitates a high level of experience: You'll have to demonstrate sufficient skill not only with hiking up snowy, glaciated, possibly crevassed terrain, but also skiing back down it.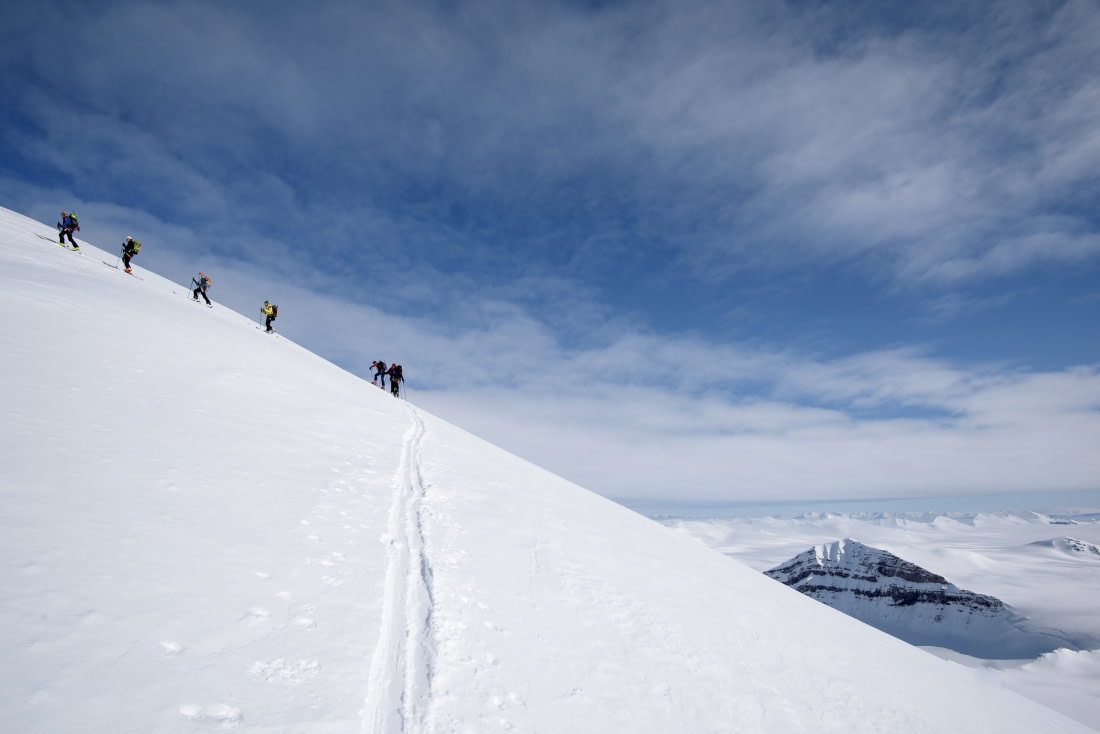 These potentially dangerous off-grid settings likewise require that you be physically fit, more so than for Antarctic mountaineering due to ski mountaineering's additional rigor.
In fact, we require all participants to fill out a questionnaire detailing their ski mountaineering experience before taking part in the activity.
But the advanced nature of this sport is part of what makes it so thrilling.
You'll ascend and descend slopes that can sometimes exceed a 35-degree grade, giving you a steep enough run to catch up some speed while you're breathing in the beautiful panoramas.
And naturally, your small groups of 12 (or fewer) people will always be accompanied by expedition guides who are highly seasoned in ski mountaineering.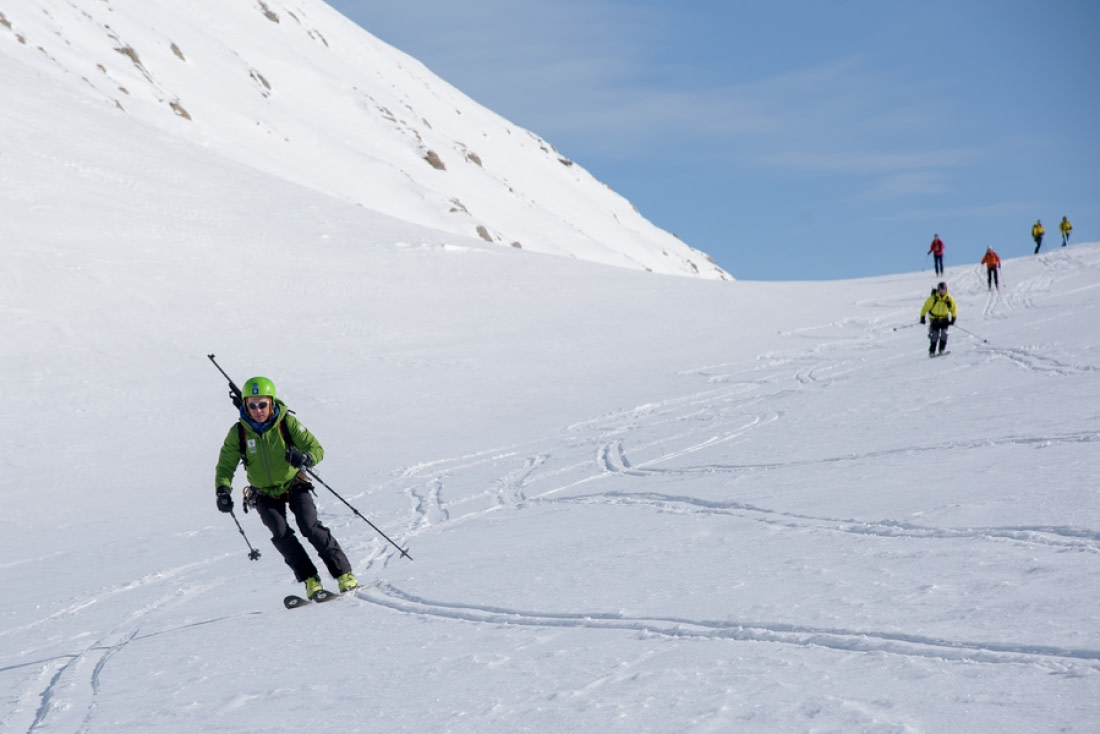 Another difference between our mountaineering and ski mountaineering activities pertains to gear: We do not provide any, neither the essentials nor optional equipment.
So before booking, make sure to pack your skis, boots, poles, and your favorite ice axe!
You can find all the other details on this activity at our ski mountaineering page.
More mountaineering with our Basecamp cruises
Our Basecamp voyages are the most activity-centered cruises we offer.
In fact, these itineraries let you engage in just about every outdoor pursuit supported by modern Antarctic travel: kayaking, snowshoeing, camping, photo workshops, scuba diving, and, of course, polar mountaineering.
If you're craving a particularly mountain-minded Antarctica trip, you can't go wrong with these expansive expedition voyages.