Stations of all shapes and sizes
Numerous research stations operate throughout the Antarctic and sub-Antarctic, engaged in all manner of scientific inquiry. This article will cover the stations under the management of the British Antarctic Survey (BAS), which conducts year-round terrestrial and atmospheric research in some of the most compelling polar locations on Earth.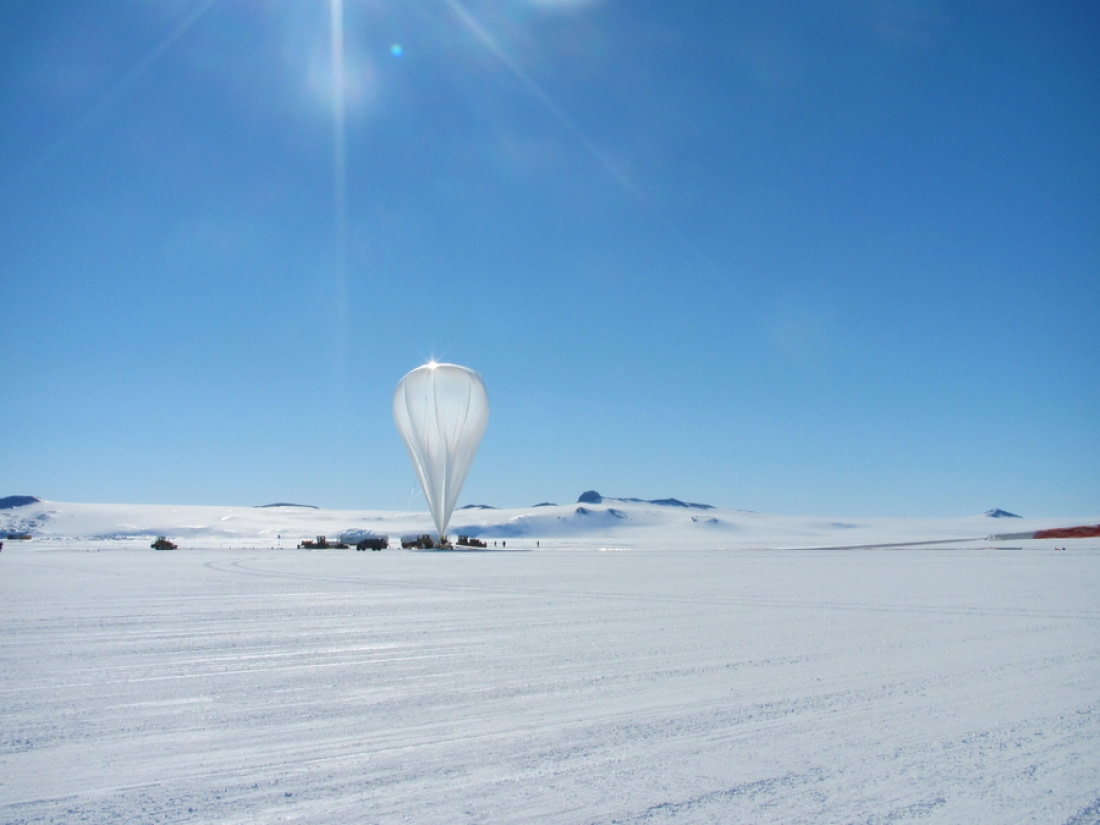 By NASA Goddard Space Flight Center from Greenbelt, MD, USA (NASA Scientific Balloon in Antarctica) [Public domain or CC BY 2.0], via Wikimedia Commons
Halley VI Research Station
Halley Research Station is recognised as an important platform for global earth, atmospheric, and space weather observations. The station, built on a floating ice shelf in the Weddell Sea, is the world's first mobile research facility and is a fantastic location to spot a variety of penguins. Space weather data collected onsite provides the UK government with the impacts of space weather on infrastructure and business.
In addition, the space weather data is being fed into collaborative projects, including the European SPACESTORM project, which is helping reduce the impacts of space weather on satellites. The station also measures ozone levels and meteorology. Spending time at Halley indoors is a comfortable contrast to the brutal conditions outside, where typical winter temperatures are below -20°C (-4°F) and can even plummet to -55°C (-67°F).
There is 24/7 darkness at the location for 105 days per year, and workers are completely isolated from the outside world due to the surrounding sea ice. The base itself is state-of-the-art, composed of 8 modules that sit atop hydraulic legs equipped with skis. These legs can be raised to overcome snow accumulation, and each module can even be towed separately to a new location.
The most famous move Halley made was in 2016 – 2017, when the based was relocated to the Brunt Ice Shelf. The crew spent 13 weeks moving each module 23 km (14 miles).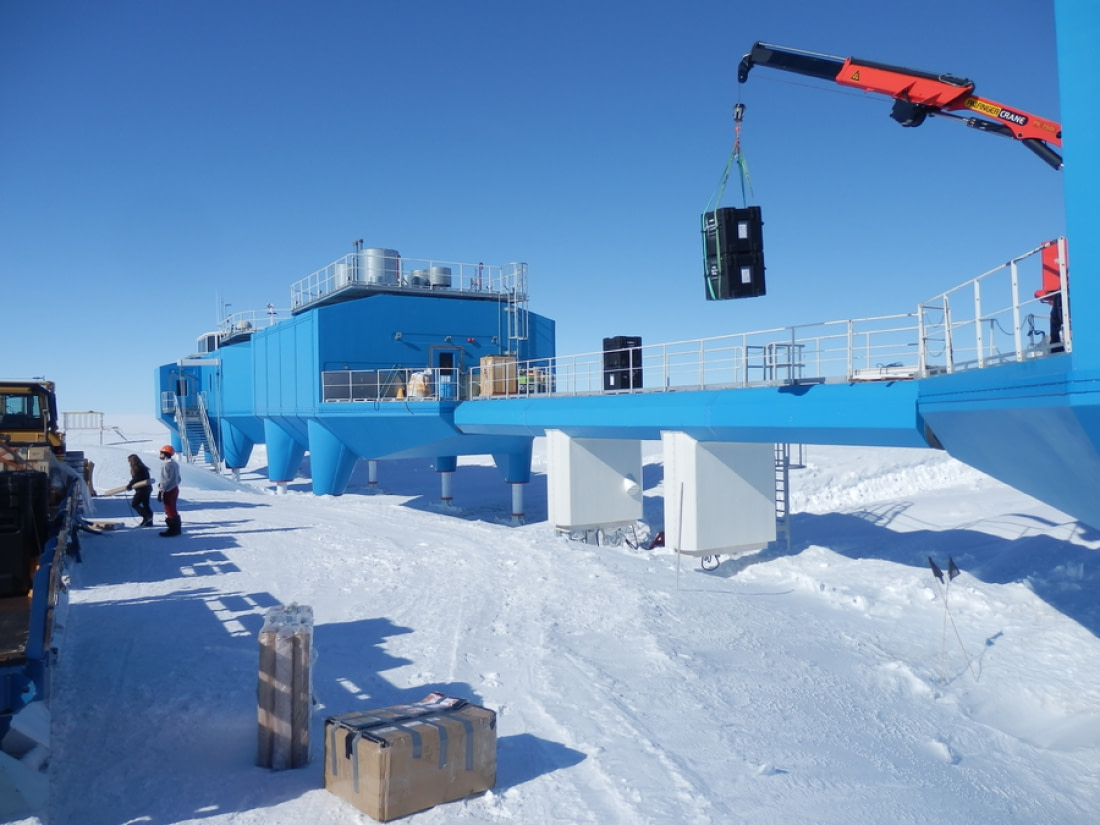 By NASA Goddard Space Flight Center (Flickr: NASA's BARREL Mission Launches 20 Balloons) [CC BY 2.0], via Wikimedia Commons
Rothera Research Station
Found on Adelaide Island to the west of the Antarctic Peninsula, Rothera Research Station is a hub for field and air operations in Antarctica. It is a large site that includes the Bonner research lab, offices, workshops, a runway, airplane hangar, and a wharf.
The station was built at the southern tip of the Wormald Ice Piedmont and operates year-round, with summer populations peaking at just over 100 people and a winter crew of 22. A variety of scientists work onsite, including marine and terrestrial biologists, meteorologists, and a host of support staff.
The climate is pleasant for Antarctica: Summer temperatures hover between 0 – 5°C (32 – 41°F), while in the winter they range between -5 and -20°C (23 and -4°F).
Rothera's location on the coast means the area is home to a variety of Antarctic wildlife, including Adélie penguins, chinstraps, and gentoos. There are breeding pairs of kelp gulls and south polar skuas near the station too, as well as Antarctic terns and Wilson's petrels offshore through the summer months.
Weddell seals are always present, with pups born on the sea ice in late September. Crabeater and elephant seals can also be seen in the area. In the sea, there are small numbers of minke and humpback whales. Lucky visitors may even spot a family of orcas living in Marguerite Bay over the summer.
Bird Island Research Station
Bird Island Research Station is, as the name suggests, an important location for research on birds as well as seal biology. Located on the northwest tip of South Georgia, Bird Island teems with wildlife, though it is unfortunately off limits to visitors.
The research station there has been active since 1957 and was completely renovated in 2005. The island itself is separated by a 500-metre (546 yards) channel from the South Georgia mainland.
The research station only holds 10 people, with two extra bunks for overnight stays. On average there are three zoological assistants and a technical support staff member on site over the winter period. The assistants usually spend around a year on location, while the station leader comes for the summer months. A facilities engineer typically spends anywhere from a week to a couple of months each year at the station, which is quite exposed to the elements: It little natural protection from the Antarctic storms that blow in from the southwest, and typical weather in the summer is damp, misty, and cloudy.
Bird Island has a large, diverse population of seabirds and seals, including more than 50,000 breeding pairs of penguins and around 65,000 pairs of fur seals. In addition, the island is home to 12 flowering plants and variants of grass and tussock. The typical work day for the station scientists depends on which species of animals they are studying at the moment.
Researchers focusing on the penguin colony are 35 minutes away from their "office," usually arriving on site around dawn and dusk, when the penguins are foraging. Scientists focusing on fur seals concentrate their work in late November to January, when pups are born. Their office is closer, as the seal study area just a five-minute walk from the station. Meanwhile, scientists working on albatross and petrel science have to hike all around the island over rough terrain.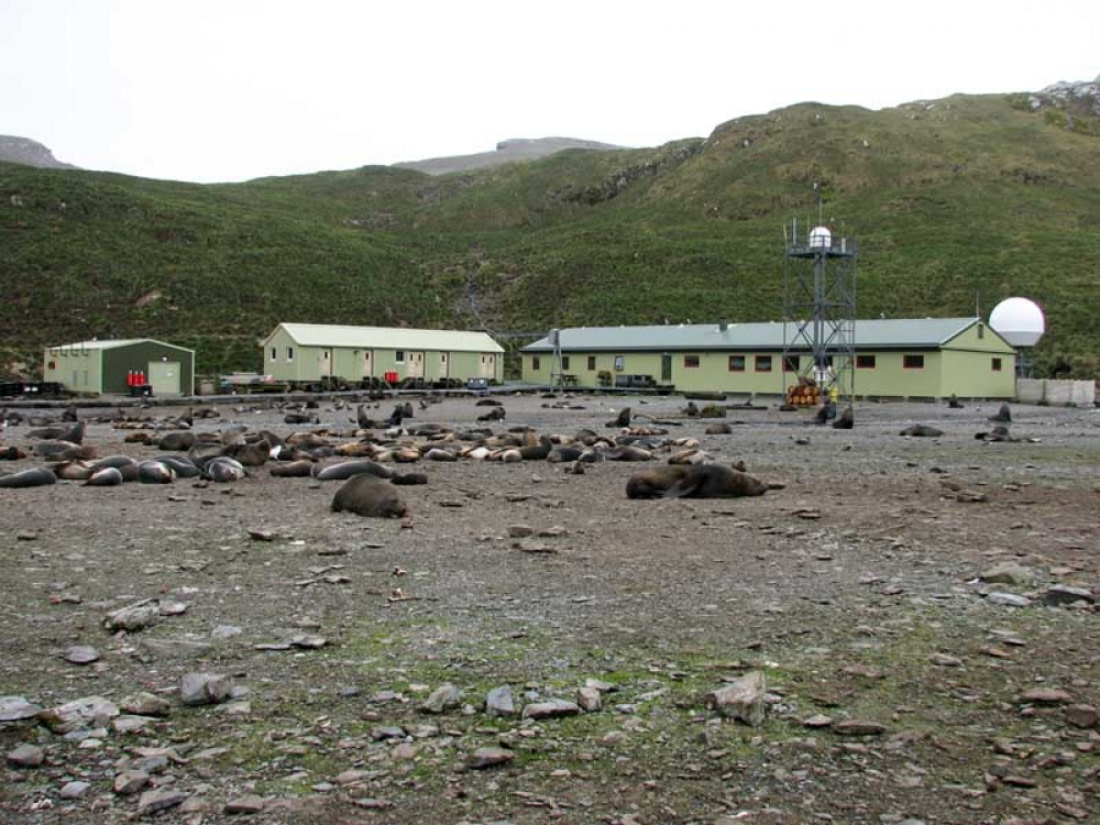 By Claudia Mischler (USGS) [Public domain], via Wikimedia Commons
King Edward Point Research Station
Located at Cumberland East Bay, South Georgia, King Edward Point Research Station is surrounded by fantastic mountains and glaciers – a common sight for Antarctica cruises visiting this area. The station plays a vital role in informing the Commission for the Conservation of Antarctic Marine Living Resources (CCAMLR) on the health of species in Antarctica's waters. The research station is also an educational hub, with staff providing science talks and presentations to around 8,000 tourists annually.
King Edward Point Research Station is accessible only by ship, and between 20 – 40 people work at the station during the warmer months, while around 10 stay over the winter. The BAS staff working there are typically on contracts lasting 16 – 26 months. There is one fishery scientist, one zoological field assistant (focusing on seals and penguins), two boating officers, two technicians (electrical and mechanical), a doctor, and a station leader.
The station is located at a relatively high latitude, and the climate can be harsh for those working there. The surrounding mountains, however, shelter the area from high winds, making it drier and calmer than other parts of South Georgia. Typical temperatures at the station range from -15 to 20°C (5 – 68°F). However, while the winter and summer seasons are well defined, snow can fall at any time.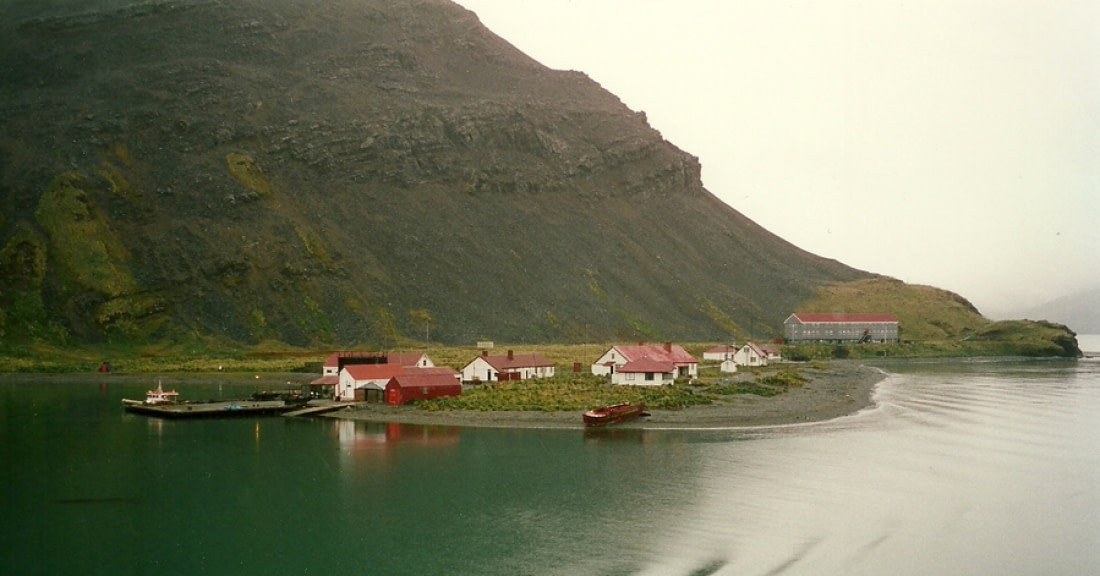 By Aah-Yeah (Militär Basis South Georgia) [CC BY 2.0], via Wikimedia Commons
Signy Research Station
Signy Research Station on Signy Island, South Orkney Islands, is a summer-only station with staff focusing their research on the island's abundant bird populations and terrestrial ecology. The research conducted at the station underpins many long-term studies of several species, including the Adélie, chinstrap, and gentoo penguins, while populations of giant petrel have been monitored from the station since the 1960s. In fact, one in 10 of the world's 50,000 southern giant petrels live on the island.
The climate is, nonetheless, a little harsh: Over one winter, a record low of -39.3°C (-38.74°F) was recorded. Once the winter pack ice retreats, Signy experiences a typical maritime climate with warm, wet conditions brought in by the Antarctic Peninsula. Summer temperatures are great for research, with a high of 19.8°C (67.6°F). Scientists do need to pack for cold winter even during the warmer months, however, as there can be sudden temperature drops throughout the Southern Hemisphere summers. One January day even dropped to -7°C (19°F).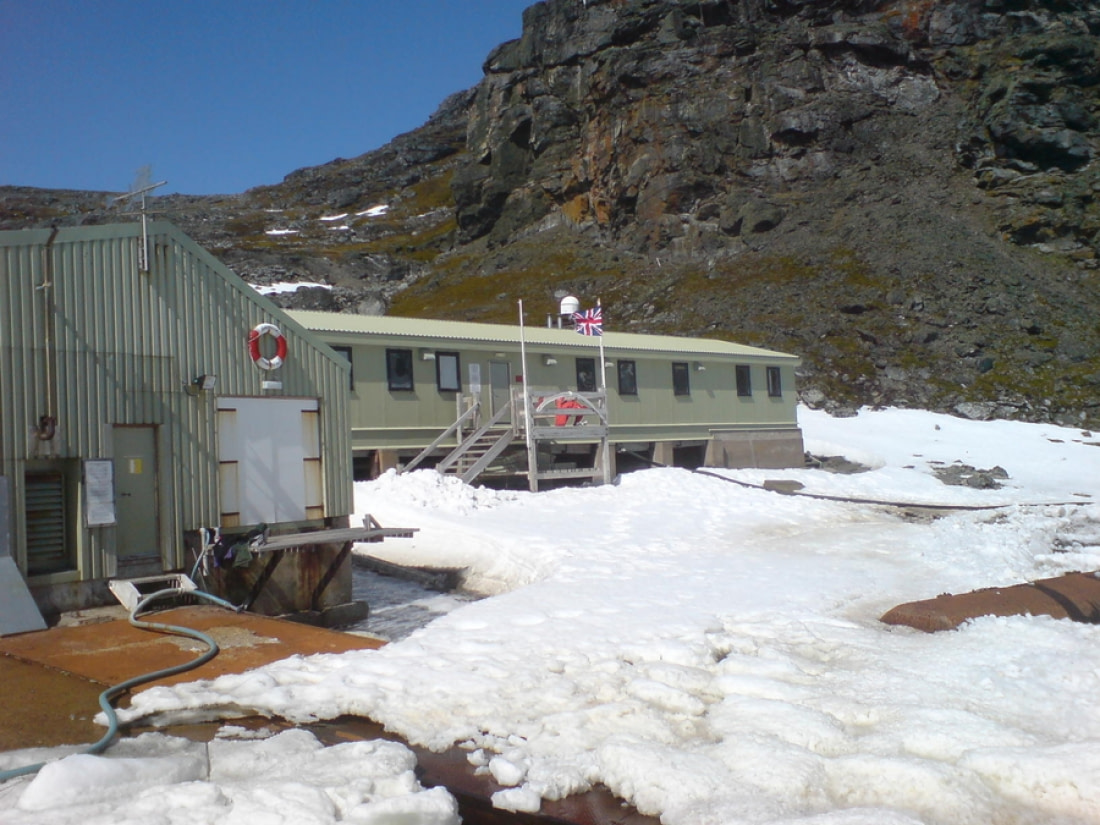 By Ben Tullis from Cambridge, United Kingdom (Another view of the base) [CC BY 2.0], via Wikimedia Commons