Arctic and Antarctic Basecamp cruises – choose your own adventure
There's such an astonishing variety of activities to choose from when planning an Arctic trip or Antarctic cruise that it might become a bit overwhelming. How do you choose just one voyage over another when you want to experience everything?

Happily, you don't have to give up one activity for another. Oceanwide Expedition's Basecamp cruises have you covered.

Each Basecamp voyage uses one of our vessels as a hub from which passengers can launch into a variety of activities. The vessel anchors in a sheltered area where it stays for up to two days, acting as the cruise's headquarters and remaining within easy Zodiac travelling distance to the shore. Once the vessel is anchored, it's up to you how you want to spend your day.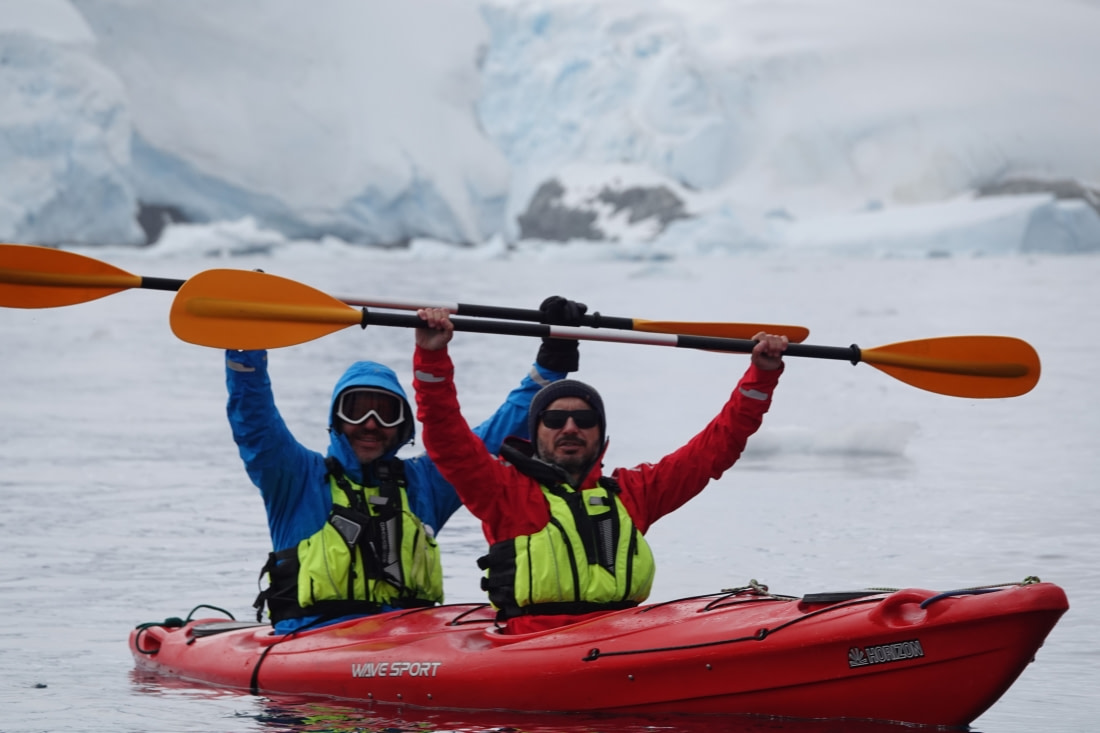 Each activity is led by trained and certified experts in their particular field. Whether you're a novice or a polar pro, you're sure to find some activity (most likely, more than one) that will excite you. For these activities, most of which are on-shore, we provide rubber boots to keep your feet dry and warm.

Read on for a comprehensive list of basecamp acitivities!
Get a glimpse of what this experience has to offer by checking out the video below. You'll not only see some of the exciting activities you can enjoy but also hear the reactions of our passengers.
Zodiac cruises and ship-to-shore journeys
Zodiacs are rubber pontoon boats that we use for two major purposes.

The first use is for shoreline cruises. The boats, driven by experienced excursion leaders, zip along the shorelines, giving you the chance to take in icebergs, the stark rugged beauty of the polar regions, and land-based wildlife. During very special moments, they allow you to give up close and personal hellos to a whale or two.

Also, they move faster than polar bears, which is always a plus.

The second use for Zodiacs is to get passengers from their basecamp ship to the shore. Everything you care to do once on shore (photography, mountaineering, hiking) is made possible via these boats.

Make sure you bring waterproof outer wear, as you may get splashed.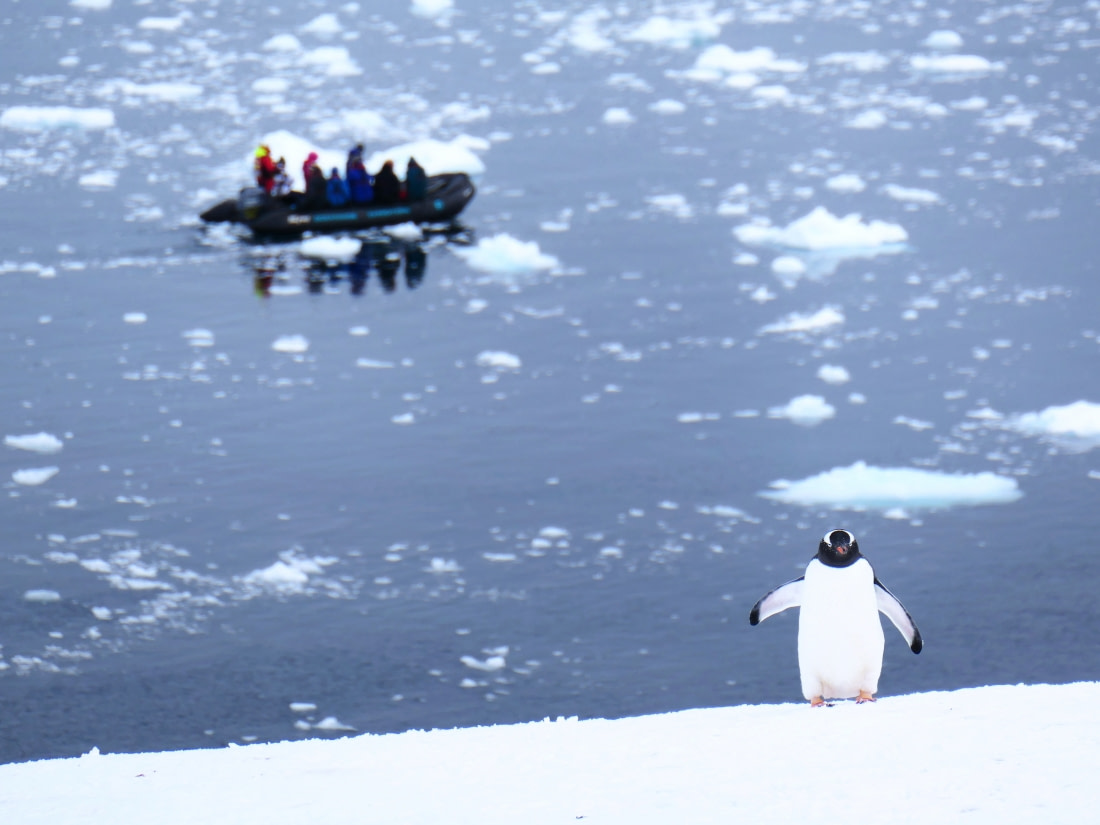 Photography
Whether you're a novice camera bug or a seasoned photographer, our Arctic and Antarctic cruises offer a panorama of beautiful and interesting subjects to capture.

Keeping each photo outing to about 20 people, our photo experts can give more personalized attention while teaching camera mechanics and shot composition.

After the photography workshop, it's a quick Zodiac trip to the shore. There you'll have plenty of opportunity to put what you've learned into practice. Many of the fantastic photos you see on our site have come from people who attended one of our cruises.

If you're a more experienced photographer, you're welcome to bring some additional lightweight equipment ashore. And if you're not sure if your gear is going to take up too much room on our Zodiacs, drop us a note and we'll see what we can do for you. Also, make sure to bring waterproof bags or containers – Zodiac rides are especially risky for electronics.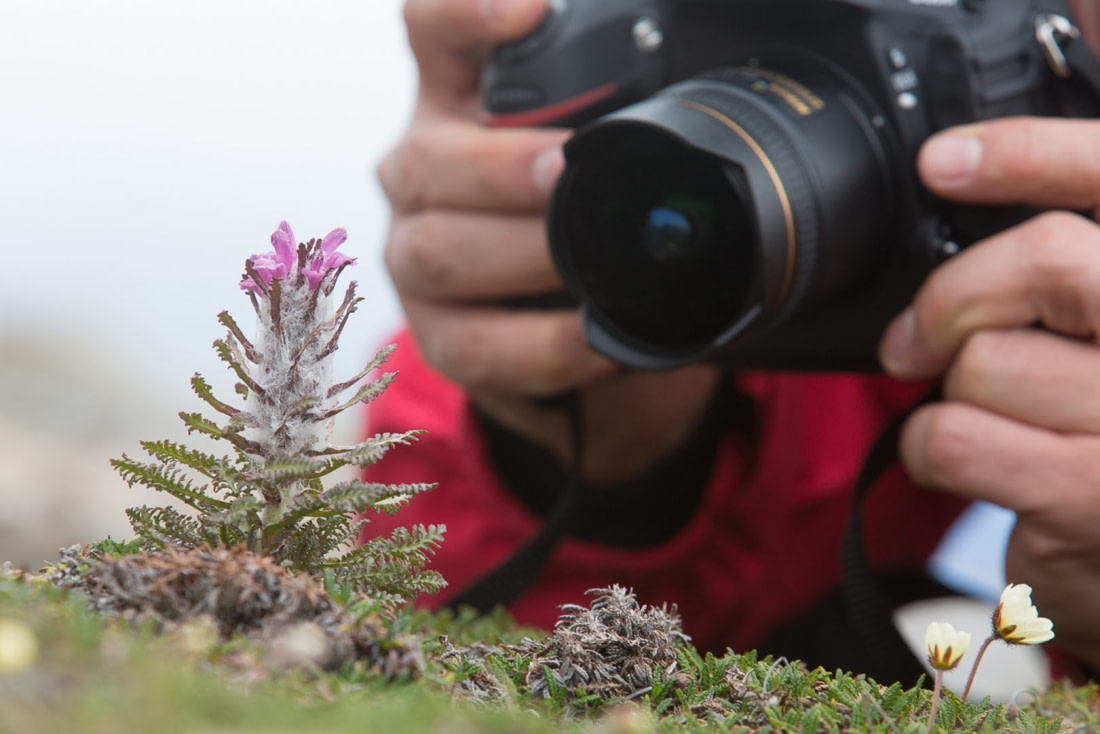 Picture by Arjen Drost
Snowshoeing and hiking
If you're looking to be a little more physically active on your Antarctic or Arctic cruise, we offer walks of different levels of endurance.

In the Antarctic we usually offer landings of two to three hours twice a day. For the Arctic voyages we offer one or more full-day hikes (5 to 7 hours) that come with a packed lunch.

If you take a voyage that's early in the cruise season, there may still be some deep snow to deal with, which means it's time to break out the snowshoes. The snowshoes are very easy to use, they fit your free rubber boots, and they're a fun alternative to slogging through shin-deep snow.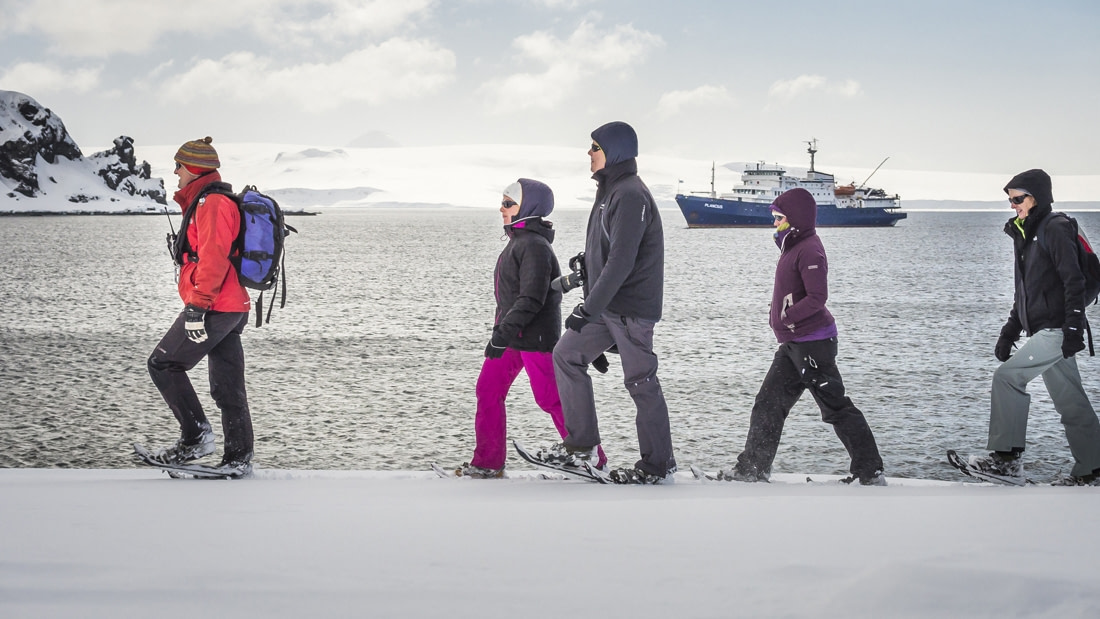 Kayaking
Our cruises usually offer about two kayak outings a day, including up to 14 people at a time. We limit the number of people so that our safety spotters can keep an eye on everyone.

We'll provide you with a double-seated kayak, a neoprene wetsuit, and a life vest. You provide the muscle.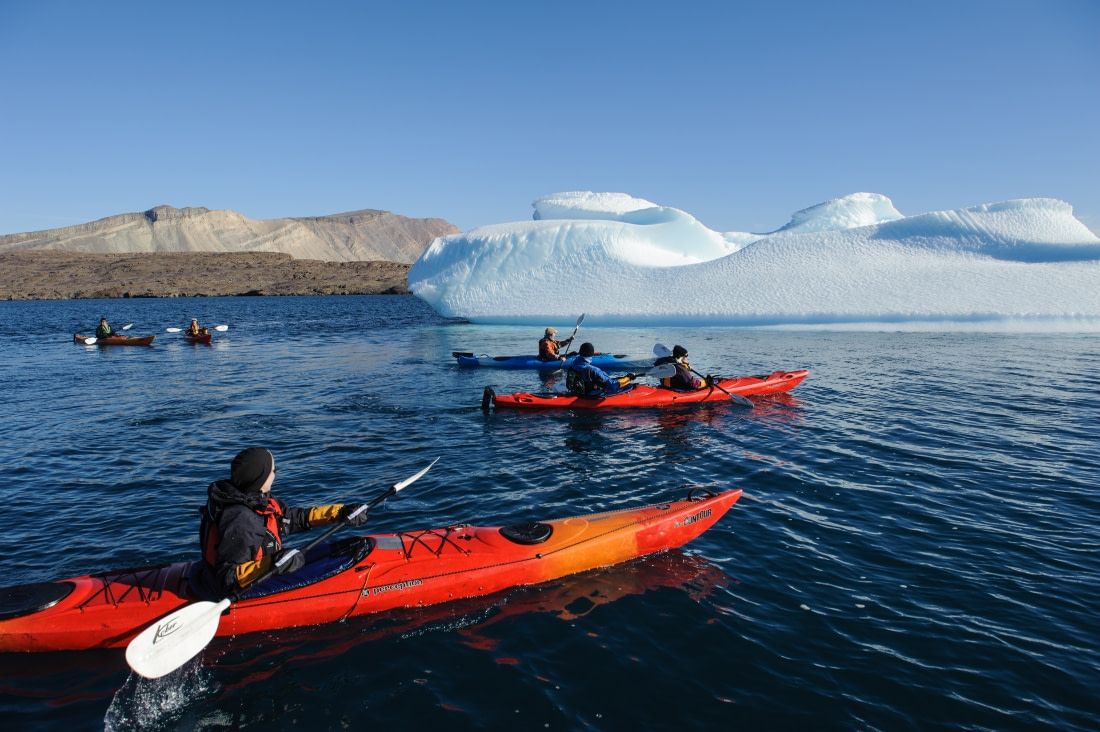 Picture by Sandra Petrowitz
Mountaineering
We offer mountaineering excursions for passengers who really want to get their hearts pumping. A qualified mountaineering guide leads as many as 12 Antarctic cruise passengers per excursion (up to six mountaineers per rope lead) on glacier walks to summits that reward you with breathtaking views.

While mountaineering experience isn't essential, you will want to be in fairly decent shape for this one. We'll provide you with mountaineering gear: ropes, carabineers, harnesses, helmets, ice axes, and crampons.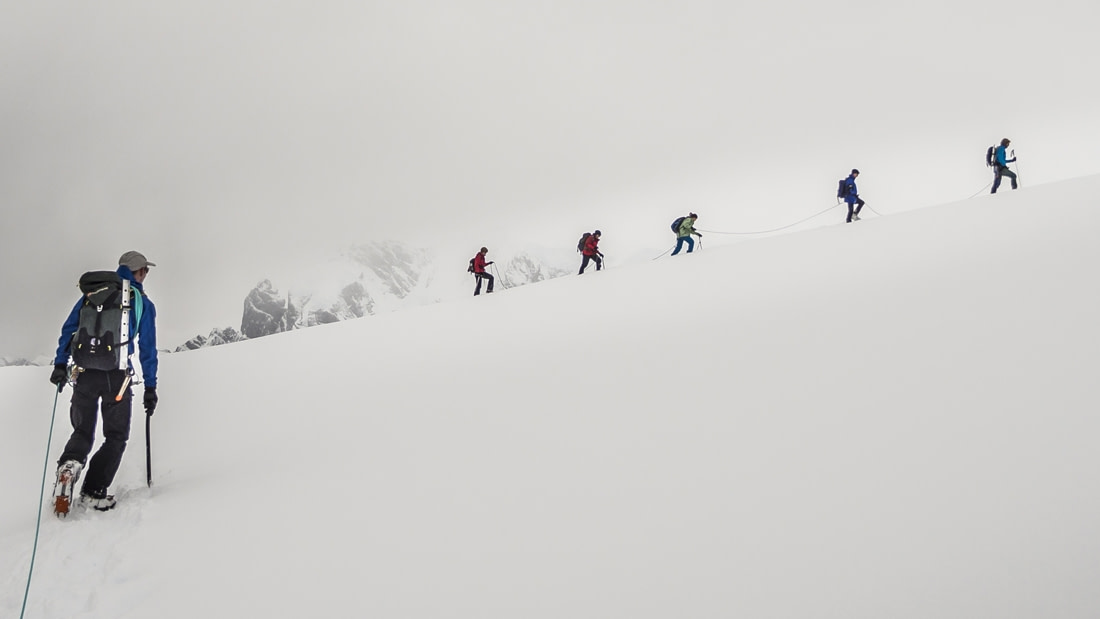 Field camping
After you've done all that walking or climbing, you'll be looking forward to a good night's sleep. On our Antarctic cruises, you can get that sleep under the open polar skies.

Up to three or even four nights are dedicated to overnight camps. After dinner passengers are taken to shore (where we have set up tents), returning to the ship the next morning before breakfast.

We provide windproof and waterproof bivouac bags, sleeping bags, and sleeping pads to keep you warm, dry, and comfortable.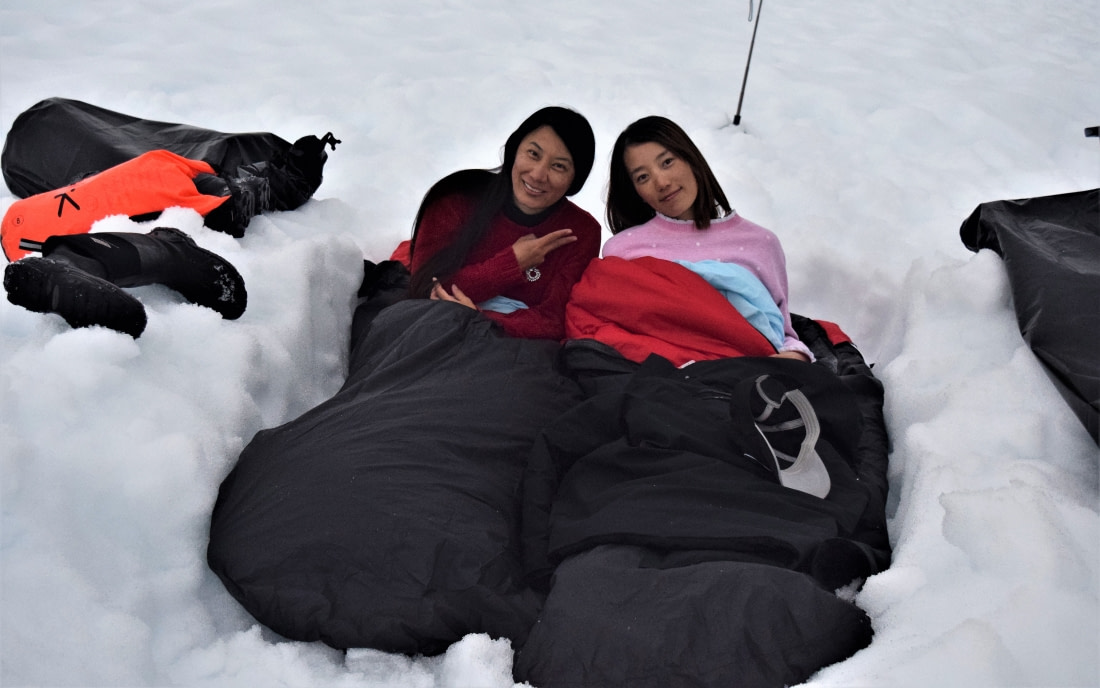 Your daily itinerary
So what will it be? Kayaking through the morning, followed by an afternoon of photography? Or maybe an easy hike followed by an overnight campout is more your speed.

It's all up to you.

If you have questions, please consult our Basecamp Cruise FAQ or our activities page. And of course, you can always use our contact page to get in touch with us.