Antarctic Peninsula | Basecamp - Ortelius
Sharon and I travelled on an Antarctic cruise in March of this year. The season to travel to Antarctica is very limited (mid-November to mid-March) due to the seas around the continent freezing over in the winter (Antarctica is about 1-1/2 times the size of the United States but doubles in land mass in the winter).
Antarctica is unlike anywhere else in the world in that it is governed by a treaty signed by over 50 countries including the U.S., Canada, Russia and the U.K. There are no settlements there; only the occasional research station, and the number of visitors allowed is strictly limited. Most trips to Antarctica leave from the Southernmost tip of mainland South America — Ushuaia, Argentina. To get there is about a 36-hour plane trip from Vancouver with four connections — Toronto; Santiago, Chile; Buenos Aires, Argentina; and, eventually Ushuaia.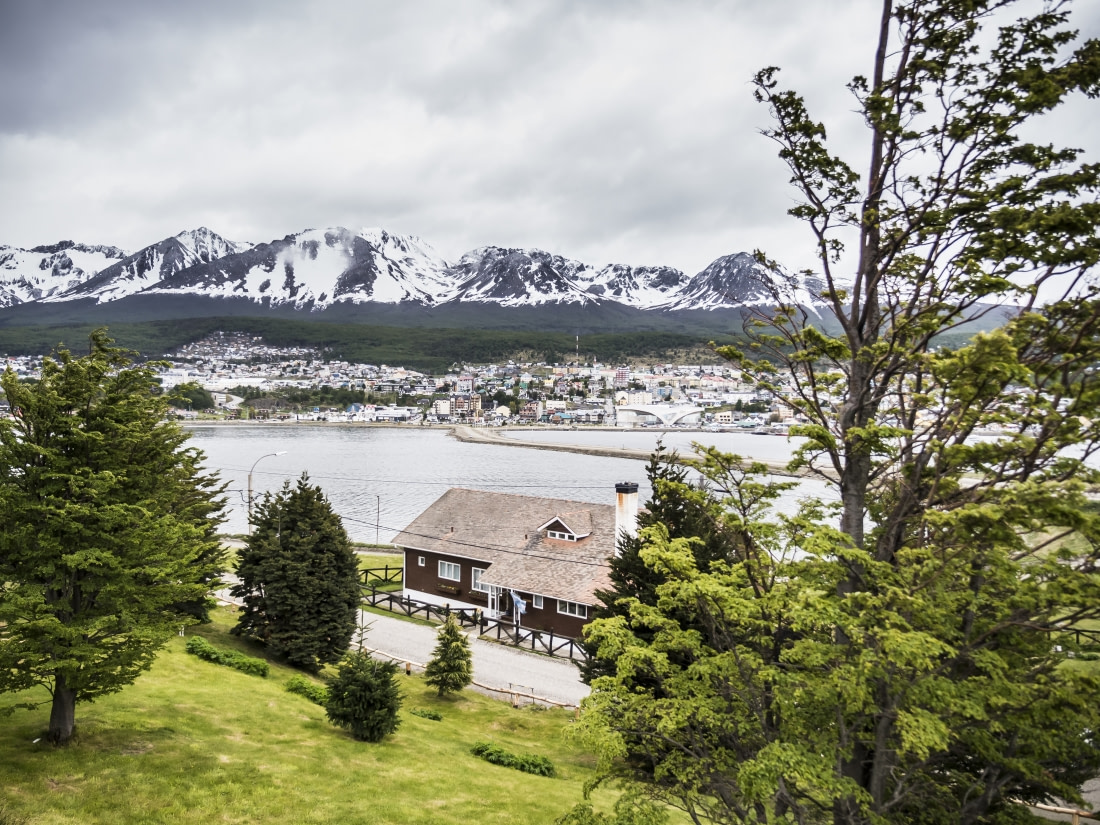 Ushuaia © Dietmar Denger - Oceanwide Expeditions
Vessels sailing to Antarctica are not like your normal cruise ships — they are either ice breakers or, more typically, vessels with strengthened hulls to get through the ice. We deliberately picked a small vessel to maximize the opportunities we would have for making landings and being to participate in various Basecamp activities. We had 104 passengers and a crew of 45.
The Basecamp cruise we picked, with Oceanwide Expeditions, was a little different from most other Antarctica voyages in that ours involved opportunities to kayak, camp, go on long hikes as well as the more usual zodiac excursions and occasional landings offered on most typical Antarctica voyages. This meant there were far more younger people (in their late 20s and 30s) than you might typically get although there were a number of people more our age as well. We booked ours with Gane & Marshall.
The important thing to know about a trip to Antarctica is that these voyages, and the opportunity to set foot on Antarctica, are entirely dependent on the weather and, in particular, the wind. We were incredibly fortunate that we were able to make every landing that was scheduled and every activity that was planned.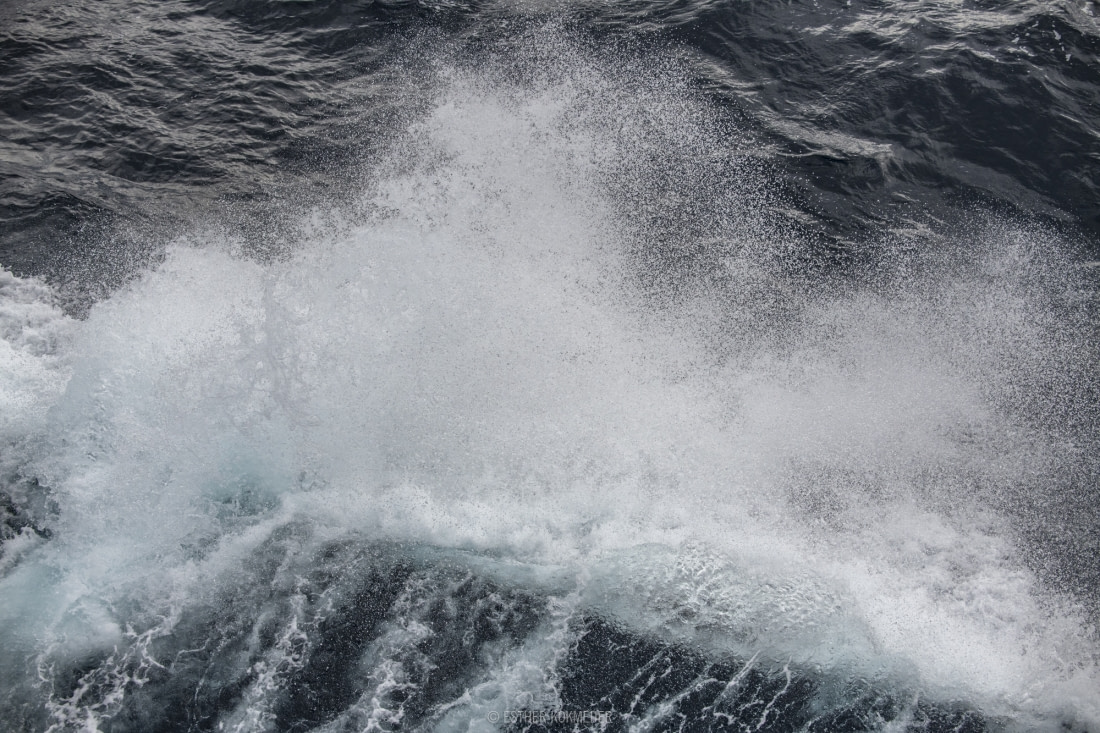 Drake Passage © Esther Kokmeijer - Oceanwide Expeditions
The first part of the trip was the three-day crossing through the Drake Passage, which is one of the roughest stretches of water anywhere in the world and the crossing was indeed choppy. There is not much to see while crossing the Drake Passage except for albatrosses which have a wingspan of over seven feet and tended to follow the ship. However, on the ship, they keep you busy with presentations in the lecture theatre on what each of the various activities (kayaking, camping, etc.) would entail and what you need to know.
We reached Antarctica around midday on the third day of our crossing and were fortunate to make a landing that afternoon. Basically, for a landing, the ship anchors offshore and you board a zodiac (for 10 people) that takes you to the mainland. Before being allowed onto the continent, we had to vacuum every article of clothing we were going to wear to ensure no foreign bodies were brought ashore. Clothing in Antarctica is by layer rather than wearing a bulky heavy jacket. While we were there, the weather changed dramatically from snow to blizzards to cloud to glorious sunshine with the temperature generally between 0 and -10 (colder with wind chill) but one morning it reached close to 10.
Our first landing brought with it our first encounters with penguins. You are not allowed to approach within five metres of the penguins although there are so many that this is impossible to do. If you squat down to penguin height and remain still, they will often approach you and that is OK. Sharon and I were both pecked by inquisitive penguins.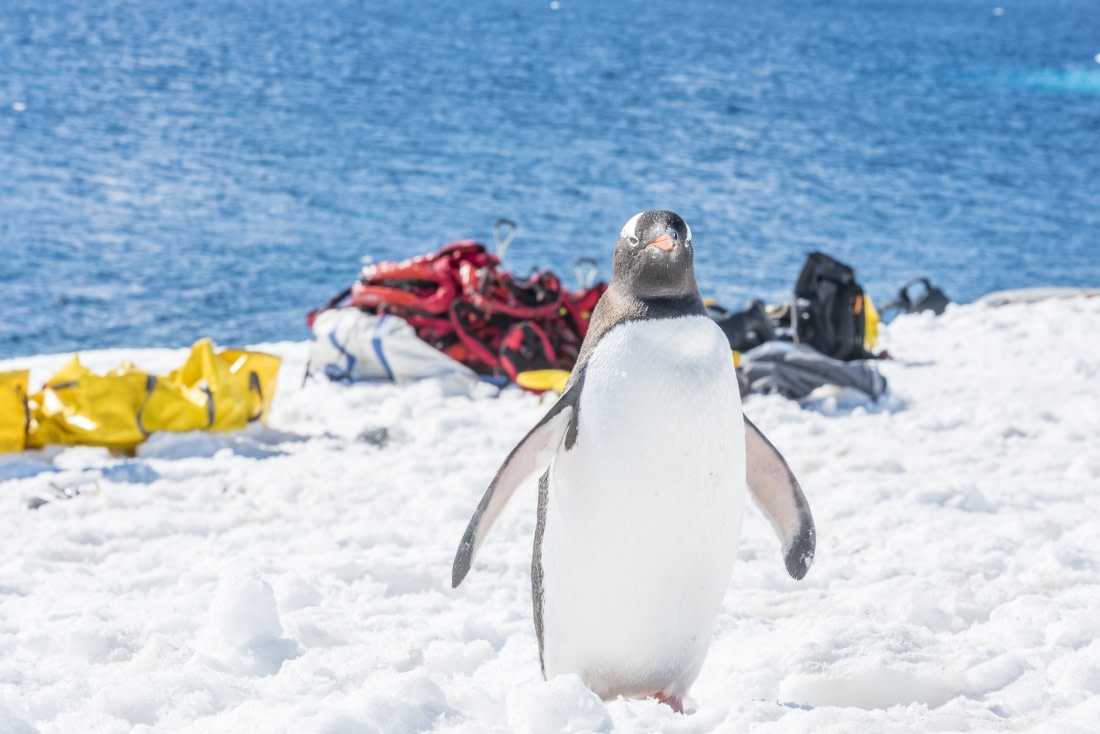 Gentoo penguin © Ilja Reijnen - Oceanwide Expeditions
The first night we were selected to be part of the first group of passengers who wanted to go camping on Antarctica (restricted to 30 passengers and two guides). What a night this turned out to be! We set up camp about 100 metres away from a colony of penguins. The conditions when it got dark were perfect and the sky was filled with stars.
The penguins chatted away for quite a while but eventually they must have got to sleep as it was quiet later in the night. We both slept really well — the 3 separate layers of sleeping bags plus the outer rain and wind protector worked really well. Nearer the morning I was wakened by some severe winds that came in. Really felt like a night in the Antarctica then! We all got up at 5:45 to be picked up by the Zodiacs at 6:30. Everyone packed all their sleeping kit in their equipment bags and we were good to go.
Except there was a real storm now and the Zodiac's couldn't make it ashore to pick us up due to rough waters and extremely high winds; so we were stranded in Antarctica! Our two guides got in touch with the boat and the decision was made to trek across to the other side of the peninsula where the waters would be calmer. So we trudged in single file through deep snow carrying all our camping equipment, and it felt like a real Antarctic expedition.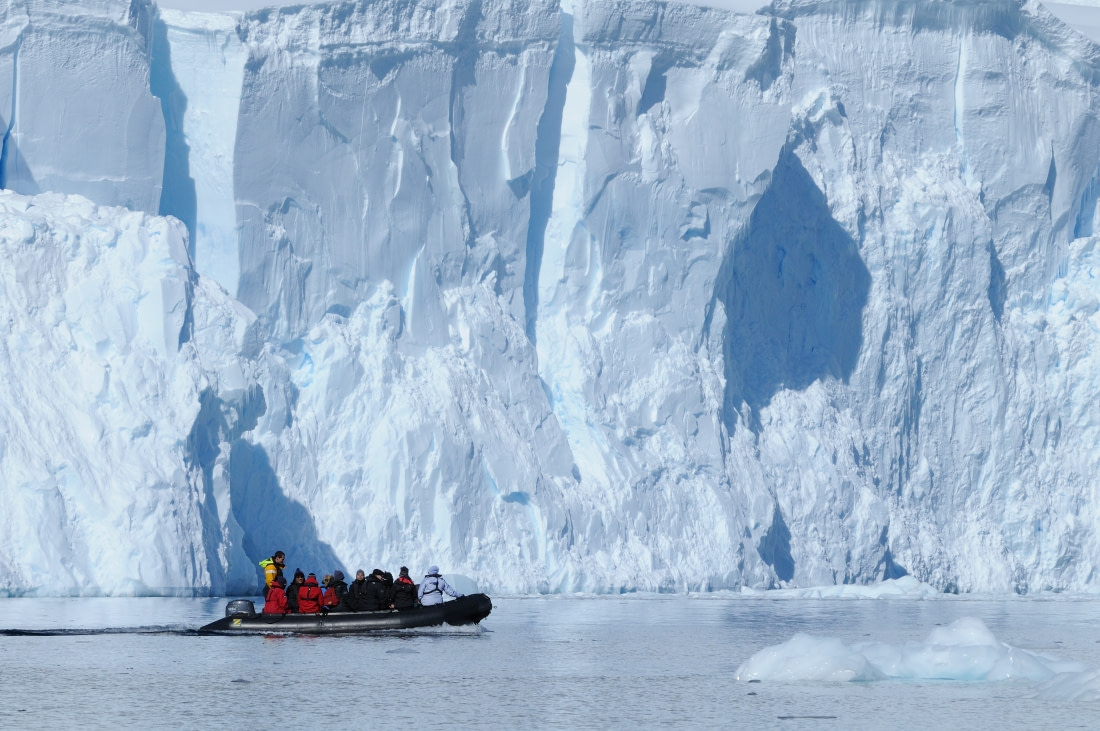 Passengers in a Zodiac © Sandra Petrowitz - Oceanwide Expeditions
By this time the boat had come around the corner and sent the Zodiacs to come and pick us up. Eventually got back to the Ortelius about 1 ½ hours after schedule — but safe!
On our way home, several days later, the Captain advised that we would make a detour to pass by Cape Horn, which apparently is a rare experience on these voyages. Rounded the Cape in quite choppy waters, then headed back to Ushuaia where we stayed for a day and a half to rest up for our 36 hour flight home! Watch Tom and Sharon's video here.