Hard-to-reach island + rare penguin = momentous event
Oceanwide Expeditions recently achieved a rare feat, visiting Antarctica's northernmost emperor penguin colony on Snow Hill Island. Typically surrounded by impassable pack ice, Snow Hill is a notoriously difficult destination in our Weddell Sea cruise itinerary, only accessible using the helicopters m/v Ortelius carries especially for this purpose.
In addition to Snow Hill Island's inherent challenges, emperor penguins themselves are a rare sight: Despite being a top Antarctic wildlife attraction, they are a near-endangered species only found in a few specific locations during Antarctica's early spring. This makes our encounter even more momentous and, we hope, a harbinger of more to come.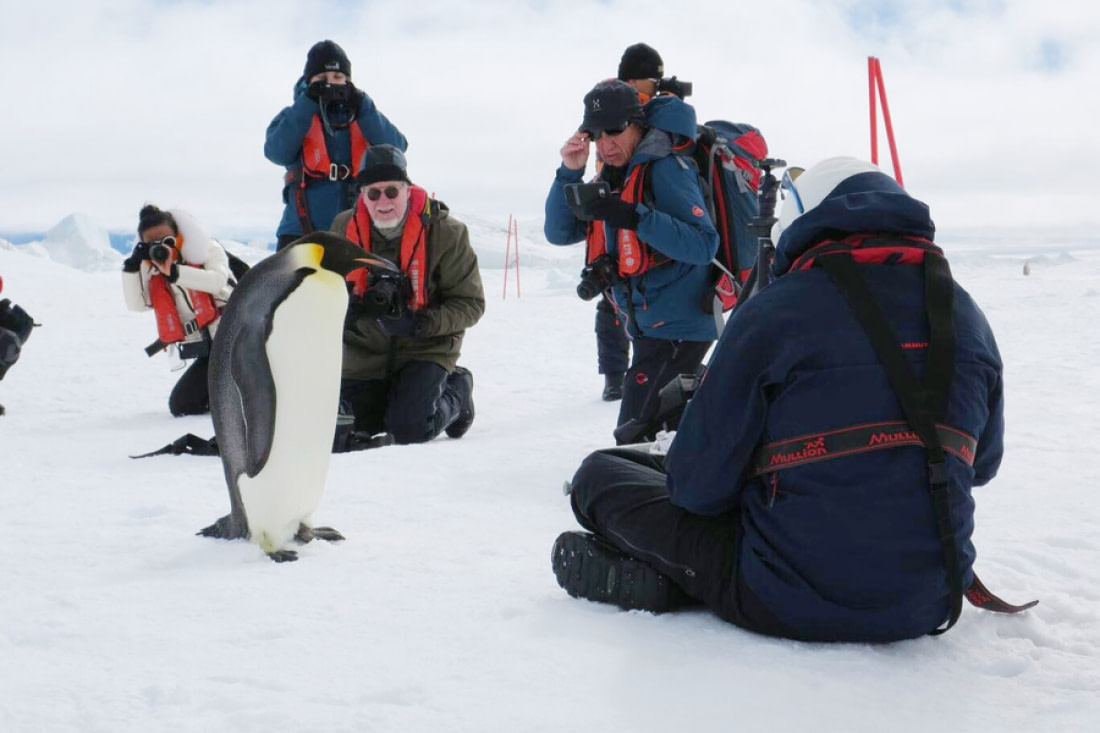 The rare and regal emperor penguin
Emperor penguins are one of Antarctica's most iconic birds, made all the more popular by the Oscar-winning films March of the Penguins (2005) and Happy Feet (2006). But the regal stature of the emperor penguin hardly needs assistance. They are the largest, deepest-diving, and most iconically colored penguin in the world.
On top of that, they're the only penguin that breeds on the sea ice during the Southern Hemisphere winter, sometimes traveling farther than 150 km (90 miles) to reach suitable mating areas. The fact that we spotted gray chicks in the Snow Hill rookery during our November visit was another stroke of luck.
That late in the breeding season, most of the young emperor penguins might have already taken on their distinctive tuxedoed look. This famous coloring, while admittedly distinguished, actually serves a vital evolutionary purpose: During the significant amount of time emperor penguins spend swimming, their white underbellies make them blend into the light coming from above while their dark backs camouflage them against the darkness below.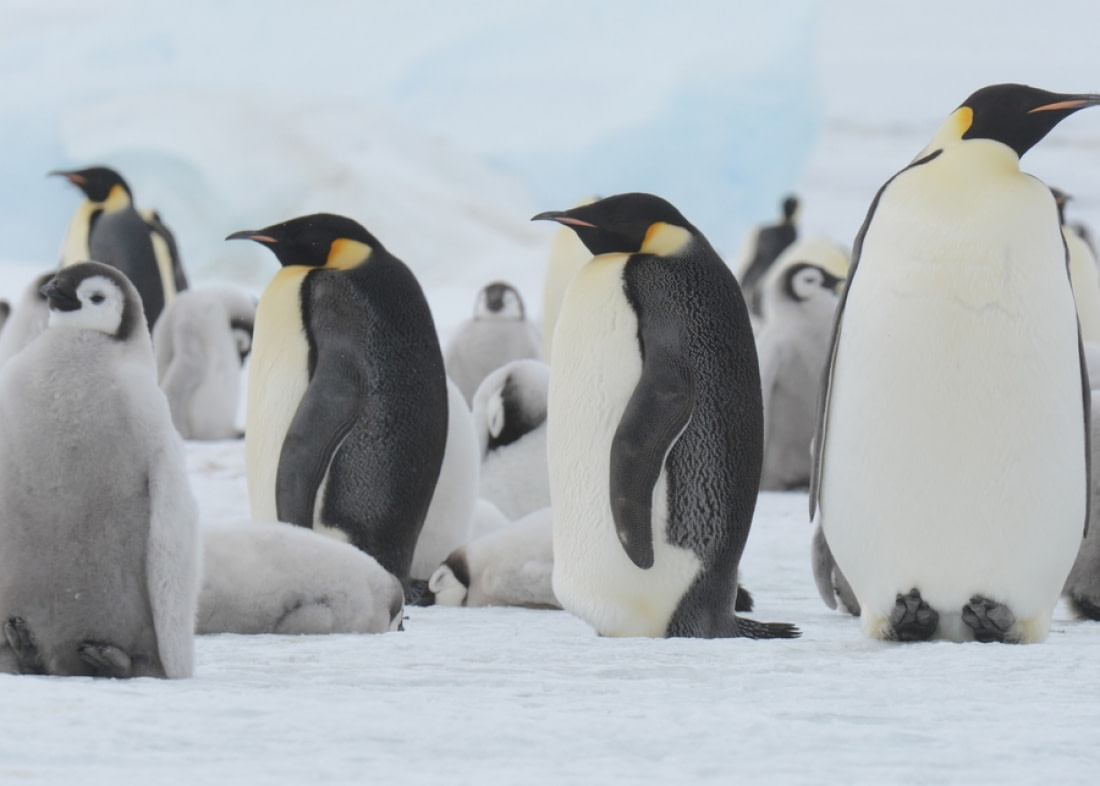 An often-inaccessible Antarctic Island
Snow Hill Island, notwithstanding its rather self-explanatory name, is known (at least in the polar expedition world) more for the ice that surrounds it than the snow on top of it. The island is located east of the Antarctic Peninsula and is one of multiple islands that make up an area known as Graham Land, a territory closer to South America than any other part of Antarctica.
Snow Hill Island measures 12 km (7.5 miles) wide and 33 km (21 miles) long, with Admiralty Sound dividing its northeast shores from James Ross Island. It is a historic site due to the presence of Nordenskiöld House, a wintering hut built by the Swedish Antarctic Expedition in 1902 and 1903.
Even so, Snow Hill Island is perhaps better renowned for its emperor penguin rookery. It is the only site, in fact, where Antarctica cruise passengers can see an emperor colony. This distinction has earned a large portion of Snow Hill Island conservation status as an Important Bird Area by BirdLife International.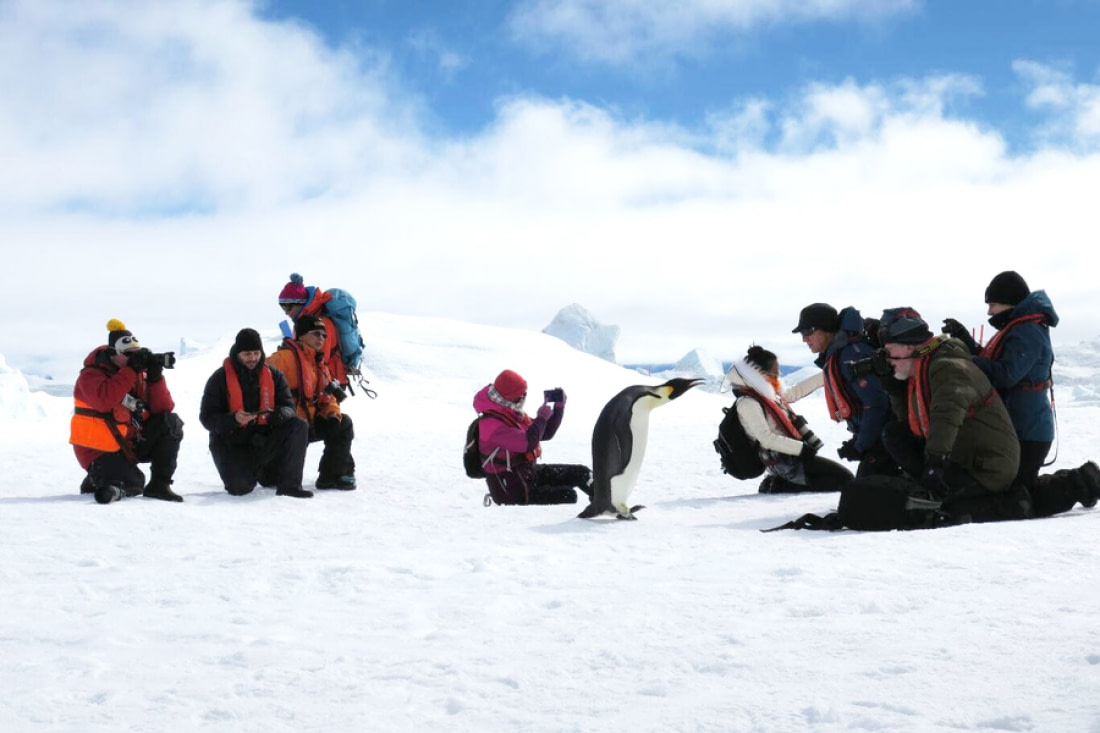 The Snow Hill Important Bird Area
The Snow Hill Island rookery is not just the northernmost emperor penguin colony in the world, it is also the most recently discovered, having been located only in the mid-90s. Though ice recession due to climate change is predicted to threaten its reproductive success, the Snow Hill emperor penguin rookery has undergone several seasons of growth since its discovery. At times, it has even grown to over 10,000 members.
The colony is located on the ice near the southern shores of Snow Hill Island, about 40 – 50 meters (130 – 160 feet) from the coastline. When visiting the area, polar cruise passengers and guides must keep a distance of 30 – 50 meters (100 – 160 feet), depending on the time of year. They must also give traveling Emperor penguins right of way, avoid any sudden movements – especially when the animals approach to investigate, as often happens with emperor penguins – and of course never attempt to hug the penguins, no matter how much their cuteness might encourage it.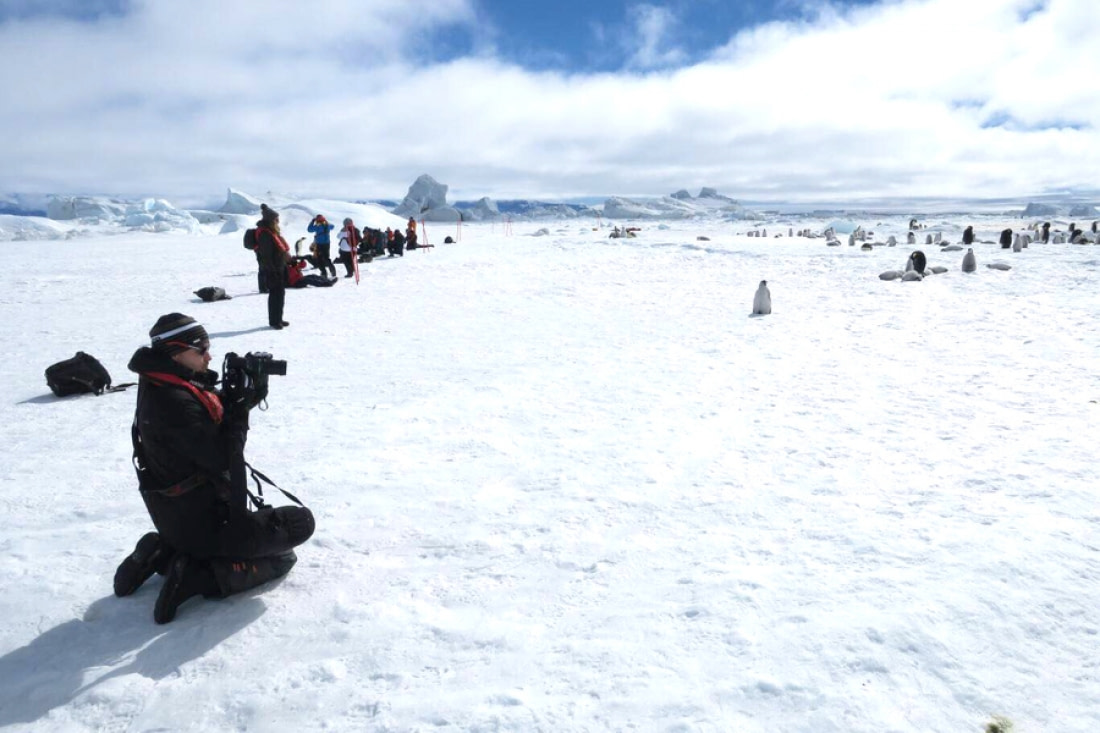 Approaching emperor penguins by helicopter
Our visits to the Snow Hill emperor penguin colony are only possible by helicopter, which we offer on select Ortelius cruises. This method of travel is one of the most scenic and adventurous ways to see Antarctica, giving passengers a petrel's-eye-view of the world's largest polar desert while delivering them to locations that cannot safely be reached any other way.
Naturally, using our helicopters (currently two AS-355 Twin Stars) in such a precious ecosystem comes with additional responsibilities: We always take care to choose our landing sites very carefully, keeping a safe distance from the animals so as not to disturb them. Pilots are instructed to land at least one km (.75 mile) from all colonies and to never fly directly over them.
Our pilots also cross coastlines only at right angles, keep a vertical distance of over 610 meters (2000 feet) above the ground, and try to land downwind with a physical barrier separating their helicopters from the rookeries. These precautions both minimize impact on the wildlife as well as let passengers stretch their legs before visiting the animals they traveled so far to see – which comes in handy when paying tribute to the emperors of Antarctica, since you can expect to do a lot of kneeling in their presence.