Fair Isle is located between Shetland and Orkney, and it has become a prime destination for birders who are willing to travel to far away areas in order to see unusual birds. Fair Isle is an inhabited island, but the bird population far outnumbers the 70 islanders who have taken up permanent residence in one of the most remote parts of the United Kingdom.
Due to this, most of the people who take a cruise expedition to this location are primarily interested in seeing the birdlife. However, the island is also known for producing popular knitted woolen jumpers, and the sale of these items is one of the main sources of income for Fair Isle's residents.
How many birds live in Fair Isle?
Migratory patterns can change the daily bird inhabitants of Fair Isle, but there have been at least 350 unique species identified in this area to date. Being surrounded by water and having 768 hectares (three square miles) of land that is mostly unpopulated by humans makes this island a very attractive spot for seabirds.

There have also been numerous other rare birds spotted on the island, including the brown-headed cowbird, red-rumped swallow and the white-tailed eagle. In fact, Fair Isle continuously sets records for the largest appearance of rare bird sightings.
The island has already attracted 27 birds that had never before been identified anywhere in the United Kingdom. With this in mind, it makes sense that the main reason that people decide to visit Fair Isle is to observe and photograph birds.
Spotlight on five Fair Isle seabirds
With so many birds visiting or living on Fair Isle, it is practically impossible to compile a complete list for visitors. Therefore, we have selected five seabirds that you have a high probability of seeing during your land excursion so that you can easily identify them.

1. Atlantic puffin – One of the largest European colonies of Atlantic puffin is found on Fair Isle. These seabirds are easy to spot due to their distinctive, multi-colored beaks and penguin-like black and white feather coloring. Although these birds spend the majority of their time at sea, they do nest on Fair Isle during their breeding season, which runs from mid-April to mid-June. During this time, only one egg will be laid per couple, so the nests are typically located in areas such as on sea stacks or the upper portion of a cliff because they are not easily accessible by. Puffins can fly an astounding 88 km (55 miles) per hour and dive as far down as 61 meters (200 feet).

2. Arctic tern – This small seabird has a black head cap, short legs, narrow wings and a white or grey body color. Interestingly, their beak and legs are black throughout most of the year, but they turn red during the breeding season. Each female will lay between one and three eggs from May to mid-June, and they choose a beach or low-lying rocky shore for their nesting location. The Arctic tern also takes the longest migratory trip of all birds living in the European islands and countries by traveling to the Antarctic every year.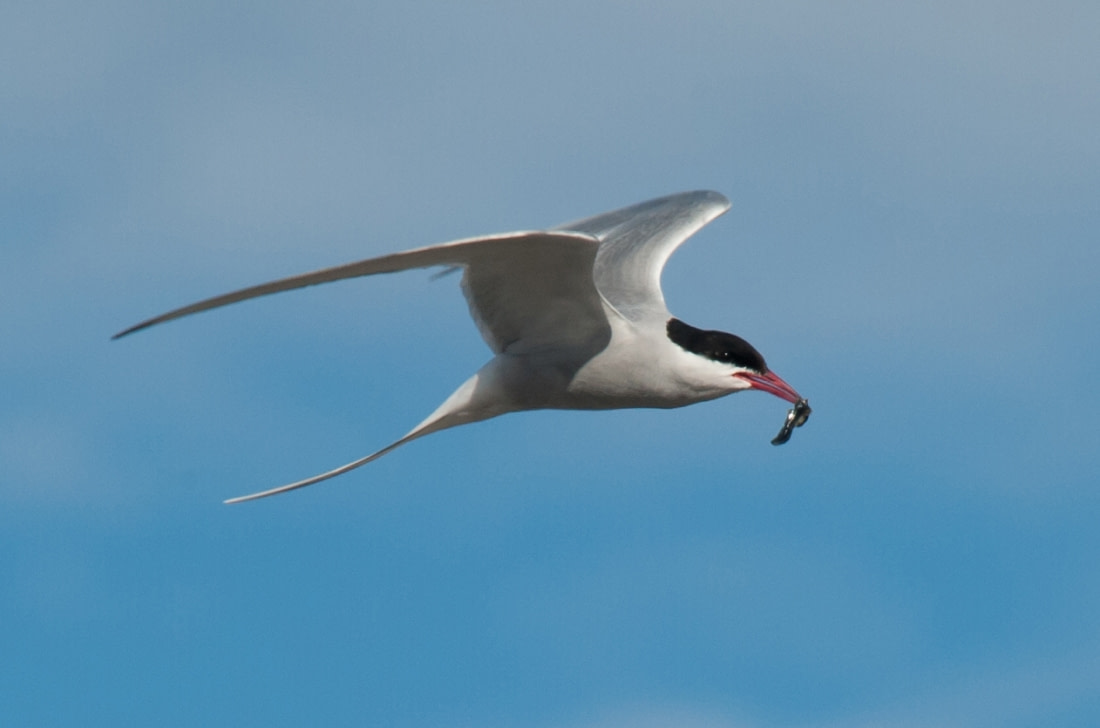 3. Black guillemot – The largest known population of black guillemots near Scotland is on Fair Isle, which makes this a great spot to look for these distinctive birds. Black guillemots stand out during the summer due to their black feathers, white wing patch, black eyes and red feet and legs. In the wintertime, their feathers turn mostly white. These seabirds are medium-sized, and their breeding season takes place from late April to mid-July. During this time period, each female will lay one or two eggs. Their nests are primarily built into locations near the sea level such as crevices, in talus slopes or under rocks. The black guillemot is part of the puffin family, but they do not spend a lot of time diving in deep waters. Instead, they find most of their food in shallow water that is located close to land.

4. European storm petrel – The largest Scotland area populations of this seabird are found in other areas, but it is still relatively common for visitors to Fair Isle to spot a European storm petrel. These birds nest underground, and they tend to pick rocky outcrops, boulder piles and even ancient ruins for the one egg that is laid annually between late May and mid-June. European storm petrels have a characteristic square-tail, and they are almost completely black colored. However, their underwings have a white band, and they also have a white rump. This seabird species is featured in mariner folklore and superstitions and was once believed to be possessed by a supernatural entity.

5. Northern gannet – This large seabird exists on a diet that is almost exclusively small fish, and it can start its dive from approximately 30.5 meters (100 feet) above the water. The majority of the Northern gannet's coloring is white, but they also have a yellowish-orange head cap, grey feet, legs and bill and black primary feathers. These birds breed from mid-April to mid-May, and each female lays only one egg per year. Nests are often meticulously spaced out so that they are within 80 cm (31 inches) of each other, but they never touch. These nests are built on sea stacks and cliff ledges. Northern gannet's have a spiky tail, and their bill is shaped like a spear.
Fair Isle's endemic subspecies
An endemic species is one that has specific characteristics that only exist within the defined area. In other words, Fair Isle's one endemic subspecies, the Fair Isle wren, can only be seen by visiting the island. The Fair Isle wren is a subspecies of the Eurasian wren, and it is one of the rarest birds in all of Britain and Scotland. Even visitors to Fair Isle might never see this bird because there are believed to be no more than 52 breeding pairs in existence at any given time, and this number sometimes drops as low as 10.

The subspecies was first discovered in 1951, and it is larger and darker than the winter wrens that are found in mainland Britain. However, the Fair Isle wren is also described as having a paler brown than the wrens of Shetland. Their main coloring is brown with numerous grey spots. Most of this subspecies' nesting spots are spread out among the island's cliffs. Because there is such a small population of Fair Isle wrens, there are still many things that are unknown about their typical habits.
Visiting Fair Isle
If you are a birder who is looking for a once in a lifetime birding experience, Oceanwide Expeditions can help! Our cruise expeditions include land excursions to remote locations that range from Fair Isle to the Antarctic. This means that you will get the opportunity to explore Fair Isle while keeping an eye out for rare and unique birds, and it also means that you can get a fantastic view of several seabird species from our ship. This is a good way to get photographs of them diving into the water, and you might also get the opportunity to create a truly unusual memento by capturing the Fair Isle Wren on film during your time on land.