Borchgrevink's huts: the first buildings in Antarctica
Borchgrevink's huts at Cape Adare are notable not only for their important role in the discovery of Antarctica, but also because they were the first buildings erected on that continent.
In 1899 the Norwegian explorer Carsten Egeberg Borchgrevink and his crew landed at Cape Adare with the intention of being the first explorers to overwinter in Antarctica. The success of this Southern Cross Expedition, officially called the British Antarctic Expedition of 1898-1900, inspired the likes of Shackleton, Amundson, Scott, and other famed explorers of the Heroic Age of Antarctic Exploration.
Borchgrevink and his crew built two huts of Norwegian spruce on Cape Adare - one for accommodation, another for supplies.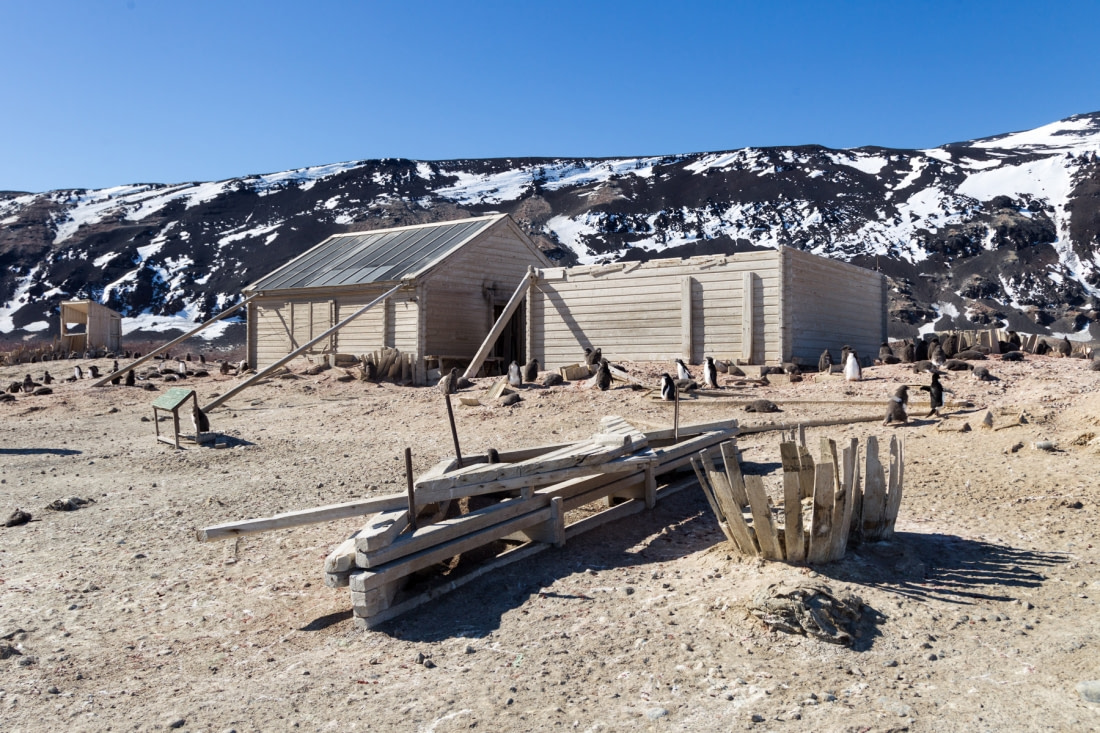 Image by Rolf Stange
Carsten Borchgrevink and his Antarctic huts
Borchgrevink's expedition landed with 75 Siberian dogs, two tons of dehydrated food, a collection of guns (including 12-gauge Paradoxes and .450 caliber Martini-Henry rifles), and 500 miniature Union Jacks for the purpose of surveying and extending the British Empire.
The crew constructed their wintering huts of interlocking boards tightened with steel tie rods, while the roof of each hut was covered with seal skins weighed down by bags of coal and boulders. The living quarters had a double floor and walls insulated with papier mache, along with sliding panels and curtains to give the men some privacy. It also had double-glazed windows with an exterior shutter to keep warmth in. For lighting the crew borrowed a saloon lamp from the ship.

Borchgrevink's smaller hut was used to store medical supplies, provisions, and surplus clothing. Eventually, however, this hut became a private study for Borchgrevink himself. This hut had another two small rooms off an entrance porch that were used as a photographic darkroom and storage for instruments.
The two huts were connected with a roof line that extended to the ground, with sails and seal skins giving extra storage space and protection from the wind. In the summer, Borchgrevink proposed to take the huts, provisions, and party to either Coulman Island or Cape Gauss. From there, after the winter of 1900, he would sledge to the South Magnetic Pole.
A start was made in dismantling the hut, but work stopped and the party departed on February 2, 1900, south to the edge of the Ross Ice Shelf before returning to Stewart Island, New Zealand.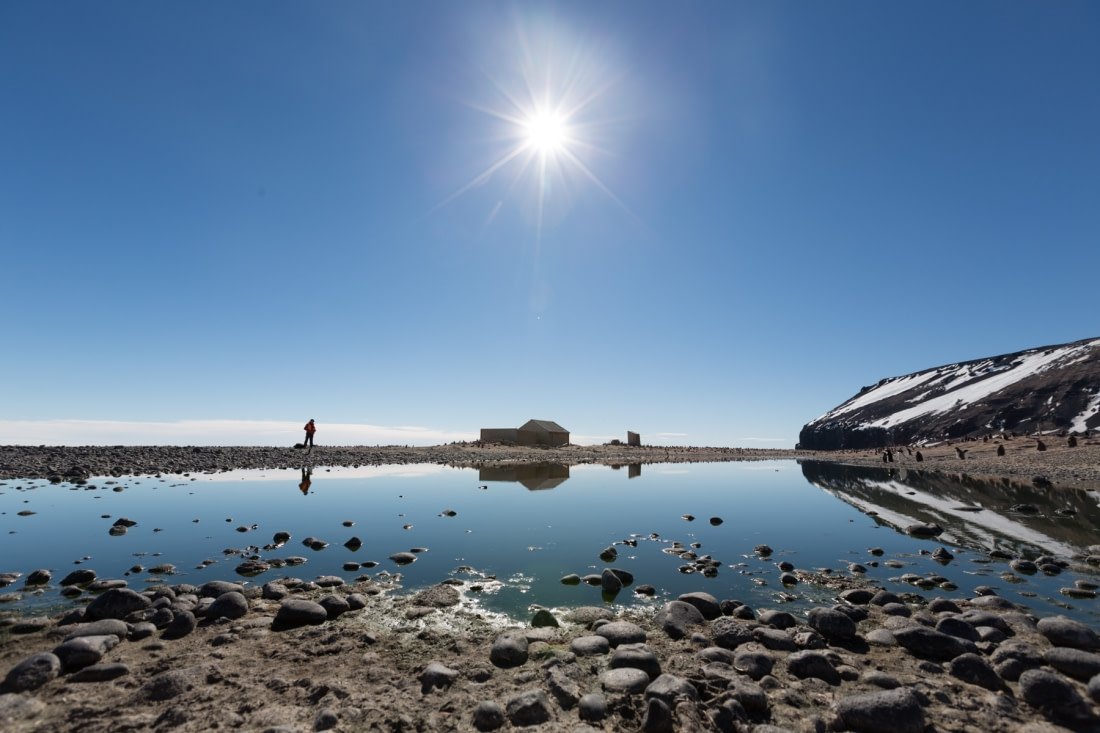 Visitors to Borchgrevink's huts
The next arrival to Cape Adare was on January 8, 1902, by the Discovery Expedition under the command of Robert Falcon Scott. One of the expedition members, Edward Wilson, described Borchgrevink's site: "The litter around the huts was very interesting and the waste excessive…the huts looked like the centre of a rubbish heap."
Later on one of the parties of the British Antarctic Expedition, also known as the Terra Nova Expedition, arrived at the site on February, 1911. The ship's carpenter found weathered cases littering the ground around the huts and wrote that he "stuck a pick into one case and found it was ball ammunition… Luckily, I did not strike the business end of a cartridge."
Despite the fact that Borchgrevink's huts were full of snow, both were in good condition. The small hut's roof, which Borchgrevink's crew had dismantled, was covered by a canvass. The hut itself was partitioned for warmth, with sleeping platforms placed on top of boxes around two of the walls. Also installed was a blubber stove and ice melter, along with a latrine against the outer west wall.
The Terra Nova crew built another wintering hut close to Carsten Borchgrevink's hut in mid-February, and almost a year later on January 3, 1912, they departed Antarctica, leaving the huts behind.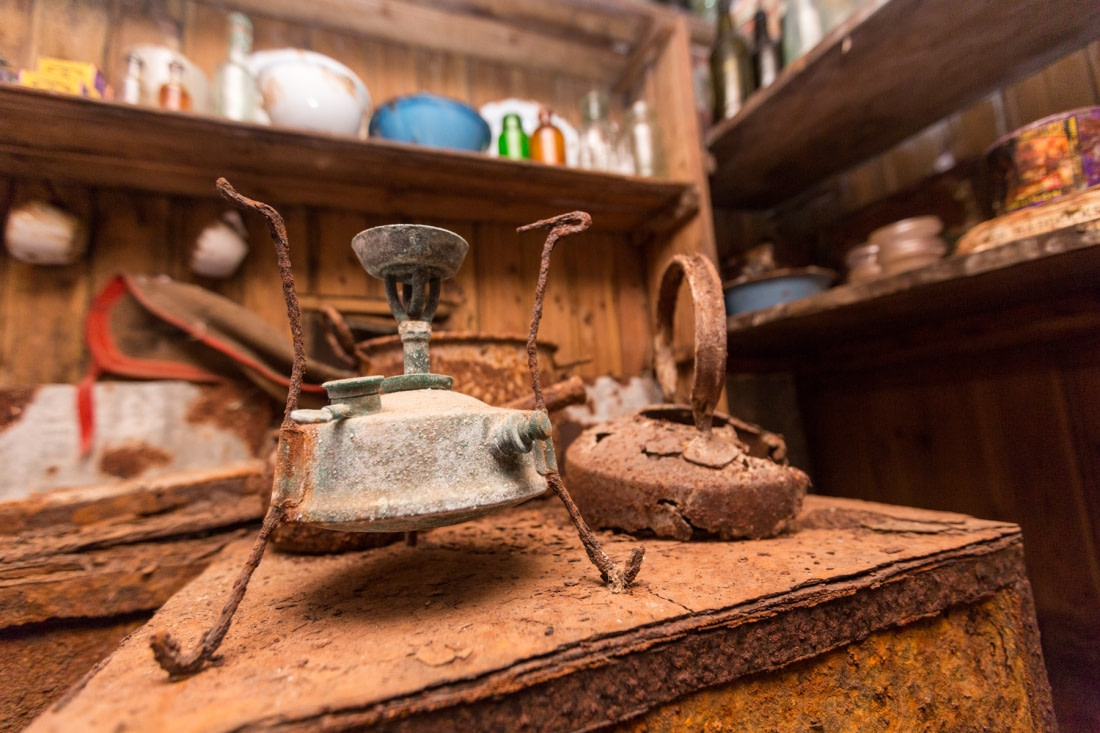 Image by Rolf Stange
The Borchgrevink huts' later arrivals
The following decade, in February 1924, Norwegian whales on the chaser Star 1 viewed the collection of Borchgrevink's huts from offshore. But it was not until February of 1956 when the next visitors arrived with a party from US icebreaker Edisto. They found scattered supplies and equipment from the earlier expeditions.
On January 14, 1961, Brian Reid and Colin Bailey of the New Zealand Biological Party made the next arrival on US icebreaker Eastwind to study Adelie penguin and skua populations.
A few days later, a storm destroyed their tents and they had to take shelter in Borchgrevink's hut. They found a letter to Petty Officer George Abbot of the Terra Nova Expedition, cologne bottles, plum puddings, and a biscuit tin from Cape Royds during their stay. They sealed the hut before leaving.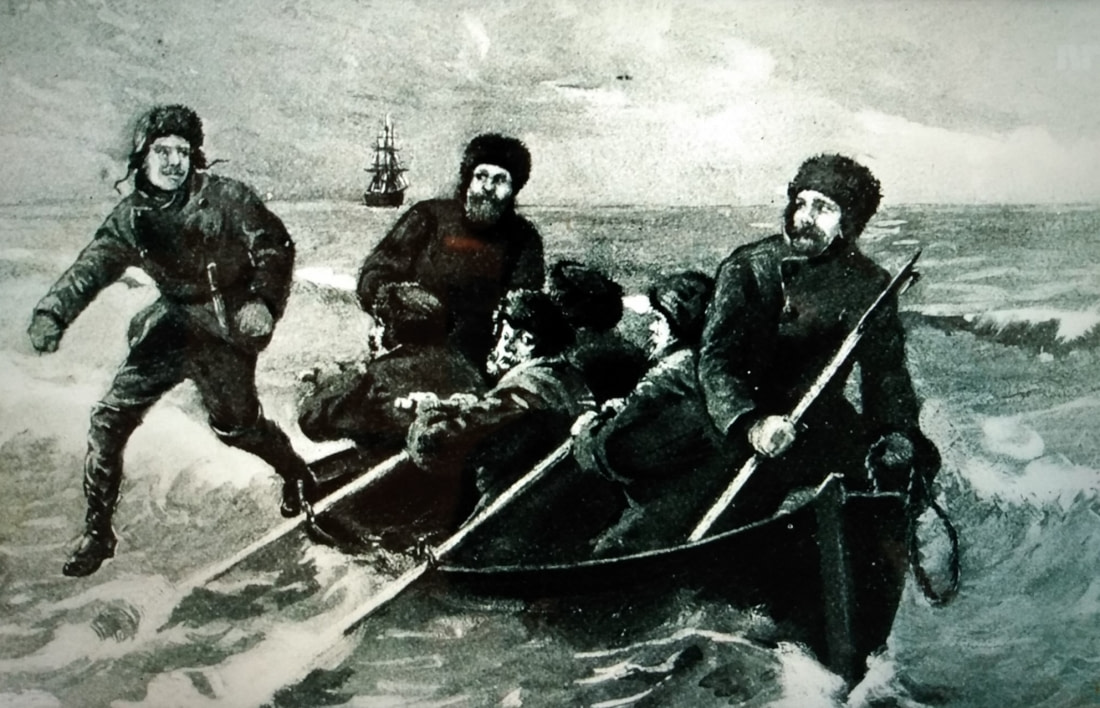 The restoration of Borchgrevink's huts
In February 1973, two New Zealanders, Shaun Norman and Lawrie Cairns, camped on Ridley Beach. They made repairs to Borchgrevink's hut and brought several artifacts back to the Canterbury Museum in Christchurch, New Zealand.
A Canterbury Museum Expedition made further repairs and a site survey in early 1982, and in 1990, a joint Antarctic Heritage Trust and University of Auckland party arrived at Borchgrevink's hut to conduct repair work and documentation.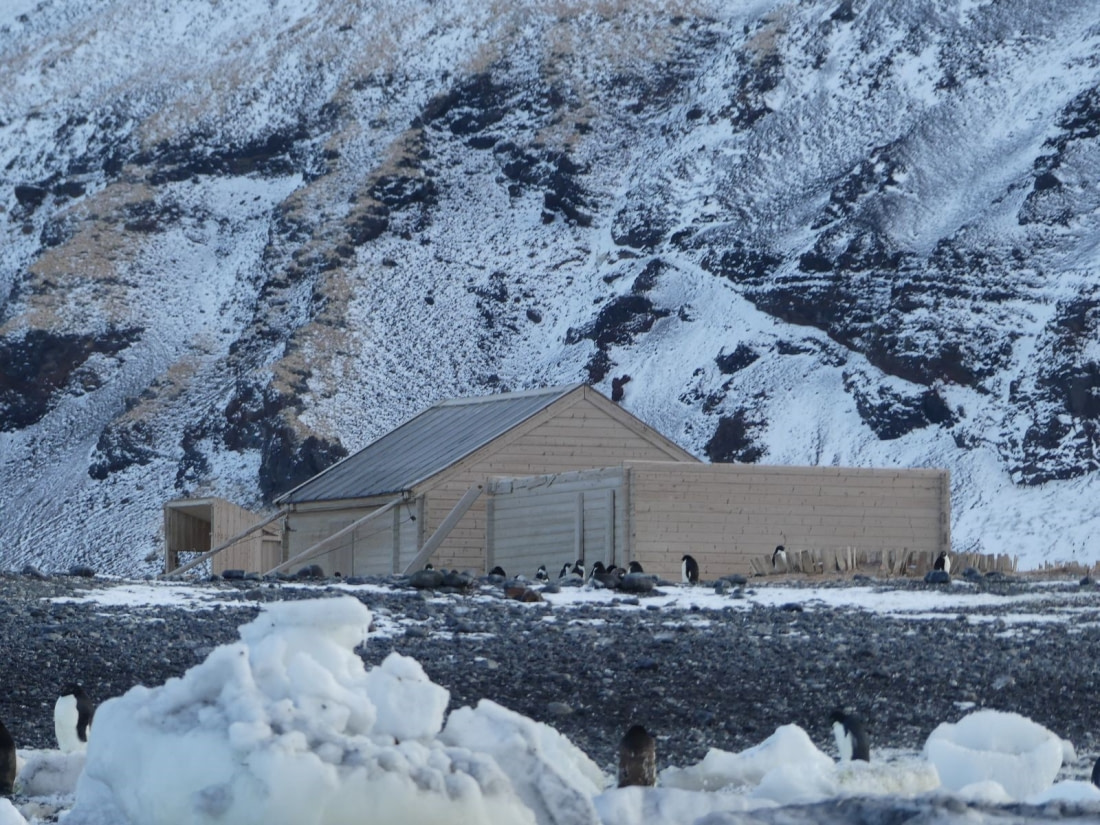 Image by Victoria Salem
Borchgrevink's huts today
Today in Borchgrevink's hut, a rusting stove sits idle while the shelves are lined with tins of lime juice nodules, dried potato, army rations, Wiltshire bacon, Lea and Perrins sauce, and hessian dog coats trimmed with red braids. The walls and bunks carry signatures and caricatures of expedition members.
There is a fine pencil drawing of a young Scandinavian woman on the ceiling above a bunk along with an inscription in Norwegian that reads, "All the bells chime far away, Tidings from the old days, All the flowers turn and look back with a sigh."
Outside there are parts of the roof and wooden barrels scattered around, bags of coal, heavy calibre ammunition, an anchor, provision boxes, and dog tethering pegs with the remains of two dogs still showing yellowish hair. Of the hut constructed by the Terra Nova party members, only the porch still stands, as the walls and roof collapsed from gale force winds.
Carsten Borchgrevink's small hut is still in sound condition more than a hundred years after it was built. And though the unroofed storage hut now has distorted walls, severe timber weathering in one corner, and a buckled floor split open by the ice below, it can also be enjoyed at this historic site. Both huts recall a bygone era of Antarctic exploration that has the power to enchant polar scholars and newcomers alike.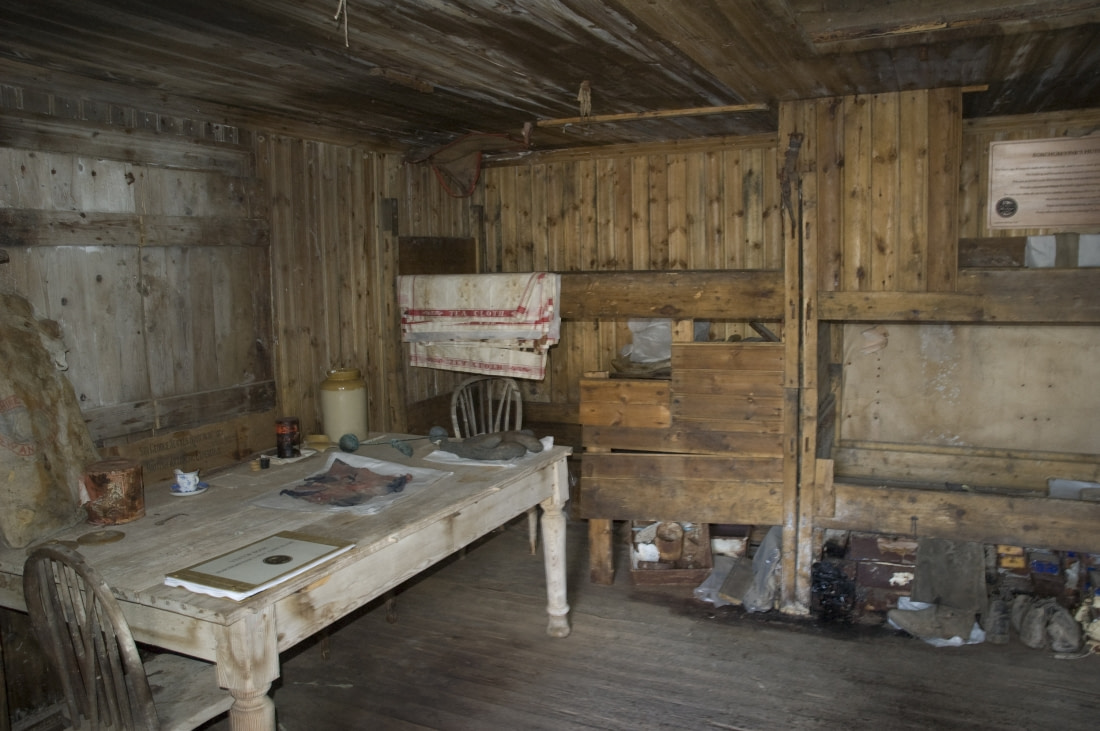 Image by Delphine Aurès
Title image by Victoria Salem