The planetary problem of plastics
In Robert Frost's famous prophesying poem, Fire and Ice, the New England poet speculates as to how the world will end. Will it be by fire or by ice?
Obviously, Frost had never walked the bottled water aisle of a modern supermarket.
These days, plastics pose a significantly greater risk to the welfare of the planet than fire or ice – especially ice. This is because plastics are currently one of the primary threats to the oceans, and healthy oceans are one of the primary requirements of a healthy Earth.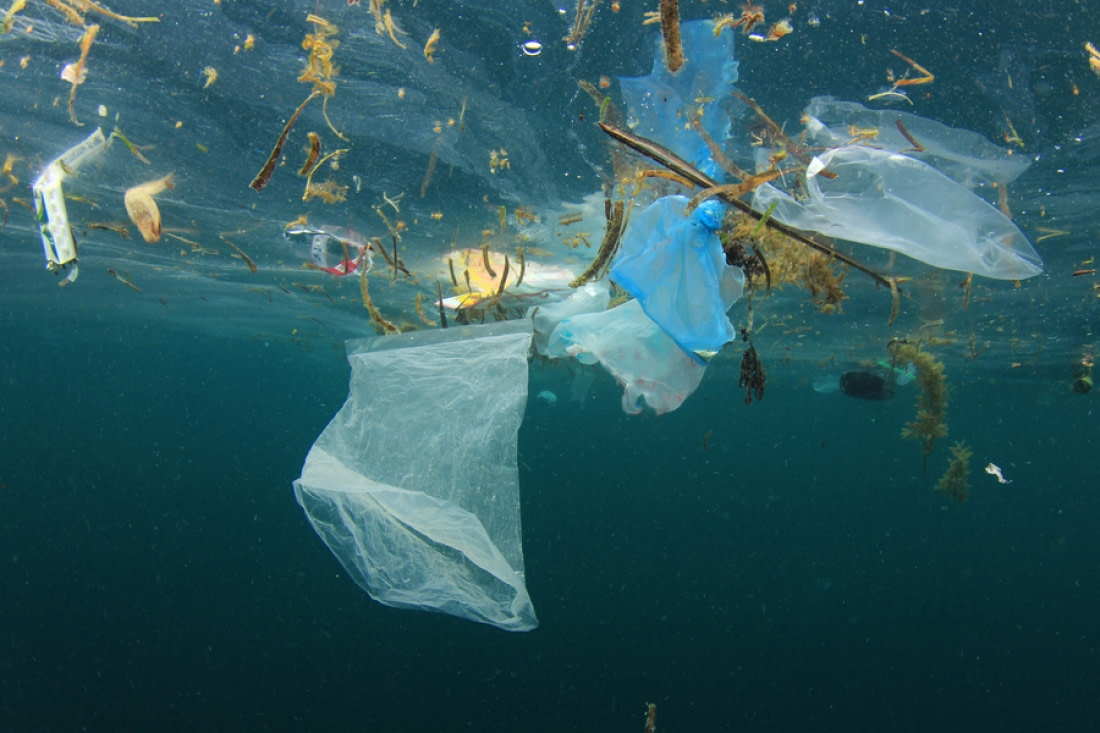 Here are some undisputed figures: Oceans account for 97% of the world's water supply, create over 50% of its oxygen, absorb 50 times more carbon dioxide than its atmosphere, regulate climate by transporting heat from the equator to the poles, and cover 71% of the Earth's surface.
In other words, if the oceans are being smothered at an exponential rate by a synthetic, non-degradable, wildlife-killing substance, it's not long before we'll feel the results on dry land too.
This is exactly the fate the Clean Seas campaign is trying to avoid.
Initiated by the United Nations Environment Programme (UNEP) with the purpose of engaging governments, private businesses, and the general public in the fight against marine plastic pollution, Clean Seas has grown rapidly since its inception in early 2017.
One of the recent additions to its lengthening list of participants is the Association of Arctic Expedition Cruise Operators (AECO), which is bringing the fight to the polar cruise sector.
The formation and philosophy of the Clean Seas campaign
If the introduction to this blog was not enough to scare you, here are a few simple, cited, and seriously terrifying stats:
Each year, eight million metric tons of plastics are dumped into Earth's oceans. [2] Of that plastic waste, 236,000 tons are microplastics (broken-down pieces smaller than your fingernail). [3] These microplastics are especially harmful to marine animals, who often cannot distinguish them from food and who ingest them, then cannot digest them, and finally starve because of them. [4]
Because most plastics can take hundreds or thousands of years to decompose and often only break down into smaller microplastics, the problem isn't going away on its own.
And this problem would be horrible enough if it were just confined to the oceans, but it's not.
Hence the need for programs like Clean Seas, which focuses its efforts on perhaps the most environmentally harmful substance of our time, next to fossil fuels and chlorofluorocarbons.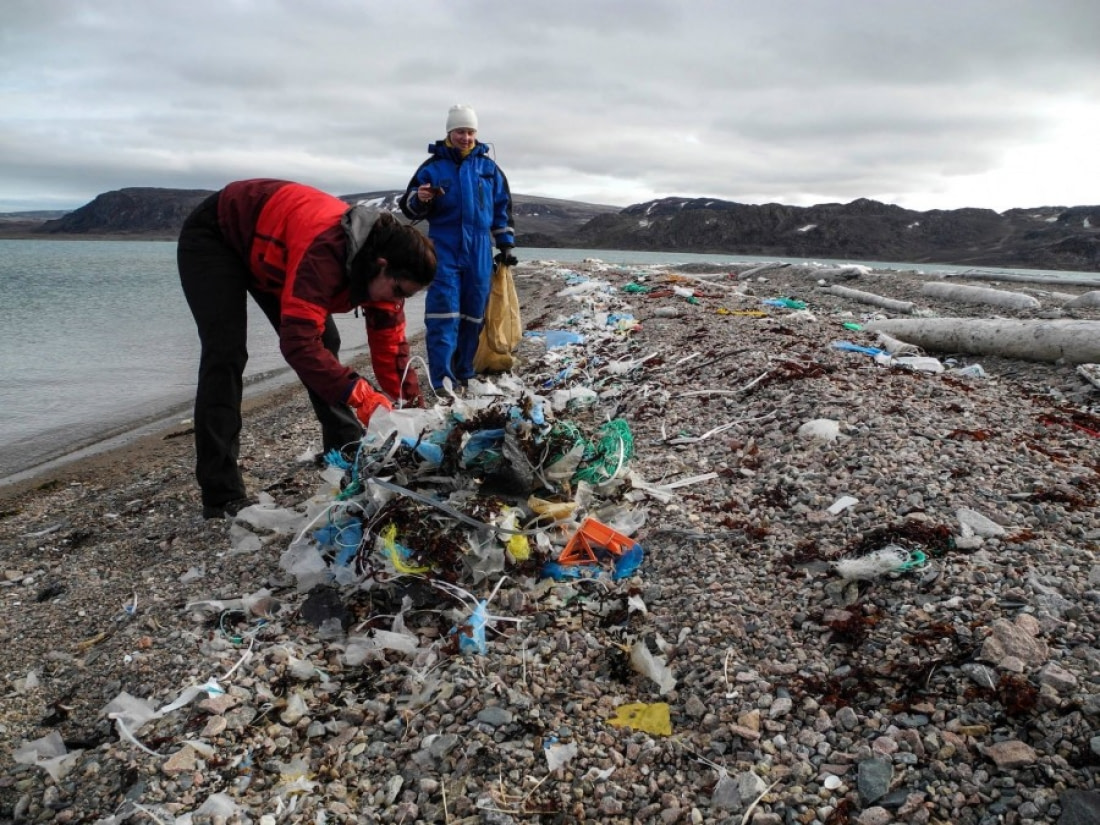 Clean Sea milestones include the banning of plastic bags in Kenya and Chile, a ban on microbeads in cosmetic and personal care products in New Zealand, a ban on plastic straws in Vanuatu, the projected elimination of single-use plastics in India by 2022, and Volvo's pledge to use recycled plastic in 25% of its new vehicles by 2025.
Public support for Clean Seas has been similarly encouraging: 43 countries have joined it within its first year alone. The most recent is Australia, which pledged to recycle or compost 70% of its plastic packaging by 2025.
Now with the addition of AECO to the Clean Seas campaign, plastic pollution prevention has joined the Arctic expedition cruise industry.
AECO's contributions to Clean Seas
AECO is undertaking multiple efforts to further the Clean Seas movement.
Single-use plastics are particularly targeted, as they're so abundantly used and disposed of aboard cruise vessels, and AECO is also enhancing its passenger-aided beach cleanups as well as providing education on ways to prevent marine plastic pollution.
Current changes are already underway at Oceanwide vessels as a result of these initiatives.
For one, we're phasing out plastic soap dispensers and water cups aboard our vessels in favor of reusable water bottles. Passengers can refill these bottles from water coolers located in the hallways.
AECO is also helping Clean Seas is by advancing its voluntary passenger beach cleanups, which have already been quite successful: As a result of AECO's Clean up Svalbard efforts, around 20 tons of waste is removed from Svalbard beaches every summer.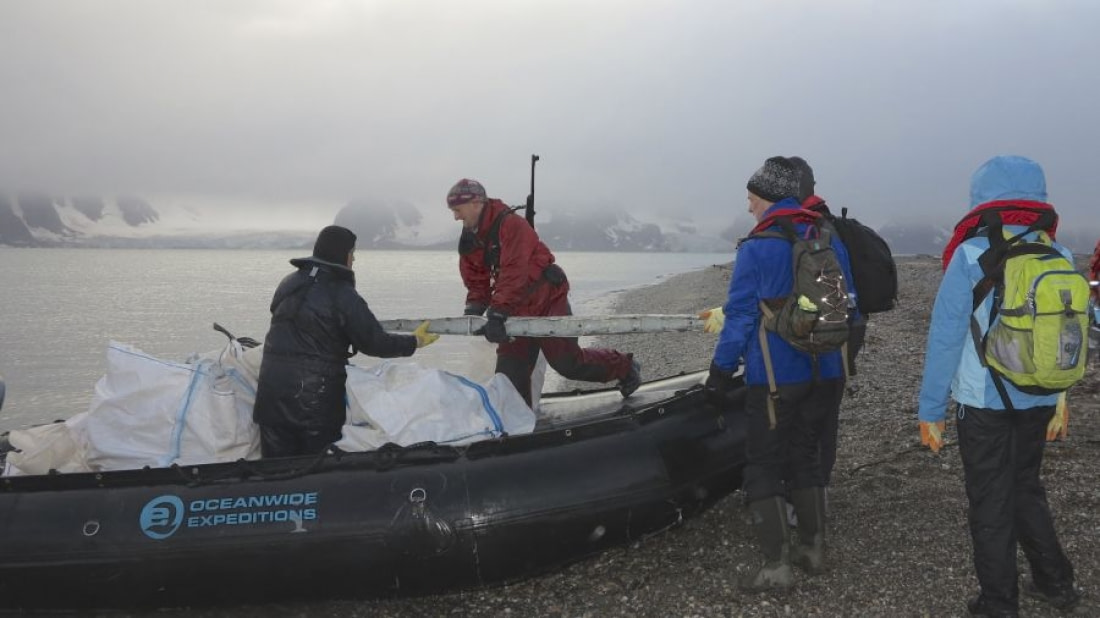 In fact, each cruise ship removes between three and four tons of refuse per season. During the 2017-18 Arctic season, 128 beach cleanups were organized that reduced over 40 tons of litter.
Such cleanups are in good company among mass-scale efforts like those of Ocean Cleanup, which has set itself the impressive and Herculean task of removing half the Alaska-sized Great Pacific Garbage Patch within the next five years.
On top of reducing the plastics used aboard cruise vessels and removing the litter that already exists, AECO strives to educate people as part of its commitment to Clean Seas.
AECO is currently collecting, systematizing, and sharing best practices in plastic consumption aboard member vessels. It also participates in relevant presentations and conferences, sharing insight as to how the private sector can help combat marine plastic pollution.
The future of the Clean Seas campaign
As Clean Seas continues to gain momentum through the contributions of its members, vital technological innovations are taking place that may accelerate current waste disposal as well as provide viable, long-term alternatives to plastic.
The aforementioned Ocean Cleanup team, for example, is hard at work fine-tuning an enormous marine cleaning machine that uses the waves, currents, and winds to operate.
Nicknamed Wilson, this 600-meter-long (1,970 feet) U-shaped device is now floating far out on the Pacific, automatically collecting floating plastics that will later be brought to recycling centers.
Because Wilson is still in the beta phase, naturally there have been snags, but the Ocean Cleanup team plans to have the device running at full capacity soon.
Also, there's growing movement afoot to create more biodegradable alternatives to plastic.
This goal in particular was the subject of a recent million-dollar Ellen MacArthur Foundation grant known as the Circular Materials Challenge, which asked for designs that could replace plastic packaging for snacks, sauces, and coffee.
The winners of this design, a team from the University of Pittsburgh, created a sturdy and recyclable material through nano-engineering that is formed out of layers of polyethylene.
Other plastic alternatives are likewise a reason for optimism: One of these is a material made from corn starch, cooking oil, and sugar that is safe for fish and has a 15-year lifespan; another is a polyester composite that decomposes in water; and yet a third is a foam-replacing packaging material made out of bamboo, wheat straw, and even mushrooms.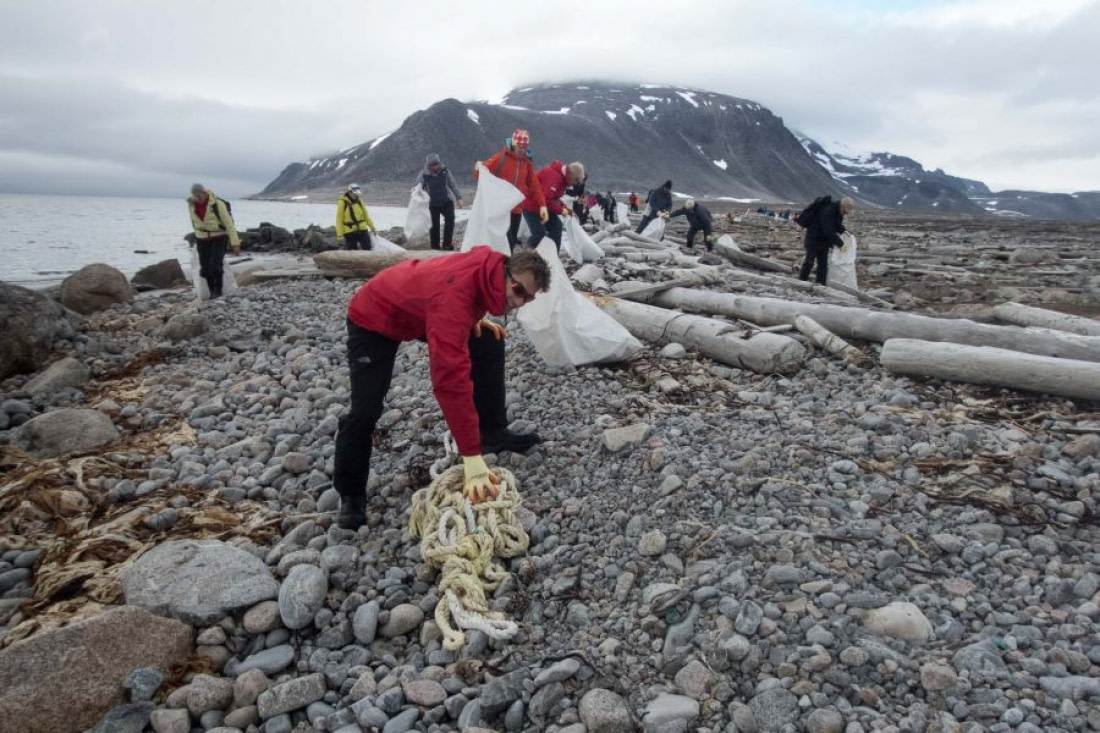 But despite these positive developments, the low cost and convenience of plastic compels the bulk of humanity to continue making and using this ubiquitous material in vastly unsustainable quantities.
It is, after all, the very usefulness of plastic that has led to our current predicament.
And this is why Clean Seas' work is far from over. Continuing growth in the campaign is necessary to ensure we do not suffocate the seas (and ourselves) in our own out-of-control creation.
Because if we continue to use and discard plastic as we have, Robert Frost will need to update his apocalyptic poem with a third world-ending ingredient.