PLEASE NOTE: The vessel referred to in this blog is no longer in our fleet. We also no longer offer expedition cruises in Northern Norway. Please see our numerous other voyages that operate in the Arctic and Antarctica.
North Norway's newest trip log
Having returned from a week in Northern Norway on s/v Noorderlicht, my husband and I felt the need to write a trip log of our experiences.
Spoiler: They were great.
Northern lights were seen, whales watched, and wonderful meals wolfed down. If you're thinking of making this Arctic voyage yourself, or even if you've never considered it until now, may our words help guide you to a great holiday decision.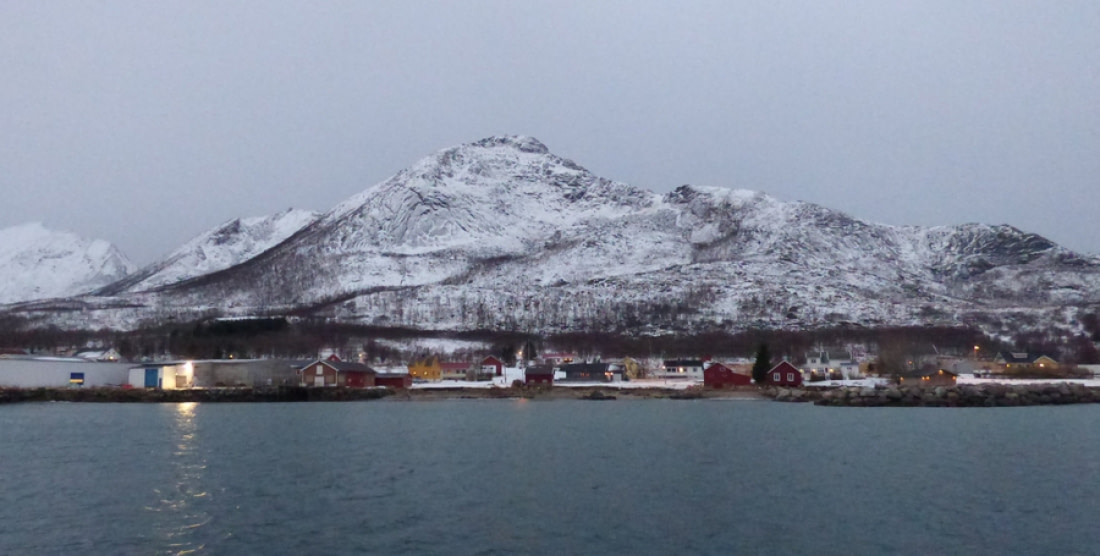 Boarding, breakfast, and the first of North Norway
On the first day, we were welcomed aboard Noorderlicht by Gérard Bodineau, our expedition leader, and shown to our cabin to unpack.
We returned to the lounge to find coffee and homemade cinnamon buns waiting for us.
Good start, Oceanwide.
The next morning we made our first stop, Finnkroken. Gérard lead us on a spirited hike up a low hill, and another walking choice was an easier path along the village shoreline.
We returned to the ship for morning coffee just as snow began to fall.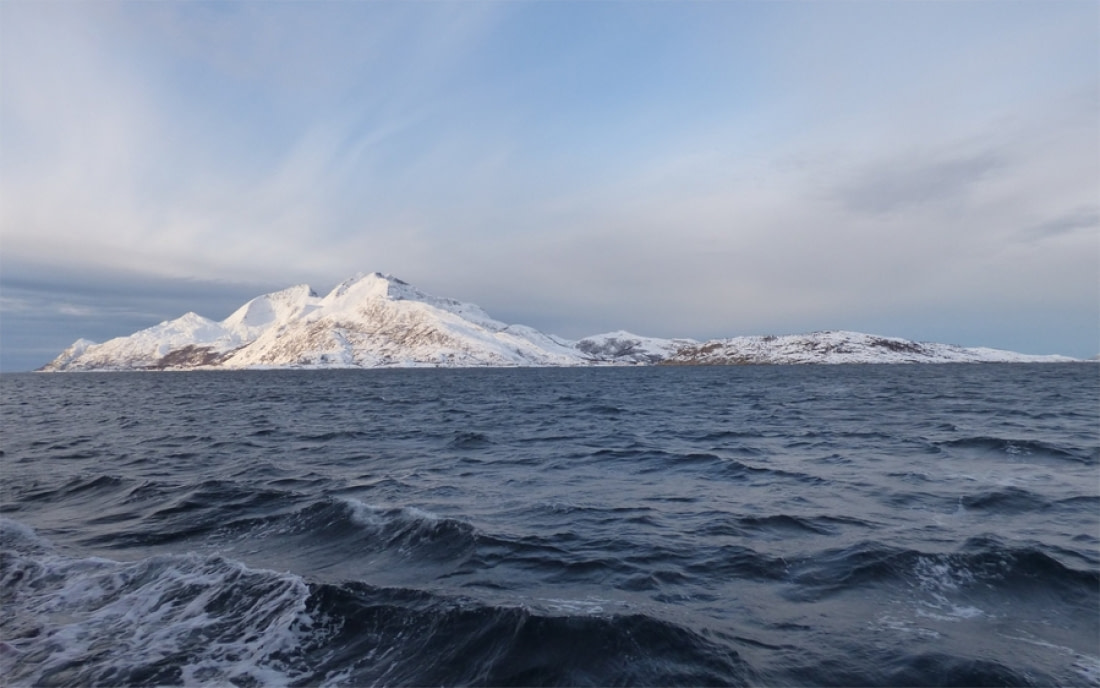 Captain Floris then set sail for our next stop. Meanwhile, we passengers ate a lunch of pea soup, frankfurters, and fresh-baked rolls prepared by our gifted chef, Marielle.
We were soon at Hansnes. Dan (the first mate) and Jacob (the second mate) docked us at an old wooden pier. Some guests went on shore to see the town and church, others hung around to talk of past trips and the adventures to come.
We drifted to sleep as the snow fell outside.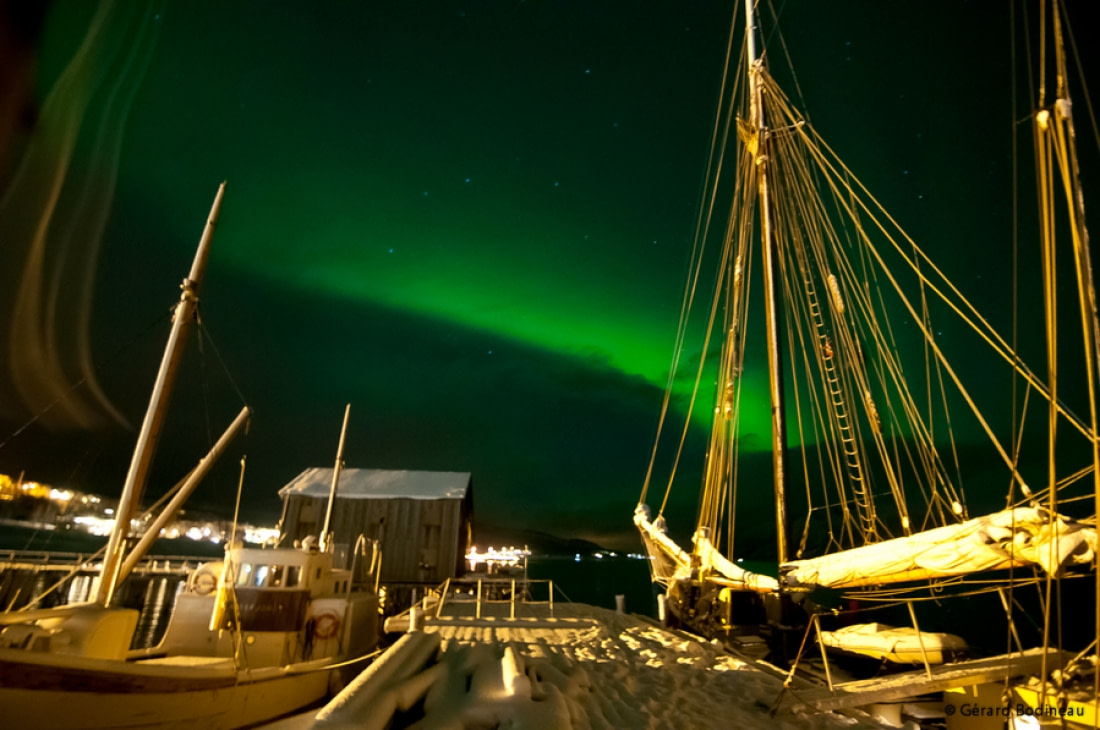 Waked for the northern lights
Gérard woke us just after midnight with three strikes of the bell. "Come see the lights!"
We ran outside and were amazed to find the aurora exploding across the sky, washing us in its green glow for over ten minutes.
The next day, we saw a white-tailed eagle before docking at Bromnes. There was the choice of an uphill hike to Torolfhaugen or a road walk that followed the shoreline, both taking about an hour and forty-five minutes.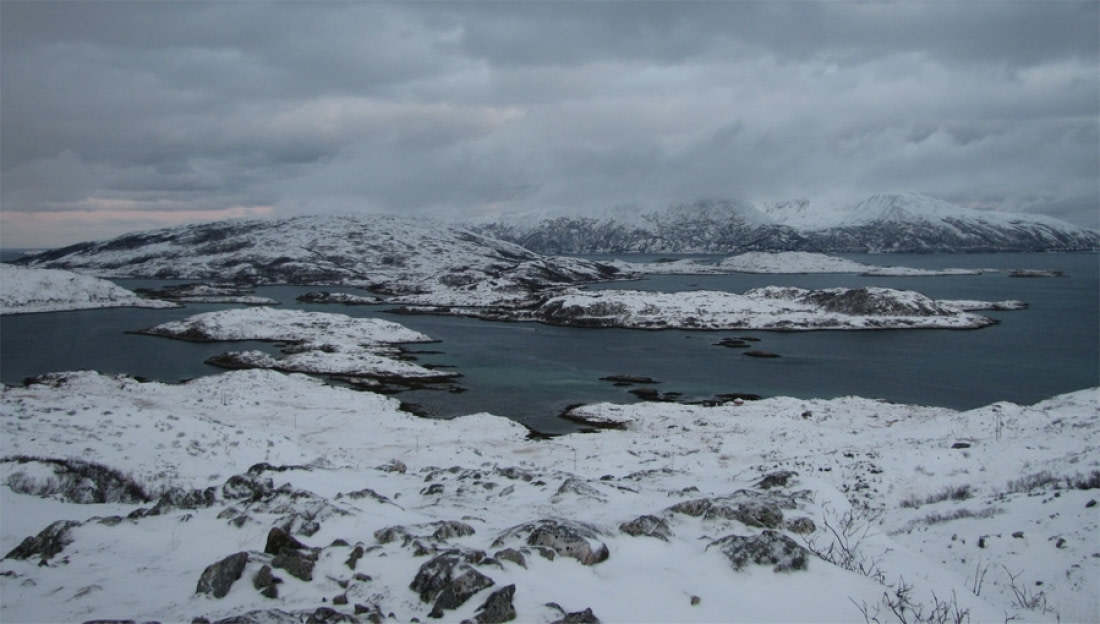 North Norway orca whale sighting
On our return to the vessel, Dan saw three orcas swim just under the pier. But sadly, they were gone before we could take pictures.
After dinner (smoked salmon, chicken wrapped in bacon, and apple tart), Gérard gave a presentation on the northern lights, telling us all about them.
Not long after that, the lightshow started again!
Some of us went to the edge of the village to watch it, some stayed on board. All marveled at the auroras waving and dancing for nearly two hours.
Those with good cameras shot some video, but there's nothing like seeing it firsthand.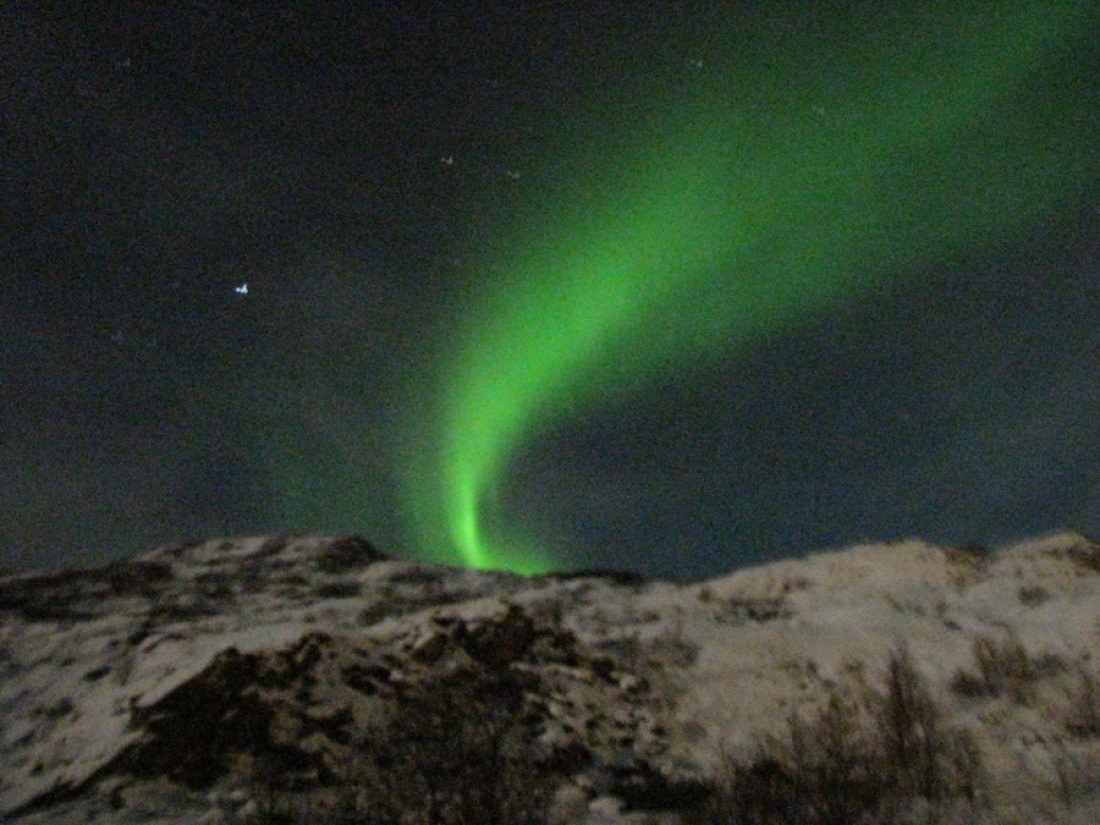 The seabirds and fjords of North Norway
The next morning we saw a wonderful sunrise, cruising under flocks of kittiwakes and gulls. Then we hoisted the foresail and traveled up the fjords.
We moored in Tromvik at lunchtime (mushroom soup and pasta salad), destined to stay there for 36 hours while a predicted storm passed.
Gérard organized a walk toward Rekvik, though some opted to return to the ship before dark.
After a dinner of warm goat's cheese and salmon, we were treated to birthday champagne and carrot cake. Then we watched a great onboard magic show.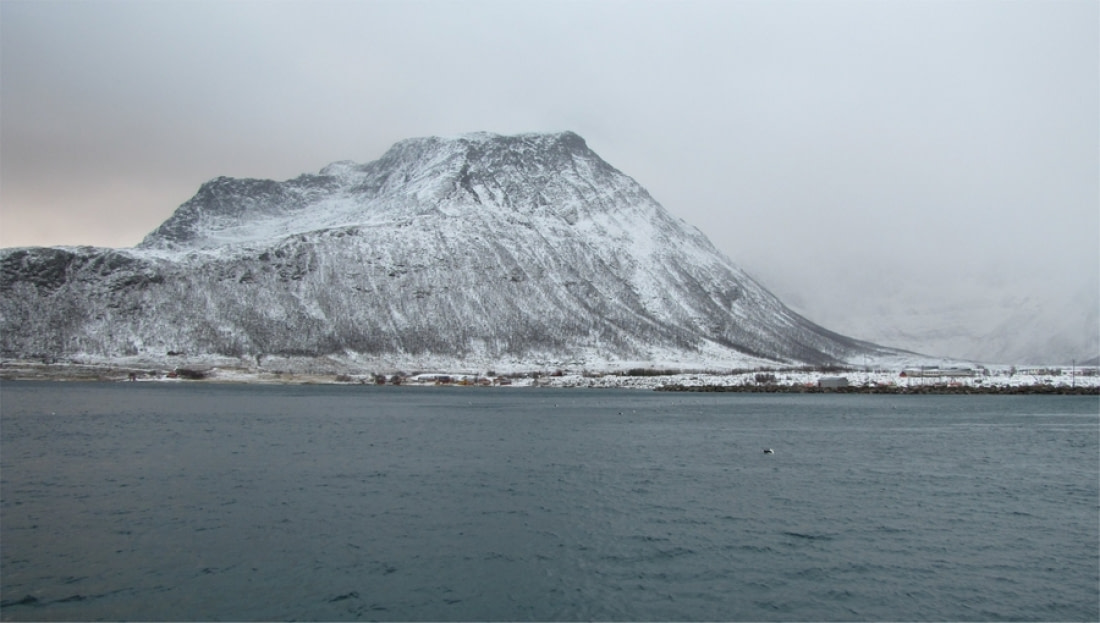 More North Norway whales
The next day, we pushed away from the pier before 0800, backtracking our route into the fjord. On the way to our next destination, we spotted three female orcas and one male.
We followed for a while, but they swam into a shallow area we couldn't sail.
Dinner was smoked salmon with Norwegian fishcakes, prawn skewers, seafood tagliatelle, and absolutely delicious chocolate pudding cakes.
Though the northern lights were obscured that night, conversation was lively as ever.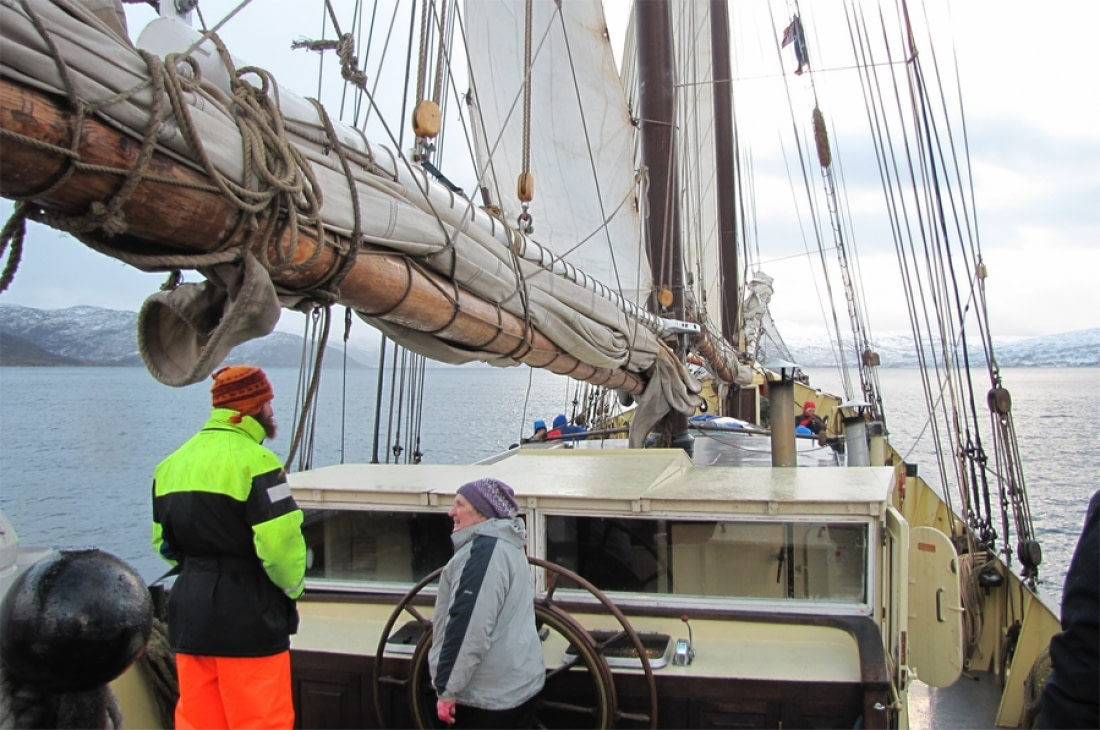 Back to Tromsø
When we finally returned to Tromsø, most of the group walked into town. Peter and I, however, took photos of Noorderlicht passing in front of the Cathedral of the Arctic.
We returned to the ship to find it ready for one more marvelous meal.
Speeches were given, thanks said, and rack of lamb voraciously eaten.
The next morning, some of us had to depart right away while others lingered to recount our recent adventures. Hopefully, someday we will all meet again.
Is a North Norway cruise for you?
If you want a holiday with adventure, yes.
If you like not knowing where you're going or what you'll see, if you're happy with bunk beds and a shared bathroom, if you enjoy good meals and great company, yes.
If you don't mind helping out the crew on occasion or being disconnected from the outside world or scrambling to shore at high tide or low, then yes again.
Also, we highly recommend the meals. (You may have noticed.)
That said, nobody can promise whales and auroras. That's up to nature, not expedition guides. But what you can rely on is a company that does its best to make your trip a success.
And whatever happens, you'll still be in Northern Norway – and that's a success in itself.