| | |
| --- | --- |
| Date: | 24.11.2022 |
| Position: | 54°48'.6 S - 068°17'.8 W |
| Wind: | NW force 8 |
| Weather: | Broken cloud, sunny |
| Air Temperature: | +11.5 |
The day had finally come: it was time to board the good ship Ortelius for our expedition to the Weddell Sea in Antarctica to search for Emperor Penguins! Some of us had booked the trip years ago and had plans cancelled due to a certain pandemic (which we will not mention again!) so it was incredibly exciting that the wait was over. It was a blustery day when we arrived at the port in Ushuaia with white capped waves visible which foretold that we might be in for some rough seas on leaving the Beagle Channel. The Expedition Team and Hotel Staff had helpfully brought our luggage aboard and taken it to our cabins earlier in the day, so all that remained was for us to do was head up the gangway to reception to get our cabin key!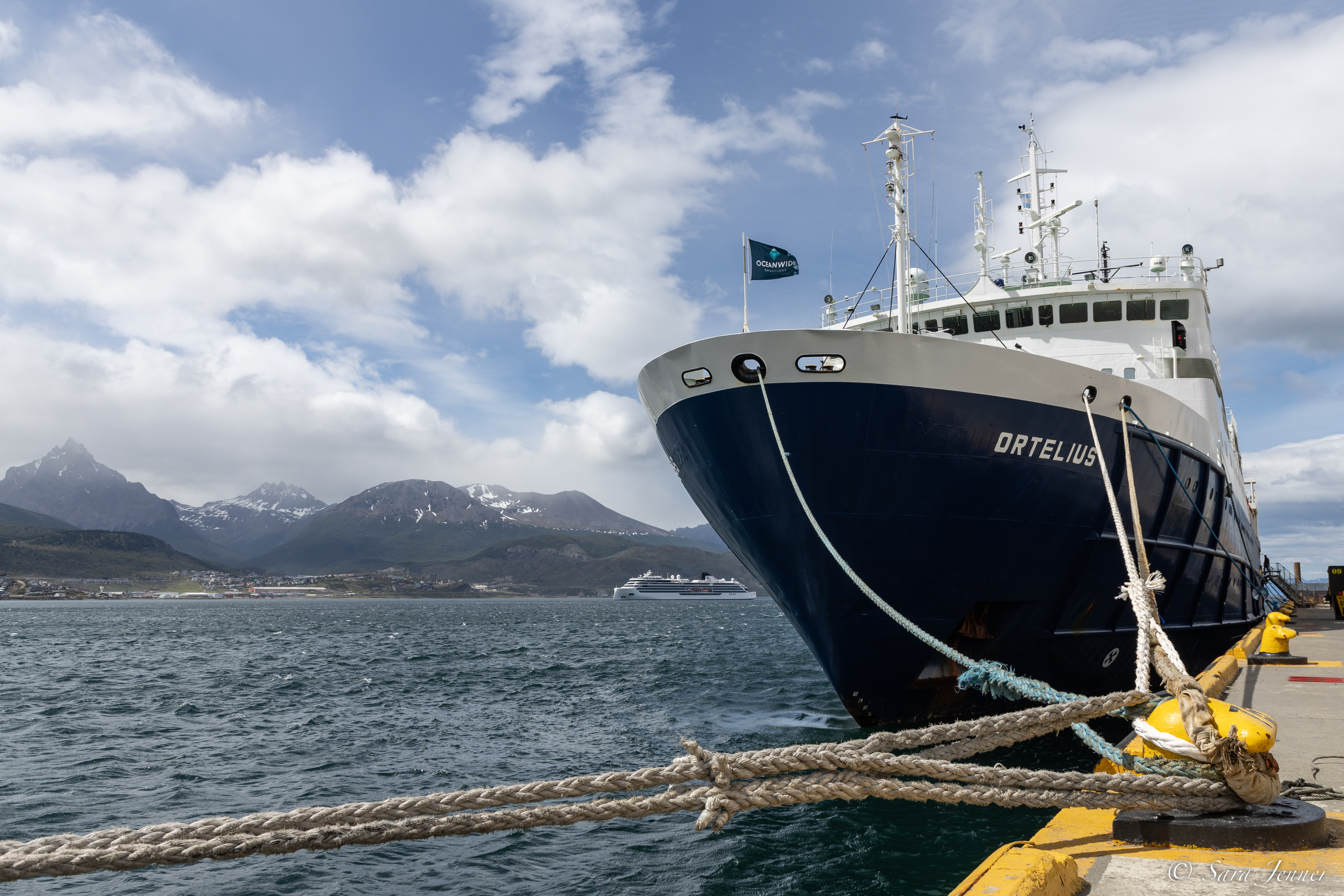 We were warmly welcomed by all the crew and staff who assisted us in finding our cabins. We had a little time to explore the ship and get our bearings prior to the mandatory ship safety briefing from expedition Leader Adam, Chief Officer Sven. We were given all the information we needed such as moving safely around the ship, the things we could and could not do, and how to put on our emergency life jackets.
After this we headed back to the lecture room where Hotel Manager Stephen and Assistant Hotel Manager Thijs gave a welcome briefing, helping to explain how life would be on the ship over the coming days. It was then time for an abandon ship drill so after hearing the seven short and one long blast of the ship's horn we went to our cabins, got our lifejackets, and went to our muster stations (either the restaurant or bar). Then we were led to our lifeboats so we would know where to go in case of a real emergency.
It was then time to join Captain Ernesto Barria in the bar to raise a glass in celebration of the voyage ahead. Cheers everyone! The Captain had to excuse himself from the celebration, as it was time to get Ortelius under way. We departed Ushuaia at 18:20 and headed down a windy but sunny Beagle Channel. Then it was time for our first evening meal onboard, with a delicious buffet selection provided by Chef Heinz and his galley team served by our friendly dining room staff. After dinner we were given our Muck boots which we would use for going ashore; comfortable but also, very importantly, waterproof for our wet Zodiac landings!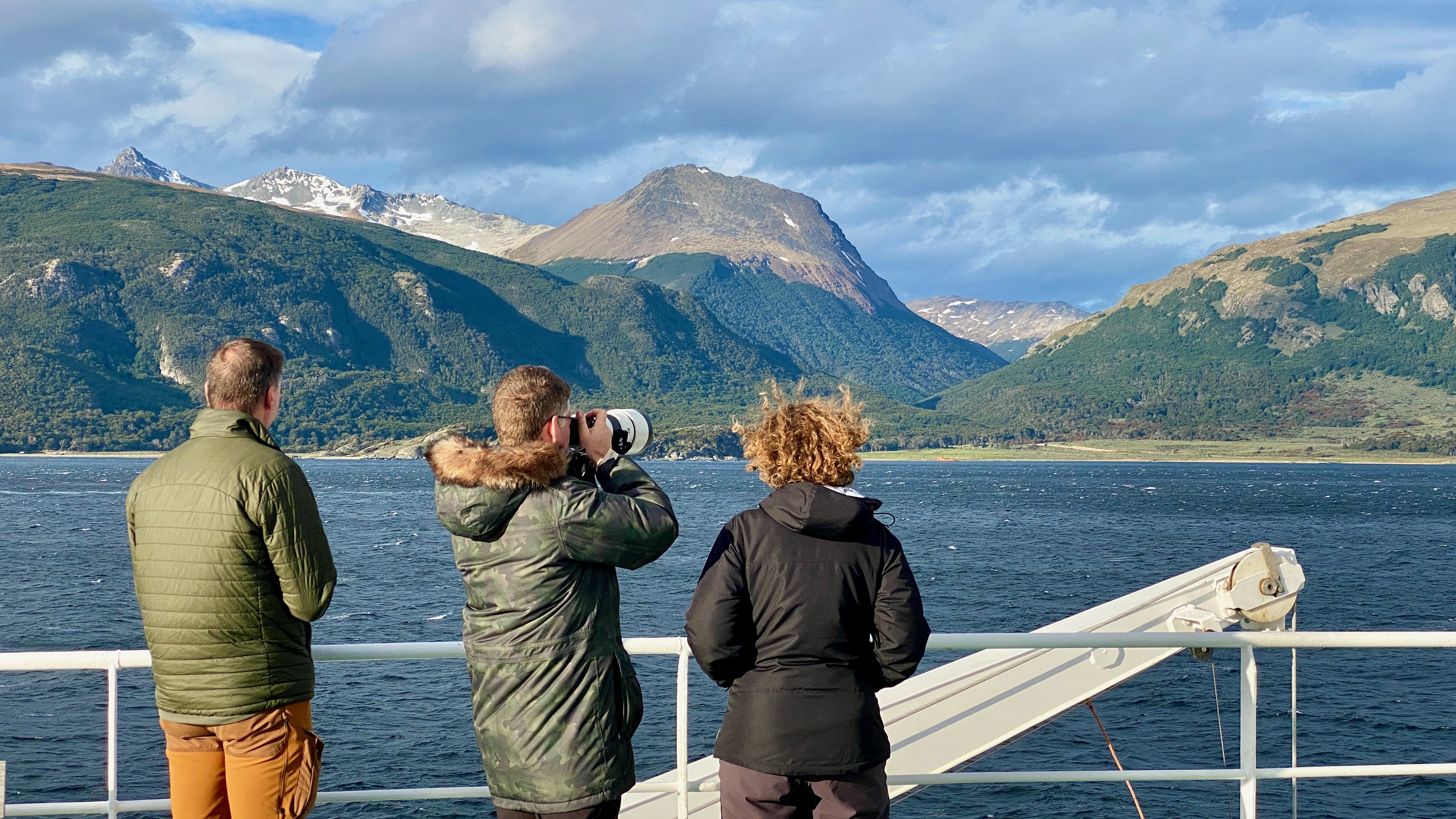 Following dinner we attended the last mandatory briefing of the day, this time the IAATO (International Association of Antarctica Tour Operators) visitor guidelines. We were informed of the protocols put in place to protect the Antarctic environment, wildlife and historical heritage. After a long day of travel for most of us it was time for bed to get some rest before the first day of the infamous Drake Passage tomorrow. We left the shelter of the Beagle Channel at around midnight, hoping the seas and winds would be kind to us…