Roald Amundsen's polar exploits
Roald Amundsen had been, unlike Scott, dedicated to exploration ever since he was 15 years old reading about Franklin's Arctic expeditions. Amundsen wrote that 'the narrative that appealed to me most strongly was the suffering he and his men endured. A strange ambition burned within me to endure those same sufferings' and so he dedicated himself to becoming an Arctic explorer.
Amundsen attempt to the North-West Passage
In 1897, Amundsen had managed to get onto the Belgian Antarctic Expedition, Belgica, which turned out to be a disaster when scurvy affected the whole ship's company. Immediately Amundsen took over command and ordered all the men to eat fresh meat. On his return, Amundsen attempted to the North-West Passage.
Instead of heading into the semi-permanent ice-stream of Victoria Channel, Amundsen went around the sheltered eastern side of King William Island becoming the first to go through the whole North-West passage by ship. Amundsen then set his sights on being the first to reach the North Pole. However, just as he had organised his ship and equipment, the world's news headlines were filled by Admiral Peary's successful expedition to the North Pole in April 1909. Amundsen wrote that "this was a blow indeed…If I was to maintain my prestige as an explorer, I must quickly achieve a sensational success of some sort…I resolved upon a coup".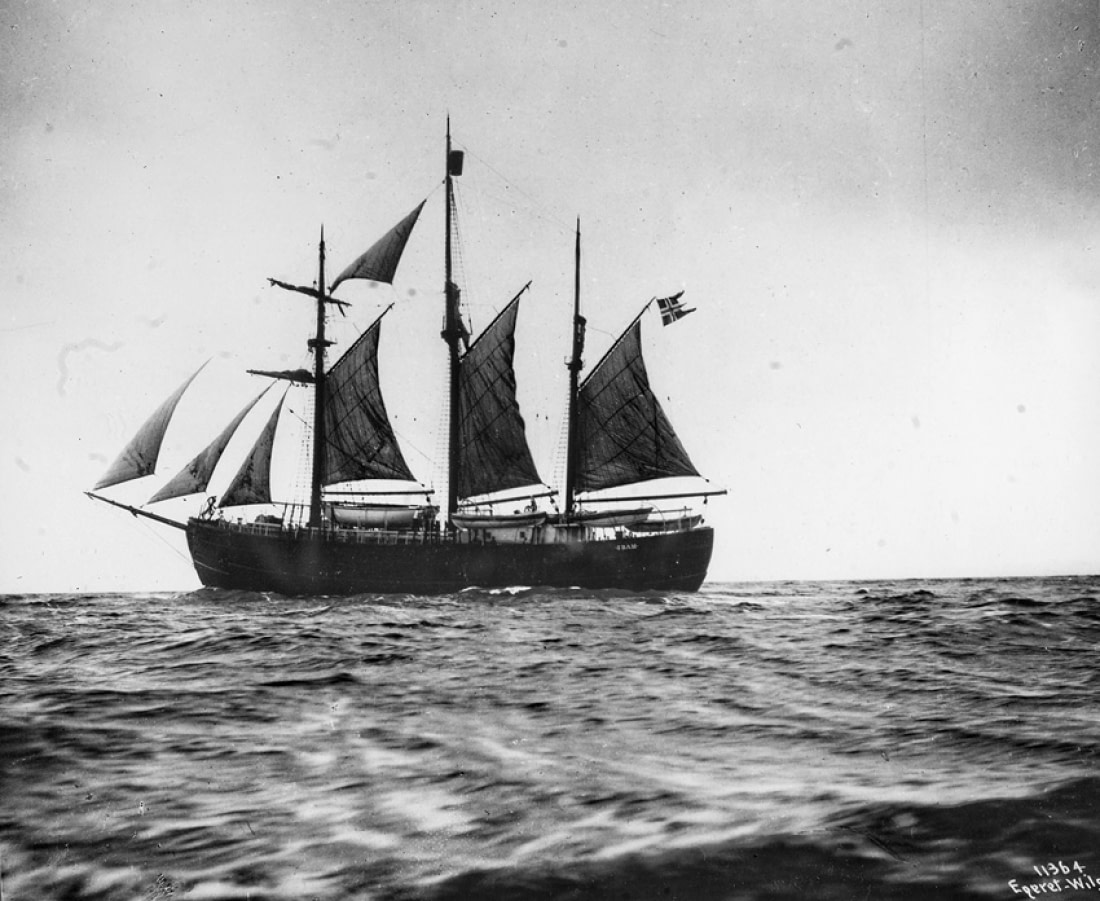 The Fram under sail | © Riksarkivet (National Archives of Norway) via Flickr Commons
Roald Amundsen for the South Pole
Amundsen then set his sights on being the first Antarctic expedition to reach the South Pole.. With a telegram to Scott informing him of his goal, the race was on. Scott was behind in the race with his expedition only able to start disembarking stores for the winter base at McMurdo Sound in January 1911. At Cape Evans he was fifteen miles from his old winter quarters at Hut Points, which had iced up because Shackleton had apparently left a window open.
A week later Amundsen arrived in the Bay of Whales, sixty miles closer to the South Pole and unloaded his dogs, sledges and stores. Just like Peary, Amundsen used dog-teams to haul his sledges. Amundsen was also keenly aware of the importance of fresh meat in his men's diets and so he came up with a brutal plan to use his dogs to both pull his sledges and as a supply of fresh meat when necessary, writing that he knew "the precise day on which I planned to kill each dog as its usefulness should end for drawing the diminishing supplies on the sleds and its usefulness should begin as food for the men''.
In total, Amundsen's expedition was much larger than Scott's with eight men and 118 dogs, while Scott's party of 33 was supported by only 33 dogs and 17 ponies.
Scott losing the race
Amundsen's party was covering four and a half miles an hour on skis and with light sledges, pulled by dogs, powered ahead leaving their final depot on 12 November. On 4 December Amundsen's party slaughtered 40 dogs and the weather began to worsen with temperatures plummeting to -43° Celsius. The party preserved and on 14 December they raised the Norwegian flag on the South Pole.
Meanwhile, Scott was stuck at Beadmore Glacier, just off the Ross Ice Shelf. It wasn't too long before the ponies succumbed to the terrible polar conditions having to be reluctantly slaughtered while the motor sledges broke down. Scott and his companions then pushed on, knowing they had to cover the 1,532 miles to the South Pole and back on foot over glaciers and up to over 10,000 feet before reaching the Polar Plateau.
Scott began his final push for the South Pole on 4 January, a distance of 178 miles from Three Degree Depot. On 18 January they reached the South Pole only to find the Norwegian flag fluttering from an abandoned sledge. Scott wrote disappointedly ''Great God! This is an awful place, and terrible enough for us to have laboured to it without the reward of priority''. On their journey home back to Cape Evans Scott and his party perished.
To a public aware that little support had been given to Scott the almost noble defeat of Scott in his quest to be the first to reach the South Pole seemed almost preferable to the victory of Amundsen. Amundsen visited England towards the end of 1912 and have a lecture on his polar exploits in which Scott's wife, Kathleen, found it "modest but excessively dull''.
Amundsen continuing his polar exploration
After the end of the First World War, Amundsen continued his polar exploration recognising the importance of the air in getting to remote places. This time Amundsen had his sights set on being the first to fly to the North Pole. With financial backing from the American explorer Lincoln Ellsworth, Amundsen received an Italian-built N-1 airship, to be named Norge, for Norway, but to be captained by its Italian-designer pilot Nobile. Norge arrived in Spitzbergen ready for Amundsen.
Meanwhile, Commander Byrd arrived with two aeroplanes, the aim being the first to fly to the North Pole. When there appeared to be no room for Byrd's ship to dock King's Bay alongside a ship occupied by the Amundsen/Nobile party, Byrd floated his aircraft ashore, lashed to a pontoon. Hearing that Byrd may get off the ground first Nobile tried to hurry up preparations for a premature departure of Norge but Amundsen refused to push off earlier than planned: An unplanned dash to the North Pole was not his style. At 2 a.m. Byrd took off to return triumphant at 5 p.m. Amundsen declared that he was delighted for Byrd as flying over the North Pole was only one of two projects.
Amundsen's wish granted
When Norge finally took off with Amundsen, Ellsworth and Nobile, along with Nobile's little dog Titina, on 11 May, Amundsen and Ellsworth had each brought along a tiny flag, no larger than pocket handkerchief to drop over the North Pole. Nobile however wouldn't have anything to do with this and upstaged both men by bringing along armfuls of flags.
Amundsen wrote ''The Norge looked like a circus wagon of the skies''. Nobile even produced one Italian flag so large he could hardly see out the window! When Nobile released this giant flag it clung to the front of Norge before flying to the back threatening to damage the propeller. At least five miles beyond the North Pole Nobile's giant flag ''fluttered free and sank swiftly to the surface of the ice below us''.
Later on in 1928 Nobile got into trouble when the Italia had crashed in the Arctic. Amundsen came out of retirement to volunteer to search for him. Amundsen wrote to his friend ''…If you only knew how splendid it is up there! That's where I want to die; and I only wish that death will come to me chivalrously''. Nobile had managed to get a wireless message out which had been heard by a Russian farmer.
Meanwhile, Amundsen took off from Tromsoe for the first leg of the flight to Spitzbergen in a Latham seaplane. Meanwhile, Nobile was found and rescued. But of Amundsen there was no sign until a pontoon from his plane was found floating in the sea off the Fugloe Islands ten weeks later. Amundsen's wish had been granted: He died in his plane while trying to save a man.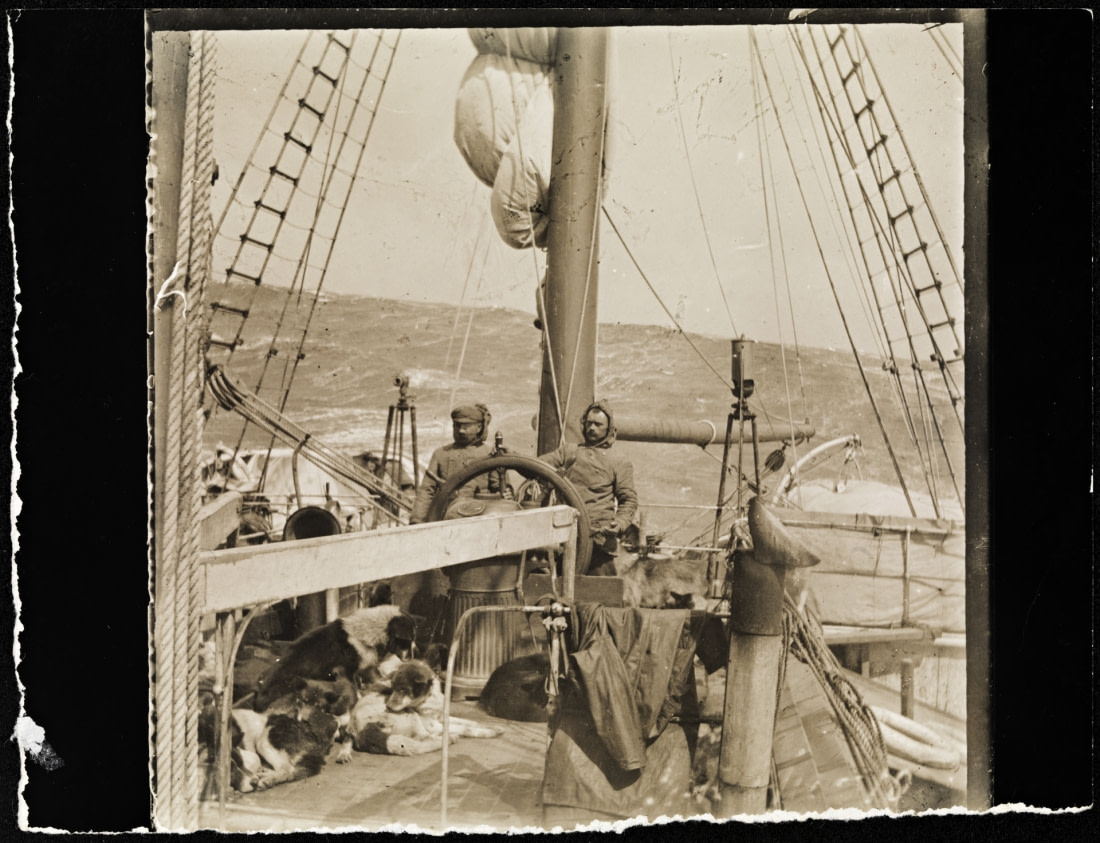 © National Library of Norway ("Fram" i høy sjø, 1910), via Wikimedia Commons