Antarctica – South Orkney Islands: A special visit to Orcadas Station
During our 19-day Antarctica cruise on board m/v Ortelius to the Falkland Islands, to South Georgia and the Antarctic Peninsula, we had the opportunity to make a very special stop. Thanks to favourable weather and ice conditions, we managed to visit one of the most remote Antarctic archipelagos, the South Orkney Islands, and the Argentine Station Orcadas.
Waking up south of 60 degrees
When we woke up to a magically calm morning on this 27th of December, a stunning sight was awaiting us. On our starboard side, jagged dark peaks with white glaciers were rising out of the sea like blackish teeth. In front of these islands, tabular icebergs had been parked.
Slowly, Ortelius made her way along the majestic archipelago that felt very much like Antarctica indeed, not just because it is situated below 60 degrees South but also because of its icy, monochrome appearance, and because of the sense of sheer inaccessibility surrounding it. Every minute revealed new glimpses of what lay ahead and to the sides of our trusted ship.
Spotting our first Adelie Penguins
Many times in the past years, voyages had tried for the South Orkneys and had been turned back by the ice. As the islands are situated more or less directly to the North of the Weddell Sea, infamous origin of many tabular icebergs, it can be very challenging to access the area. This time though, it seemed as if we were to be very lucky!
A big flock of cape petrels, each of them displaying a different black-and-white wing pattern, maintained ship speed, gliding low over darkish waters. Penguins were resting on big icebergs. They were chinstraps and Adelies – which meant we had spotted our first Adelie penguins, a true Antarctic species!
Antarctic angels, the unknown continent, and a group photo
By now, most of us had made it to the outside decks, marveling at the beauty of this remote region. Snow petrels appeared, dubbed "Antarctic Angels" for their beautiful all-white plumage. The jagged island peaks with their snowy tops and heavily glaciated areas gave us the feeling of truly having reached Terra Australis Incognita, the long unknown southernmost continent, and in order to celebrate this unique moment, we all gathered at the bow for a group photo, cheering, waving, and chatting.
The adventure continued, as it seemed almost impossible to find a proper landing spot anywhere in this sawtooth chain rising up from the sea. But sailing along the south side of Laurie Island, we suddenly spotted orange buildings on a small flat area: Orcadas, the Argentine scientific station!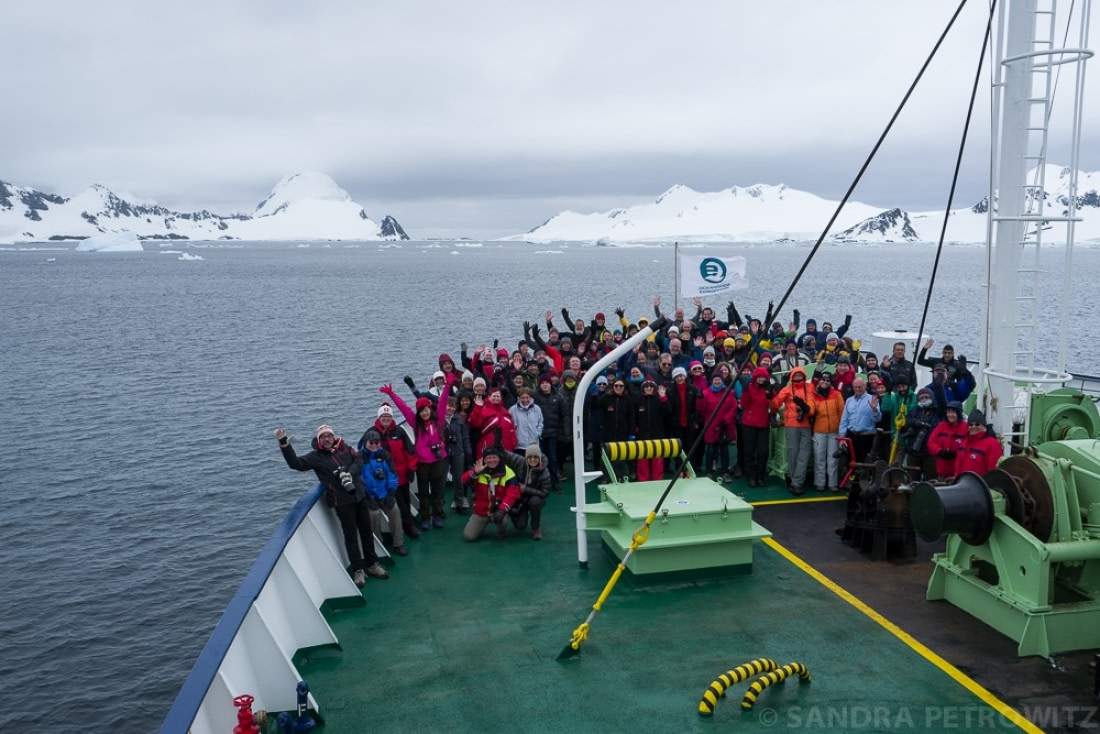 Traveling in the wake of William S. Bruce
Soon, the Captain had Ortelius anchored in Scotia Bay. This place was named after the famous Scottish National Antarctic Expedition of William S. Bruce which arrived in the South Orkneys in 1902. Its members established a base on Laurie Island, the remains of which are still visible. However, in 1904 – when the British government showed no interest in supporting the expedition and continuing the scientific work which among others had consisted of meteorological observations – Bruce decided to hand over the base to the Argentineans. Thus, the old base of the Scottish expedition became what today is known as Orcadas Station.
A warm welcome by the scientists
Once ashore, we stepped up a snow staircase chiseled out by the station team. There they were, in their bright yellow parkas, welcoming us and inviting us on a "tour de station". In small groups led by one of the scientists and an Oceanwide staff member each, we set off towards Omond House, the remains of the small hut erected by Bruce's expedition. It was not easy to walk on the snow but certainly good practice for what lay ahead in the days to come!
Accompanied by penguins
On our way towards the mast with flags, we met a couple of curious Adelie penguins. In their simple yet stylish black-and-white attire, these iconic little fellows looked like they were very surprised by our visit. Obviously, they had a hard time making up their minds regarding the colorful giant penguins that had just stepped ashore – should they address us? Run away? Stay and wait? None of that, or all of it? In the end, they decided to accompany us on our little walk towards the museum.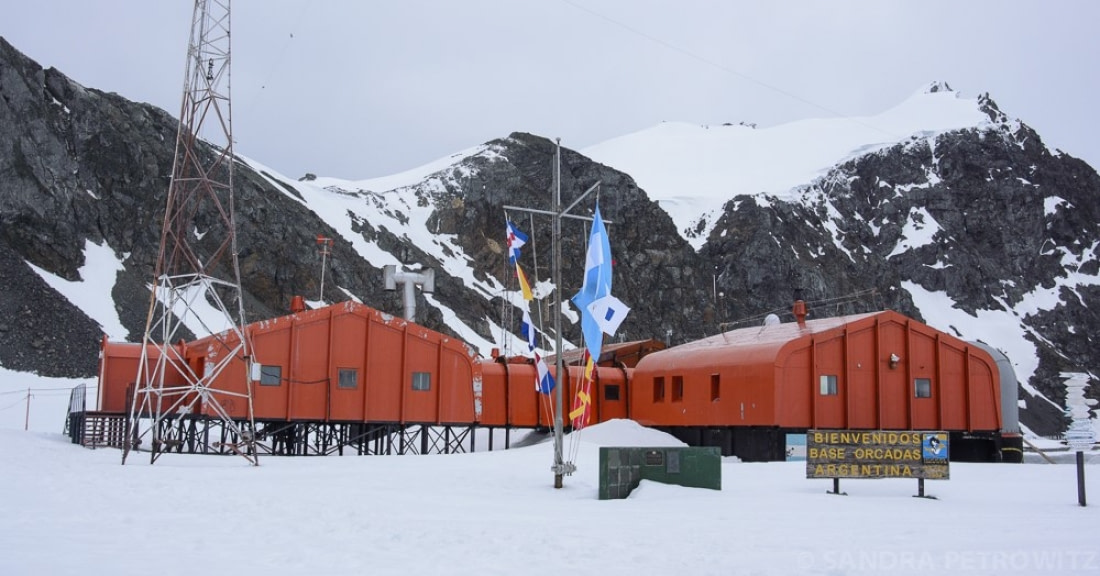 Daily expedition life: a glimpse into the past, and the present
Here, inside the "Casa Moneta" dating from 1905, we were able to get a glimpse of what (was) daily expedition life was back then: We curiously eyed the bunk beds and the dining room of the "Jefe de la Expedicion" and felt immediately thrown back in time – into a world without Gore-Tex, without modern insulated jackets, without an on-board coffee machine and tea station accessible 24 hours a day …
Tea and cookie time at the station
From the museum, we made our way to the cemetery and finally bridged the gap to nowadays by entering the modern living quarters of the 17 men stationed at Orcadas this season. In the main building, we were welcomed with tea and delicious cookies, and immediately took to the cozy atmosphere. Soon, everyone was engaged in talking to the very friendly station personnel who with endless patience answered all our curious questions. Earlier, we had learned that the scientists living here for a full year each did not only collect weather data but also studied the wildlife, namely the penguins, and made seismic measurements with instruments deep within the mountains behind the station.
Muchas gracias para todo – hasta luego!
It was a tough task to leave but as we did, we felt extremely grateful towards everyone at Orcadas Station. While we made our way towards Ortelius in our zodiacs, they kept standing on the beach, waving goodbye, their yellow parkas getting smaller and smaller and finally merging with the black, white and blue world around them. Muchas gracias for your immense hospitality, highly inspiring tour and endless patience, muchas gracias for this unforgettable Antarctica cruise!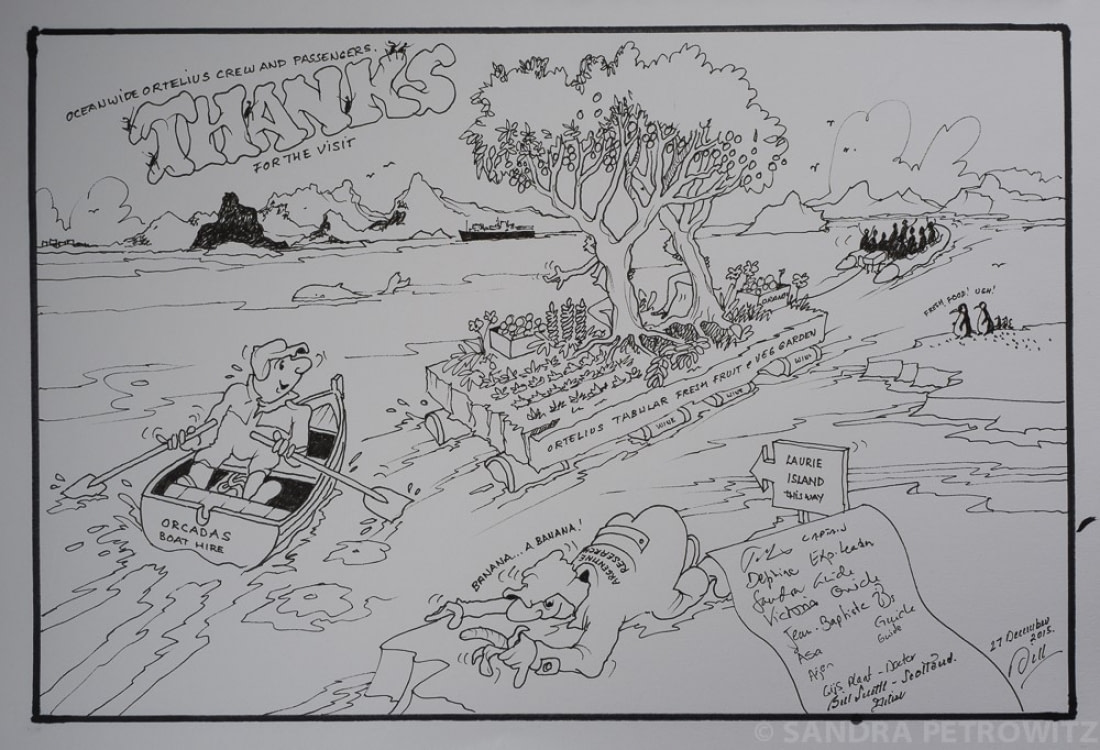 Drawing by Bill Smith (artist and part of the Oceanwide Expedition Staff), a gift to the Orcadas team