Q: What do I have to bring myself during a basecamp voyage?
We recommend the following items for your basecamp cruise:
Outer clothing layer
Windproof, waterproof, breathable jacket with hood
Windproof, waterproof, breathable pants/salopettes
Middle clothing layer
Synthetic/wool fleece/pile jacket/pull-on
Synthetic/wool fleece/pile pants/salopettes
Fleece vest or jacket
Base clothing layer
Synthetic/wool thin top (long/short sleeves/zipped)
Synthetic/wool thin pants/long johns
Neck, head, and face
Synthetic/wool balaclava or Neck gaiter/scarf
Synthetic/wool hat
Windproof cap with peak/ear protectors
Sun hat
Facemask
Feet and legs
Gaiters (Gamaschen)
Synthetic/wool thin/thick long socks
Thin synthetic under-socks (against blisters)
Woolen sleeping clothes and socks
Hands
Gloves (Gore-Tex outside, Thinsulate inside, preferably ski/snowboard gloves with grip)
Windproof mittens
Synthetic/wool thermal mitts/ finger gloves
Down mittens
Thin (base layer) synthetic/wool mitts/gloves
Mitt/glove support (around neck)
Eyes
Sun glasses/glacier glasses with sides
Spare glasses/lenses
Skin and hygiene
Sunblock, sunscreen, fatty lip salve (no water)
Eye mask/earplugs
Toiletry kit/towel
Miscellaneous
Personal medication
25-litre rucksack
One-liter water bottle
Waterproof bag (for camera equipment)
Film or memory cards
Snowshoeing and mountaineering
Please be aware that for some mountaineering activities, previous experience may be required. Having the correct boot type does not mean automatic inclusion for more technical activities. This is for your safety as well as our own. Please see our mountaineering manual for further information.
Mountaineers must bring their personal sturdy mountain boots with sufficient ankle support and stiff soles. Mountain boots must be designed to fit crampons. Crampons will be supplied on board.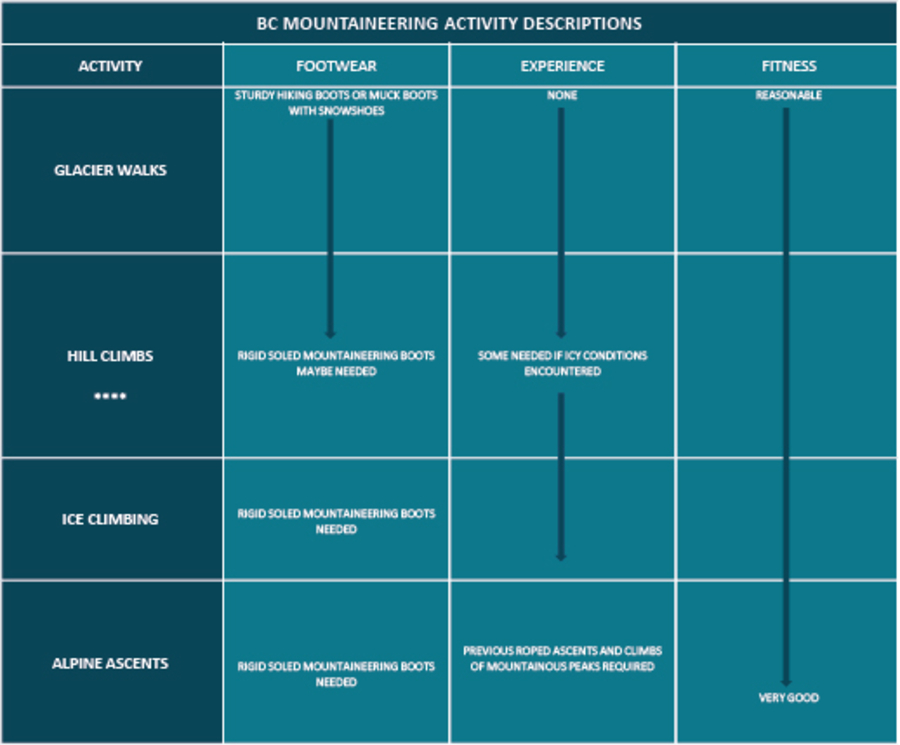 Can't find the answers you're looking for?
Contact our support team and we'll personally get back to you as quickly as we can.