Resuming our classic Arctic trips to Franz Josef Land
As the possibility of international travel slowly returns, we at Oceanwide Expeditions are eagerly awaiting all the great locations, activities, and wildlife we might experience in the coming season. One of the things we're most excited about is the return of our Franz Josef Land voyages.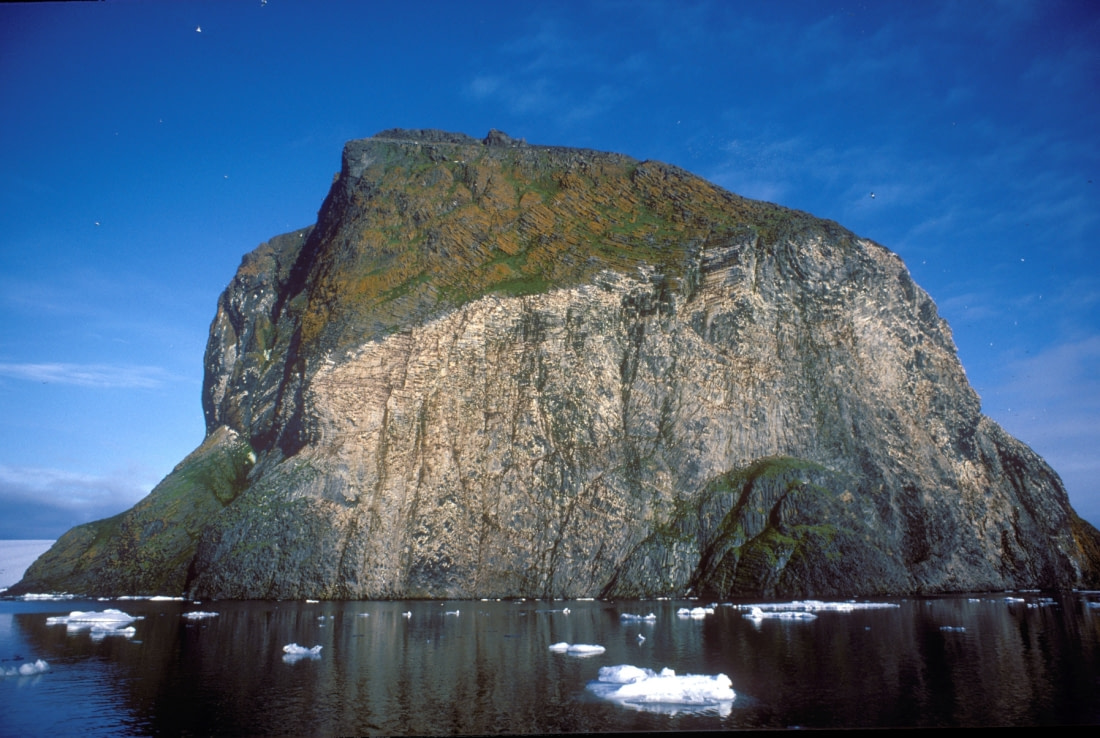 Rubini Rock. Photo by Rinie van Meurs.
Franz Josef Land used to be a classic part of our northern program until 2012, when we stopped visiting the area due to various difficulties involving bureaucracy and distance. But now that restrictions are beginning to lighten, we're looking forward to returning to one of our all-time favorite destinations for Arctic wildlife and history.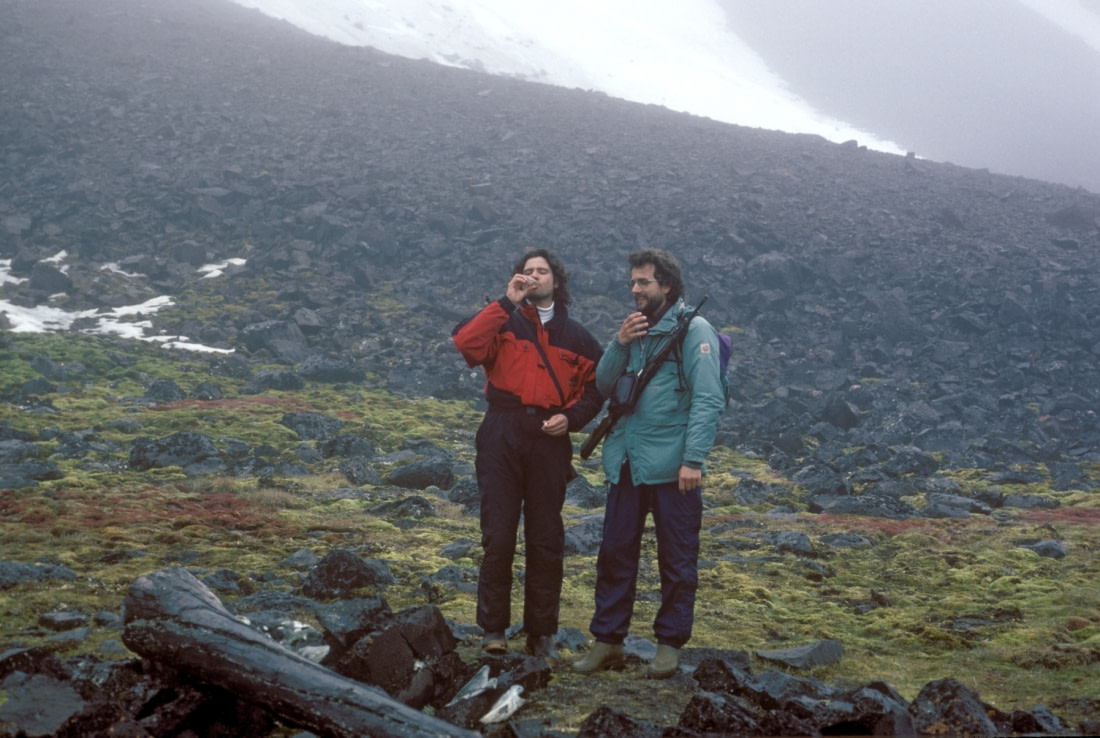 Rinie taking a toast to his first visit to Nansen's wintering hut (1994). Photo by Rinie van Meurs.
To highlight what makes Franz Josef Land so special, we talked to three experts who have been to this Russian archipelago many times: scientists Andrey Volkov and Maria Gavrilo and veteran expedition leader Rinie van Meurs. What they had to say about Franz Josef Land made us even more excited to go back than we already were.
The history and highlights of Franz Josef Land
"I've been visiting Franz Josef Land since 1992," says Rinie van Meurs, a Dutch expedition leader and one of Oceanwide's most long-standing guides. "That was on the m/v Professor Molchanov, the first Russian ship involved in this industry, and our voyage to Franz Josef Land was the first tourist expedition cruise there."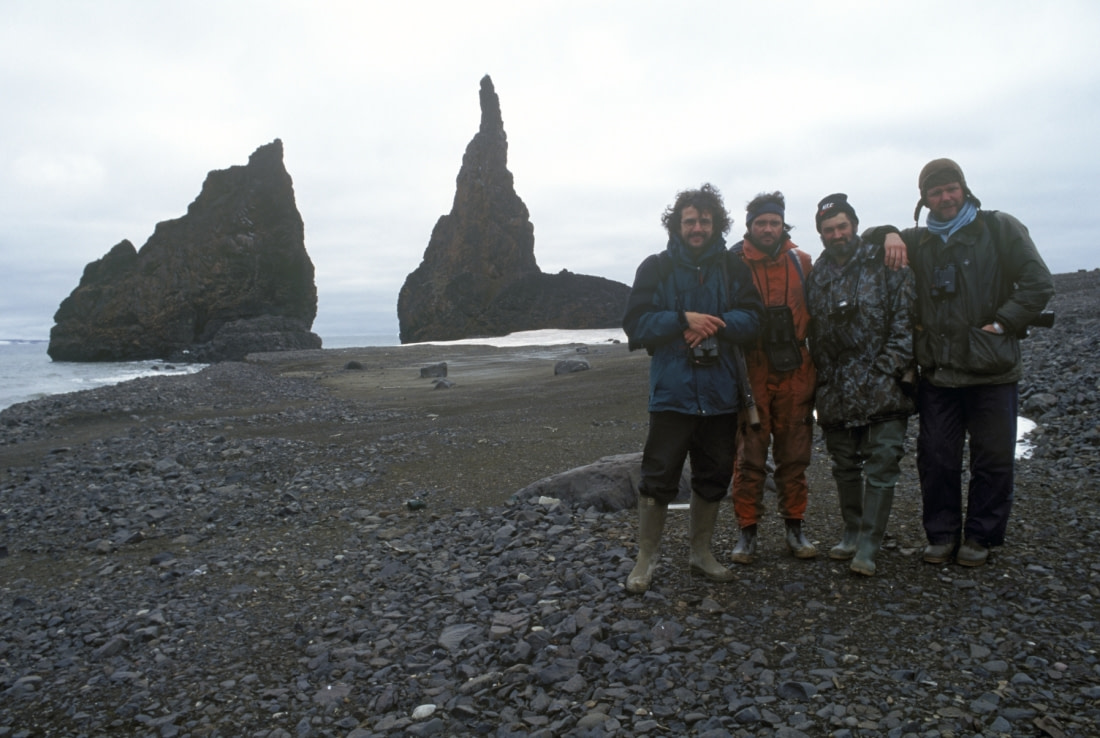 The 1997 expedition team at Cape Tegetthoff. Photo by Rinie van Meurs.
Molchanov was one of Oceanwide's first vessels, and Rinie was one of our first guides. He has been with OEX since its formation in the early 1990s and has many good things to say about Franz Josef Land.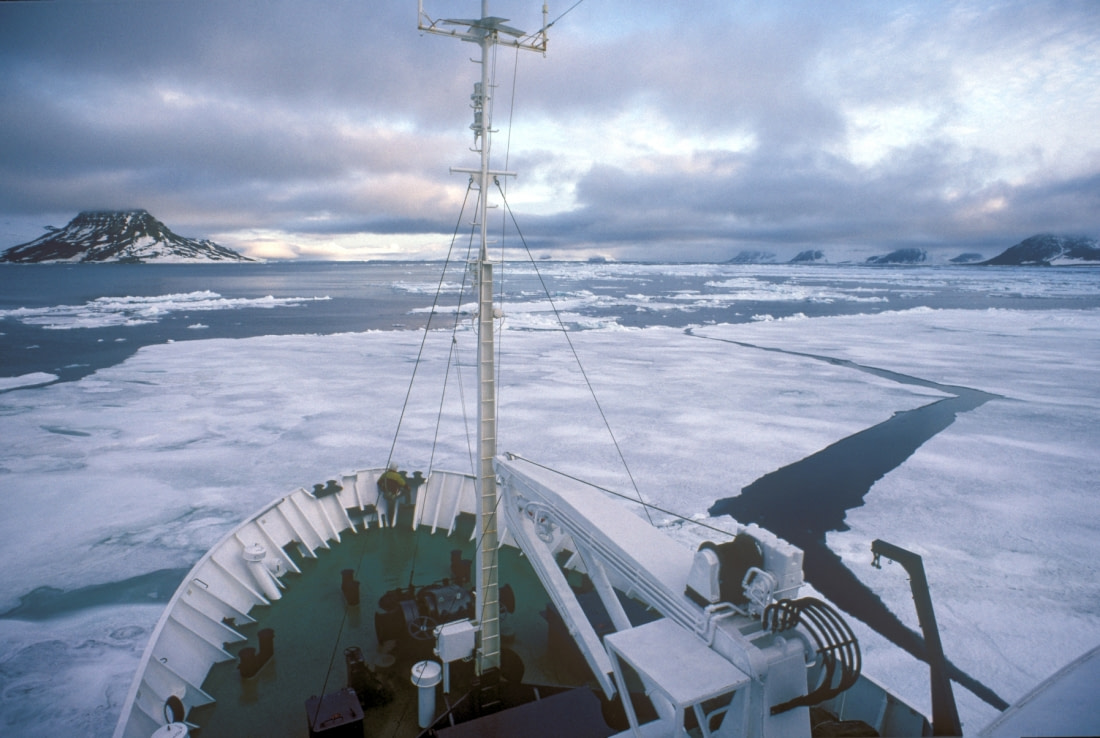 The expedition ship "Professor Molchanov" in the sea ice looking for a passage. Photo by Rinie van Meurs.
"Some of my best expeditions have been there," he explains. "One time we even found the remains of a lost food depot from the Baldwin-Ziegler Expedition of the early 1900s. Historians had been looking for that for years, so it was quite an event. Our Franz Josef Land voyages were always popular."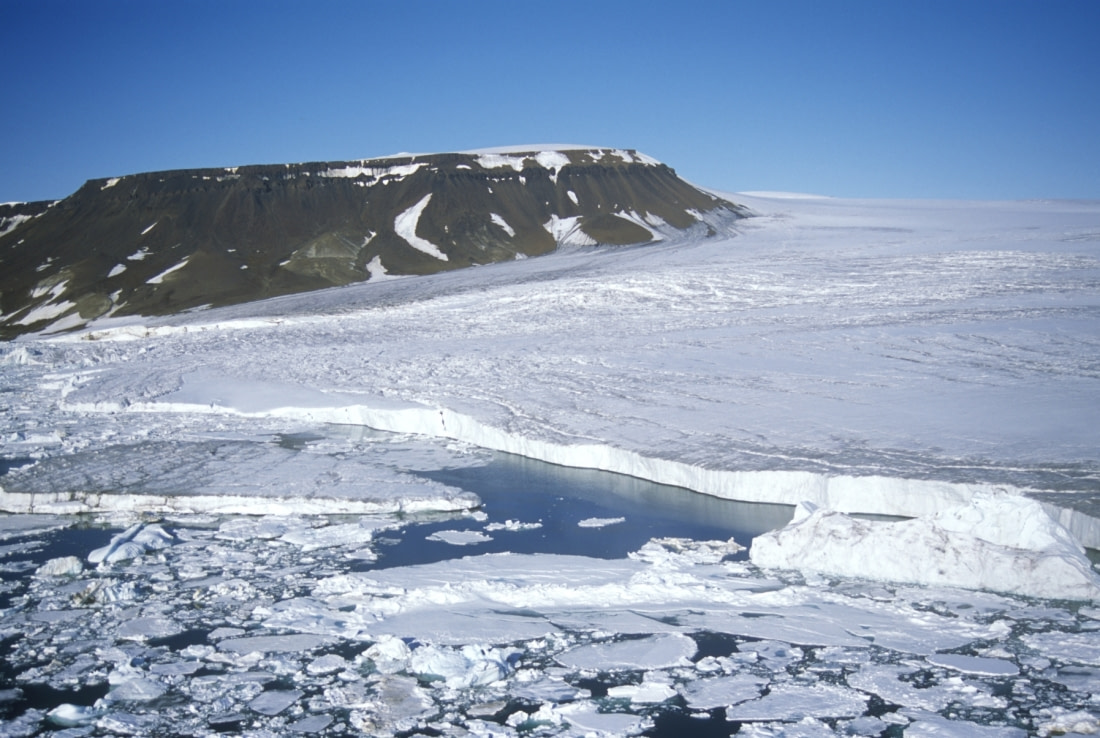 Glacier Ziegler Island. Photo by Rinie van Meurs.
When asked why such well-received trips were discontinued, Rinie cites the difficulty of local bureaucracy at the time. He also says the two-day voyage to Franz Josef Land can turn some travelers off. But as travel restrictions are lightening now, the Russian government has been more open to tourism than in the past.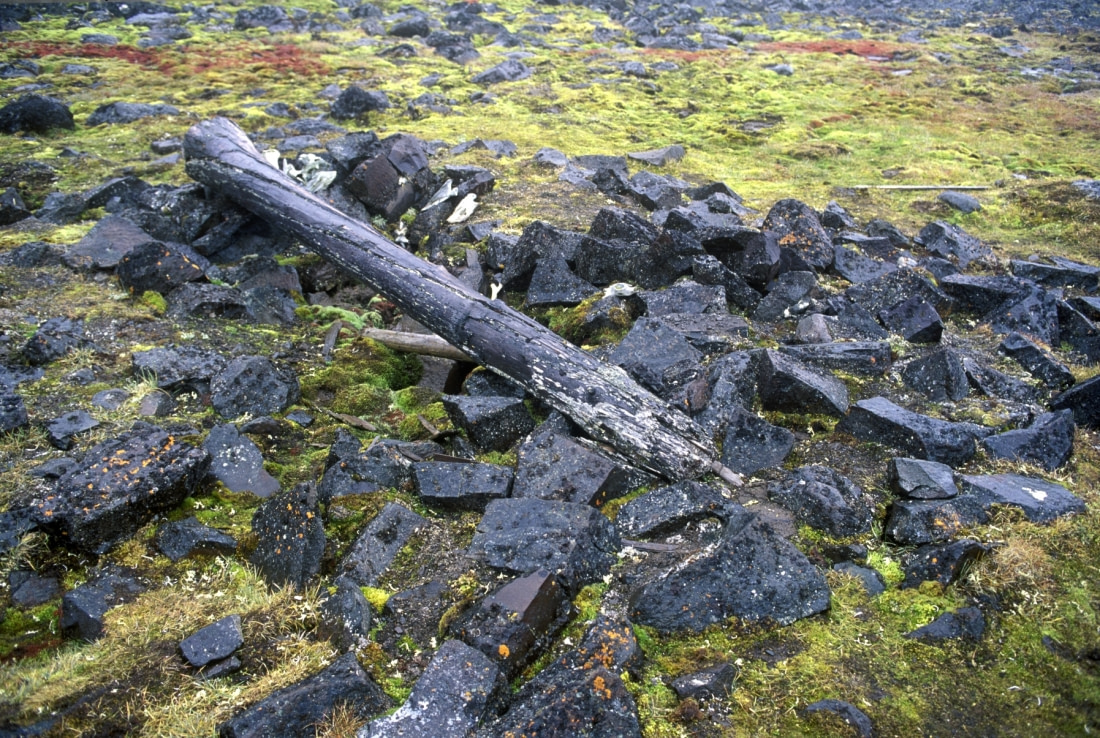 Remains of wintering (1895-96) hut Nansens and Johansen at Cape Norvegia. Photo by Rinie van Meurs.
"Not only that," he says, "but the ice conditions are getting better, at least in terms of sailing. This enables us to see more historical sites and wildlife, which are the strong points of Franz Josef Land."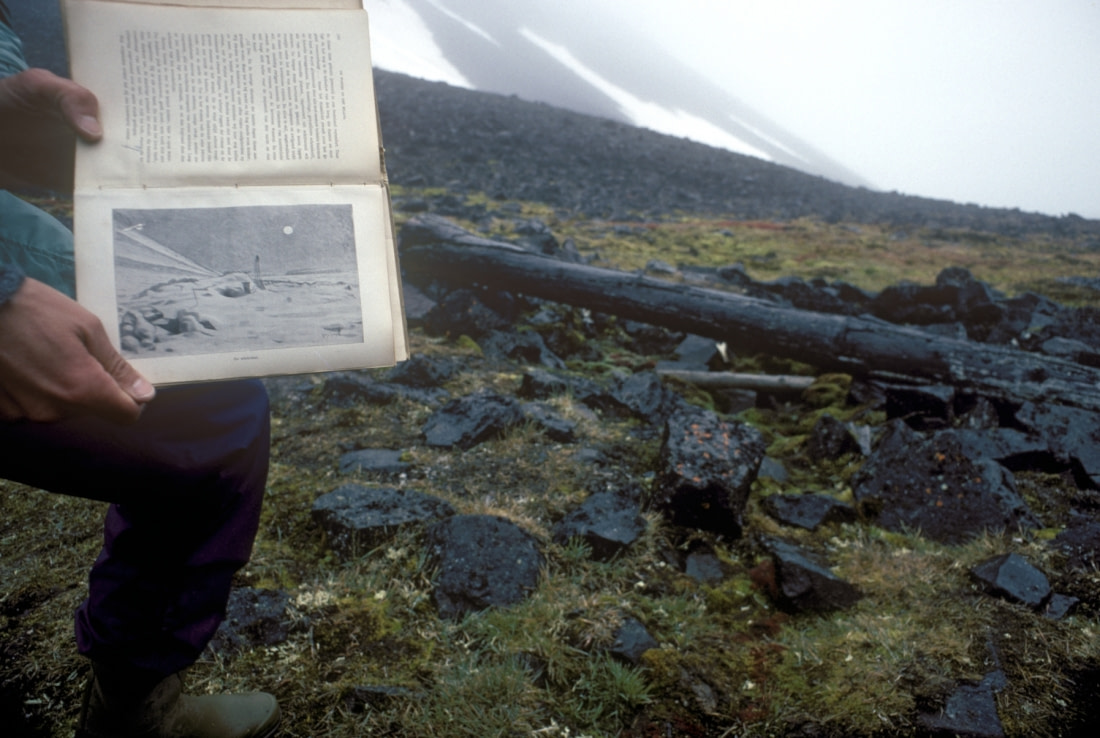 Drawing by Nansen and remains of his wintering hut in background. Photo by Rinie van Meurs.
Scientist Andrey Volkov agrees: "Oceanwide's program in Franz Josef Land focuses on many of its best wildlife features, such as the ivory gull colony near the Russian base, Nagurskoye. History lovers will also enjoy seeing Tikhaya Bay, where Georgy Sedov wintered in 1913 – 14 during his expedition to the North Pole."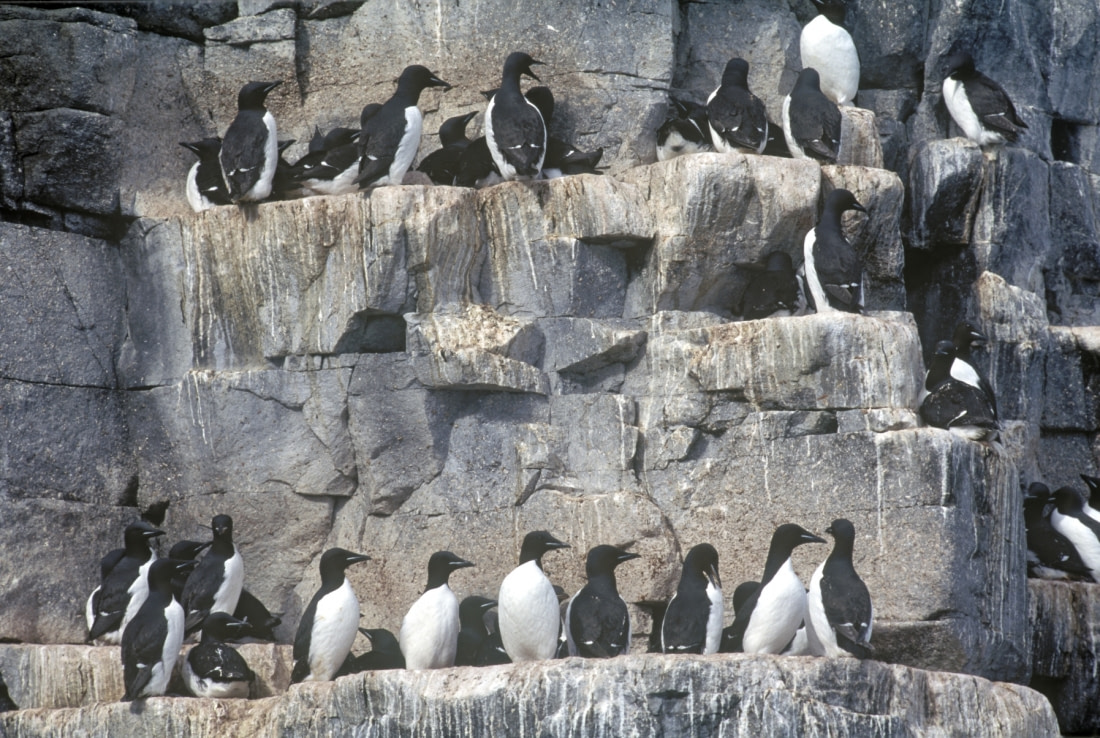 Brunnich's Guillemots at Rubini Rock, Franz Josef Land. Photo by Rinie van Meurs.
Dr. Maria Gavrilo, who leads the Open Ocean Project for the Association Maritime Heritage, had even more praise for Franz Josef Land. "There are numerous seabird colonies inhabited by little auks, thick-billed murres, and black-legged kittiwakes, to name just a few," she says. "Franz Josef Land also has the largest breeding populations of ivory gulls in all of the Barents Sea."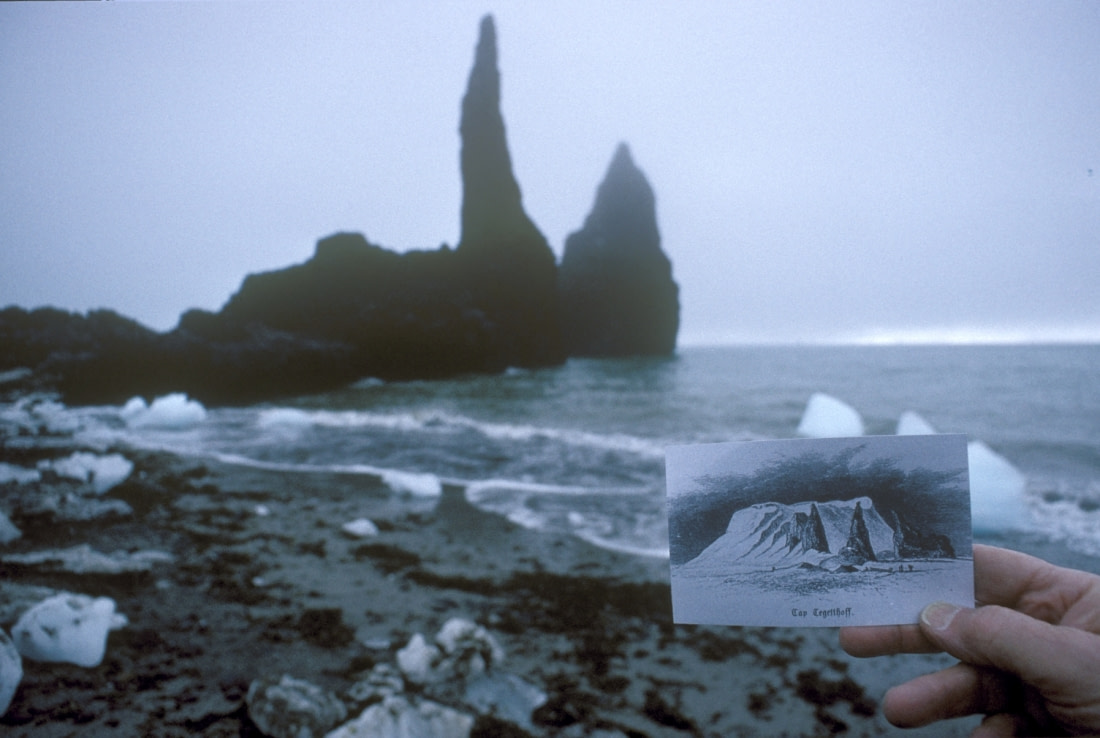 Cape Tegetthoff (copy from Payer's drawing in foreground). Photo by Rinie van Meurs
She goes on to explain that Franz Josef Land's ice leads and polynyas (fissures and open areas of water among the sea ice, respectively) sustain rich marine life, such as bowhead whales. "Franz Josef Land is a great place to search for walruses and polar bears, and in fact it shares a common population of these animals with Svalbard."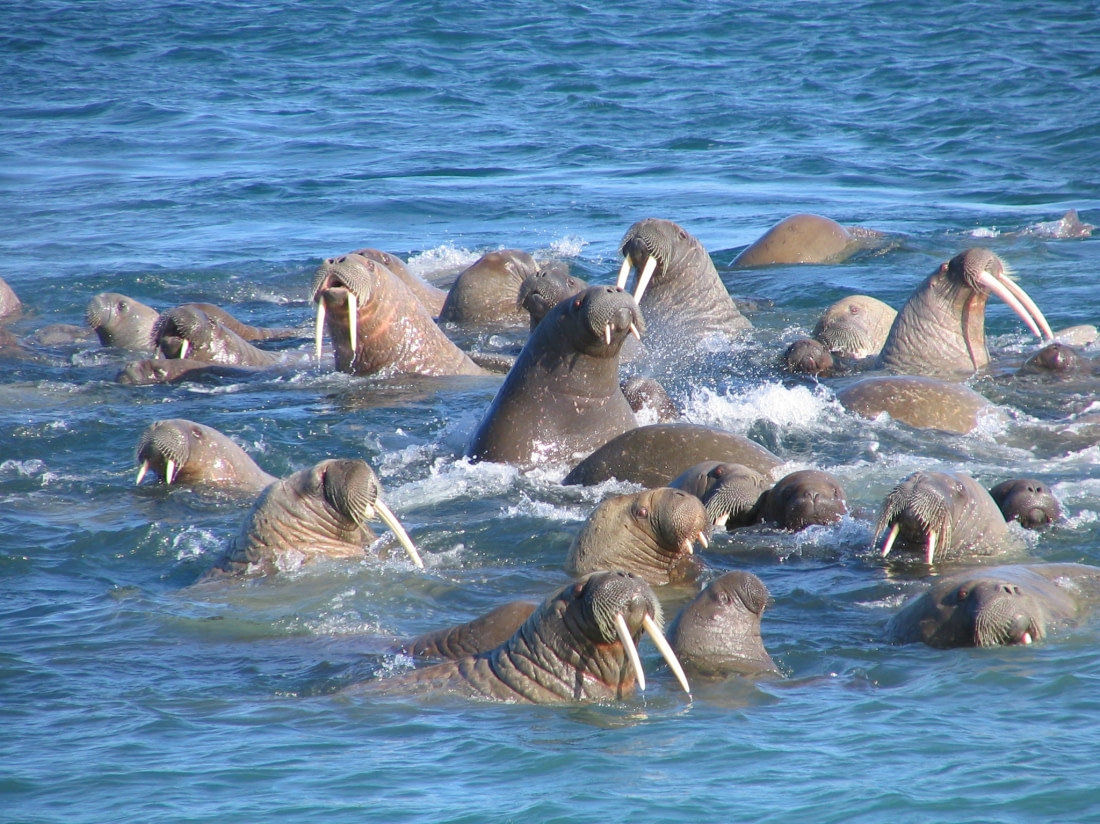 Walrus at Appolonov Island, Franz Josef Land. Photo by Andrey Volkov.
Even the rarely spotted narwhal, Maria explains, might appear around Franz Josef Land: "They're sometimes seen in the deep straights and surrounding waters during the summer and spring. And because Franz Josef Land's animals seldom encounter humans, they remain distinctly wild."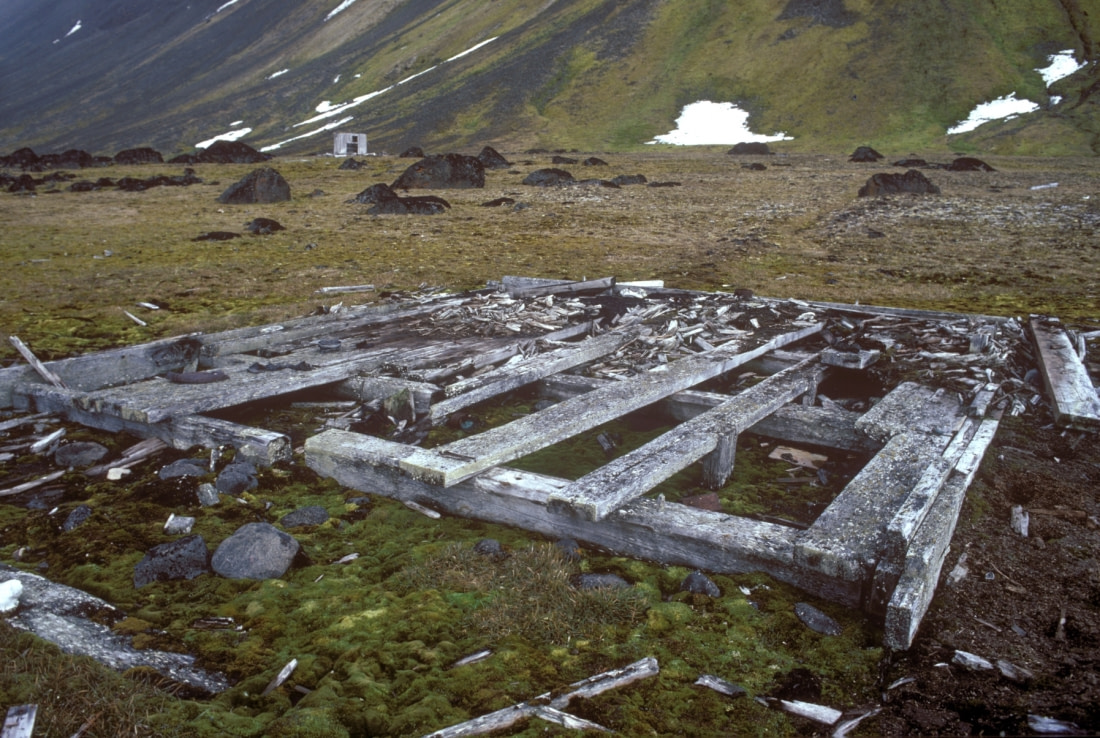 Remains of huts "Elmwood" of Jackson expedition at Cape Flora on Northbrook Island. Photo by Rinie van Meurs.
In addition to wildlife, there are considerable historical remains that can be seen around Franz Josef Land. "Many expeditions took place there," Maria says, "so visitors now have the chance to see a lot of historically and culturally important sites."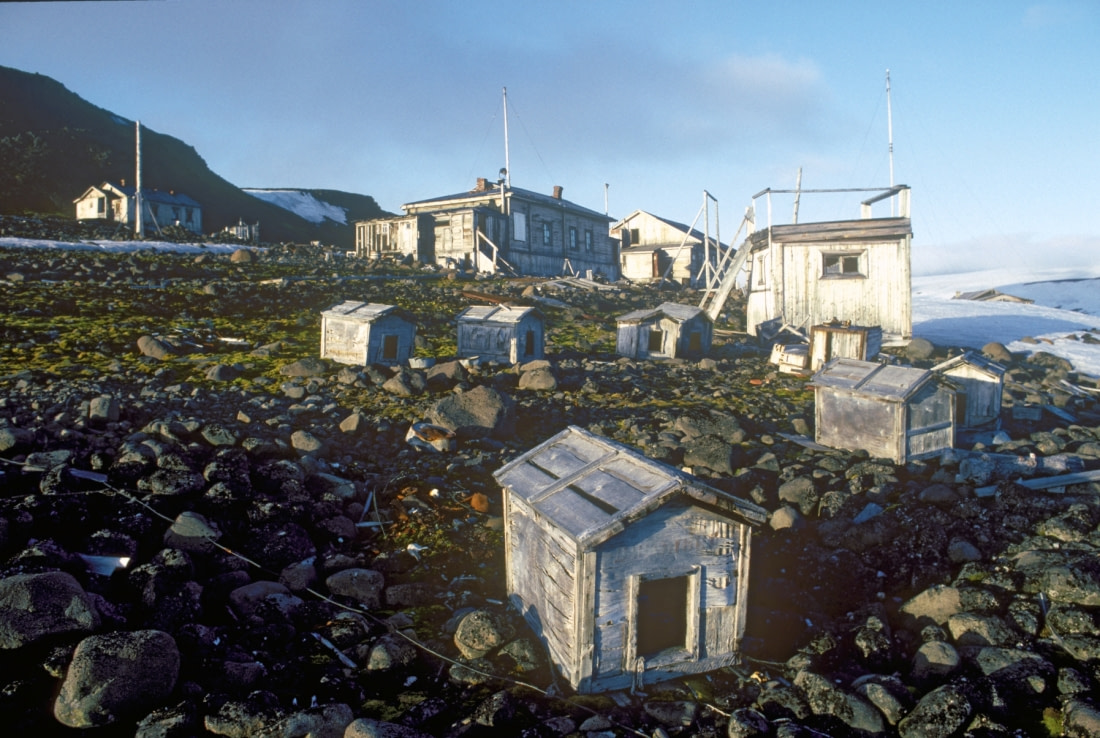 Old Russian station, Tichaja Buchta, Franz Josef Land. Photo by Rinie van Meurs.
Rinie says the same thing: "In Teplitz Bay, you can see the remains of Italian and American expeditions from the late 1800s to the early 1900s. At Cape Flora on Northbrook Island, you can visit an area where several expeditions had bases over a century ago. You might even see Bell Island, near Eira Lodge, where British explorer Benjamin Leigh Smith built his station in the late 1800s."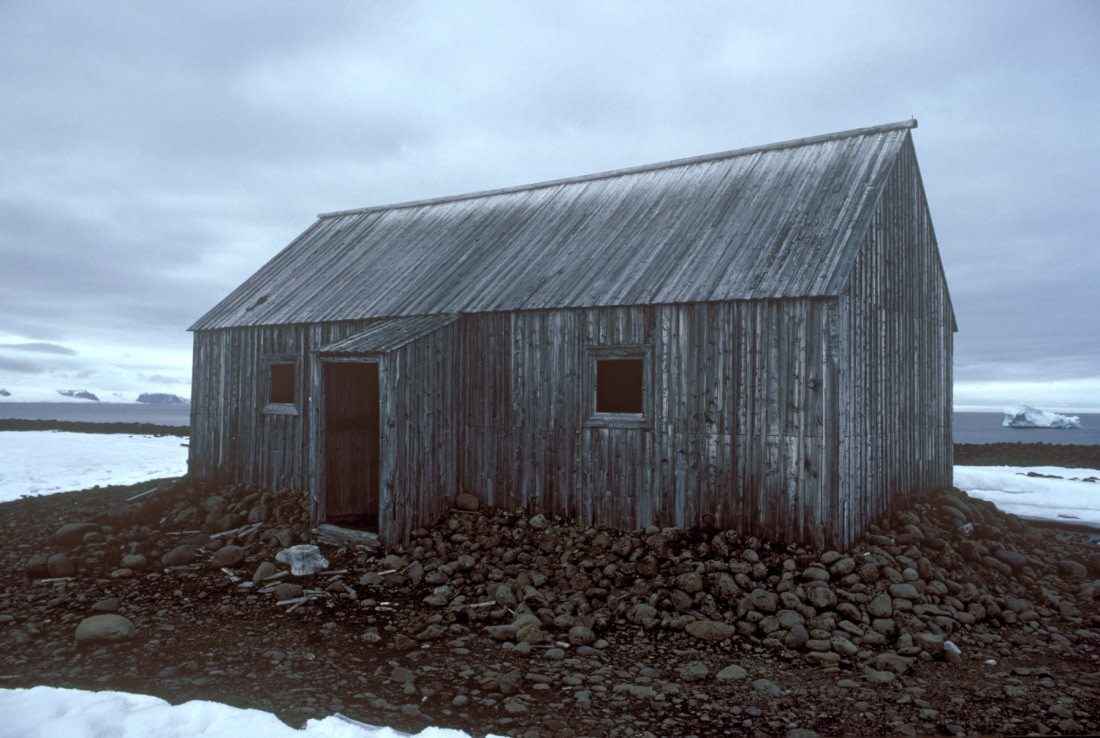 Store house built by Leigh Smith on Bell Island named "Eira Lodge" after his ship Eira. Photo by Rinie van Meurs.
"Wildlife and history," he says, "is what you come to Franz Josef Land for."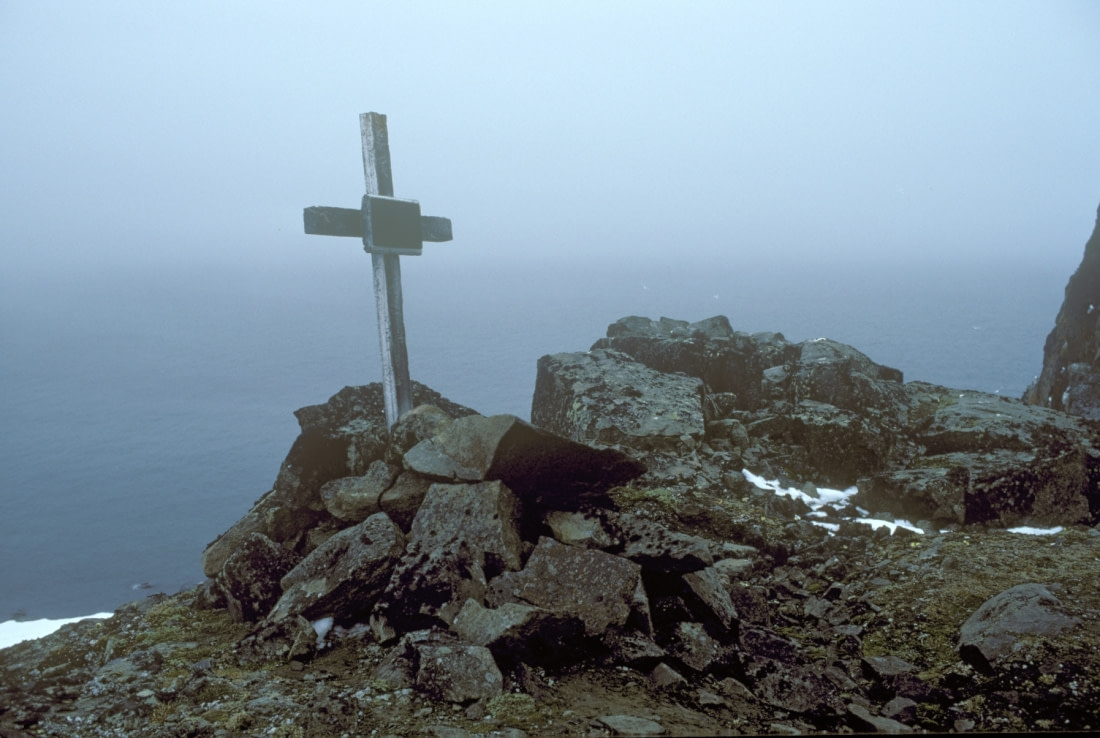 Otto Krisch's grave on Wilczek Island. Photo by Rinie van Meurs.
But it's also the incredible remoteness that makes a Franz Josef Land trip so unique, Rinie explains. This, he feels, is among the area's most striking features. "It's one of the most isolated places on our planet. It's almost scary, being there. It is not like any other place in the Arctic."