With temperatures like this, it is vital to be prepared. In fact, it is life threatening if you aren't. My first impulse, when planning my journey to the Ross Sea during the heat of mid-summer Brisbane, was to dig out all my warm clothing and just add what was needed.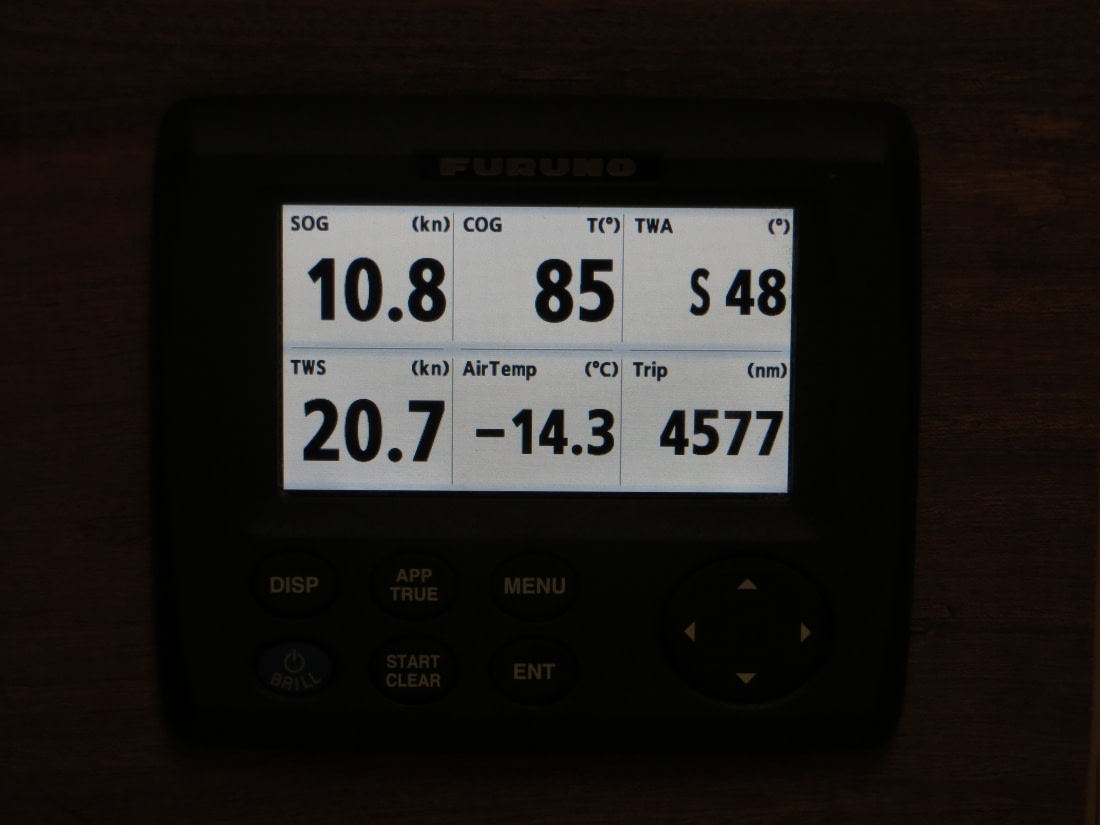 I walked into the Paddy Pallin store in Fortitude Valley and a young man asked if he could help. I said I was preparing for a trip to Antarctica, (although I still couldn't believe it was actually happening). He was heading to the Himalayas, which meant he knew exactly what I would need. It was critical to try the whole kit on before settling on sizes. The more layers, the larger the next garment needs to be. Just imagine climbing into all I was taking in a small dressing room in 30-degree heat!

By the time I left the store, my wallet was considerably lighter, but I trusted his judgement. Wisely, as it turned out. All those warmies I already owned and had planned to take? Only the beanie and the Polartec® jacket proved worthwhile. Forget about bulky warm coats. The secret to success is layering. Many layers. And, so important, never have cotton next to your skin. If you sweat, the moisture turns to ice. Imagine finding a slab of ice inside your shirt. It did happen.

So, this is what I took with me:

Upper body
First and second layers – two thermal tops, one close fitting with extended cuffs that include thumb holes. (They ensure there is no gap between gloves and bottom of sleeve), the second one looser. They wick moisture away from the body.
Third layer – polyester skivvy (absolutely not cotton).
Fourth layer – polar fleece sleeveless vest.
Fifth layer – polar fleece jacket.
Sixth layer – goose-down jacket (every girl should own one of these)⎯although I found it very delicate, and the outer material tore very easily.
Seventh layer – waterproof and windproof shell that goes over everything. I chose Hydronaught instead of any other alternative as I liked the feel of it and the fact that it is 100% waterproof, totally windproof, it actually breathes and wicks moisture to the outside, and is extremely durable. It did not fail me. Even when I was being slapped by sea spray that snap froze as it left the wave. My coat turned white, but I remained completely dry and warm. It also withstood very rough treatment sitting on sharp rocks surrounded by inquisitive penguins. If it is possible to love a piece of clothing, then I am guilty.
Legs
Undergarments – two sets of thermal leggings. Again, one close fitting, one a bit looser. I made sure they were very stretchy and would not inhibit movement.
Third layer – heavy corduroy pants, obviously large enough to fit over two sets of thermals, but also loose enough around the knees to allow for flexibility.
Fourth layer – waterproof pants. It is worth spending the extra to buy ones that are lined, have a zipper that reaches from ankle to knee, with a clip to fasten, and an elastic cord to tighten around the ankle. Particularly when wading through elephant seal wallows. The more expensive ones also come with zippered pocket slits to enable you to reach your trouser pockets if needed.
Head
You can't compromise here.
Balaclava – a good-fitting Polartec® balaclava (I chose Windstopper) with a gauze section beneath the nostrils to allow you to breathe. When not used as a head cover, you can pull it back from your head and use as a neck warmer.
Beanie – a Polartec® beanie over the balaclava.
Sunglasses – for all those hours watching ice and shining water.
Feet
It depends on what footwear is provided. Most voyages supply sturdy, industrial-strength rubber boots that reach the knee and have thick soles. They look warm, but they need help.
First layer – fine merino sock liners.
Second layer – thin woollen socks

Gloves
I took three different gloves with me, and they each had their use.
Liners – most importantly, a pair of merino glove liners to either wear when it's not that cold, or to add warmth beneath your real gloves. They are also handy for operating the camera if it is not too cold.
Woollen gloves if there is no water or ice. Also handy around the ship
Wool-lined rubber gloves for on the Zodiac. These are actually Australian Antarctic Division issue, and were given to me by an Antarctic scientist friend.
Padded ski gloves. I found these the warmest when the day was the coldest and there were no moisture issues. Some of my fellow expeditioners had mittens that flapped open to reveal fingerless gloves for operating cameras. Next time, I would probably choose these.
In choosing the waterproof layers, there were certain features that made life much easier. Thinking and moving take on different dimensions when you are being hit by a blizzard. My coat had a large pocket on the outside of the left-hand side with an easy-to-operate zip with long toggle. Being right-handed, this was a plus. It was capacious enough to contain my digital camera and camcorder, although it needed to be zipped up all the time, as I found to my cost. On two occasions I dropped both cameras, being in a rush to film, then bending over without zipping the pocket closed.

The coat zipped right up to my nose, which was good at keeping out the wind and snow, but made it more difficult to breathe and fogged my glasses. I had to pull it down to take a breath, then zip it up to get warm again. The coat also had a velcro tab at the back of the neck, enabling easy adjustment of the front peak over my forehead.

It had two deep pockets below the waist, but if I carried anything in these, it inhibited leg movement. I had chosen a long coat down to my knees which was terrific when sitting on penguin poo-covered rocks, but I had to leave the zip open at the bottom, again, for ease of leg movement.

I remained completely warm and dry with the above combination, although my hands were a little chilled at times. The only time I experienced moisture inside was when I wore a cotton skivvy. All other clothing wicked the moisture out.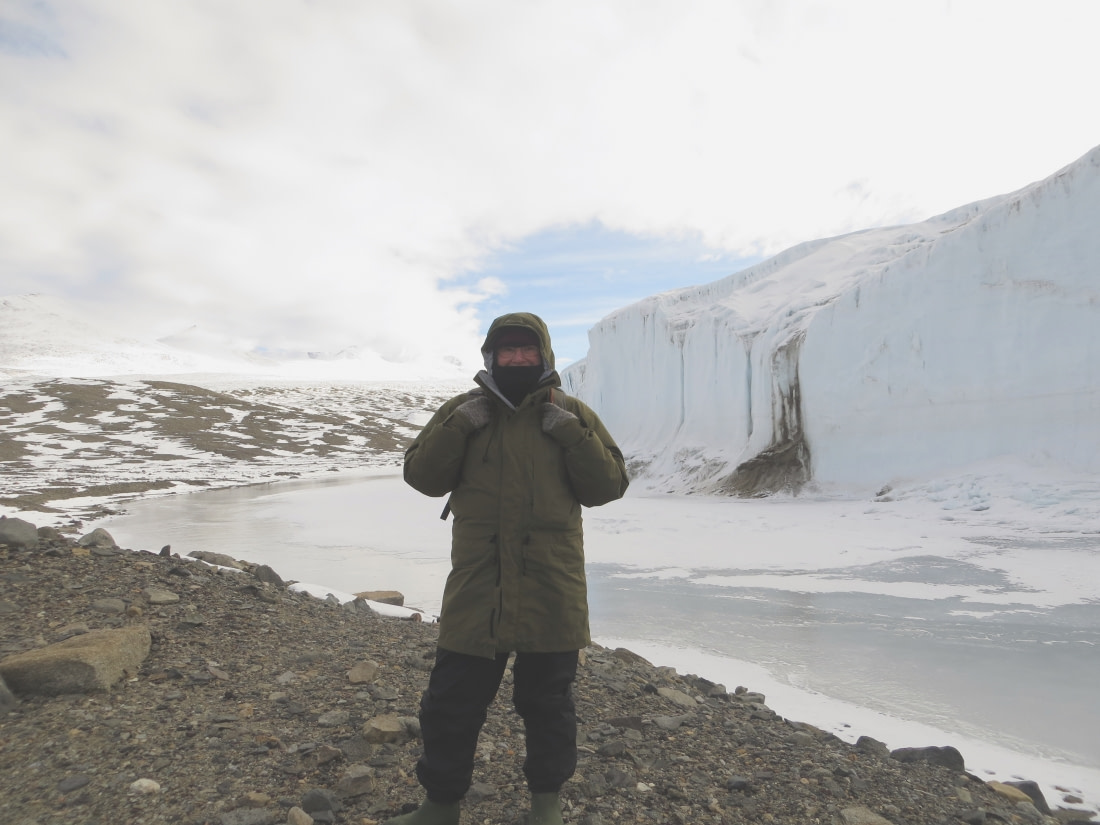 And on top of everything went the life jacket. I could barely move once it was strapped on. However, we were not allowed to go off the ship without it, and a complete waterproof shell from head to toe. Pride took second place.
About the writer
Dale Lorna Jacobsen is a freelance writer. She is passionate about grass-roots history, which led to the publication of two novels: Union Jack (2011), political intrigue set in Queensland in the 1920s; and Yenohan's Legacy (2013), a story of love and life in the High Country of Australia. Dale has won awards for her short stories, including ABC Short Story Award in 2005 for The Pilot. In January 2013, Dale fulfilled a lifetime dream when she boarded Ortelius for a 32-day expedition to the Ross Sea in Antarctica. Read more of her adventures illustrated with beautiful images and links in her iBook: Why Antarctica? a Ross Sea odyssey. Kindle version | Mac or iOS version.