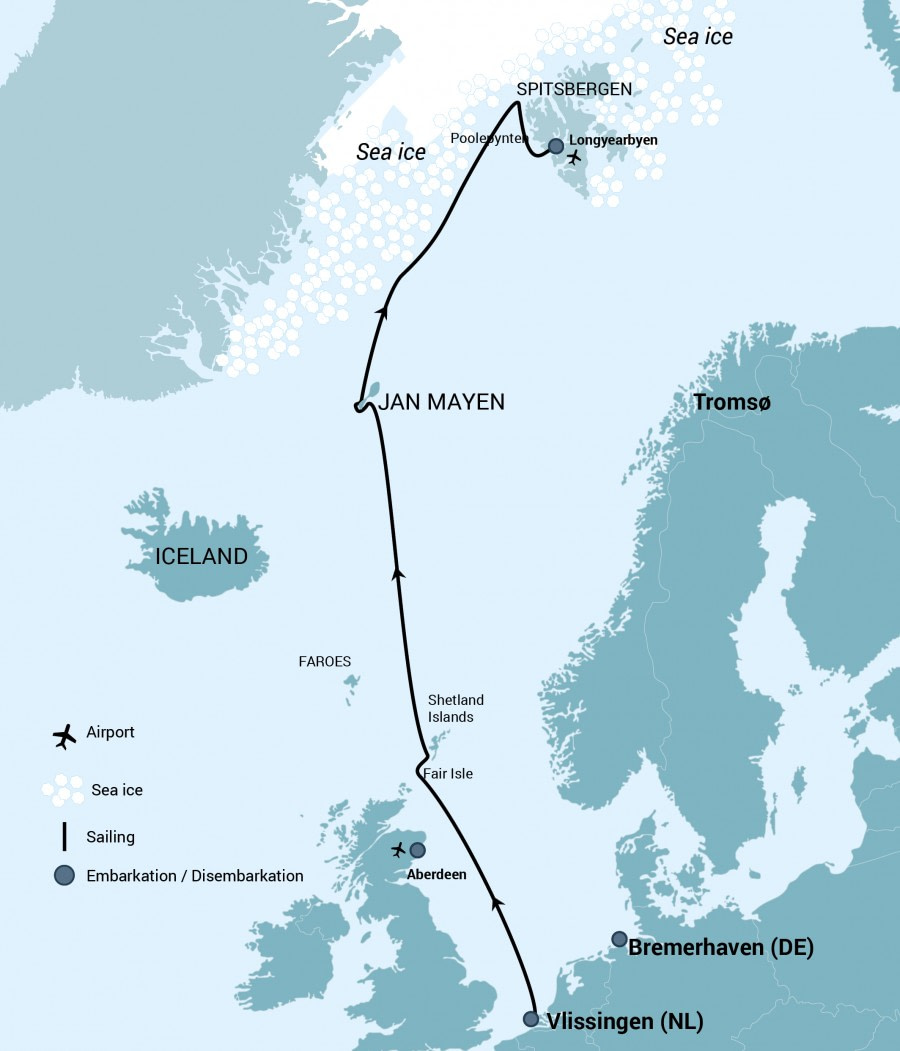 | | |
| --- | --- |
| Titel: | Arctic Ocean Expedition, Fair Isle - Jan Mayen - Ice Edge - Spitsbergen |
| Reisdatum: | |
| Reiscode: | PLA01-23 |
| Duur: | 11 nachten |
| Schip: | m/v Plancius |
| Inscheping: | Vlissingen |
| Ontscheping: | Longyearbyen |
| Taal: | Engelstalige reisleiding |
| Meer over: | |
LET OP:
All itineraries are for guidance only. Programs may vary depending on ice, weather, and wildlife conditions. Landings are subject to site availabilities, permissions, and environmental concerns per AECO regulations. Official sailing plans and landing slots are scheduled with AECO prior to the start of the season, but the expedition leader determines the final plan. Flexibility is paramount for expedition cruises. The average cruising speed of our vessel is 10.5 knots.
Search for whales, and other Arctic wildlife of the land, sea, and air on an adventurous voyage from our home port of Vlissingen to our favorite Arctic island group.
You board the vessel at midday in Vlissingen, headed north. Far north.
Day 2 – 3: Sea life on the move
Crossing the North Sea and sailing by Doggersbank, we hope to be lucky enough to spot such species as white-beaked dolphins, harbour porpoises, minke whales, and orcas.
Day 4: Birds, seals, and world-famous knits
At Fair Isle, in the Shetlands, the roughly seventy inhabitants (renowned for their knitwear) welcome you for a walk to the local bird observatory. This location is a haven for sea birds, though you may also spot grey seals.
Day 5 – 6: Jan Mayen marine life
You sail north to the Norwegian island of Jan Mayen, 300 nautical miles northeast of Iceland. Your two days at sea do not pass idly, however. Keep a close lookout for any spouts of water from the surrounding seas, heralding the arrival of a minke, fin, orca, or blue whale.
Day 7: Snow-capped seaside volcano
Jan Mayen is a stark volcanic island crowned by the snow-capped summit of Mt. Beerenberg. From the slopes of this imposing 2,300-meter-high (7,545 feet) volcano, broken glaciers grasp out into the frigid sea. With permission from the Norwegian authorities, you can now visit the weather station. You can also walk to the remains of a 17th- century Dutch whaling station amid the thick moss beds of this stark volcanic landscape.
Day 8 – 10: Under the midnight sun & along the ice edge
Basking in the midnight sun, you sail north along the edge of the sea ice in search of bowhead whales, harp seals, polar bears, and a variety of seabirds. You then change direction after about 79° north, cutting east to the rocky edges of the continental shelf of west Spitsbergen. Here you have a good chance of seeing fin whales and – near the glacial mouths of the gaping Spitsbergen fjords – surfacing minke whales.
Day 11: The Arctic island of Spitsbergen
Forlandsundet, between the main island of Spitsbergen and the narrow Prins Karls Forland, is a place of great beauty and fascinating wildlife. Walruses sometimes haul out here. Alternatively, you might sail into St. Johns Fjord or head south to the mouth of Isfjorden, landing at Alkhornet. Seabirds nest on these cliffs, Arctic foxes search below for fallen eggs and chicks, and reindeer graze the sparse vegetation.
Day 12: Journey's end in Longyearbyen
Every adventure, no matter how grand, must eventually come to an end. You disembark in Longyearbyen, the administrative center of Spitsbergen, taking home memories that will accompany you wherever your next adventure lies. But if you're still craving additional chances to spot the Arctic's most iconic apex predator, stay on board for our seven-night north Spitsbergen voyage, "in search of polar bears & pack ice."
Highlights die u kunt ervaren
m/v Plancius
Ons ijsversterkte schip m/v Plancius is een uitstekend schip voor expeditie reizen in het noordpoolgebied en Antarctica. Naar schip »