How do the Arctic areas of Svalbard and northern Canada compare?
It's tempting to think the Arctic is the same wherever you go, a vast region of far-north freeze pulverized into conformity by snow, ice, and months of unrelenting darkness.
Such is not the case. In fact, the Arctic is distinct pretty much anywhere you go.
But a comparison we're often asked to make is between Svalbard and the Canadian Arctic. While Svalbard is one of our favorite expedition areas that we've been exploring for over thirty years, we do not actually offer trips to the Canadian Arctic.
Nevertheless, you have asked and we will answer.
Svalbard vs. Canadian Arctic wildlife
Svalbard is known for its abundant, diverse, and beautifully exotic wildlife. Probably the most popular of these is the polar bear, which the Svalbard island group gives visitors the chance to see. But bears are far from the only star among Svalbard wildlife. There are also walruses, Arctic foxes, reindeer, seals, whales, and various seabirds: puffins, kittiwakes, little auks, and more.
The Canadian Arctic supports most of the animals listed above, though in different quantities depending on where you go. While you can see caribou on Svalbard in the form of the Svalbard reindeer, you can only see musk oxen in Canada (and Greenland, which we also visit). Belugas and bowhead whales may also appear, though you can see these in Svalbard too.
So it seems there's not a big difference so far. Let's dig a bit deeper, then.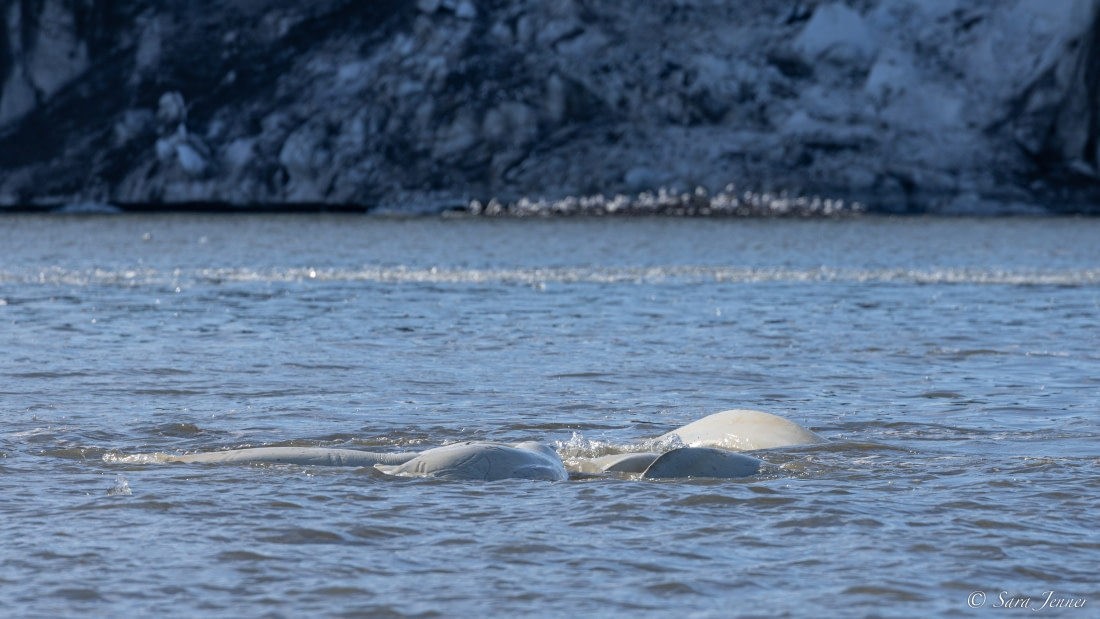 Picture by Sara Jenner
Svalbard vs. Canadian Arctic scenery
It's a testament to the beauty of Arctic landscapes and ice formations that they can hold their own against the wildlife. Svalbard offers scenery in spades: colossal glaciers, snowy mountains, and numerous rugged fjords. The archipelago also boasts expansive bays glittering with icebergs, colorful tundra, and eye-popping cliffs (like Alkefjellet) where birders will have a field day. The weather is also milder than other regions at its latitude due to the Gulf Stream.
The Canadian Arctic has a more diverse and harsh climate, and its size allows it to encompass more various ecosystems than Svalbard. This includes taiga, or boreal forest. These ancient coniferous forests may be Earth's largest land biome. But beyond that, much of the Canadian Arctic landscape and ice is similar to Svalbard. They even both experience the midnight sun and northern lights due to their latitude, two attractions that set the Arctic apart as a whole.
We are starting to see more differences. Lets examine one more area.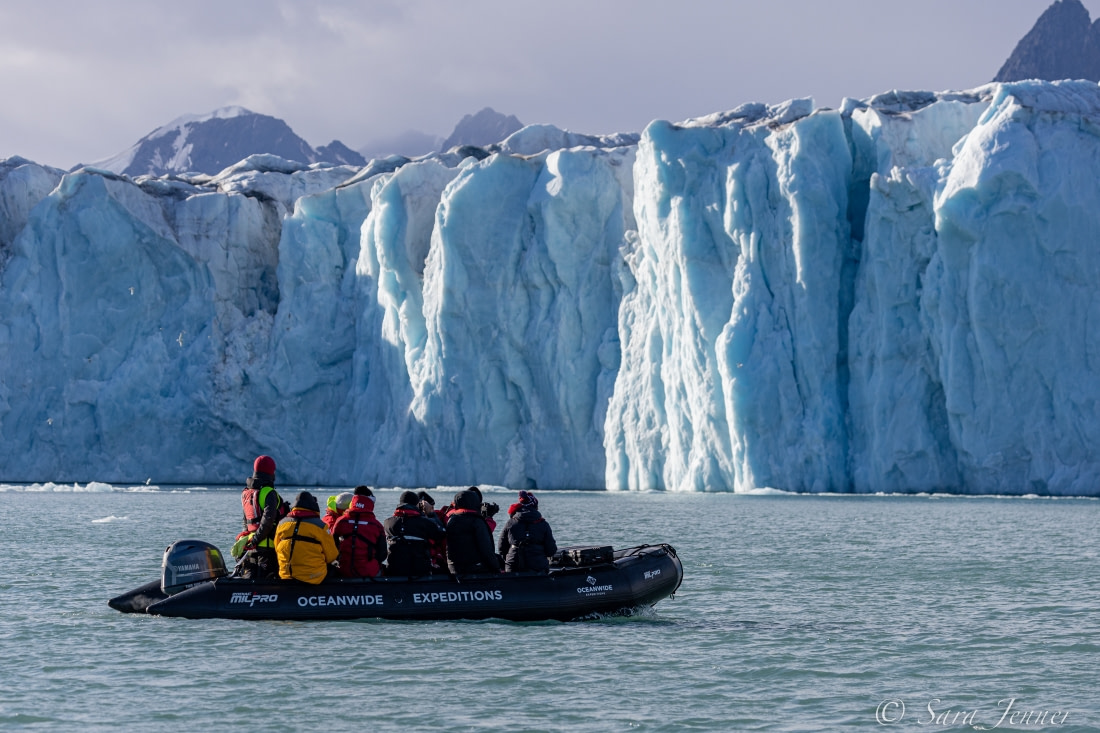 Picture by Sara Jenner
Svalbard vs. Canadian Arctic remoteness and population
This is where things get interesting.
If you're looking to truly get away, Svalbard has the Canadian Arctic beat hands down. Svalbard has a population of around 2,500 people, which means polar bears outnumber them by 500 to 1,000. This necessitates strict rules that are hard to find anywhere else in the world, such as forbidding car doors to be locked in case someone needs to jump inside to escape a bear. Most of Svalbard's human inhabitants are not mere residents but are made up of miners and researchers, with a small subset of service industry workers. It's hard to think of a place that gets you more off the grid.
The Canadian Arctic, by contrast, is more developed and populated. While it becomes more sparsely inhabited the farther north you go, you will still find communities of Inuit living in the Canadian Arctic simply because they always have. They are not usually miners, researchers, or workers in the service industry. Most actually live in ways that are relatively unchanged compared to less isolated settlements farther south. This is not the case in Svalbard.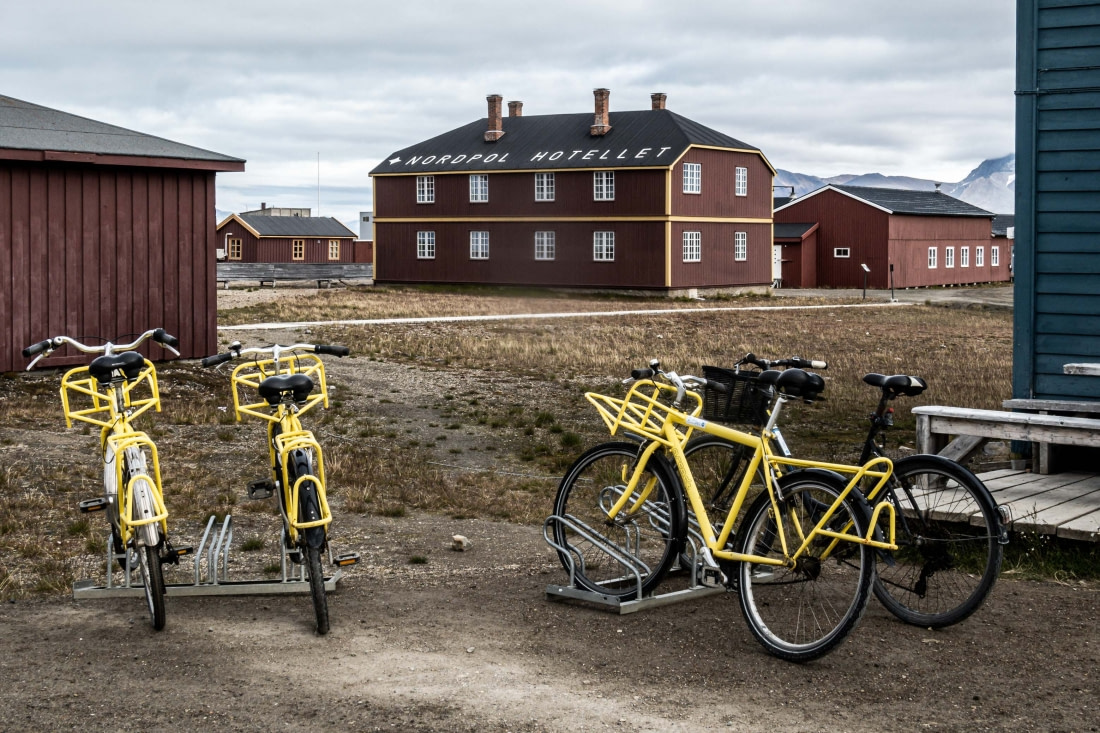 Picture by Werner Kruse
So how different are Svalbard and the Canadian Arctic really?
What we stated at the beginning still stands: every Arctic area is distinct, but often you have to zone in closely to see the details that distinguish them.
Svalbard and the Canadian Arctic vary in terms of what they offer expedition travelers. Svalbard wins out over the Canadian Arctic in terms of density of polar bear population, but the Canadian Arctic is the only place between the two that you can see taiga.
They offer similar scenery, but their remoteness and populations are exceedingly unique. Svalbard's settlements are based around mines and research facilities. They have only lately begun to support traditional resident populations. The settlements of the Canadian Arctic, on the other hand, have been home to Inuit and other peoples for thousands of years.
When it comes down to it, you can only know the difference between these places by seeing them yourself. We encourage you to join us on an adventurous Arctic Svalbard cruise, where you'll have a better chance to see polar bears than anywhere else on the planet – in addition to a great many amazing animals and Svalbard locations we have not mentioned here.
Then take a trip to the Canadian Arctic and tell us what you think!
Main image by Sara Jenner