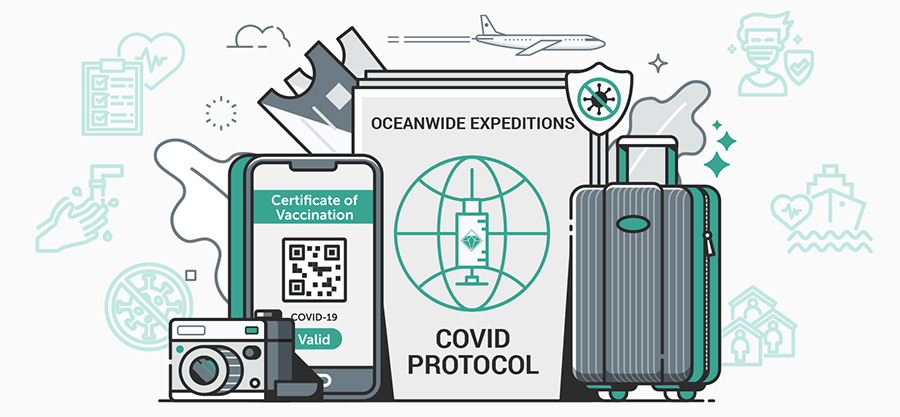 We have implemented a rigorous system of safety protocols to help ensure the health of our passengers, staff, and crew during all voyages. The objective is to manage the embarkation of passengers and control the risks of bringing Covid-19 onto the ship.
During the boarding process, it is important to sanitize hands, keep 1.5 meters of distance, and wear facemasks.
We will control the flow of passengers to help ensure contact-free embarkation, avoid contact points, and minimize the risk of possible contamination as much as possible.
These protocols are continuously updated and subject to change.
PRE-EMBARKATION PROCESS
Your luggage will be sanitized before it is brought on board.
For Antarctica trips you will receive a colored code card including a designated embarkation time. This is the time you are expected to receive your health check. It is important that you strictly follow the assigned timing.
Pre-boarding medical screening
Protection starts before the voyages does. All passengers are required to show the below documentation before they are allowed to embark.
Passport
Proof of full Covid-19 vaccination with the final shot taken at least 14 days before boarding
Pre-travel self-declaration of health status or Personal Information Form (PIF) (up to 14 days prior to trip)
Following the document check, a pre-boarding temperature check and a Covid-19 Antigen test will be carried out by Oceanwide Expeditions
For North Norway trips only; certificate of negative COVID-19 rapid antigen test carried out by a recognized test center (printed in English, taken within 24 hours) presented upon boarding. It is the responsibility of each passenger to get tested at their chosen test center and at their own cost prior to boarding.
For Antarctica trips only; All passengers must present a certificate of a negative COVID-19 PCR test carried out by a recognized test center no more than 24 hours before boarding.


!

It is the responsibility of each passenger to obtain and comply with the latest immigration regulations set by the Argentinean authorities. Please find the latest requirements here: https://www.argentina.gob.ar/interior/migraciones
Embarkation
Successful completion of the pre-embarkation process is followed by the general embarkation for the cruise. There is a shuttle bus from the pre-boarding medical screening area to the ship, where our crew and staff will welcome you.
ONBOARD PROTOCOLS
Required onboard practices
While on the vessel, all passengers and Oceanwide staff will follow the suggested best practices for communicable disease prevention:
Avoid shaking hands or touching face
Cough and sneeze into a tissue or inside of elbow
Wash or sanitize hands thoroughly and regularly
Maintain required distance when in public areas
Wear recommended face masks in public areas, especially when distancing is difficult . Passengers must bring sufficient face masks for the duration of their trip.
Follow updated advice from the World Health Organization and local authorities
Additional mandatory antigen or PCR testing during the voyage to minimize the risk of possible contamination as much as possible
Possible additional antigen or PCR testing, imposed by the local authorities will be carried out if required
Vessel and staff updates
In addition to the above protocols, updates to our vessels and enhancements to our staff practices will further protect passengers on board:
Upgraded heating, ventilation, and air-conditioning (HVAC) systems that enable fresh air intake and UV-based air filtration technology
Thermal cameras for continuous automated temperature screening
Enhanced cleaning and sanitation products and procedures
Disinfection with dispersion technology
Outbreak prevention and response plan
Vaccination of all staff and crew
Thorough staff and crew training in safety protocols
Two doctors on all motor vessels
Isolation of positive cases and their close contacts (including cabin mate)
Testing on board as required by local and company protocol
Other prevention measures and plan for suspected infection
In order to minimize the risk of possible contamination or if we have reason to believe there is an enhanced risk of infection on board, we will adopt a more stringent series of protocols such as but not limited to:
Passengers divided into groups to maximize and maintain physical distancing
Mandatory face masks where physical distancing is not an option
Additional temperature screening and/ or testing
Additional measures in onboard "hotspots" (restaurant, bar, observation lounge, etc.) including but not limited to assigned or reduced seating and removal of self-service options
Restrict or prohibit access to the bridge
Plan for confirmed outbreak
In the event that we confirm an outbreak has occurred on board, we may assume the following protocols (also pending authority instructions):
Limited onboard services
Discontinued Zodiac trips
Isolation and quarantine
Return to home port
Disembarking passengers