PLEASE NOTE: We no longer offer expedition cruises in Northern Norway. Please see our numerous other voyages that operate in the Arctic and Antarctica.
Three big sails were set, the wind was blowing hard, and with frozen tears in my eyes, I could do nothing else but smile. Smile and think to myself: What a wonderful life.
We often forget we live in such a stunning world. The majestic Norwegian Fjords, the stunning orange skies already at 11am before saying goodbye to the natural light at, like, 1pm?
And the noise made by the humpback whales from only 20 meters away.
During a November evening, working late at night as we normally do during the busy season (designing luxury trips for our clients and most of the time wishing we could sneak along in their luggage), my older sister suddenly lifted her head and asked: "Is January a promising month to see the Northern Lights up in Norway?"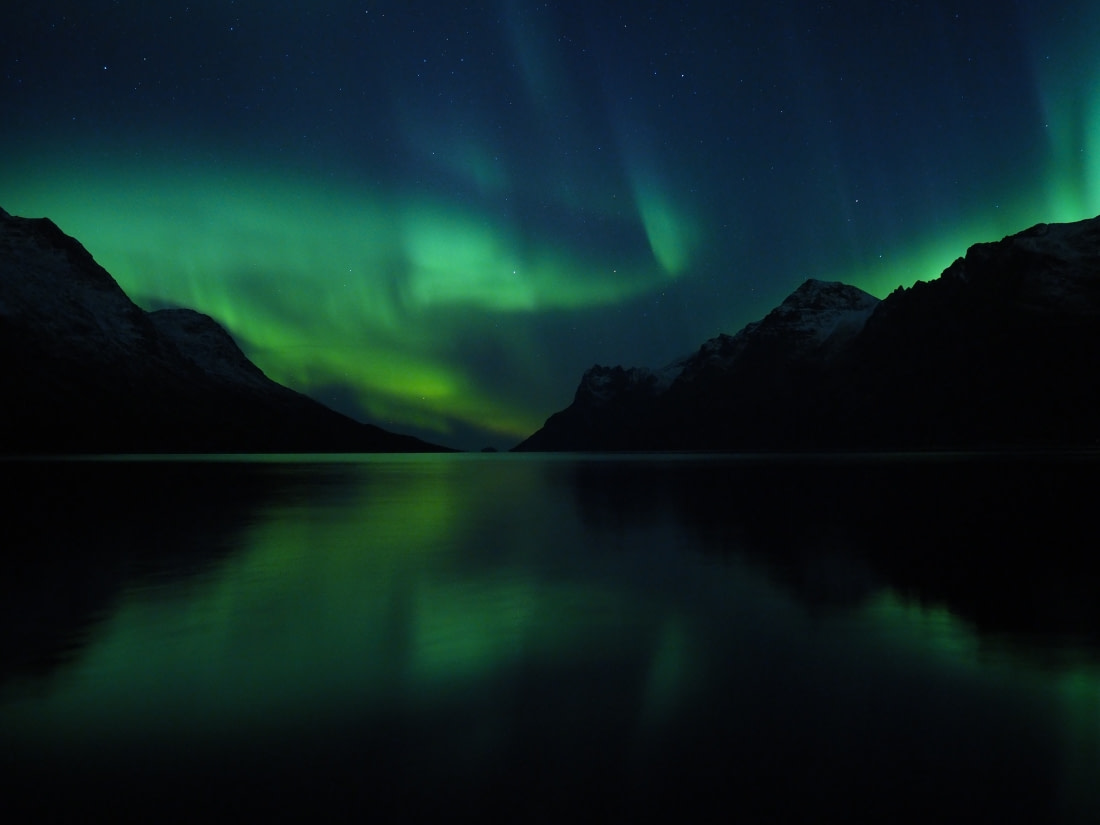 Not thinking she was actually considering it for us but instead thinking she was just about to send a proposal to some lucky client, I could not come up with anything better than: "Well, it will for sure be dark enough to at least have the chance. Even if it is freezing, you should always take the chance to visit Scandinavia. It is just wonderful!"
It was then that she offered for me to join her on an eight-night expedition sailing journey around the Norwegian Artic. I could not believe she was for real. And asking my mom to join us was definitely the cherry on top.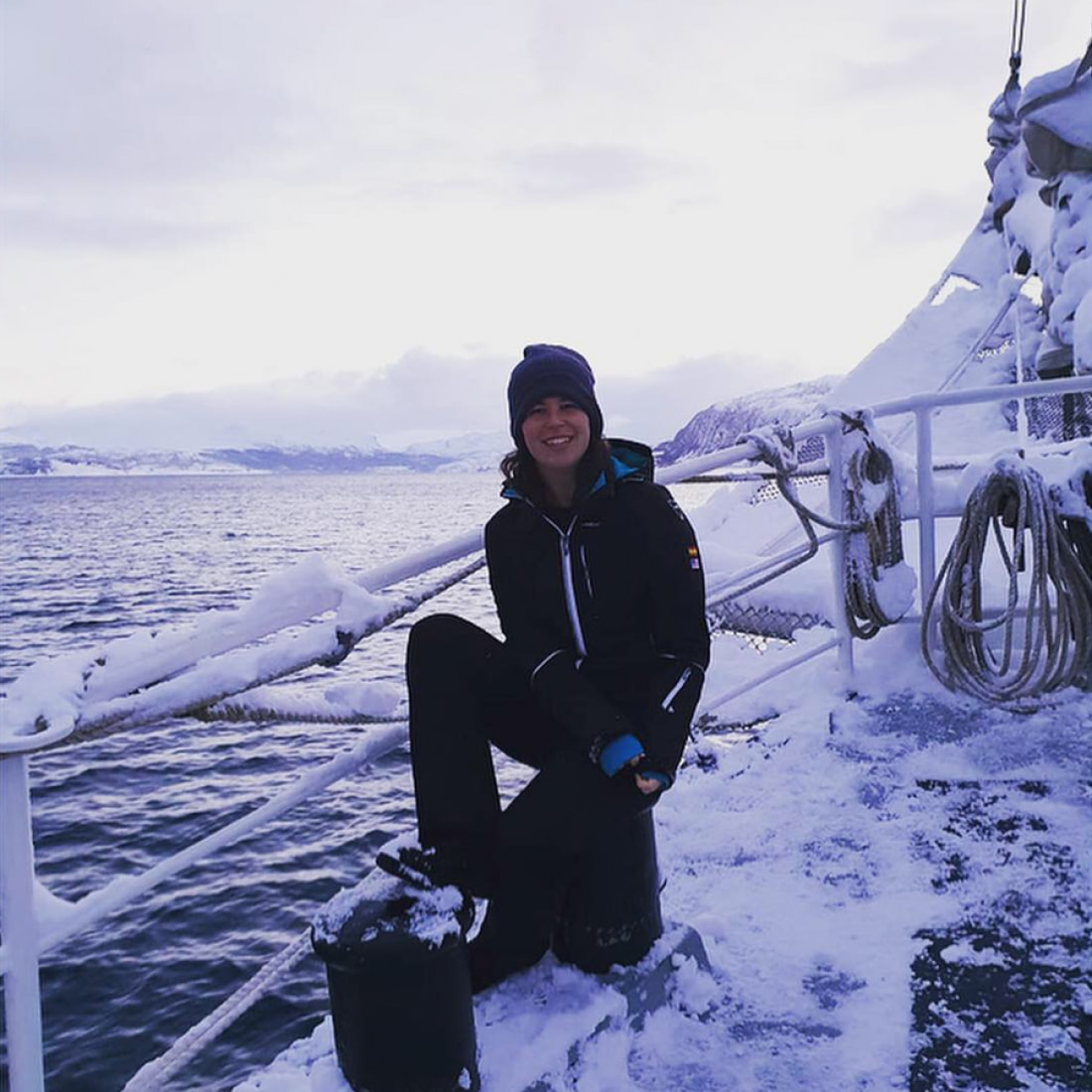 We decided to make our visit to the Nordic countries even more memorable, so we spent one night in Stockholm and one more in Tromsø before boarding the Rembrandt Van Rijn of Oceanwide Expeditions.
There is so much to do in the Paris of the North, or "Gate to the Arctic Ocean" as Tromsø is often called. It is definitely a promising idea to arrive a day before your voyage and experience dog sledding, snowmobiles, or even a morning of cross-country skiing.
According to the well-planned schedule, we met the crew by the Clarion Hotel. The moment had arrived.
Christian and Tobias, two of our expedition guides, were ready to introduce themselves and pick up our luggage. After providing us with some helpful spikes for the slippery ice, we boarded our home for the next eight days.
A three-course dinner carefully prepared by Stephan gave us the energy to survive the cold winter of Norway.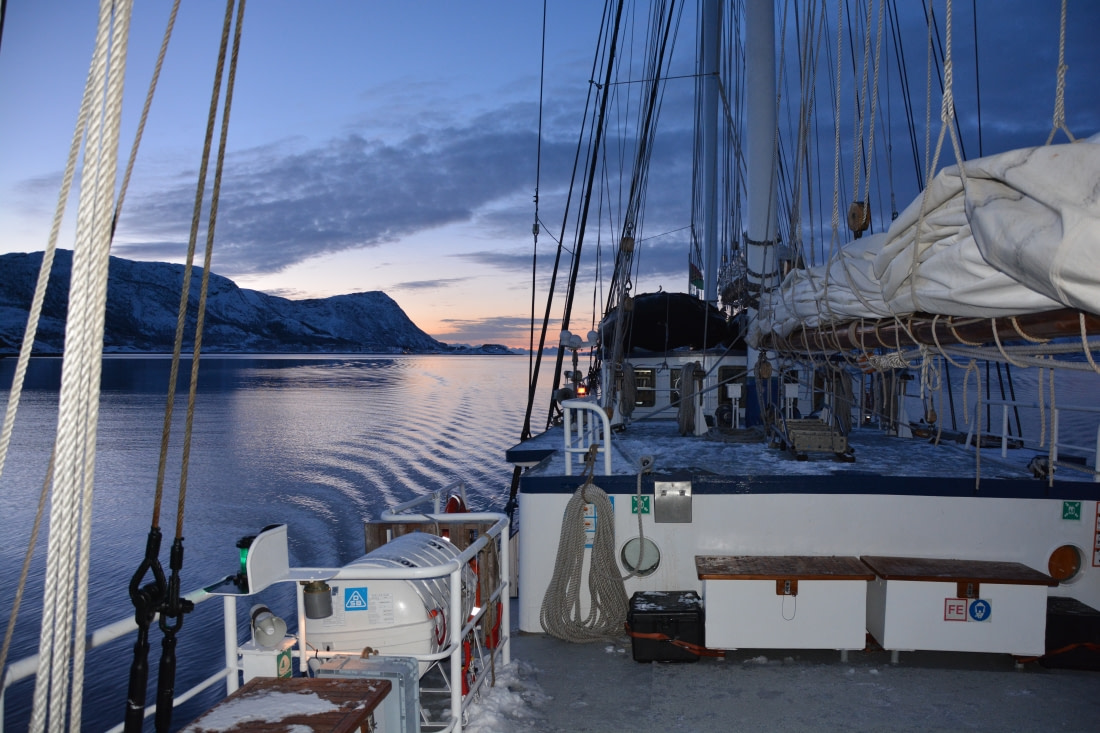 Also, the team could not be better: a highly skilled and experienced captain along with an enthusiastic and strong team of men in their thirties took great care of us during that first week of January. What a way to get into the New Year!
And I can't forget about the expert diver. An authentic legend. A great example. We were very fortunate to have Michael from Yorkshire join us, not only for his amazing pictures but also his great stories and informative lectures.
That's another positive part of these expeditions. You leave very educated!
Every evening, members of the team prepared some lectures, and with a well-presented PowerPoint full of appealing pictures and entertaining videos, they shared their knowledge with us on different topics related to the trip.
Michael shared with us some sailing terminology and stories related to the origin of navy terms; Christian was well informed about whales, the recognition of orcas, and different sailing routes; and last but not least, Tobias calmed our curiosity of the Northern Lights by explaining their origin. He also had many handy tips related to photography and knots-to-miles conversion.
All these lectures, tagged along with a nice gin & tonic carefully served by DJ from the bar, made the last captain's speech the icing on the cake! How can somebody so young already have so much experience?
Energetic individuals, beautiful landscapes, and some whales showing up next to our boat every now and then made this expedition exceed our expectations.
If I were asked about the highlight of the trip, I would say that you do not get to spot a huge whale 10 meters away from your Zodiac every day. At that moment, cold temperature does not bother you anymore. In fact, there's a special energy in your veins that makes you feel perfectly warm.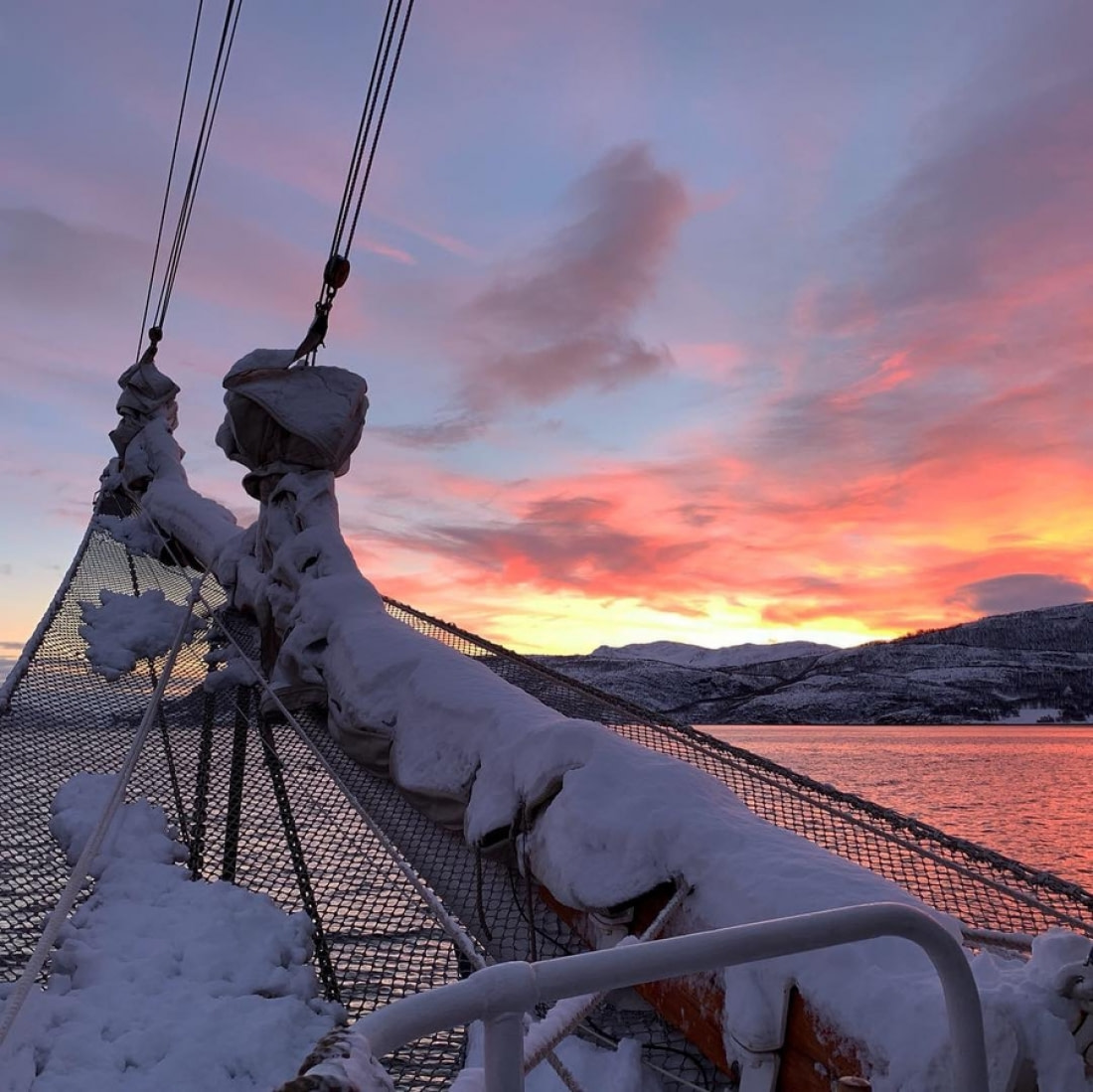 The best moment is when you decide to finally put your camera down and just enjoy, merge with nature, and quit any thought for a minute.
Then, of course, the person next to you shoots 30 pictures in one second and the silent peace goes away, but the magic is still there while the cetaceans are around.
Spotting the Northern Lights only required clear skies, standing away from civilisation and any other kind of artificial light, and finally, a lot of patience. Good thing we had a great time in the cozy living room inside the boat, playing cards and enjoying a nice glass of wine while taking turns checking out the sky every now and then.
Staying awake until 1am has never been more worth it.
This is something you should not only read about but experience yourself. I would encourage readers to expose themselves to a dark place up north sooner rather than later, making some wishes on shooting stars while waiting for the Borealis.
The trip was truly amazing, not only because of the whales, the lights, and the ship, but also because of the little towns you get to investigate and visit: beautiful red houses in the white hills that do not expect any foreigners to show up in their land.
At night, we either anchored in a nice bay or docked on a pier and had an expedition that involved a nice walk with snowshoes. Every now and then it is nice to loosen up the legs and have a little workout.
Arriving to Skjervoy and running away from the storm was another of the highlights, since apparently it is in this town where the story of the dog Balto occurred. There is also a beautiful hilltop church from the 15th century that's worth a visit.
We did have a lot of fun after that storm. I never thought I would build a snowman on a sailing boat!
Thanks, Oceanwide, for making this possible. Thanks also to the co-captain for choosing this ship for his expedition and informing us about the charts, latitudes, and sailing stories – all while having a watch at night.
For the reader, I highly recommend you enjoy one of the free 24/7 coffees offered on board. Stay awake throughout the night with one of the crew members in order to feel like a true sailor with a mission. Remember, the only thing you regret is the thing you didn't do.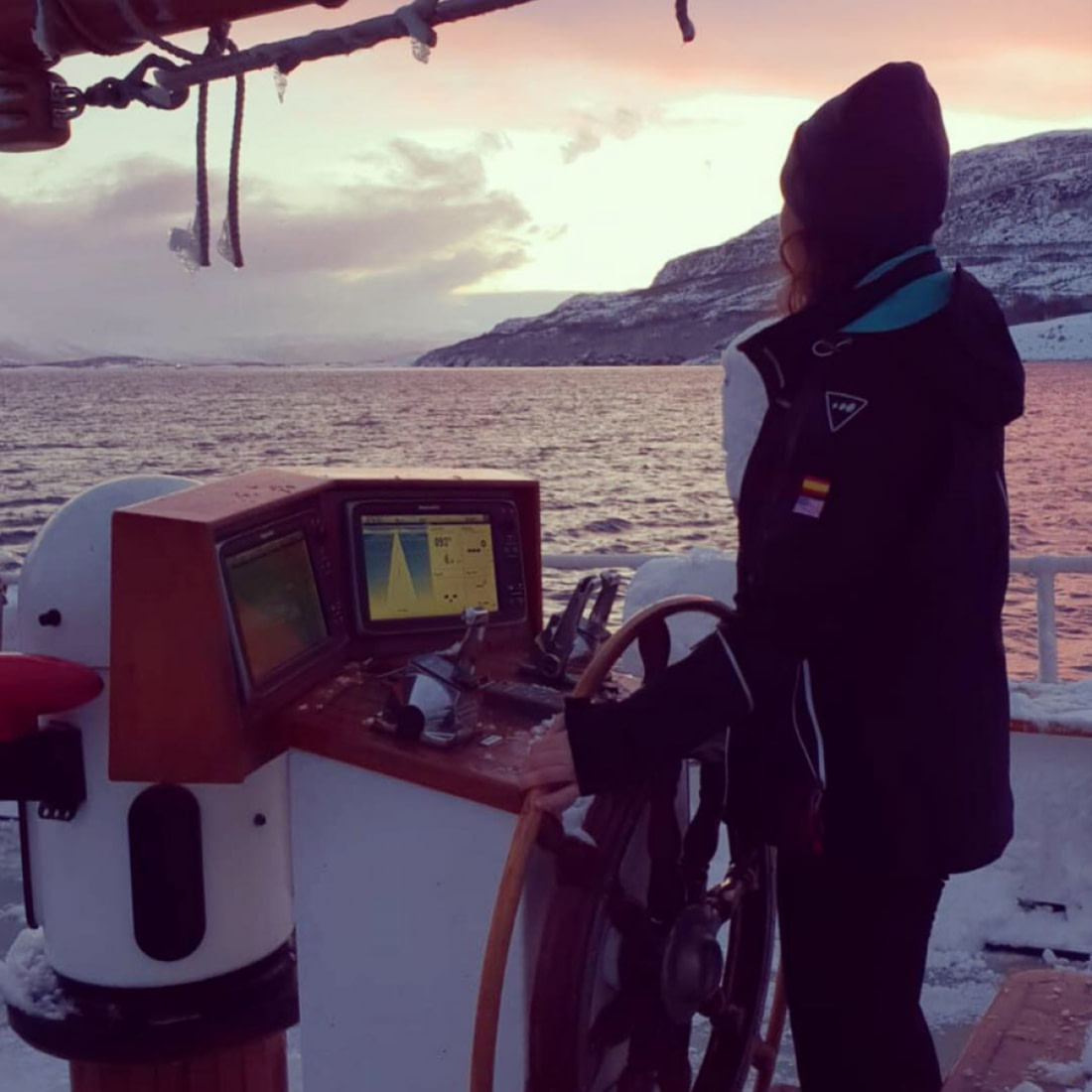 I will be back for another expedition for sure! Who knows if the next one will be Iceland, Svalbard, or maybe Greenland? This world is just amazing, and Oceanwide makes it easier to take us around it.
Oh, and book your next expedition with Sapphire Viajes!