| | |
| --- | --- |
| Datum: | 12.09.2022 |
| Positie: | 66°06.3'N, 18°22.5' W |
| Wind: | NW2 |
| Weer: | Overcast |
| Luchttemperatuur: | +11 |
Finally, our adventure visiting East Greenland will start! Akureyri, the nice little town in the north of Iceland is our departure place. From there on, we board our new temporary home Hondius for the next 10 days. The weather offers us bright sunshine and amazing light over the fjord.
The Expedition Team and the Hotel Team welcomes us, present our rooms, and make us feeling home. We use the first hour to explore the ship. Soon we get called for the mandatory safety briefing and the Chief Officer informs us about safety and common routine on board the ship.
Our new knowledge is used immediately on the General Alarm Drill that follows quick after the briefing. We dress up warmly and take our bulky bright life vest and head to our muster station. Always good to know how things work. After this is done, our Expedition leader Hans calls us for a short welcome followed by some useful information of our Hotel manager Michael.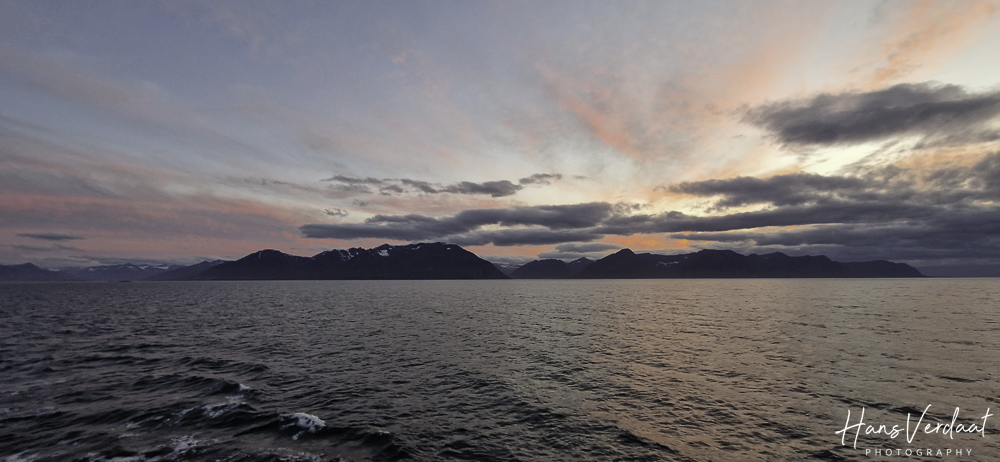 While we sail out of the fjord, the scenery is stunning and how could it get any better… we have the first sightings of whales. Some humpback whales are in the fjord feeding and it is just amazing how we see them diving down and showing us their fluke, so close by. We enjoy the scenery with the whales while the sun sets over the mountains and the clouds are in beautiful shades of red.
After a tasty dinner, we had early to bed to save our energy for the upcoming exiting days.