Come for the Adventure, Go Home as a Hero - Part 2
We've put together another Cleaning the Shores of Spitsbergen Polar Bear Adventure after the great success of 2015. This particular Svalbard cruise is something really special – a polar bear special combined with the chance to leave the Arctic a little better than how you found it.
Why are we cleaning Spitsbergen?
Unfortunately, some of Spitsbergen's shoreline look like:
Clean up Svalbard, © Governor of Svalbard

And worse. Detritus gets washed up on shore and can wreck ugly havoc on the food chain. Birds, seals, deer, and possibly even polar bears can get tangled up in the nets and immobilized.

Also, food can get pretty sparse in the tundra so some animals will attempt to eat anything, which means a polar bear might end up chowing down on some fairly toxic treats.

Loving the Polar Regions like we do, you can see why we are pretty excited to have you come aboard this very special Arctic cruise. The polar bears will be grateful too.
10 Days of Making a Difference
Just so we're clear, we're not just going to make you work without giving you something back in return. You'll still have plenty of chances to explore the area, check out a historic site or two, and if the wildlife cooperates, lay eyes on Whales, Walruses, Seals, Foxes, Reindeer, different varieties of birds, and Polar Bears.

Being that you're going to be on an adventure, no timetable is completely set in stone – diversions are routinely made to see some friendly whales or to backtrack from equally friendly polar bears.

That being said, the 10-day trip generally runs down like this:

Day 1 – Arrival in Longyearbyen where we embark m/v Ortelius and sail out to Isfjorden
Day 2 -5 - Cleaning beaches on the NW Spitsbergen coast line
Day 6 - East towards the Seven Islands
Day 7 - Zodiac to the cliffs of Alkefjellet with thousands of Brünnich's Guillemot
Day 8 - Keeping watch for Polar bears and seals
Day 9 - We plan to visit a known Walrus haul out site at Poolepynten
Day 10 - Our final day. We disembark the vessel in Longyearbyen

We aim for four days of cleaning activities and four days with special focus on Polar Bears. Local weather, snow and ice conditions may influence the precise day by day program. You can get more detailed info on the day-by-day activities by visiting the cruise page.

And here's your post-adventure itinerary:

Rest of Your Life – Feel great. Brag to your friends. Be fascinating to attractive people. Lie about wrestling with a polar bear.
The Picking Process
So here's what happens when you arrive on whatever beach you're assigned – you're usually split into 2 groups, one sent to each end of the beach, and you start working toward each other. A couple of lovely and talented staff are put on polar bear patrol, and the staff who stay with the Zodiacs and Vessel keep a keen eye out as well. As you march along, picking up items, you sort them into one of three general categories – metal, chemical, and anything else (like nets). Each year bags and bags of the stuff are removed from the beaches, and every year new garbage keeps rolling on in.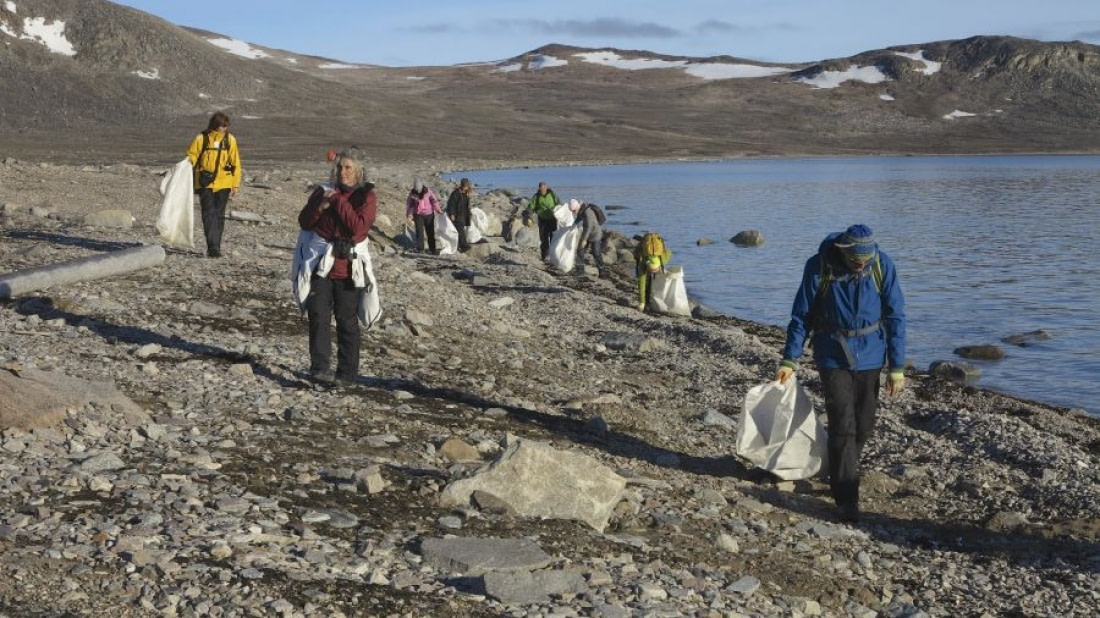 Driftwood and man-made items are usually left as they are since they'll break down naturally and don't represent an environmental threat. We also leave anything behind that looks like its historic or of cultural value. So you may come across rusty old harpoon heads, knives, or Jimma Hoffa's body – they all get left where they lay. Once a bag is full it's handed off to the Zodiac crew who buzz on out to the main ship where a cargo lift crane is used to lift it up to be deposited in dumpsters on the deck. Once a cruise is done the ship's dumpsters will be unloaded back at port and the whole lot will be properly broken down and disposed with.
Cleaning Shores of Svalbard in 2015
Oceanwide Expeditions completed the first "Cleaning the Shores of Svalbard" trip in 2015. An estimated 13 m3 of garbage was removed from three beaches in the area of Raudfjorden, the remote Rijpfjorden, and Mushamna in Woodfjorden. Each beach cleaned yielded 4-5 m3 of garbage consisting mainly of plastic of various origins, fishing rope, nets, and floats. The garbage was sorted onboard and with the assistance of Sysselmannen and the Svalbard Environmental Fund it has been disposed of in a proper manner.
It's Hero Time, Once Again!
We all coo over pictures of baby polar bears, smile at whale calves, long to see adult whales up close. Here's your chance to not only experience all of those things, but to also help those creatures live the proper Polar life they were born to. You can get all sorts of more detailed information about the Cleaning the Shores of Spitsbergen cruise from our dedicated page.

You want an adventure. You want to be a hero. Here's your chance.